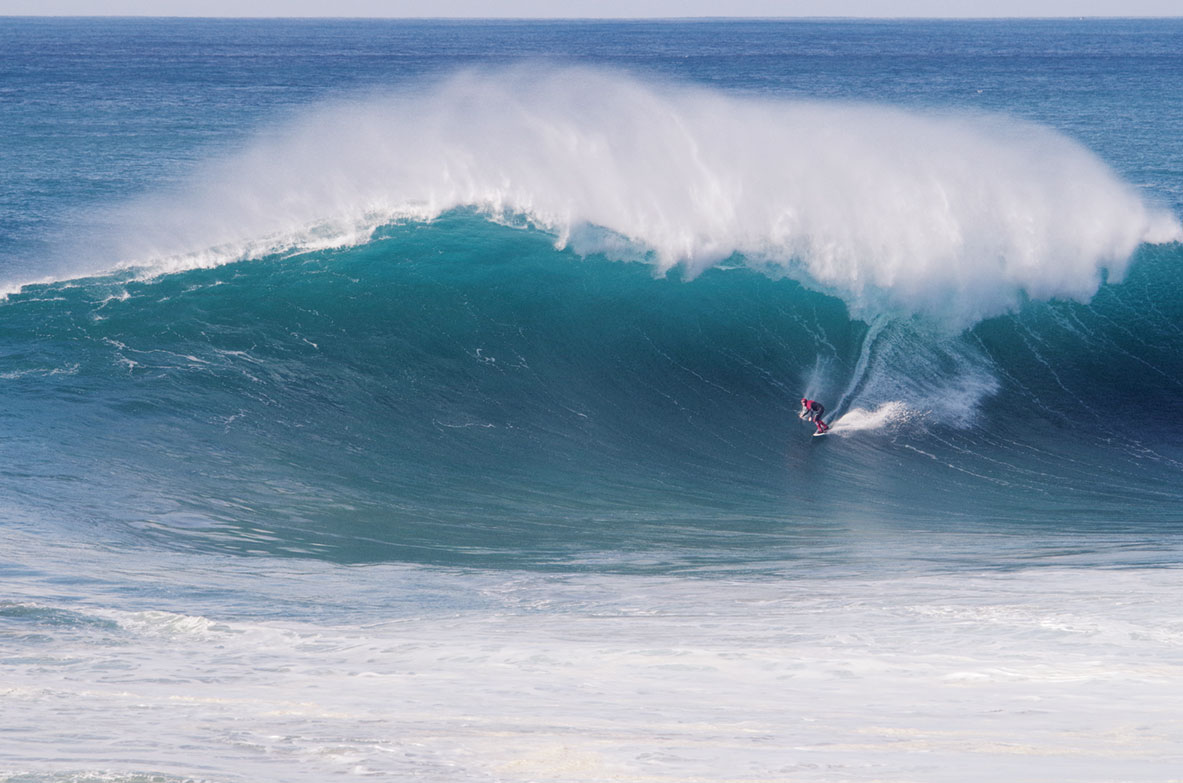 Leading the UK's big wave charge is the Devon's Andrew Cotton. An unassuming family man, Cotty is making waves across Europe and the globe for his fearless approach towards Portugal's infamous big wave spot Nazaré. This Autumn you could accomany him with a friend as a guest of Sharps chasing big swells. It is the trip of a lifetime! Just enter here
What does adventure mean to you?
Right now I couldn't imagine a life without adventure. If you surf then every trip becomes an adventure as you never know what you're going to get. I guess that I've always engineered my life around being able to surf, both in this country and globally and from a fairly young age have thrived on experiencing different places and meeting new people. I really don't think that this will ever leave me, so adventure is part of who I am.
If there's one moment where you thought 'what the heck am I doing?' In and out of the water?
Ha! There have been many and I'm sure that there will be many to come. I guess that in the water this would have to be a jet ski wipe out I had at Mullaghmore in the early days (2006). Actually, it was everyone else at the time who was thinking 'what the heck is he doing?' This sowed a seed of doubt and I could easily have quit. I didn't though and now like to think that my jet ski driving has improved a little.
Out of the water I think that this moment arrived when I was asked to talk at a massive global networking conference in America. I put together a PowerPoint presentation and had Skype chats with the organisers in the run up to it. When I got there I can honestly say that it was one of the most terrifying moments I'd ever experienced (including in the water). Anyway, I did it and everyone seemed to enjoy it. I now do lots of talks across the UK and Europe and find that I'm enjoying it more and more.
It's often the 'what the heck am I doing?' moments that lead to something good.
What is it that connects you to the Sharp's Brewery adventure campaign and why are you keen to be an ambassador for this adventure?
Being from the South West, adventure has naturally been in my blood since I was young, and I've always loved getting out on my board and facing the elements. I'm a big fan of Sharp's Brewery's beers so when they came to me with the idea of the 'There's an Adventure Brewing' campaign, I jumped at the chance to get involved. The Sharp's adventure campaign is on a major mission to get people across the UK to live life with a little more of their contagious Cornish energy and with our similar willingness to push boundaries, this was a totally natural fit.
It's great to get to share some of my experiences with others. Just being near these waves and in such beautiful surroundings will hopefully inspire people to make their own adventures. I'm inspired every time I go there and I'm looking forward to sharing this with others.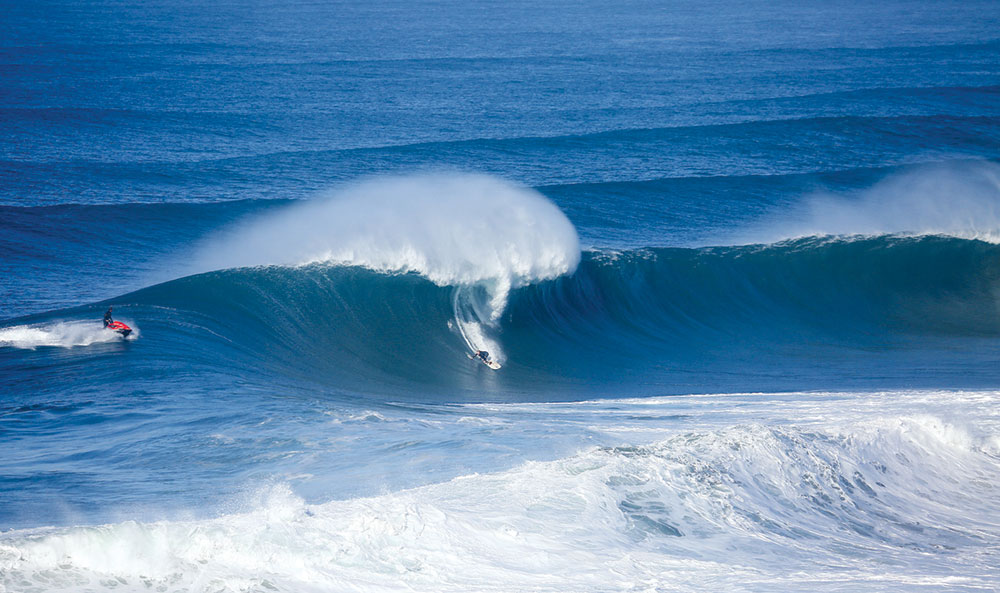 You could watch this live courtesy of Sharps Brewery. Enter here
What's the essence of adventure that you'd like to install in everyone?
Basically if you're given an opportunity, then take that opportunity. Adventure doesn't have to be about surfing a 60-foot wave. It's fun to turn everyday actions into adventures by doing something different to change either the journey or the outcome. I suppose the essence would be to maintain an open mind and positively influence your journey. Sounds a bit deep but if I hadn't taken a series of little opportunities which arose through my life I most definitely would not have been doing what I'm doing now.
Oh, and there is one other very important factor and that is to not always act on other people's advice. Listen to it by all means and maybe take what you think is relevant, but when you can chose your own path and stick to it.
Who and what motivates you to keep driving yourself towards new adventures?
I kind of motivate myself. I like a challenge and luckily what I do throws up new challenges all the time. Riding big waves takes a huge amount of preparation and people rarely see the constant challenges that are thrown up on a daily basis. A quote from Muhammad Ali really struck a chord with me while making my first proper big wave film 'Behind the Lines'.
"The fight is won or lost far away from witnesses – behind the lines, in the gym, and out there on the road, long before I dance under those lights."
Basically 90 percent of the work is done away from the spotlight. It's not an easy path to follow but I enjoy the fact that my life is varied and interesting. There is also of course the overriding desire to surf the biggest wave on the planet.
What holds you back?
I can't really think of much that 'holds me back'. If I had to pick out one thing then it would be the weather. We are completely at the mercy of the weather and this will dictate if you have 20 big-wave sessions in a season or two. However, it's also this that makes big wave surfing interesting, so I'm certainly not going to complain.
I suppose that working on projects where other people are concerned can hold me back sometimes because I have to think about not inconveniencing them, costing them money or losing trust. I'm loosely bound to a schedule and this means that I can't just walk away to do something else. Everyone knows that if the swell of the season comes along I'm out of there regardless of what we are doing, but it means that I may miss one or two of the medium sized swells to stay on schedule. This is the price I pay for upping my professionalism and I don't regret it as it keeps me doing what I love.
What has been your greatest achievement?
In and out of the water? I can't pinpoint a single achievement I'm afraid so I'm going to give you a list: having kids, 'that' wave at Nazaré in Feb 2014, towing Garrett McNamara into the current world record, surfing big Waimea in my early twenties, learning so quickly at Mullaghmore where I've had a couple of the best waves of my life, speaking in front of a global audience, doing a TED Youth Talk in New York, being a professional surfer and having a happy family.
How do you find balance in your life of adventure?
I'm quite lucky in that it always seems to balance out for me. People talk about work / life balance and trying not to work so hard in their jobs that they lose sight of family, hobbies or kicking back and taking it easy. I don't have a 9-5 job so this isn't really relevant to me. I kind of go from extremes where I am 100 percent focused on chasing and riding waves to 100 percent at home with family and friends. People around me are very understanding and so this seems to work for us.
What do you think it is about the South West that drives you, and others, into a more adventurous life?
It's the constant opportunities right on your doorstep. I think that everyone is inspired by stunning natural surroundings. It's hard wired in us. Putting myself in position where I could take advantage of my environment was an easy step for me. The ocean scares some people, but many others are naturally drawn to it. I was one of those.
Adventure isn't all about travelling the world doing extreme things. It can be about doing stuff on your doorstep, either alone or with your mates. The South West still offers so much potential for exploration in many different ways. I mean, who wouldn't want to surf remote coves and point breaks, trek across cliff tops and moors, SUP or kayak up hidden rivers and inlets, horse ride, cycle or run around this incredible part of Britain? Once you have a feel for adventure at home the natural progression is to want to explore further afield. Being from the South West has definitely inspired me to explore and I think that it inspires others who live here or those who come to visit.