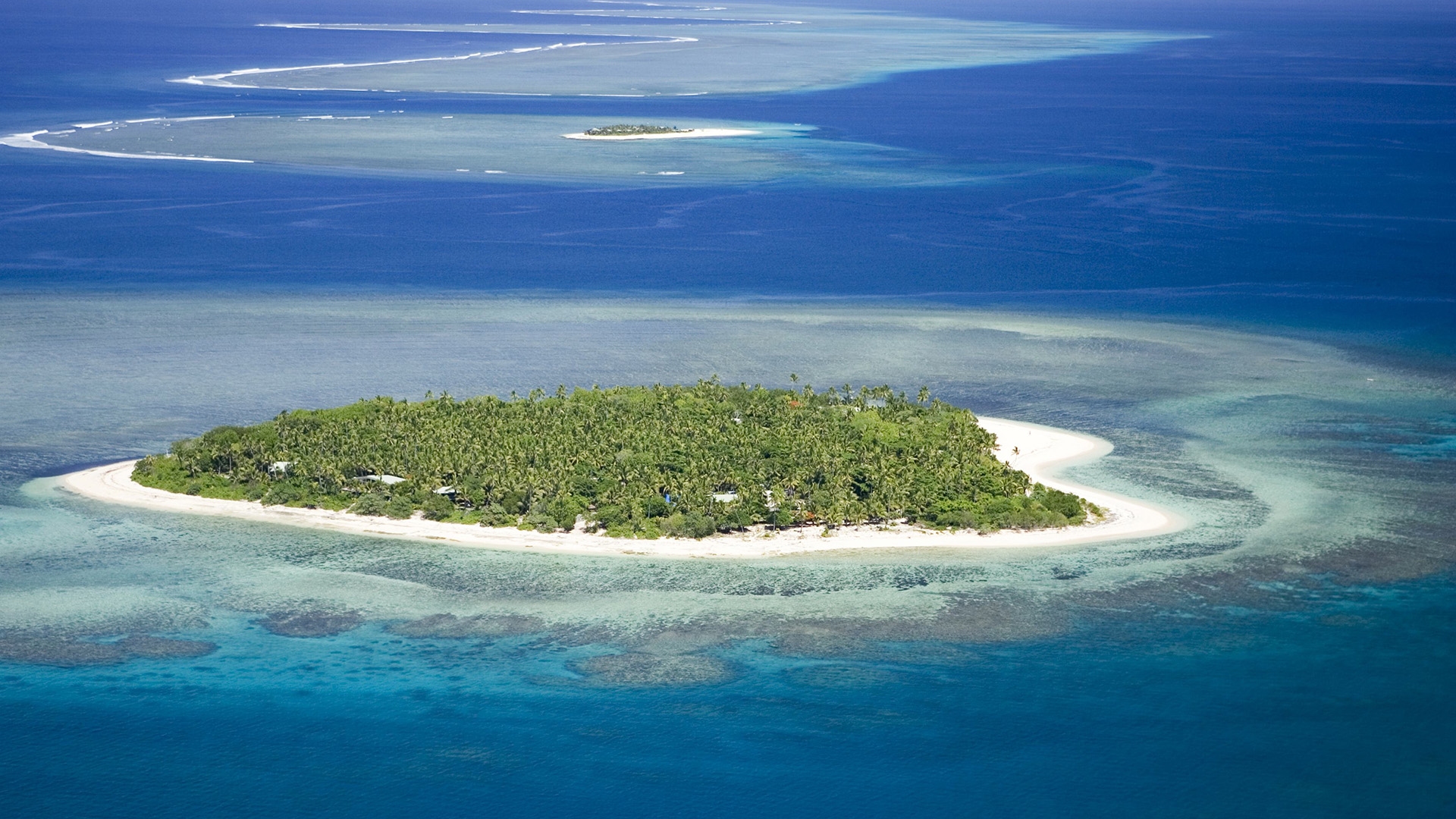 The life of a World Surf League pro surfer isn't too shabby. Touring the world surfing the, ahem, "best" waves that have been cleared of the hoi-polloi for a few days of fun and frolics before swinging back to the airport for the next leg.
Getting awesome surf in the event windows is of course a meteorological lottery. Mama Nature occasionally treats them to a show and sometimes she pulls the plug and goes on holibobs for a week, leaving mirror calm in her wake.
Like at the moment. The pros are marooned, Robinson Crusoe style, on some beautiful islets off the south west corner of Fiji.
Sure they're not exactly doing it Bear Grylls style … which it must be said IS an idea for future seasons. The Island with Bear Grylls and the Top Surfers in the World … certainly has some legs. More so than Youth Hostelling With Chris Eubank. To watch them bitching and losing their marbles on an island without AC and hot tubs whilst having to hunt for their dinner AND compete would be televisual gold. Lord of the Flies surf style…
Anyhoose. Televisual format brainfarts are not the point of this piece. It's what to do with the many lay days and an expensive production crew twiddling their thumbs. Because those production bods, commentators and camera folk cost upwards of £250 a day for their tech know-how. And right now they're sitting by the pool drinking G&Ts. Because all media folk know when someone's paying you and there's nowt to do then once the clock strikes 10:30am it's G&T time.
So. A modern decathlon is in order. It would give the pros something to do and the production team will spare their much abused livers.
1. Swimming
A straight all in race across the channel from Namotu to Tavarua. Anyone that does not finish the mile is instantly disqualified from the rest of the decathlon.
2. Kayaking
After a refreshing pint, or two, of Pimms the return leg to Namotu. Again, an all out thrashathon with the remaining surfers windmilling back across the channel … whilst:
3. Fishing
Anyone that snags a fish whilst towing a line on the way back earns bonus points based on fish weight in kilos.
4. Beach Volleyball
After a mid-morning sushi snack from the freshly caught fish a bit of team play. Based around national teams. This is a bit unfair on Jordy, Jeremy and Michel so they can play as Rest of the World against Australia, Brazil and the USA. Seeing as Jordy is the tallest pro then there's a good chance they might smoke it. But the Brazilians are pretty renowned for their beach volleyball so who knows.
5. Sand Sculpture
After a hectic morning of competition we need a more restful activity that displays the creative, artistic nature of the pros. So. Sand sculpture it is. Sure coral sand isn't ideal, it's not as sticky as Weston Super Mare's legendary sludge. But you work with the materials nature gives you. Something makes me think John John might build a mean sand castle, seeing as he's so flipping good at everything, and there should be abundant coral/shells for decorative effect.
6. Ping Pong
After lunch it's the back five. With a few tables in play this event would be a simple man on man from the start. With the winner from Namotu taking on the winner from Tavarua for the most points. Sure it's sweaty as hell playing wiff-waff in Fiji but that's part of the fun when the sweat's running into your eyes and burning them…
7. Instagramming
With our pro heroes pretty much broken by this point it's time for a disco nap and then food. With a sunset dinner comes great Instagram potential. Again artistic merit is key here. Straight horizons, utilising the rule of thirds and filtering appropriately will all be rewarded by the judges. The commentary on this leg will be particularly spicy: "Joe, I can't believe Wilko is going Clarendon at this juncture, that's some spicy 'Gramming." Etc.
8. Drinking
On to the main event. Points are awarded on units. Not volume. So it's cocktails and shots not pints of Fiji Bitter. Anyone that spews, passes out or goes skinny dipping is disqualified.
9. Arm Wrestling
Drinking and testosterone inevitably leads to arm wrestling. Again man on man for the last few vital points. No holding on to the table with the spare hand and no leg bracing against the table legs allowed.
10. Creative Hairstyling
Finally. The crowning glory of the Modern Fiji Decathlon. Clippering the shit out of each other with rusty barber clippers. Points awarded for the most shocking mohican delivered. Speed is of the essence here.
***
So. There you have it WSL. A lay day filled with thrills, competition, creativity and fun. Keeping boredom at bay and the pros and crew enthralled. It would be phenomenal on the live feed.
Make it happen.
Oh.
And PS: you're welcome.