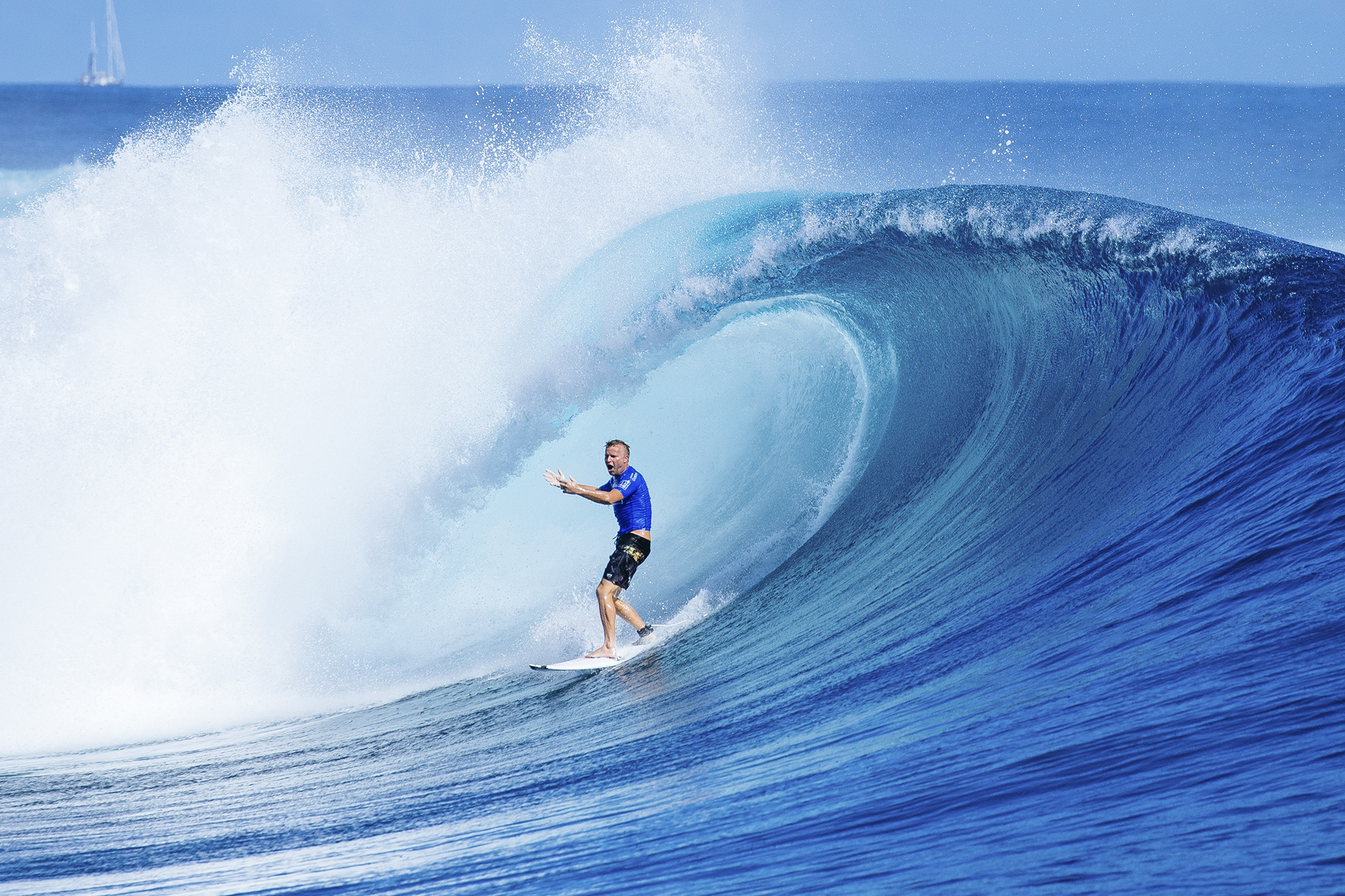 TAVARUA, Fiji (Wednesday, June 15, 2016) – The Fiji Pro, stop No. 5 of 11 on the 2016 Samsung Galaxy WSL Championship Tour, roared back to life today following a week-long hiatus with Cloudbreak delivering building six-to-eight foot (2 – 2.5 metre) waves for Round 3 of competition.
Taj Burrow (AUS), 18-year CT veteran, surfed his final CT heat today against John John Florence (HAW) and the bout proved to be the premiere battle of the season thus far. Florence opened strongly with a deep barrel to lock in an excellent 8.17, but Burrow quickly followed suit with an 8.00 to take the lead. With the swell pulsing during the heat, both competitors charged wave after wave to exchange excellent-range scores. Burrow bettered his score with a near-perfect 9.20, and Florence answered back with a near-perfect 9.43. Burrow continued to battle and earned another excellent score, an 8.60, to regain control. With fifteen minutes left on the clock, Burrow held control with a 17.80 heat score over Florence's 17.60. On the last exchange, both surfers caught massive barrels. Burrow earned a near-perfect 9.43 for his tube, but Florence took the lead with a 9.33. Burrow finished the heat with an 18.60, just 0.16 points short of Florence's 18.76 heat score.
"That was one of the best heats of my life and to have it with Taj (Burrow) before he leaves the Tour is one of the coolest things ever," Florence said. "It is so special to surf against Taj with everything he has contributed to surfing. Since I was a little kid, I've been watching him do airs and watching him win events. That was an amazing heat and I am so stoked."
After announcing his retirement from the elite Championship Tour earlier this year, the Fiji Pro will be Burrow's last CT event. In his 18-year career, Burrow has been a Top 10 finisher 15 years, posting WSL Runner-Up positions in 1999 and 2007.
"That was one of the best heats of my life," said Burrow. "Every time I got off the ski and got out the back, a crazy perfect wave would be there and I'd be in the perfect spot. I could not have picked a better way to finish my last event ever. The waves were exactly how I'd want them and exactly who I'd want to surf against in those types of waves, someone who will push me to be my best. This has been the best twelve days of my life and everything fell into place so perfectly. I feel like I won the event and the World Title. I am so happy. I have so many people to thank along the way – everyone who supported me on the road, my friends, fans and family. Thank you to everyone around the world for all those years of supporting me."
Matt Wilkinson (AUS), current World No. 1 on the Jeep Leaderboard, dispatched Alejo Muniz (BRA) in the final heat of Round 3. Wilkinson trailed behind Muniz for the majority of the heat, but fought back with an excellent 8.50 barrel ride and a solid 5.43, forcing Muniz to chase a 7.27 in the final minute. Wilkinson will face Florence and Adrian Buchan (AUS) in Round 4. Muniz will walk away with a 13th place finish, his third Round 3 elimination of the 2016 season.
"It was tough out there," said Wilkinson. "When the waves are pumping like this you get so excited and once I was out in the heat, the tide was still coming up and the wind had kind of fluffed onshore. The waves earlier would have been really open. I was taking off behind them but then almost dragging and getting stuck. With six minutes to go I decided to do some turns and get some scores on the board and get it back together. I am stoked I ended up getting that last barrel."
Kelly Slater (USA), eleven-time WSL Champion and four-time event winner, eliminated Jordy Smith (ZAF) in Round 3 Heat 4. Slater found a clean barrel on his opening ride to earn a solid 7.83 and gain an early lead. The waves continued to fire and both surfers battled for control. Slater hunted for barrels and captured an excellent 8.73 wave score, forcing Smith to turn in two new scores. The South African secured an 11.83, but fell short against Slater's 16.56 two-wave total. Smith will walk away with an equal 13th place at Fiji and Slater will move on to Round 4.
"There are waves all over," Slater said. "There are actually waves deeper than the ledge. There's waves on the ledge and then there are some wide ones, but you have to pick your poison. Everyone is seeing those good ones and those are the ones you want, but you cannot guarantee there are going to be a couple of those during your heats on a day like today. I got psyched out on a few waves that I really wanted, but they didn't materialize into much. The good ones are out there."
"Obviously this was going to be an extremely tough heat," said Smith. "I tried to choose the best waves I could. Kelly (Slater) is the best surfer out there ever. I tried to play to my strengths, but unfortunately he got the good scores and beat me. I think I've just got to get back on track. I feel like my surfing is great and heading to J-Bay next should be a good one for me. I will just take everyday as it comes and chip away. I just want to go to J-Bay with an open mind and try to surf my heart out."
Mick Fanning (AUS), three-time WSL Champion, came out of the gates firing and opened his scoreline with an excellent 8.33. Fanning continued to dominate the heat against compatriot Adam Melling (AUS) and took the win with a clinical performance and a 13.40 heat total.
"It's been a long wait but the surf is pumping today," Fanning said. "It's great to see Cloudbreak turn on again and get a few waves. Adam (Melling) is a super strong surfer wherever we are and I knew he could be dangerous. Fortunately, I found the rhythm in that exchange."
Gabriel Medina (BRA), 2014 WSL Champion and former event winner, dominated the opening heat of Round 3 against Matt Banting (AUS). With lots of opportunities, Medina made the most of his heat with fifteen rides. The Brazilian charged with massive combination maneuvers to earn two solid 7-point rides, putting the Australian in a combination situation. Banting will walk away with a 13th place finish and Medina will advance to Round 4.
"That was a good wave – the air was good but the barrel wasn't very deep, which is why I think I got that score," said Medina. "I got a lot of barrels in that heat so it was really fun. The waves are finally back after all those lay days and I'm stoked to be here."
Adriano de Souza (BRA), reigning WSL Champion, blazed through Round 3 against Keanu Asing (HAW). Asing got off to a quick start with two waves, but De Souza earned the lead, opening his account with a 6.17. On his second to last ride, De Souza claimed a near-perfect 9.10 with two back-to-back hollow tube rides. Asing, needing a 9.67, was not able to challenge the World Champion and is knocked out of the draw.
"I have been focused on the good waves and trying to improve my techniques," De Souza said. "After this event I am going to stay another week just to improve more and more. For me it is a big learning curve to catch Kelly (Slater) on those techniques – I'd need to live in Fiji for the next ten years – but I am doing the best that I can. I understand that there is so much I can learn and improve. Keanu (Asing) is a tough man and he surfed so well. I was worried the whole time that he would get a 10, which he can do. I am happy to advance and go to the next round."
Jadson Andre (BRA) caused one of the upsets of day when he eliminated current No. 2 on the Jeep Leaderboard, Italo Ferriera (BRA). The 2015 Rookie of the Year is eliminated from the competition in equal 13th place, despite holding an excellent 9-point ride in his scoreline. Today's result is the best of the season for Andre, who is currently ranked in 34th place, and he will move on to Round 4 where he will face Josh Kerr (AUS) and Mick Fanning (AUS).
"It was an amazing heat for me," Andre said. "I think Italo (Ferreira) was the guy who beat me the most. I started the heat well with two good scores and Italo did not have any really good scores. I pretty much had the heat in my hands until I paddled for a bad wave where I fell. Italo got a bomb and I took a set on the head. At the end of the day, I did well and I went to the right waves. I used my priority to not let him go for seven minutes because I know how dangerous he is. It has been a long time since I've made Round 4."
The last 2016 WSL Rookies left in the draw, Kanoa Igarashi (USA) and Conner Coffin (USA), were not able to advance out of Round 3 as they were eliminated by Michel Bourez (PYF) and Wiggolly Dantas (BRA), respectively.
Coffin, in particular, looked in peak form against Dantas. With seconds left on the clock, Coffin held the lead with an 11.20 two-wave score over Dantas' 6.97. In the final moments of the heat, Coffin was charged with an interference call on Dantas on his last exchange. With Coffin's second wave score disqualified, Dantas got the slight 0.11 point advantage over the rookie to take the win.
"The conditions were challenging out there and I was struggling to get a good wave," said Dantas. "I am stoked to make my heat. I am pretty happy and I am for sure going to surf better in the next round. I have been surfing Cloudbreak the last couple of days and trying to learn as much as I can. I have been learning the different sections and approaching them in different ways. It has been fun and I am excited for the next round."
For more information, check out WorldSurfLeague.com
Fiji Pro Round 3 Results:
Heat 1: Gabriel Medina (BRA) 14.50 def. Matt Banting (AUS) 4.33
Heat 2: Michel Bourez (PYF) 7.67 def. Kanoa Igarashi (USA) 5.46
Heat 3: Dusty Payne (HAW) 7.20 def. Filipe Toledo (BRA) 6.50
Heat 4: Kelly Slater (USA) 16.56 def. Jordy Smith (ZAF) 11.66
Heat 5: Wiggolly Dantas (BRA) 6.94 def. Conner Coffin (USA) 8.83
Heat 6: Adriano de Souza (BRA) 15.27 def. Keanu Asing (HAW) 11.00
Heat 7: Jadson Andre (BRA) 14.50 def. Italo Ferreira (BRA) 13.73
Heat 8: Josh Kerr (AUS) 14.26 def. Jeremy Flores (FRA) 12.20
Heat 9: Mick Fanning (AUS) 13.40 def. Adam Melling (AUS) 9.17
Heat 10: John John Florence (HAW) 18.76 def. Taj Burrow (AUS) 18.60
Heat 11: Adrian Buchan (AUS) 13.54 def. Miguel Pupo (BRA) 9.93
Heat 12: Matt Wilkinson (AUS) 13.93 def. Alejo Muniz (BRA) 8.50
Fiji Pro Round 4 Match-Ups:
Heat 1: Gabriel Medina (BRA), Michel Bourez (PYF), Dusty Payne (HAW)
Heat 2: Kelly Slater (USA), Wiggolly Dantas (BRA), Adriano de Souza (BRA)
Heat 3: Jadson Andre (BRA), Josh Kerr (AUS), Mick Fanning (AUS)
Heat 4: John John Florence (HAW), Adrian Buchan (AUS), Matt Wilkinson (AUS)