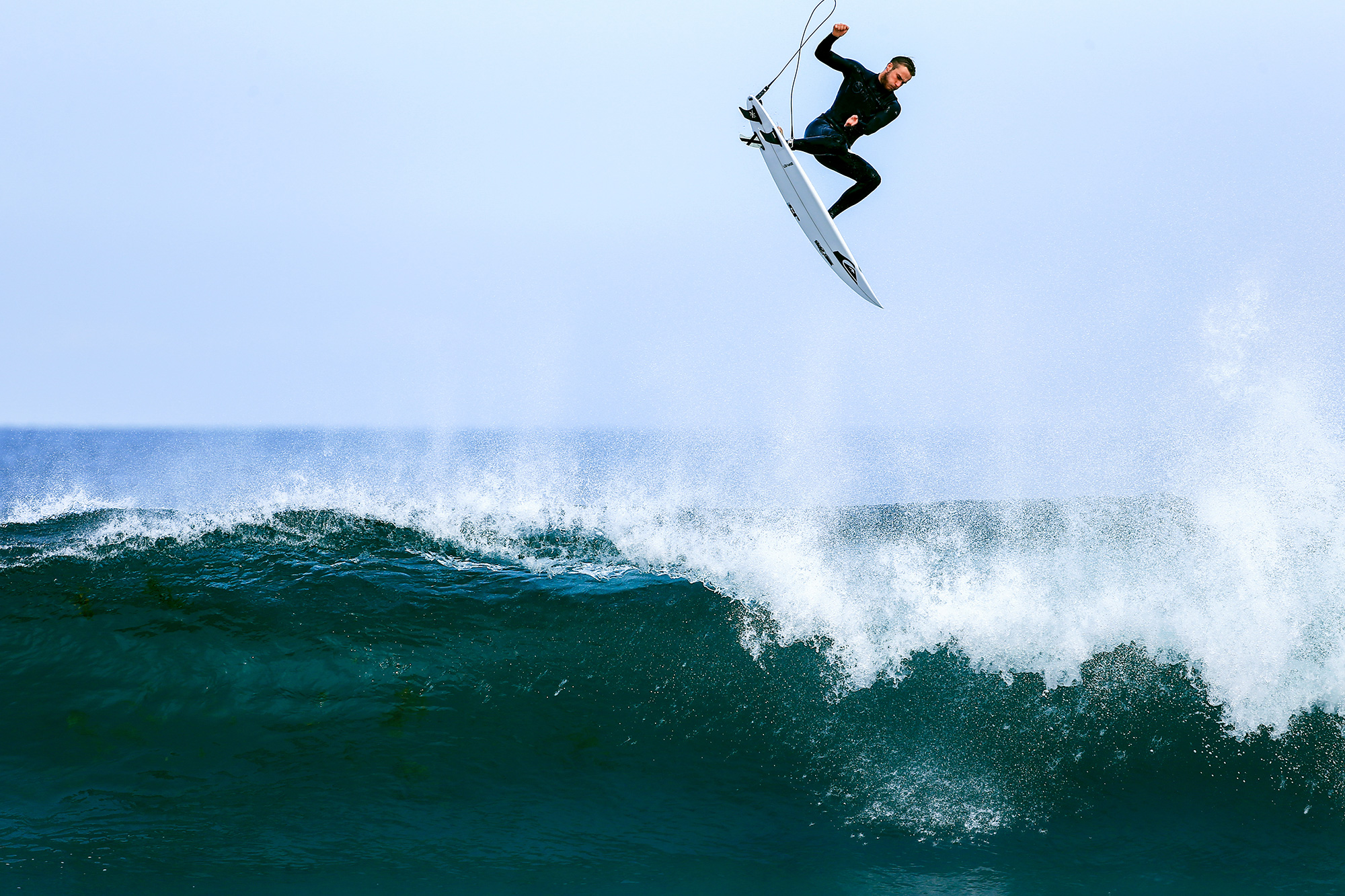 Mikey boosting. Photo Bosko.
After 20 years of shining the spotlight on surfing's future stars, King of the Groms returns in 2016 with a new name to match its progressive format – Young Guns Surf.
Inspired by Quiksilver's iconic movie series of the same name, Young Guns Surf – formerly KOTG – begins with a global digital search for the hottest new surfing talents via Instagram, and ends with an 8-man, 3-day free surf contest at a secret location where the surfers will fight it out for $20,000 in prize money.
Any talented surfer aged between 13 and 17 can showcase their skills on a global stage. All you need to enter is a phone or video camera and an Instagram account: to win you'll need the kind of skills that launched the careers of former KOTG winners Jeremy Flores, Gabriel Medina and Mikey Wright.
Want to enter Young Guns Surf ? This is how it works

① ROUND 1 – INSTAGRAM CHALLENGE
From May 3rd to May 31st, 2016, Young Guns can post Instagram video clips of their Air, Rail or Combo technique using the appropriate hashtag between #YGair, #YGrail, #YGcombo following @Quiksilver. Potential Young Guns can enter as many times as they like.
Three Quiksilver pro surfers will then select 10 surfers from each category for Round 2 – Mikey Wright judges air game, Zeke Lau rail game and Jeremy Flores judging combos on a single wave. 30 surfers in total go through to round 2.
② ROUND 2 – LONGER PLAYS ON YOUTUBE
For round two (June 7th to 30th), the stakes are raised and the action moves to YouTube, as each of the selected 30 surfers submits a longer edit of 1-2 minutes showcasing their power, innovation and flow, above and below the lip.
③ ROUND 3 – VOTES ON FACEBOOK
Between the 5th and 15th of July, it's time to select the best videos on Quiksilver's Facebook page. The public together with judges Zeke, Mikey and Jeremy, will then qualify the 8 contenders who will proceed to the final stage…
FINAL – REAL ACTION
Top 8 surfers will go for a 3-day free surf showdown at a secret location to be held in early August, 2016. Real action, real money and the ultimate accolade for any young surfer with dreams of surfing stardom.