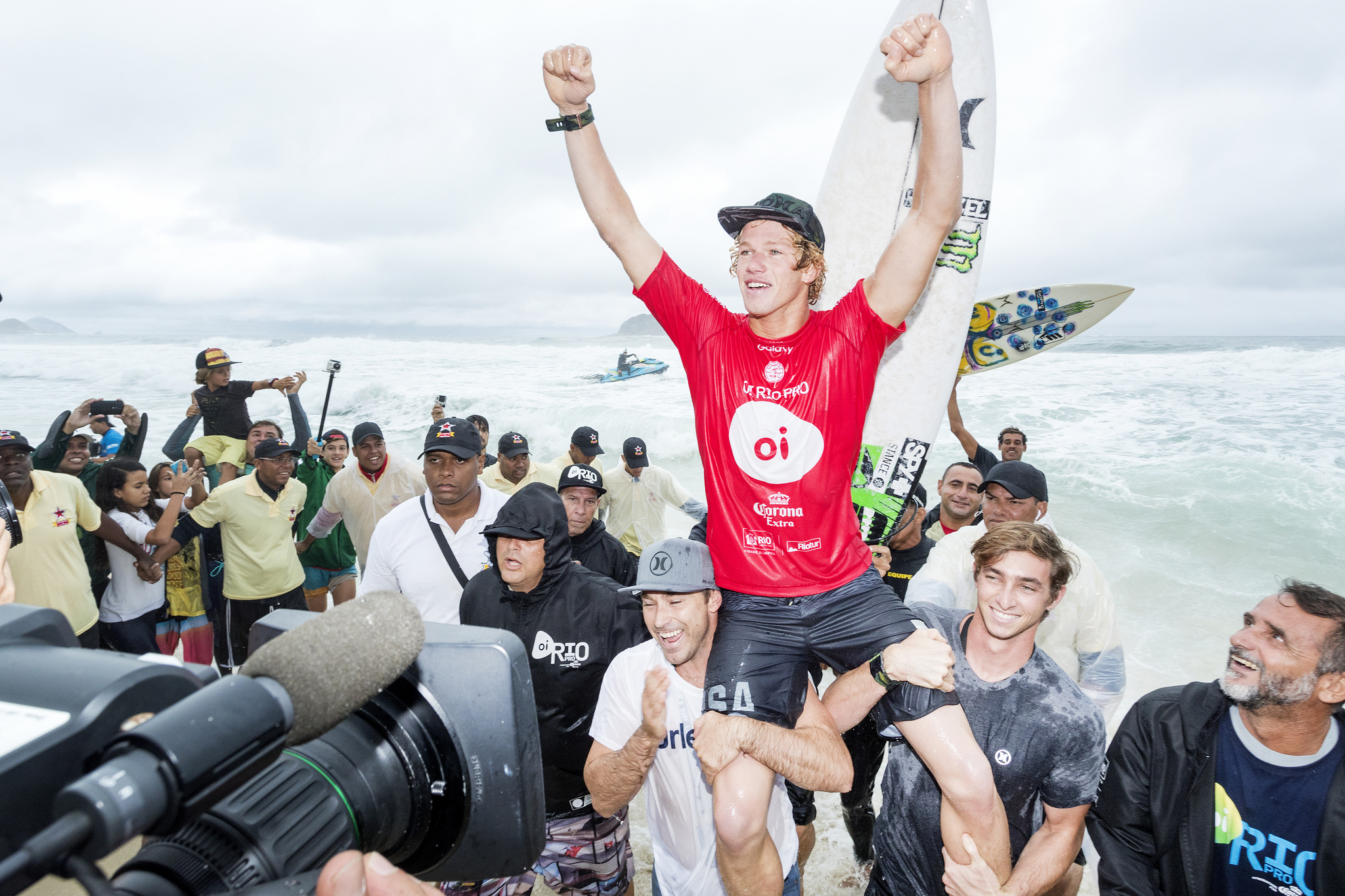 John John Florence claimed victory yesterday at the Oi Rio Pro, Stop No. 4 of 11 on the 2016 Samsung Galaxy WSL Championship Tour, besting rookie Jack Freestone (AUS) in punchy four-to-six foot (1.5 – 2 metre) waves at Postinho.
"I love coming back here to Rio," Florence said. "This is where I won my first World Championship Tour event. The waves are really similar to Hawaii with their power. Everyone here in Brazil has been so supportive. If it was not for everyone's support on the beach cheering us on every wave, I do not know if I would have been as stoked. Thank you to everyone."
Today's emphatic victory vaults Florence from 13th to 3rd on the WSL Jeep Leaderboard, well within striking distance of the frontrunner position. Florence previously defeated Adriano de Souza (BRA) and Dusty Payne (HAW) en route to the Final today.
"Obviously I want to try to win a World Title, but I am going to take it heat by heat, event by event," continued Florence. "Hopefully I will come out on top, but we will see. The waves have been challenging and everyone has been surfing so well, so I am stoked to be here and win this event."
Today's win marks the Hawaiian's third elite tour victory, having previously finished atop the field here in Rio de Janeiro in 2012 and in France in 2014.
The Final got off to an exciting start with an exchange that saw Florence deliver an aggressive two-turn combination for a solid 7.00, while Freestone failed to complete his ride, earning a 3.17. Florence continued to heat up, posting more excellent scores. With only ten minutes into the Final, Florence threw up a near-perfect 9.70 by locking in a dynamic two-turn combination. The Hawaiian proved to be unstoppable, finishing with an impressive 18.97 heat total by landing a massive air to earn another near-perfect score, a 9.27, putting the Australian in an impossible combination situation.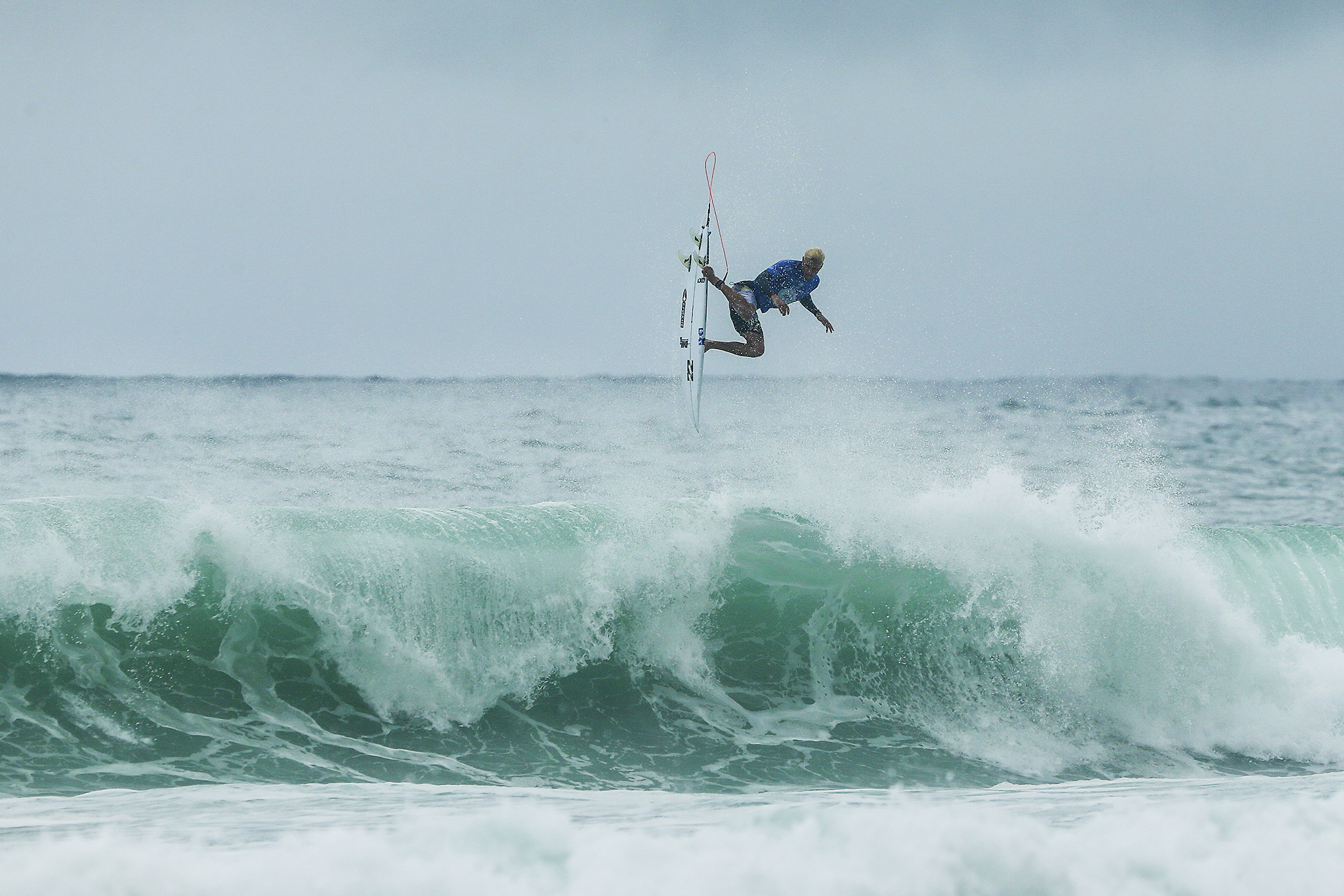 Freestone, who suffered an injury after the Quiksilver Pro Gold Coast, returned to Rio in full force after a two-event absence. Today marks Freestone's first Final appearance and highest career finish on the Championship Tour. To reach the Final, the rookie previously dispatched 2014 WSL Champion Gabriel Medina (BRA) and Miguel Pupo (BRA). Freestone's second place result will move him from 37th to 19th on the Jeep Leaderboard.
"I am very happy," Freestone said. "It was a long week and I just had to take it heat by heat. To come back from an injury and get second place is amazing, and I am over the moon. I would just like to thank everyone here in Brazil for all of their support. I would like to congratulate John on a crazy win. It was a great time here in Rio."
Freestone upset the competition by eliminating Medina in Semifinal 2. Medina, the crowd-favorite who previously posted two perfect 10-point rides in the event, was poised to make a Finals appearance, but the rookie threw down an aggressive performance to advance. Medina secured a near-perfect 9.07 with his backside full rotation air, but Freestone continued to chip away with his two-turn combinations. Freestone hammered down a 7.83 and 8.67, forcing Medina to chase a 7.43. Medina was not able to find the waves to combat Freestone's lead and will walk away with a 3rd place finish, his best of 2016. Today's results see Medina move up nine places from 18th to 9th on the Jeep Rankings.
"I am stoked to get this result," Medina said. "I feel like I am back and last year was a great year for me because I was fighting for the Title. I wish I was in the Final against John because that would be sick, but I am so happy with my finish. Hopefully I can keep doing well. I am excited for Fiji and the great waves. I love that place."
Semifinal 1 witnessed Florence eliminate Adriano de Souza (BRA), reigning WSL Champion. With eight previous match-ups between the two former event winners, this heat adds a sixth win to Florence's tally. Florence got an early lead by tying together barrels and aggressive railwork, putting pressure on De Souza to post high-scoring rides. Florence furthered his lead with a huge combination maneuver to earn a near-perfect 9.80 and backed that up with an 8.93. De Souza, with only a 12.66 heat score, was caught in a combination that he wasn't able to escape.
After a slow start on the Australian leg, today was De Souza's first Semifinal appearance of the year. De Souza's 3rd place finish will move him up to 6th place on the Jeep Leaderboard heading into Fiji.
"This is a good result," De Souza said. "I've been working so hard to be in a Final, but it was not enough. I think John has the best rhythm with the ocean and his talent is unbeatable. I am happy with my performance from the start of the event to the Semifinal. It was great to have all the support of my family and friends here in Brazil, as well as all the fans. I wish so much to be in the final, but I am happy."
De Souza previously dispatched 2016 WSL Rookie Davey Cathels (AUS) in the second heat of the Quarterfinals. Cathels put out a solid effort to knock out the reigning World Champion, but fell short by only 2.97 points. Cathels will walk away with a 5th place finish, his highest on the CT.
Florence eliminated Dusty Payne (HAW), injury replacement and former CT charger, in the opening Quarterfinal match-up. Florence found his way out of two deep barrels to earn a 15.17 two-wave score. Payne, with an 8.50 heat total, was not able to find the near-perfect 9.67 he needed to defeat Florence.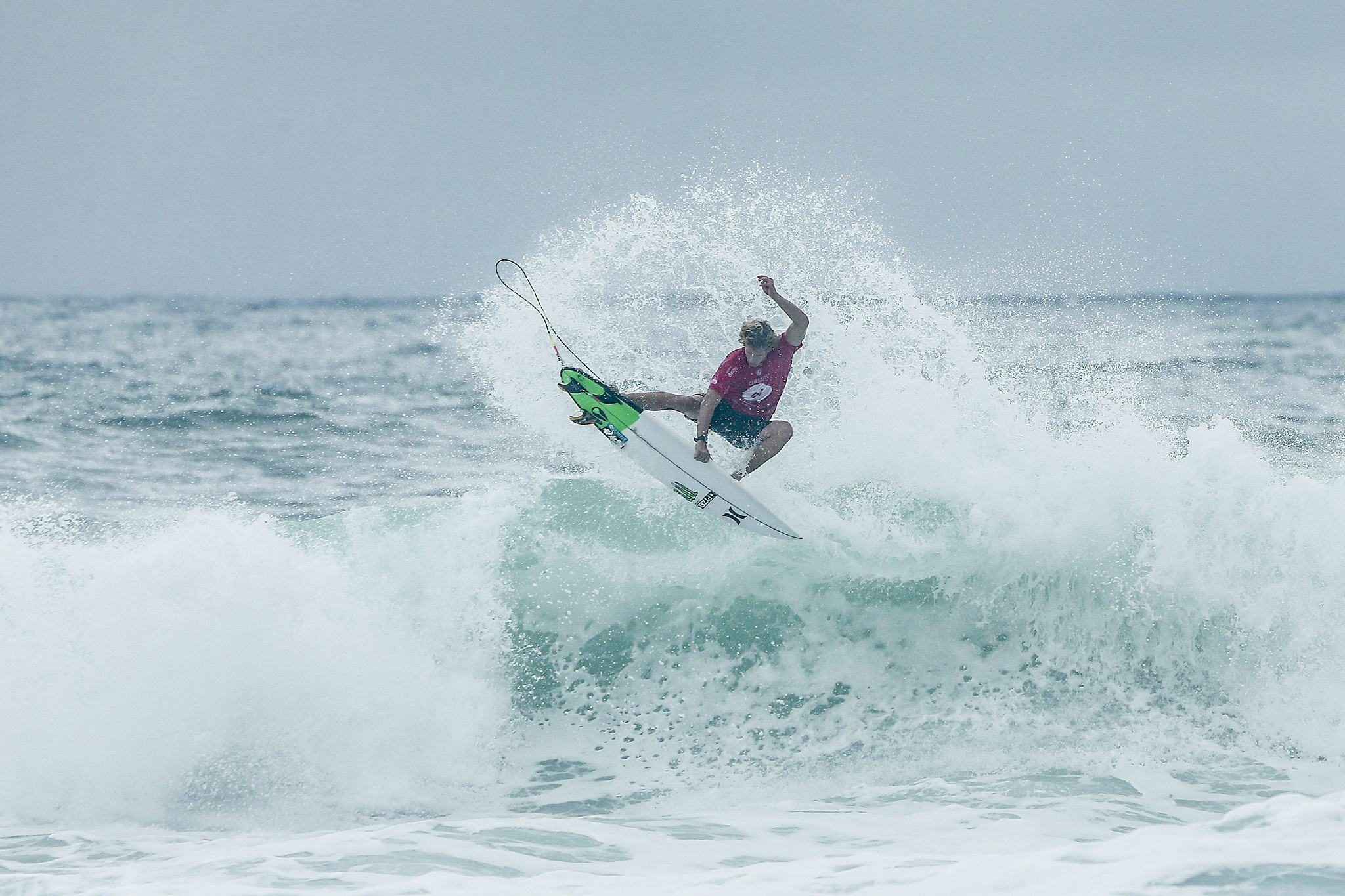 The next stop on the 2016 Samsung Galaxy WSL Championship Tour will be the Fiji Women's Pro from May 29 – June 3 followed by the Fiji Men's Pro from June 5 – 17, 2016.
For more information, check out WorldSurfLeague.com 
Oi Rio Pro Men's Final Results:
1 – John John Florence (HAW) 18.97
2 – Jack Freestone (AUS) 16.13
Oi Rio Pro Men's Semifinal Results:
SF 1: John John Florence (HAW) 18.73 def. Adriano de Souza (BRA) 12.66
SF 2: Jack Freestone (AUS) 16.50 def. Gabriel Medina (BRA) 14.67
Oi Rio Pro Men's Quarterfinal Results:
QF 1: John John Florence (HAW) 15.17 def. Dusty Payne (HAW) 8.50
QF 2: Adriano de Souza (BRA) 12.97 def. Davey Cathels (AUS) 10.00
QF 3: Jack Freestone (AUS) 12.50 def. Miguel Pupo (BRA) 11.60
QF 4: Gabriel Medina (BRA) 15.77 def. Adam Melling (AUS) 6.00
Oi Rio Pro Men's Remaining Round 5 Results:
Heat 4: Adam Melling (AUS) 10.80 def. Michel Bourez (PYF) 10.00
2016 Samsung Galaxy Top 5 (after Oi Rio Pro): 
Matt Wilkinson (AUS) 24,500 pts
Italo Ferreira (BRA) 18,750 pts
John John Florence (HAW) 18,700 pts
Sebastian Zietz (HAW) 17,500 pts
Caio Ibelli (BRA) 17,200 pts