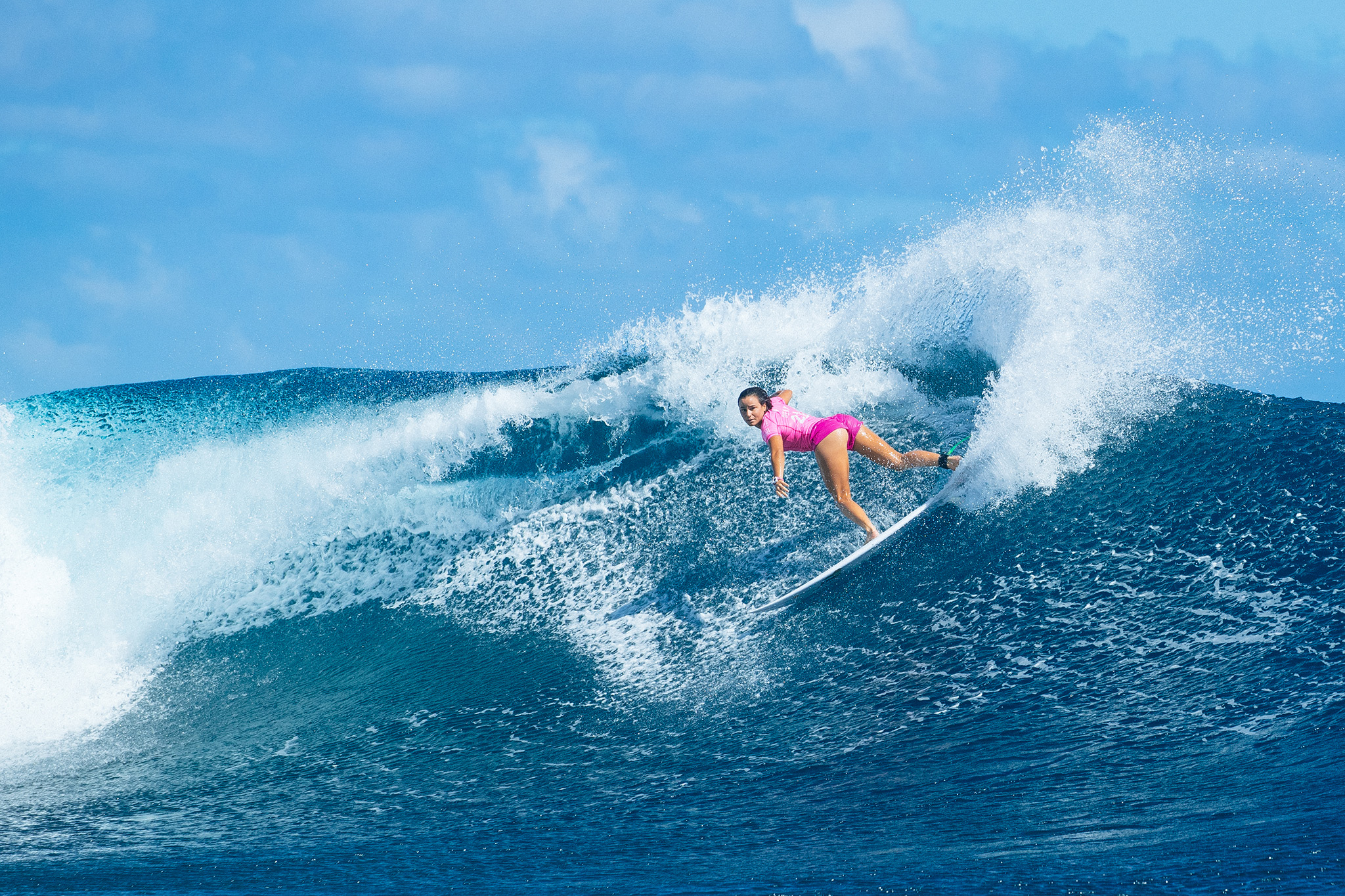 Johanne Defay (FRA) has claimed victory today at The Fiji Women's Pro, Stop No. 5 of 10 on the 2016 Samsung Galaxy WSL Championship Tour (CT), besting reigning three-time WSL Champion Carissa Moore (HAW) in six-to-eight foot (2 – 2.5 metre) surf at Cloudbreak.
"I've never beat Carissa (Moore) before," Defay said. "She is such an amazing surfer and she took 9-point rides in every heat. It is crazy and I am so happy. I want to thank my family because they have been up all night watching."
Today is the second elite CT win for Defay, who claimed her first CT victory at the Vans US Open last year. The 2015 Fiji Women's Pro semifinalist dispatched Courtney Conlogue (USA) in the Quarterfinals and Bethany Hamilton (HAW) in the Semifinals before facing Moore. Previously at 7th place on the Jeep Leaderboard, the result moves her to 4th place.
"The waves were really incredible for us this year – we are so fortunate," Defay said. "All the girls were ripping. I felt like I wasn't surfing very smart heats leading up to the Final. I was getting good waves at the end and advancing so I wanted to start strong in the Final. I'm so stoked right now."
The Final match-up saw extraordinary performances from both surfers. Defay dropped an excellent 8.40 with massive hacks and clean turns in the pocket. With less than ten minutes left on the clock, sets out the back gave both surfers opportunities to improve their scores. Moore set up with a huge backside hack, but fell on her second maneuver. Defay attacked the lip to lock in an 8.70, putting the three-time World Champion in a combination situation with less than five minutes left. Moore was not able to find the waves to combat Defay's 17.10.
"I was having an okay year but this really helps me get into a better place for me on the rankings," Defay said. "The next few events are usually strong for me so I hope to keep the results coming."
Defay heads into the upcoming Vans U.S. Open of Surfing as the defending event winner.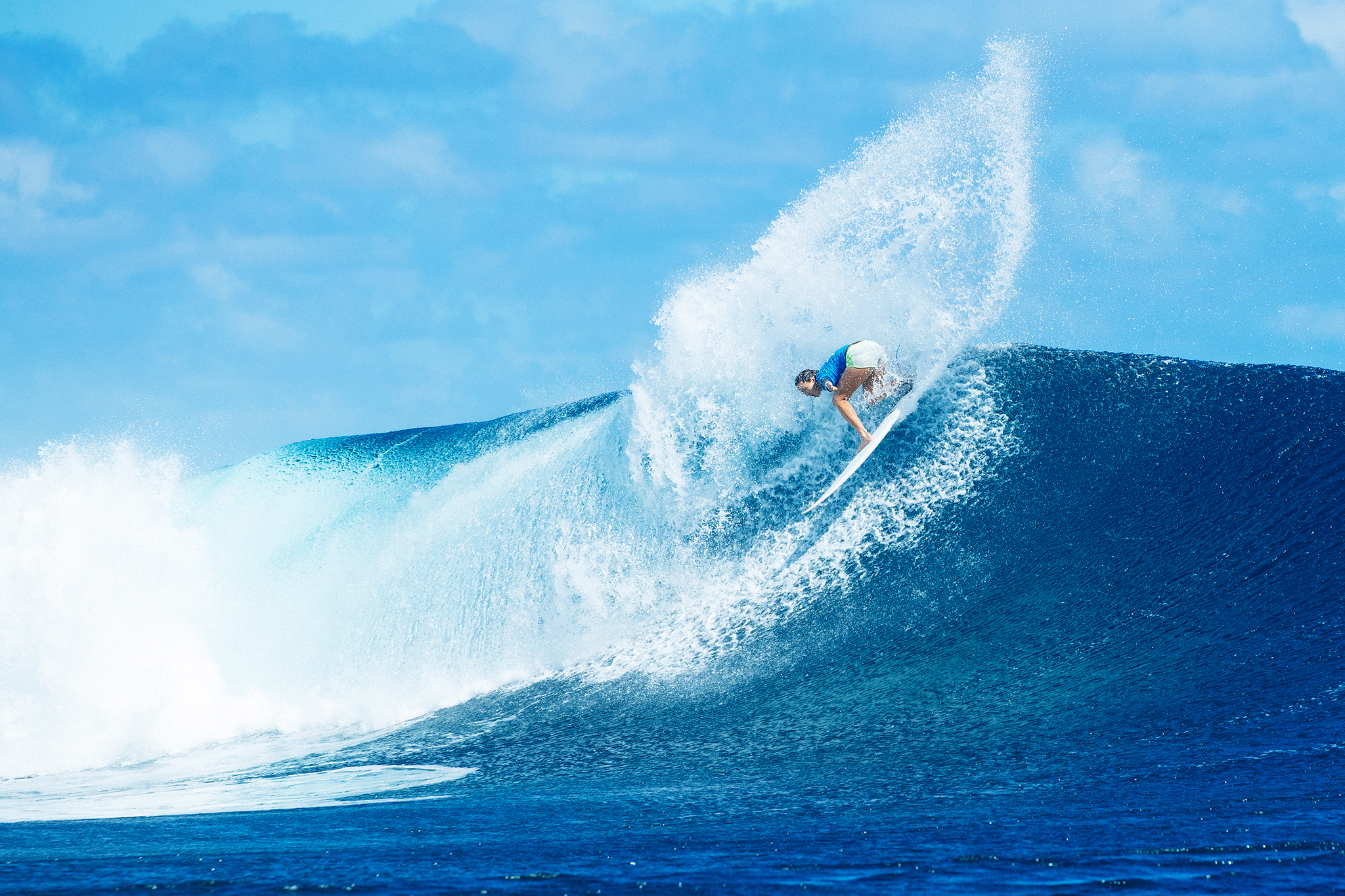 The Fiji Women's Pro marks Moore's first Final appearance of the season and her best result at the event. Moore put on a flawless performance en route to the Final, including a perfect 10 in her Quarterfinal match-up against Laura Enever (AUS). The runner-up finish will see her stay in the 3rd position on the Jeep Leaderboard.
"It was really an amazing event and I'm really happy with the way everyone surfed," Moore said. "Disappointing that I wasn't able to stay in rhythm for the Final, but congratulations to Johanne (Defay), she surfed incredible."
"Fiji has been a challenging event for me in past years so it felt great to get some solid waves and big scores under my belt here," Moore continued. "Big thanks to my coach, C.J. Hobgood, and to my support team here at home. Finals is a good result and I'll look to build upon it at the next event in Huntington Beach."
Bethany Hamilton (HAW), global sporting icon and wildcard into the Fiji Women's Pro, was eliminated in Semifinal 1 by Defay. The Frenchwoman set the rhythm early by unleashing vertical maneuvers to earn a near-perfect 9.20. Defay backed up her opening ride with an 8.27, forcing Hamilton to find two new scores. Defay continued to strengthen her two-wave total, throwing away solid scoring rides. Hamilton fought back with sharp cutbacks, but was not able to defeat Defay.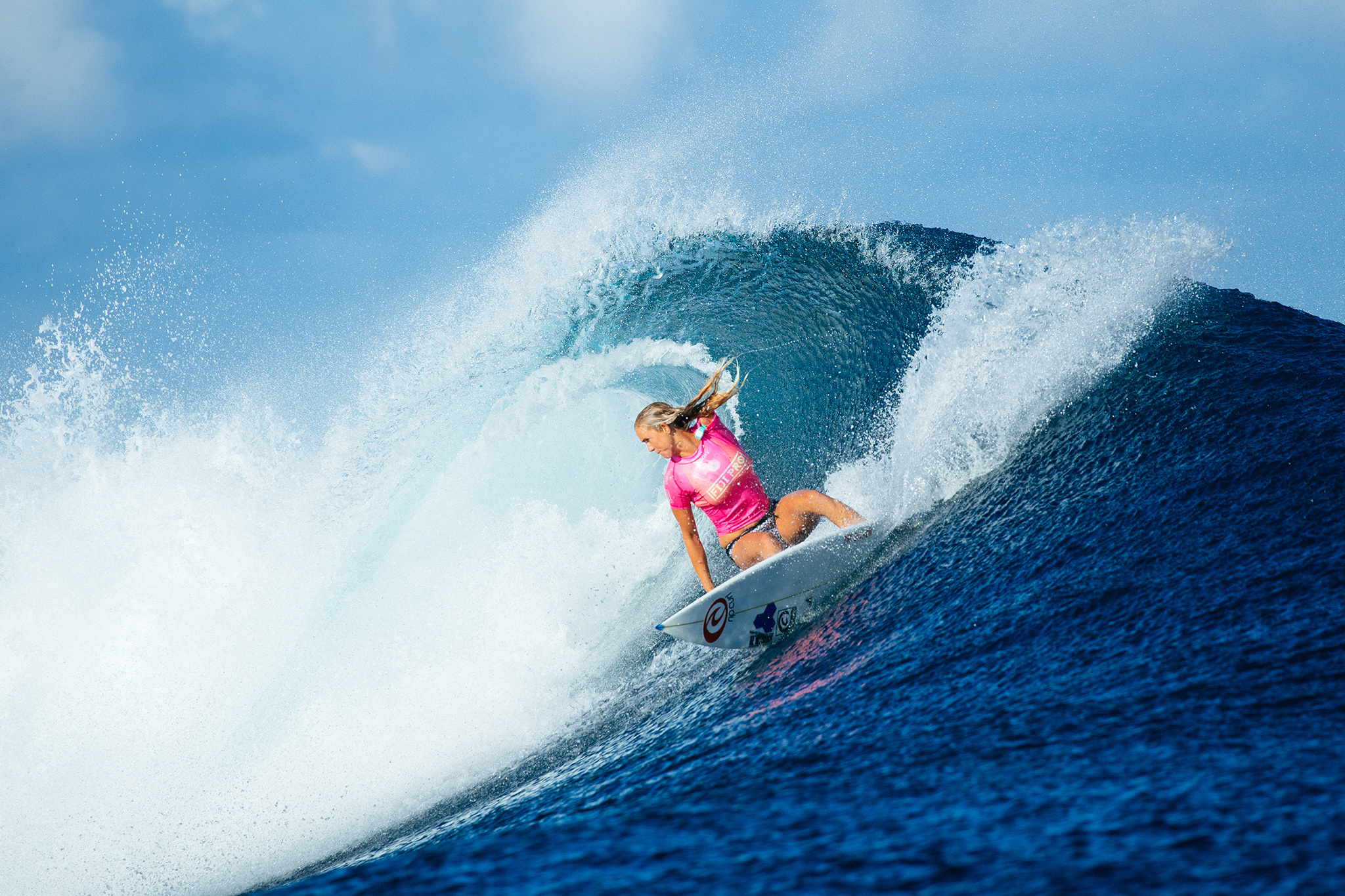 Hamilton caused a series of upsets as she blazed through the draw, eliminating world No. 1 Tyler Wright (AUS) in Round 2 and defeating six-time WSL Champion Stephanie Gilmore (AUS) in Round 3, before taking down Nikki Van Dijk (AUS) in the Quarterfinals. This event marks Hamilton's sixth appearance in a Championship Tour event and the third-place finish is her best ever CT result.
"Coming here and competing in the Fiji Women's Pro is a dream come true and I am stoked with how I did," Hamilton said. "The women on the Championship Tour are surfing amazing right now and the level continues to get better and better. I have so much respect for all the girls and it has been an amazing time here. I am so thankful for my husband's and family's support and all of my fans for cheering me on. It has been an incredible experience."
Bianca Buitendag (ZAF), 2015 event runner-up, took on Moore in an epic Semifinal clash. The two surfers went wave for wave to secure a spot in the Finals. Moore got off to an incredible start with powerful backhand snaps that earned her a near-perfect 9.77. Buitendag battled back with an excellent 8.27 and 7.83 to take the lead in the last ten minutes. Under pressure, Moore responded with solid rides to regain the lead. Moore continued to improve her situation by delivering another near perfect score, a 9.27, forcing Buitendag to find two new scores with five minutes left. Buitendag's 3rd place finish marks her best result this season. Buitendag will remain at 9th place on the Jeep Leaderboard.
"Learning from the best, like Carissa, will help me improve," said Buitendag. "The way Carissa approaches the lip is much more committed and critical to what I had done. Definitely that and spending more time on lefts, because I do not do that as often. There is so much to learn from all of these girls and I am so happy to be a part of it."
In a heated re-match of the 2015 Fiji Women's Pro final, Buitendag previously edged out defending event winner Sally Fitzgibbons (AUS) in the Quarterfinals by just 3.73 points, ending Fitzgibbons' run for a third-consecutive event Title. This 5th place finish will see Fitzgibbons remain 5th on the Jeep Rankings.
Courtney Conlogue (USA) was eliminated in the Quarterfinals by Defay. Conlogue controlled the heat with a 14.00 two-wave score, but an aggressive three turn combo under Conlogue's priority earned Defay an excellent 9.17. Conlogue was given one last opportunity advance in the dying minutes of the heat, but could not close the 1.07 gap on Defay.
"In the start of the heat I definitely had control of it," Conlogue said. "As I came around, I lost my rhythm with the ocean and Johanne ended up maximizing on it and I made a few mistakes in that heat. I just have to go back to the drawing board and learn from my mistakes heading into the US Open. I am trying to win events and surf the best I can. When I get to the US Open that is what I will be working on."
Conlogue's 5th place finish in Fiji has earned her back the WSL Jeep Leader's' Jersey at the upcoming Vans US Open of Surfing.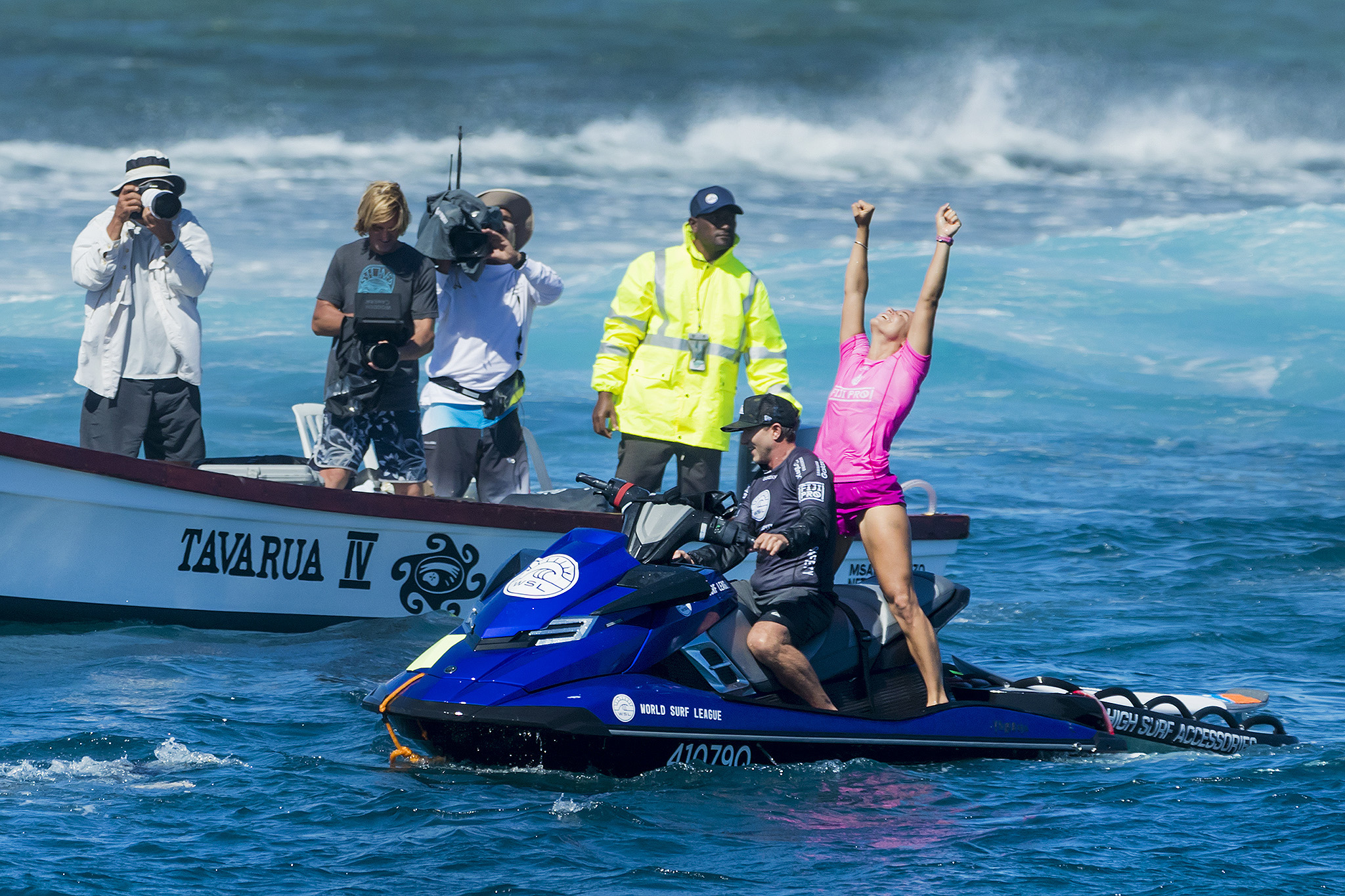 Fiji Women's Pro Final Results:
1 – Johanne Defay (FRA) 17.10
2 – Carissa Moore (HAW) 10.70
Fiji Women's Pro Semifinal Results:
SF 1: Johanne Defay (FRA) 17.47 def. Bethany Hamilton (HAW) 11.06
SF 2: Carissa Moore (HAW) 19.04 def. Bianca Buitendag (ZAF) 16.60
Fiji Women's Pro Quarterfinal Results:
Heat 1: Bethany Hamilton (HAW) 12.33 def. Nikki Van Dijk (AUS) 11.26
Heat 2: Johanne Defay (FRA) 15.07 def. Courtney Conlogue (USA) 14.00
Heat 3: Carissa Moore (HAW) 19.03 def. Laura Enever (AUS) 15.77
Heat 4: Bianca Buitendag (ZAF) 14.40 def. Sally Fitzgibbons (AUS) 10.67
2016 Samsung Galaxy WSL Top 5 (after Fiji Women's Pro):
Courtney Conlogue (USA) 37,700 pts

Tyler Wright (AUS) 36,950 pts

Carissa Moore (HAW) 34,000 pts

Johanne Defay (FRA) 28,650 pts

Sally Fitzgibbons (AUS) 28,150 pts