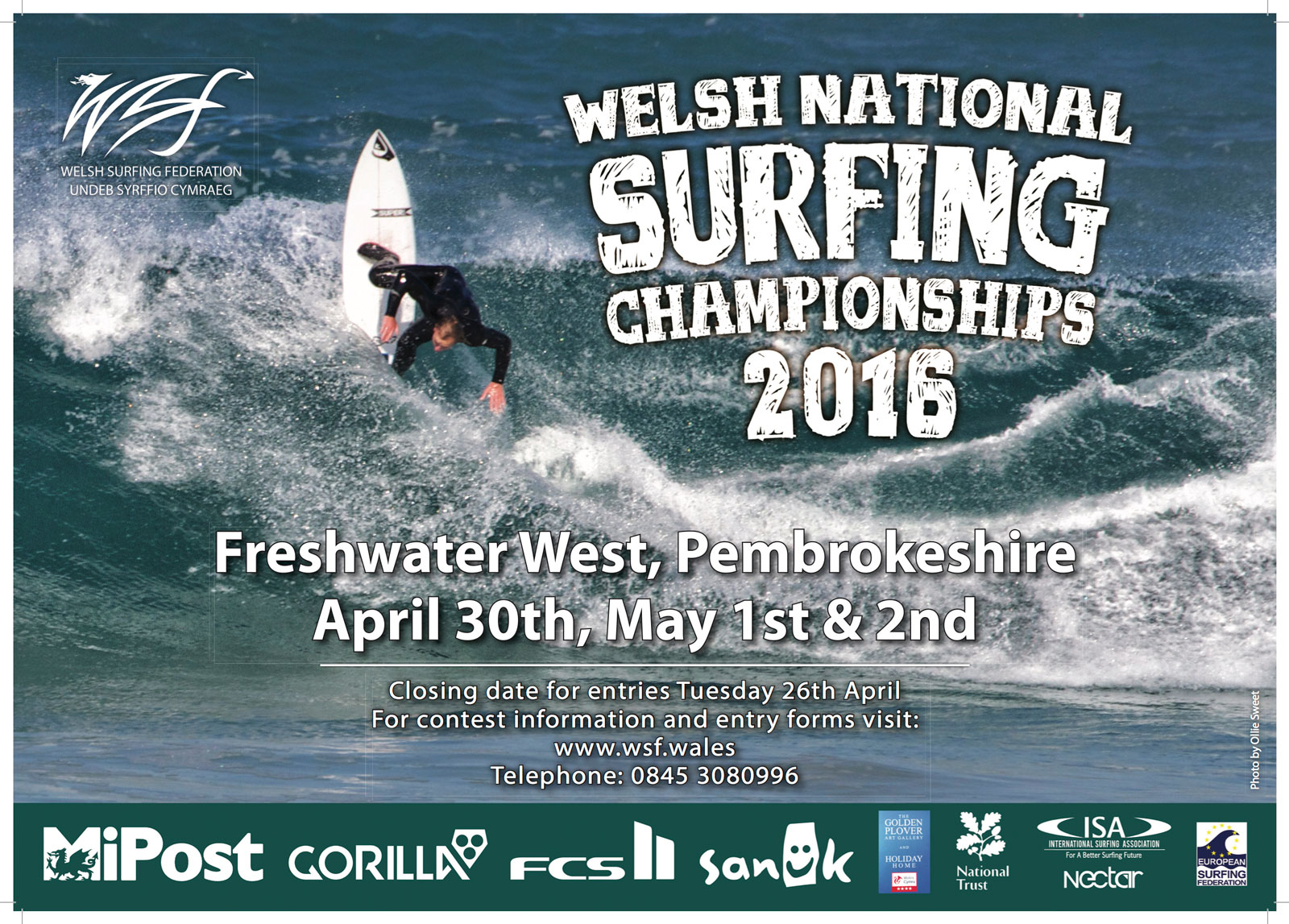 The Welsh Surfing Federation are pleased to announce that this year´s Welsh National Surfing Championships will be co-sponsored by FCS, Sanuk and Gorilla (through Holysport UK) and MiPost Mailing Solutions, Cardiff.
In a statement President Huw John said: "It´s fantastic to receive the backing of these core surfing brands FCS, Sanuk and Gorilla, along with one of Wales Top 25 companies MiPost. That the WSF is able to retain sponsorship from these companies is testament to the great work carried out by the WSF committee and the excellent relationships that have been developed.
We would like to thank both Liam O´Shea (Holysport UK) and Ken Vaughan (Mipost) for their generosity and commitment to surfing in Wales."
The Welsh Nationals is scheduled to take place over the bank holiday weekend of 30th April, 1st & 2nd of May at the usual venue of Freshwater West, Pembrokeshire.
The contest is the most prestigious WSF event of the year, bringing together competitors of all ages to compete for one of 15 National Titles as well as places in the National Team to compete at both European and World level.
Last year´s Open Champion Rhys Barfield became the first Under 18 surfer to win both the Open and Junior titles since 1989 proving that Wales youngsters are improving rapidly.
The WSF expects to see strong performances from Seth Morris, Cieran Hughes, Patrick Langdon Dark, Logan Nichol and Jo Morris at Open level this year.
In the Women's Jo Denison made a successful return to competition in 2015 winning the Open title from past champion Emily Williams, the Surf Snowdonia head coach can expect another tough battle from Emily and newly appointed Welsh Coach Gwen Spurlock to retain her title.
With the ISA World Open Surfing Championship being held in Costa Rica this year there's a little added incentive to our Open surfers to put in extra training and a good performance to take up a place in the team.
The ISA World Longboard, Masters, Open, Bodyboard and SUP events are still be to be finalised by the ISA, but judging by the Open's location you can pretty much bet it will be somewhere hot and exotic providing amazing opportunities for Welsh Surfers to compete on a World Stage and who knows possibly take home a medal or two!
The WSF would like to wish all our competitors and officials alike the very best of luck at the event and pass on thanks to the National Trust and Pembrokeshire Parks for allowing us to use Freshwater West once again.