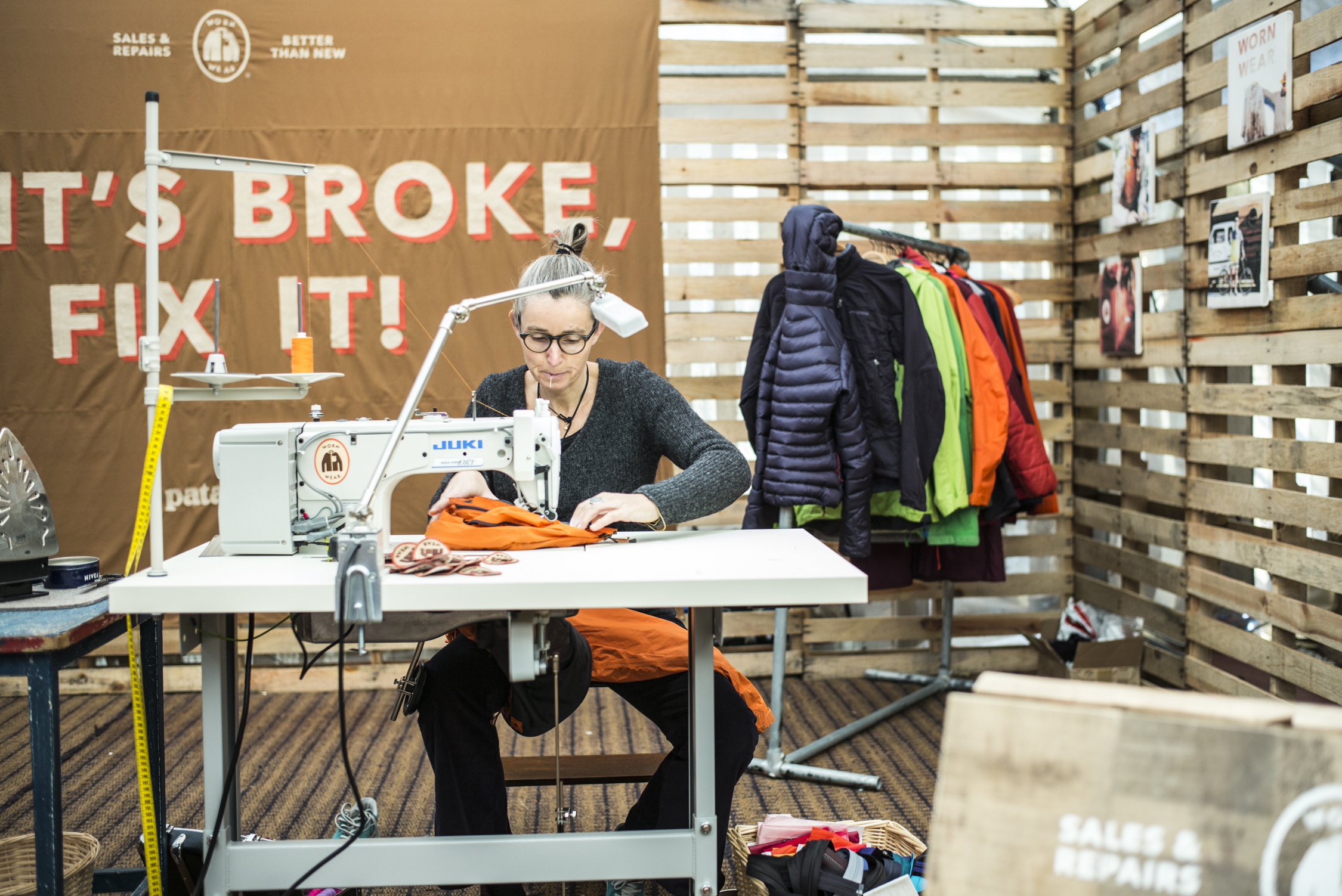 Extending the life of our garments is the single most important thing we can do to lower our impact on the planet. This simple act of extending the life of our garments through proper care and repair reduces the need to buy more over time — thereby avoiding the CO2 emissions, waste output, and water usage required to build it.
Today, Patagonia is proud to launch a more than 50 stops, five-country European mission to encourage our customers to make their clothes last a lifetime (regardless of brand). At each stop, we'll be offering free repairs on busted zippers, rips, tears, buttons, pulls and more – in addition to teaching people how to fix their own gear.
The Euro Worn Wear Tour will kick off simultaneously on April 15 in both UK and Germany and ending end of in France, Italy and the Netherlands. The tour will be stopping at a myriad of locations such as retail locations, sport events, farmers' markets and universities.
Patagonia's Worn Wear program was created in 2013 as a way to encourage people to take good care of their gear, washing and repairing as needed. It's an extension of a philosophy Patagonia has held for more than 40 years (and the subject of our commentary on Black Friday, including our "Don't Buy This Jacket" ad in 2011). Worn Wear aims to keep clothing, regardless of brand, in circulation for as long as possible. When it's time for a replacement, we want you to invest in something that lasts.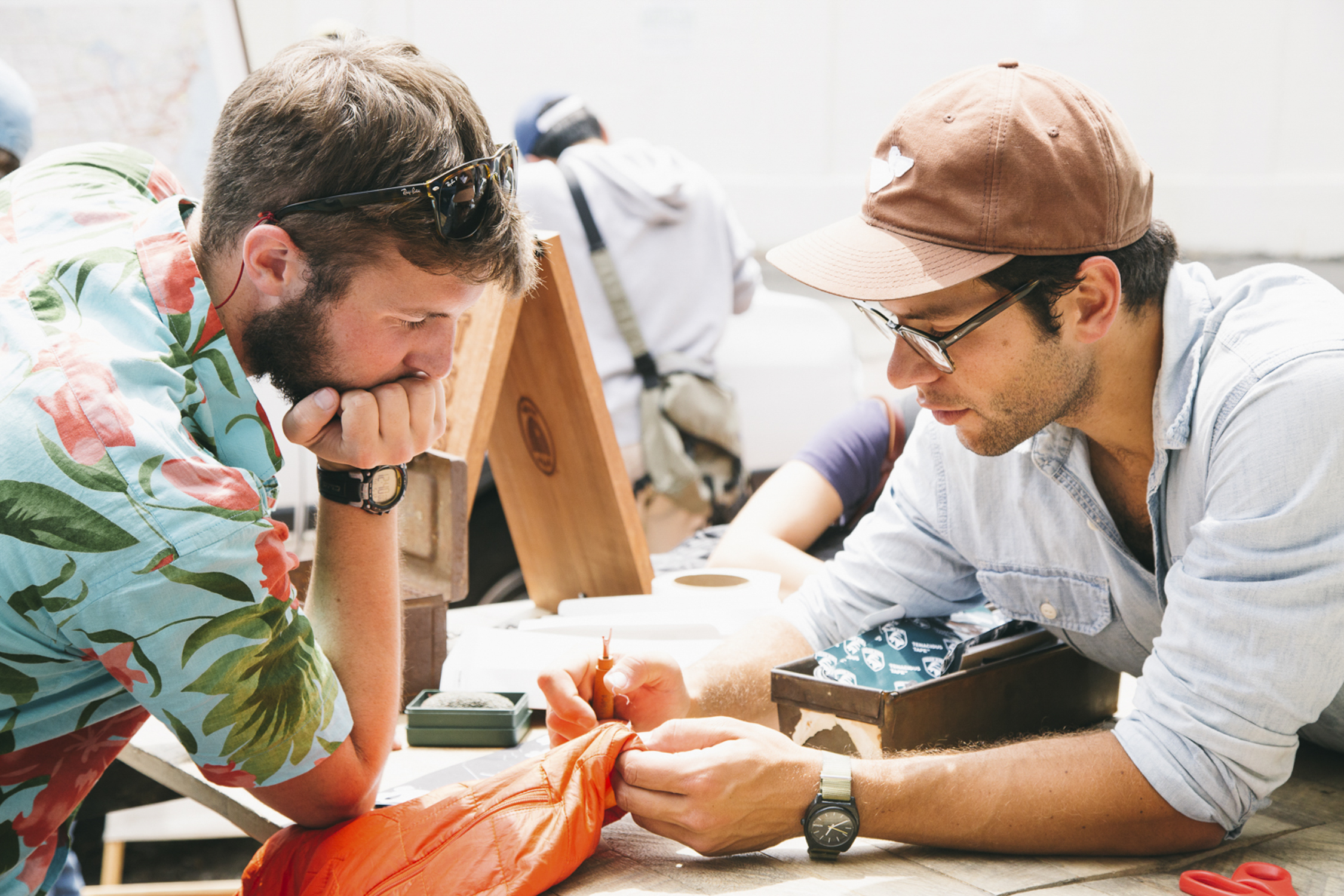 That's why Patagonia makes the best quality, most functional products in the world, guarantees them for life. And it's why we're going on tour – bringing Worn Wear's critical message to communities across the country.
"Building a product that lasts and can be repaired is the very first and most critical step toward limiting our footprint on the environment," notes Patagonia CEO Rose Marcario. "We want to empower our customers to be owners, not just consumers. It's a simple but critical message: keep your gear in action longer and take some pressure off our planet."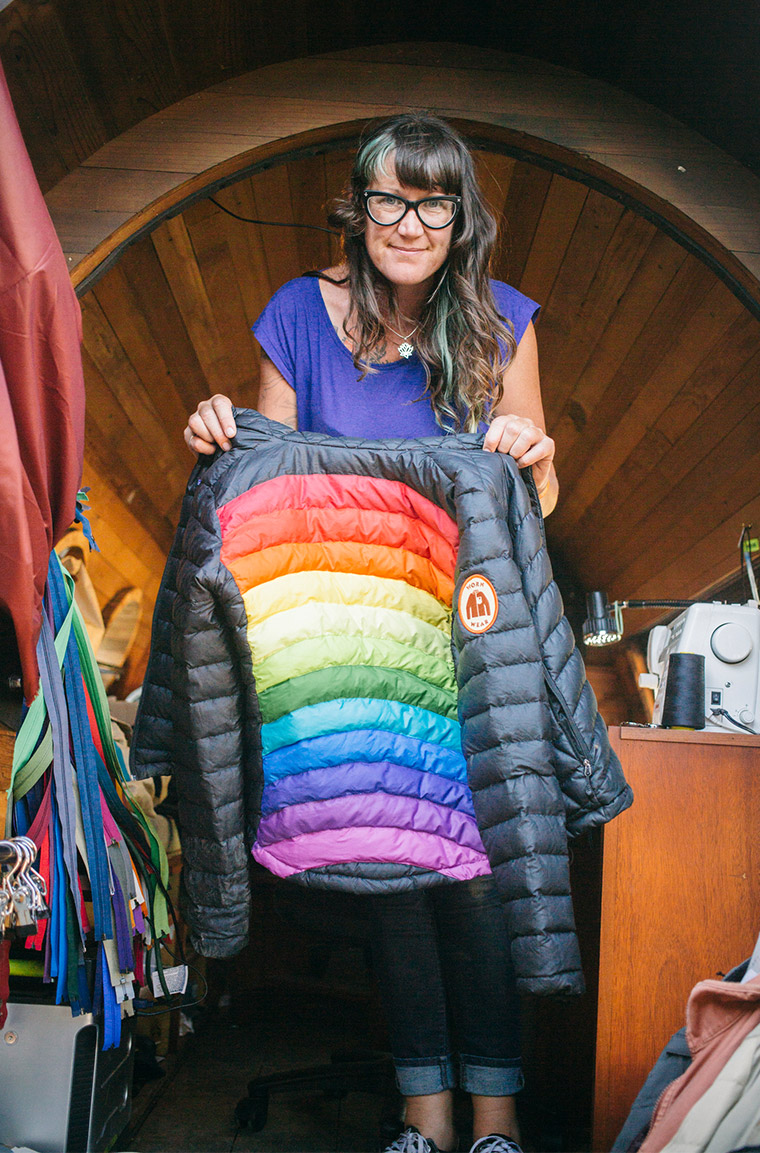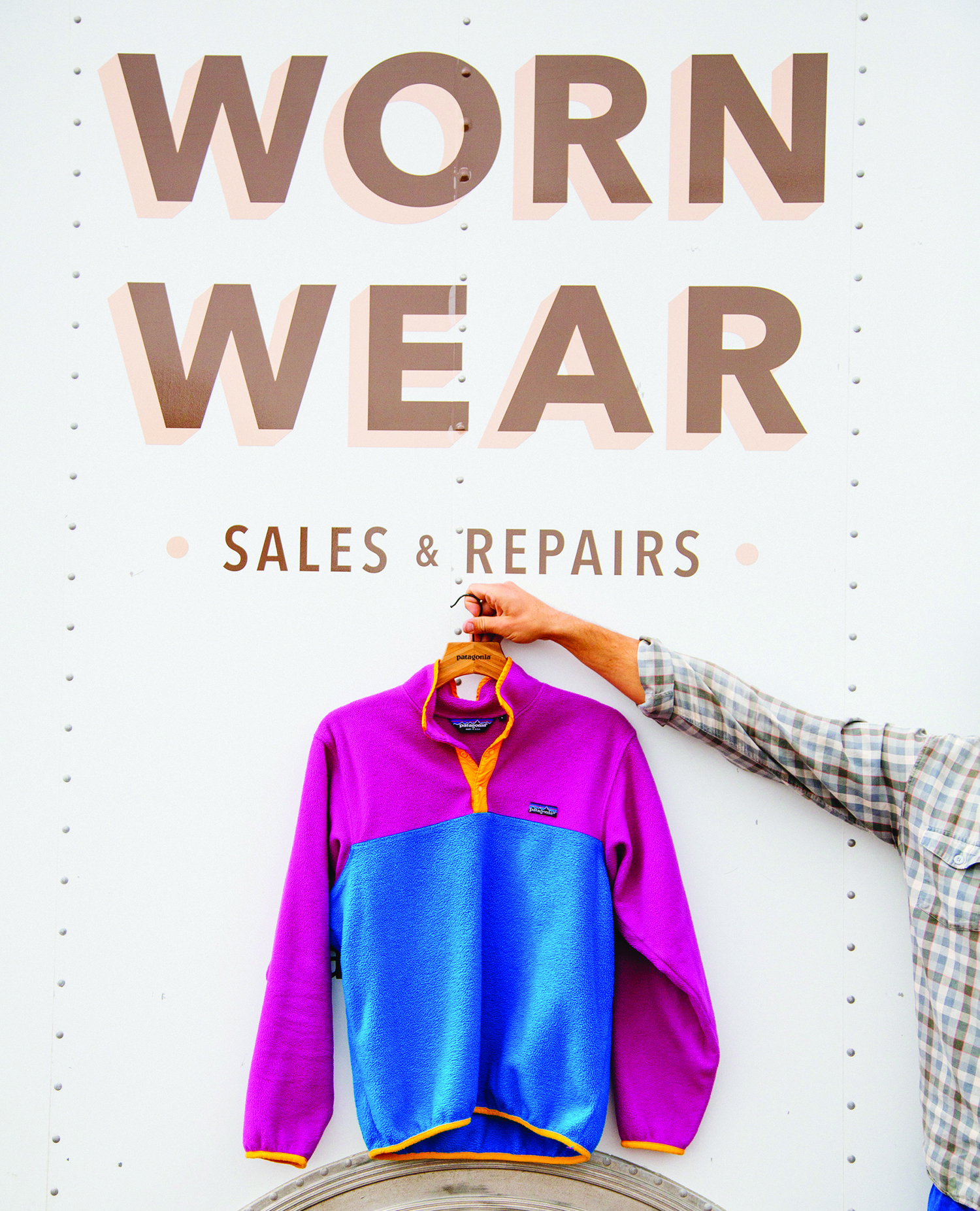 The Worn Wear mobile repair shops are equipped with Industrial Juki sewing machines and will be open to anyone who brings in a garment in need of repair, regardless of brand. The tour will aim to educate visitors about the philosophy behind Patagonia's Worn Wear program, in addition to offering up some fun with food and drinks.
At the end of the day, we can tinker with our supply chain, improve sourcing, use all-recycled fabrics and give away millions of dollars to environmental organizations until the cows come in, but nothing is more important and impactful than keeping our clothing in use for as long as possible. In fact, by keeping our clothing in use just nine extra months, we can reduce related carbon, waste and water footprints by 20-30 percent each, according to the UK-based group WRAP – simply because we're making and throwing away less. 
We look forward to seeing you at Worn Wear Tour stops around the country!
#BETTERTHANNEW #WORNWEAR @PATAGONIA
See below for tour dates and stops around the UK.
5th & 16th April – Keswick, George Fisher & Nurture Lakeland blogger-fest
17th April – Grassington, Fellsman Ultrarun Event
18th & 19th April – Betws-y-Coed, Wales, Moel Siabod Cafe with Save the Conwy
21st & 22nd April – Shrewsbury, High Sports
23rd & 24th April – Stevenage, Countryside Ski & Climb
26th & 27th April – London, The Brokedown Palace at Boxpark with Waterkeeper
28th April – London, The Brokedown Palace at Spitalfields Market
30th April – 1st May – Cornwall, Down The Line Surf Shop with Save Our Sands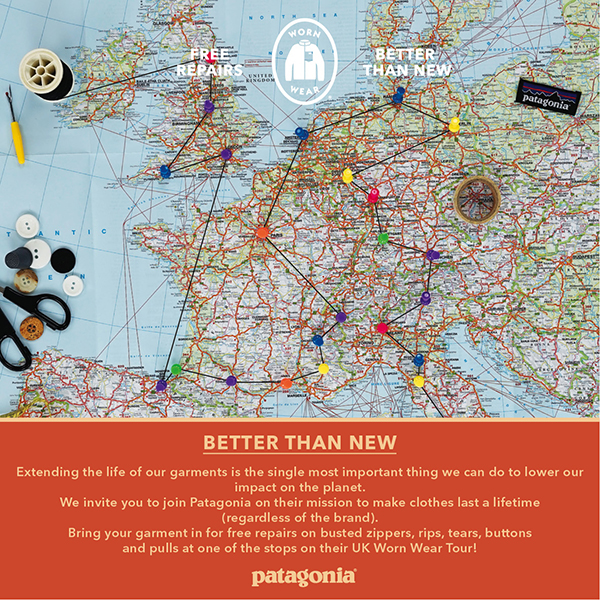 About Patagonia
Founded by Yvon Chouinard in 1973, Patagonia is an outdoor apparel company based in Ventura, California. A certified B-Corporation, Patagonia's mission is to build the best product, cause no unnecessary harm and use business to inspire and implement solutions to the environmental crisis. The company is recognized internationally for its commitment to authentic product quality and environmental activism, contributing over $70 million in grants and in-kind donations to date.