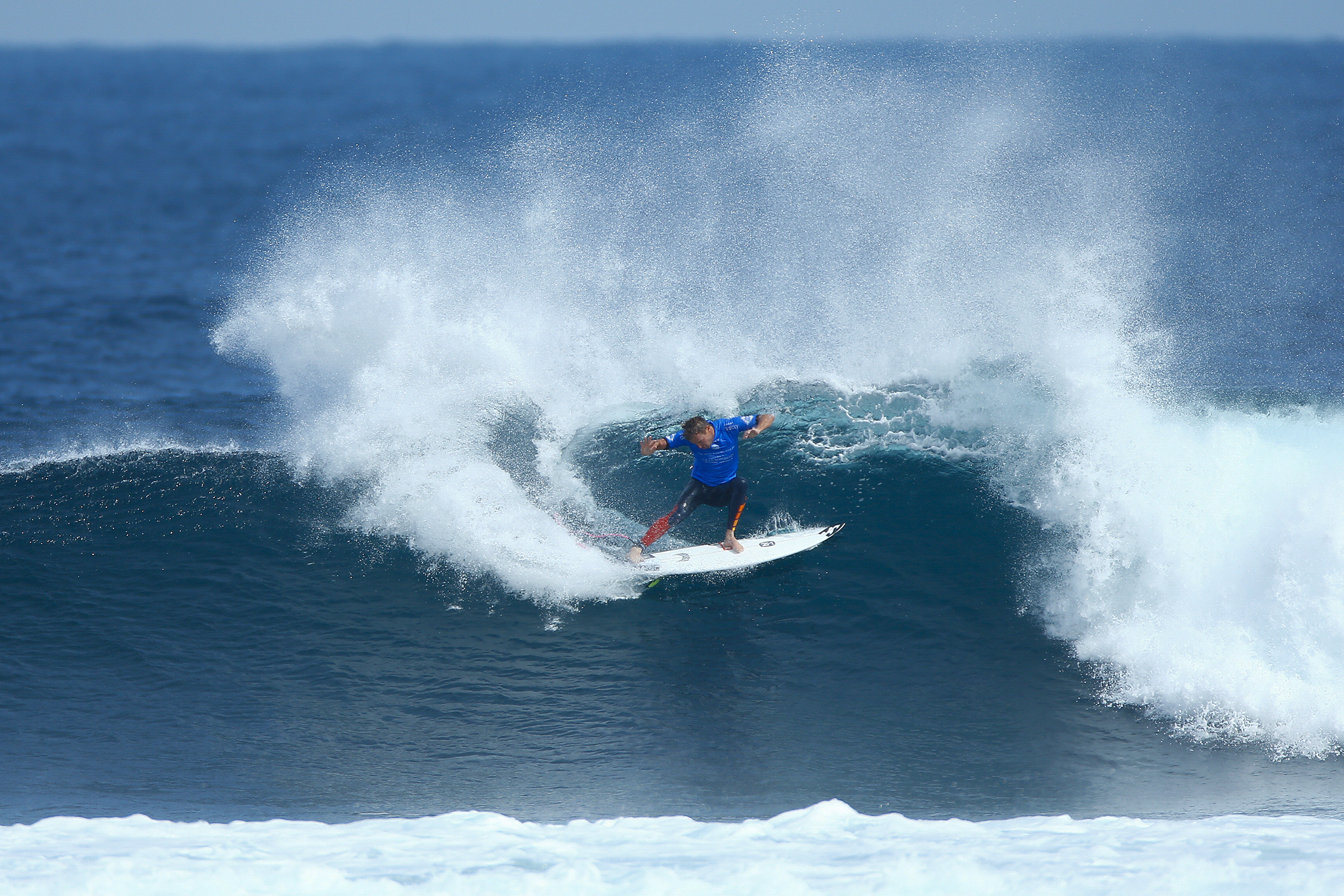 The Drug Aware Margaret River Pro, the third stop on the 2016 Samsung Galaxy WSL Championship Tour, kicked off this morning with Women's Round 1 followed by Men's Round 1 in 4 feet + (1.5 metre) clean waves at Main Break in Western Australia.
Matt Wilkinson (AUS), current Jeep Rankings Leader, continues to dominate on the 2016 CT as he defeat injury replacement Stuart Kennedy (AUS) and Dusty Payne (HAW) to advance to Round 3. Wilkinson came out the gates strong with a 7.17 point ride, and continued to better his two-wave score with a solid 5 point ride. Kennedy and Payne were not able to find big enough second scores to combat Wilkinson.
"This 6'1" board is feeling really awesome, but I just buckled it on my last ride, which is a bummer, but I am stoked to win that heat," Wilkinson said. "I've got some other boards so I should be okay. Hopefully the lefts turn on a bit and I can find some barrels and do some big open face carves."
Adriano De Souza (BRA), reigning WSL Champion, defeat Trails winner Jacob Willcox (AUS) and Keanu Asing (HAW) in Heat 7 of today's competition. De Souza held the lead with two 6 point rides. Willcox fought hard to out surf De Souza, but was unable to find the 6.37 score required to beat the defending event Champion. De Souza will advance to Round 3, while Willcox and Asing will battle to avoid elimination in Round 2.
"I am so happy to make this heat especially because Willcox surfed so well and Keanu is a dangerous threat in any kind of conditions," De Souza said. "I am happy to get these nerves out of my system and come back to the place that gave me a lot of happiness in the past. Now I am trying to find my rhythm and see if I can go far through this contest."
Italo Ferreira (BRA), 2015 Rookie of the Year faced 2016 WSL rookie Kanoa Igarashi (USA) and event Wildcard Jack Robinson (AUS) in Round 1 Heat 4. Igarashi held control for a majority of the heat, but it was Ferreira who surged ahead of Igarashi by only 1.22 points in the last five minutes. Ferreira landed a massive air-rotation on his last wave, reminding the field of the innovative maneuvers in his arsenal.
"I am so happy that I got those last two waves," said Ferreira after his heat. "In the first ten minutes I did not catch any good waves where Kanoa got two good waves. In the last few minutes I got two good waves and did a couple of turns and airs. It was ninja and then I was scared when I saw the rocks, but it was so fun."
CT veteran Joel Parkinson (AUS) faced 2016 WSL rookies Conner Coffin (USA) and Ryan Callinan (AUS) in Heat 9. Coffin held control for most of the heat, but it was Parkinson who came back with a huge air that awarded him a 7.17 to win the heat and advance to Round 3. The rookies will compete in Round 2 to avoid elimination from the event.
"That was a really cool heat to surf against two rookies," Parkinson said. "They are real eager and I was feeding off of their hunger. It was good to have two guys who are frothing on their first time on tour. I had about five different game plans going through my head and everything I tried to do I did the opposite. It's one of those places where you have to adapt and surf to the conditions whatever way you can."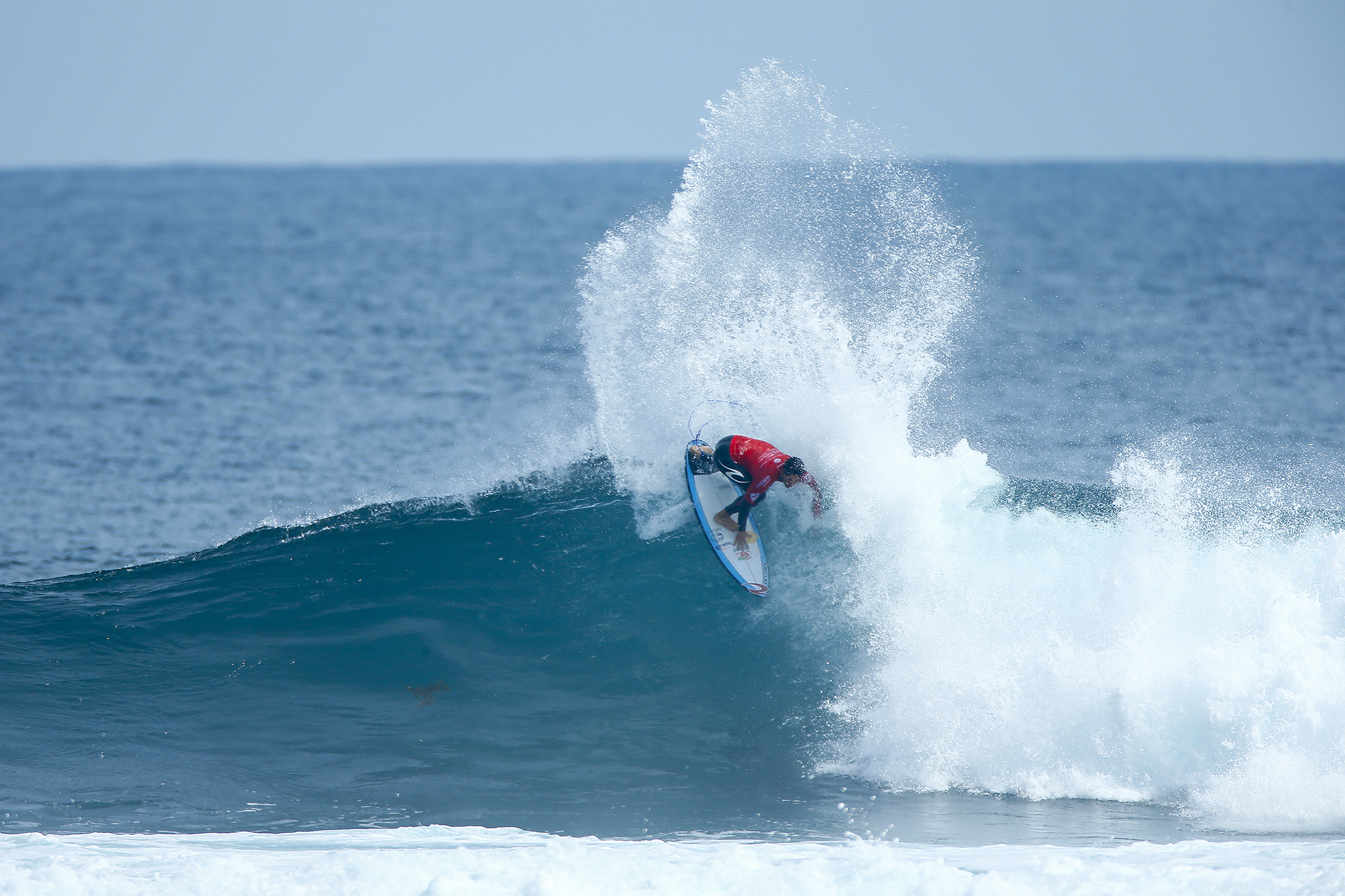 Presumed 2016 Title contenders Julian Wilson (AUS), Gabriel Medina (BRA) and Nat Young (USA) also won their Round 1 match-ups and will compete in Round 3.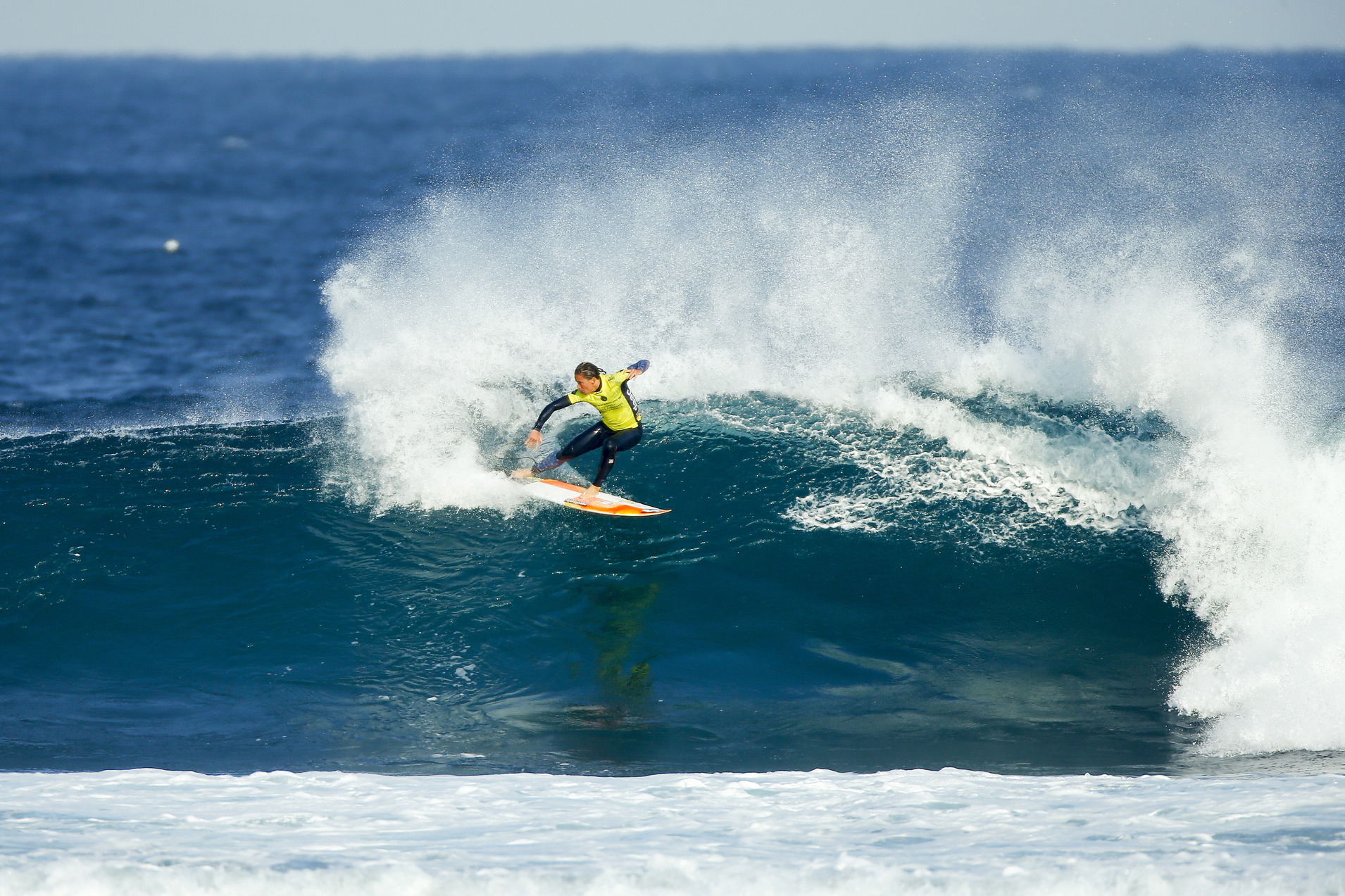 Courtney Conlogue (USA), the current Jeep Ratings Leader, will advance straight to Round 3 after sending Alessa Quizon (HAW) and Trials winner Felicity Palmateer (AUS) to Round 2. Conlogue was able to find two solid waves to rack up a 13.40 two-wave combined score, earning her a 3.03 lead over Quizon.
"I have learned so much about my surfing and how to improve it at this wave," Conlogue said. "I love how this venue is always changing. You never know what to expect coming here. You either get swell and amazing offshores or you get this wild, woolly condition. Everytime I come here is an adventure and you wake up and see what the day brings."
Carissa Moore (HAW), three-time WSL Champion and last year's event runner-up, charged through her heat, showcasing power, variety and speed against Sage Erickson (USA) andLaura Enever (AUS). Enever tried to combat Moore's 15.77 two-wave combined score, but was not able to challenge with her pair of 6 point rides. Moore will advance to Round 3, while Enever and Erickson battle in elimination Round 2.
"I am happy where I am at right now, but of course I would have liked to have gotten a few spots better in the first two contests," Moore said. "I like coming from behind and having something to chase. Seeing that target is exciting. I am happy to be here at Margaret River, the waves are fun."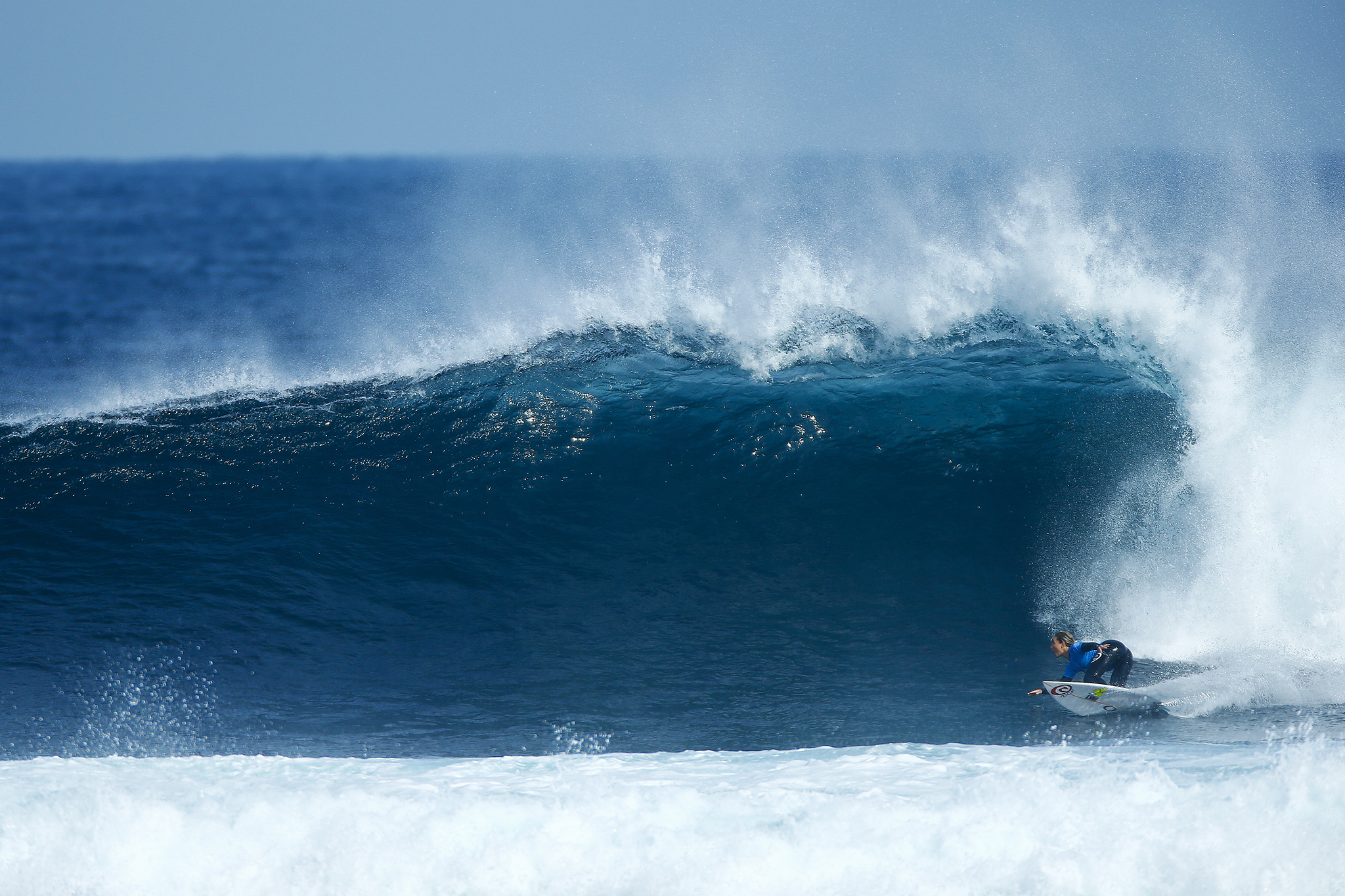 Nikki Van Dijk (AUS) is off to a strong start in Western Australia, as she defeat Tyler Wright (AUS), current World No. 2, and Coco Ho (HAW) in Round 1. Van Dijk demonstrated strong performances in the last two events and continued the trend today by earning two 7 point rides. A dramatic finish left Wright under both Van Dijk and Ho's priority. Needing a second solid score to defeat Van Dijk, Wright was tempted by a wave out the back. Van Dijk played defense and used her priority to also take off on the wave, leaving Wright with an interference call.
"That was the ultimate seal dive, I don't even know what that was and want to go watch the replay," Van Dijk said. "But other than that, I am happy to make the next round and I feel good out there. Margarets is definitely a really challenging wave, you never really know what it is going to do or what conditions you'll get. I love that element, but I would love to win here and I will take it heat by heat."
Local favorite Bronte Macaulay (AUS) defeat six-time World Champion Stephanie Gilmore (AUS) and Johanne Defay (FRA) in the last heat of Round 1. Macaulay, who gained entry into the event as an injury replacement, charged Main Break to wrack up a 14.60 two-wave combined score, leaving Gilmore and Defay in a combination situation. Macaulay will advance to Round 3, while Gilmore and Defay will battle to avoid an early elimination.
"I am feeling more and more comfortable with every heat I surf," Macaulay said. "Being a local here, I do not feel any pressure at all. I appreciate the support and when you walk down the beach and see all these familiar faces, it means a lot to me that they are taking time out of their day to come and watch, so I just want to put a good performance out in the water."
Event organizers will convene tomorrow at 6:30am local time for a possible 7am start.
The Drug Aware Margaret River Pro will be webcast LIVE on WorldSurfLeague.com as well as the WSL app.
The event is also being carried by our LIVE broadcast partners Fox Sports Australia, CBS Sports in the United States, ESPN Brasil, Globosat, Edgesport, Sky NZ, Sport TV, Canal + Deportes, Channel Nine, MCS, Starhub, and Oceanic Time Warner Cable 250 & 1250 in Hawaii.
For more information, log onto WorldSurfLeague.com
Drug Aware Margaret River Pro Women's Round 1 Results:
Heat 1: Tatiana Weston-Webb (HAW) 13.60, Keely Andrew (AUS) 13.43, Bianca Buitendag (ZAF) 8.63
Heat 2: Sally Fitzgibbons (AUS) 15.57, Malia Manuel (HAW) 13.67, Chelsea Tuach (BRB) 10.60
Heat 3: Courtney Conlogue (USA) 13.40, Alessa Quizon (HAW) 10.37, Felicity Palmateer (AUS) 9.43
Heat 4: Carissa Moore (HAW) 15.77, Laura Enever (AUS) 12.83, Sage Erickson (USA) 10.57
Heat 5: Nikki Van Dijk (AUS) 14.80, Coco Ho (HAW) 12.16, Tyler Wright (AUS) 8.77
Heat 6: Bronte Macaulay (AUS) 14.60, Stephanie Gilmore (AUS) 7.77, Johanne Defay (FRA) 7.00
Drug Aware Margaret River Pro Women's Round 2 Match-Ups:
Heat 1: Malia Manuel (HAW) vs. Keely Andrew (AUS)
Heat 2: Bianca Buitendag (ZAF) vs. Chelsea Tuach (BRB)
Heat 3: Tyler Wright (AUS) vs. Felicity Palmateer (AUS)
Heat 4: Johanne Defay (FRA) vs. Laura Enever (AUS)
Heat 5: Stephanie Gilmore (AUS) vs. Coco Ho (HAW)
Heat 6: Sage Erickson (USA) vs. Alessa Quizon (HAW)
Drug Aware Margaret River Pro Men's Round 1 Results:
Heat 1: Taj Burrow (AUS) 16.34, Jeremy Flores (FRA) 16.10, Alex Ribeiro (BRA) 5.43
Heat 2: Julian Wilson (AUS) 17.10, Adam Melling (AUS) 15.47, Kai Otton (AUS) 12.06
Heat 3: Matt Wilkinson (AUS) 12.67, Stuart Kennedy (AUS) 9.17, Dusty Payne (HAW) 7.60
Heat 4: Italo Ferreira (BRA) 15.67, Kanoa Igarashi (USA) 14.54, Jack Robinson (AUS) 9.70
Heat 5: Gabriel Medina (BRA) 16.70, Leonardo Fioravanti (ITA) 12.27,  Davey Cathels (AUS) 10.16
Heat 6: Adriano de Souza (BRA) 13.10, Jacob Willcox (AUS) 12.40, Keanu Asing (HAW) 10.64
Heat 7: Michel Bourez (PYF) 14.14, Jordy Smith (ZAF) 14.04, Alejo Muniz (BRA) 13.13
Heat 8: Nat Young (USA) 15.93, Matt Banting (AUS) 15.53, Caio Ibelli (BRA) 14.60
Heat 9: Joel Parkinson (AUS) 12.84, Conner Coffin (USA) 11.26, Ryan Callinan (AUS) 10.50
Drug Aware Margaret River Pro Men's Remaining Round 1 Match-Ups:
Heat 10: Kelly Slater (USA), Kolohe Andino (USA), Miguel Pupo (BRA)
Heat 11: John John Florence (HAW), Adrian Buchan (AUS), Sebastian Zietz (HAW)
Heat 12: Wiggolly Dantas (BRA), Josh Kerr (AUS), Jadson Andre (BRA)