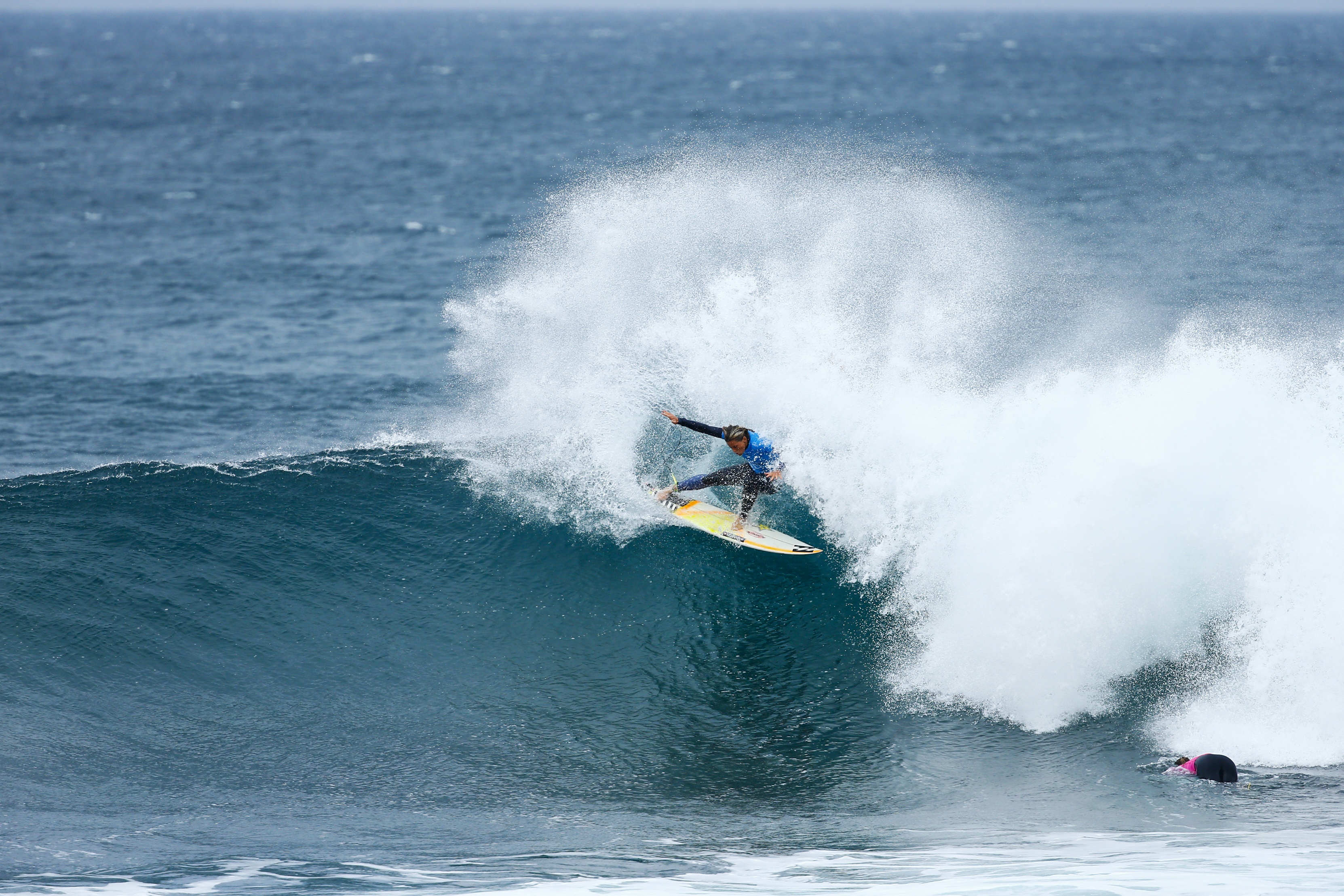 Courtney Conlogue (USA) claimed victory today at the Rip Curl Women's Pro Bells Beach, defeating Sally Fitzgibbons (AUS) in three-to-five foot (1 – 1.5 metre) waves at the world-renowned Bells Beach in the Australian state of Victoria.
The second stop on the 2016 Samsung Galaxy WSL Championship Tour, the Rip Curl Women's Pro Bells Beach enjoyed classic conditions today with world's best female surfers pushing the boundaries of high-performance surfing once again.
The Final match-up witnessed Conlogue compete against Fitzgibbons, the two-time event winner, in an all out brawl for the opportunity to claim the second CT event win and ring the prestigious Bell. The women went wave for wave, throwing up massive scores, but it was the Californian who captured the win.
"I definitely wanted to get the score on that last wave, and I wanted to put a little more pressure on," Conlogue said. "I knew I needed an eight, but I wanted a nine. I figured I might as well lose the event knowing that I threw everything I had into it."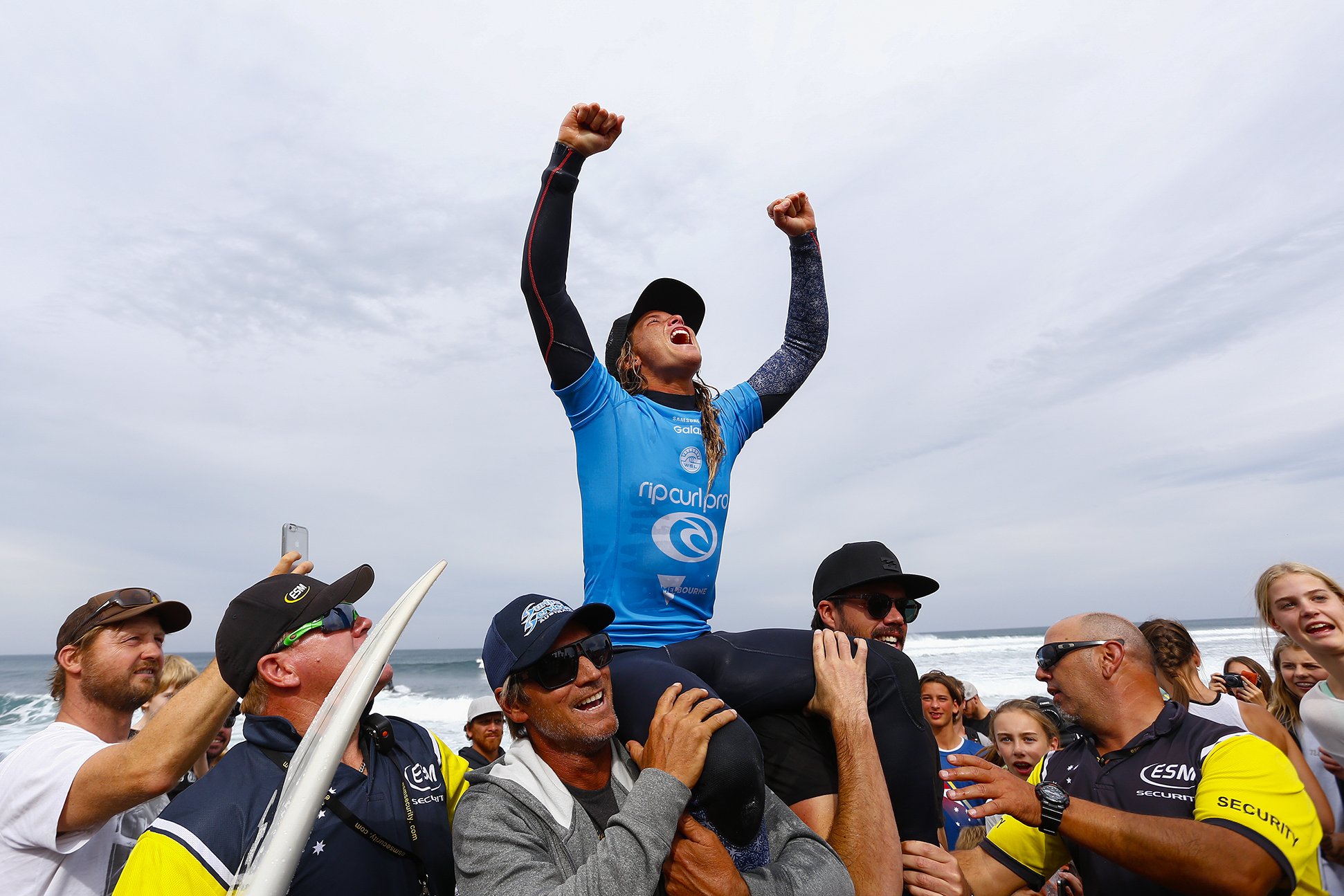 A runner-up at the opening event of the season last week on the Gold Coast, Conlogue continued the momentum this week at Bells Beach, landing herself on the winner's dais and atop the Jeep WSL Leaderboard heading into the third event of the year.
"I am really happy to be starting the year with this momentum, a first place win here and a second place win at Snapper," continued Conlogue. "It is a long season ahead and after experiencing last year's rollercoaster of emotions, this is definitely a high, but I know it is going to be a grind. Obviously I want to win a World Title, but it is not going to be an easy feat. I know I had a good start, but there are still eight more contests ahead."
Fitzgibbons opened up strong in the Final, showcasing her clean rail-to-rail surfing. After an early elimination at the Roxy Pro Gold Coast, Fitzgibbons charged through this event to make her way to the Finals. Fitzgibbons threw down an 8.10 and an 8.33, but Conlogue answered back with a 9.03, giving her the narrow 0.10 lead over Fitzgibbons.
"Running down those stairs after fourteen years of coming here never gets old," Fitzgibbons said. "I just love it when my opponent is at their best. Courtney was in really great form this whole event and when my opponents are going out there and trying to better themselves, as a competitor I revel in that challenge. I cannot wait to push my level to get better and better."
Semifinal 1 saw Carissa Moore (HAW), three-time World Champion and defending event Champion, eliminated by Sally Fitzgibbons (AUS). Moore, who has three consecutive wins at Bells, locked in a strong 8.17 right off the bat, but did not earn enough on her second ride to defeat Fitzgibbons' 16.16 two-wave combined score, which included a massive 9.33 point ride.
"I still put up some good scores, but I think I made the mistake of letting priority go, but she just had a higher first wave," Moore said. "If I would have kept priority, she would have gotten the last wave anyway. It was a weird rhythm. I tried to let go of the first heat of the day and enjoy this moment, but unfortunately it did not work out and it is okay."
Tatiana Weston-Webb (HAW), 2015 Rookie of the Year, faced Conlogue in the second Semifinal of the day. Weston-Webb charged with a 15.67 two-wave combined score, but could not close the 1.16 point gap needed to advance.
The Women's Quarterfinals witnessed Stephanie Gilmore (AUS), six-time World Champion, battle rival Carissa Moore (HAW), three-time World Champion, in Heat 2 for the opportunity to enter the Semifinals. With both athletes gunning for a fourth Bells victory, the two went all out to post major scores. The two CT superstars have faced-off multiple times, Moore with nine wins and Gilmore with six wins. Moore posted a near perfect 19.23 to earn a spot in the Semifinals.
"I think I freaked myself out in my heat at Winkipop where I just sat for so long, so the heat before us today started to slow up, so I thought that if a wave came I would catch it " Gilmore said. "It was probably a bad idea because the first set had four decent waves in it, and I went on the first one, Carissa got the nine. From there on, I felt my rhythm was off. It never really came together for me. Carissa absolutely smoked me. She is Bells Champion, she is World Champion and I really admire the way she surfs. These things are okay though, it makes me just want to improve."
Tyler Wright (AUS), current World No. 1, was eliminated from the competition by Conlogue in Heat 3 of the Quarterfinals. Conlogue controlled the heat with two solid seven point rides. Wright, who ended the heat with a 13.13 two-wave combined score, was not able to find the second wave to close the 1.87 point gap to continue to the Semifinals.
"When you see a bunch of sets, it is not really a good sign for your heat and it gives you a heads up that your heat might be a touch slower, but there was still ample opportunity," Wright said. "Looking back I was a little eggy when I first walked up, but honestly I look at it now and know that I gave myself opportunity. There was one wave where I may not have capitalized as much as I could of, and the other I did great, so a lot of positives coming out of that."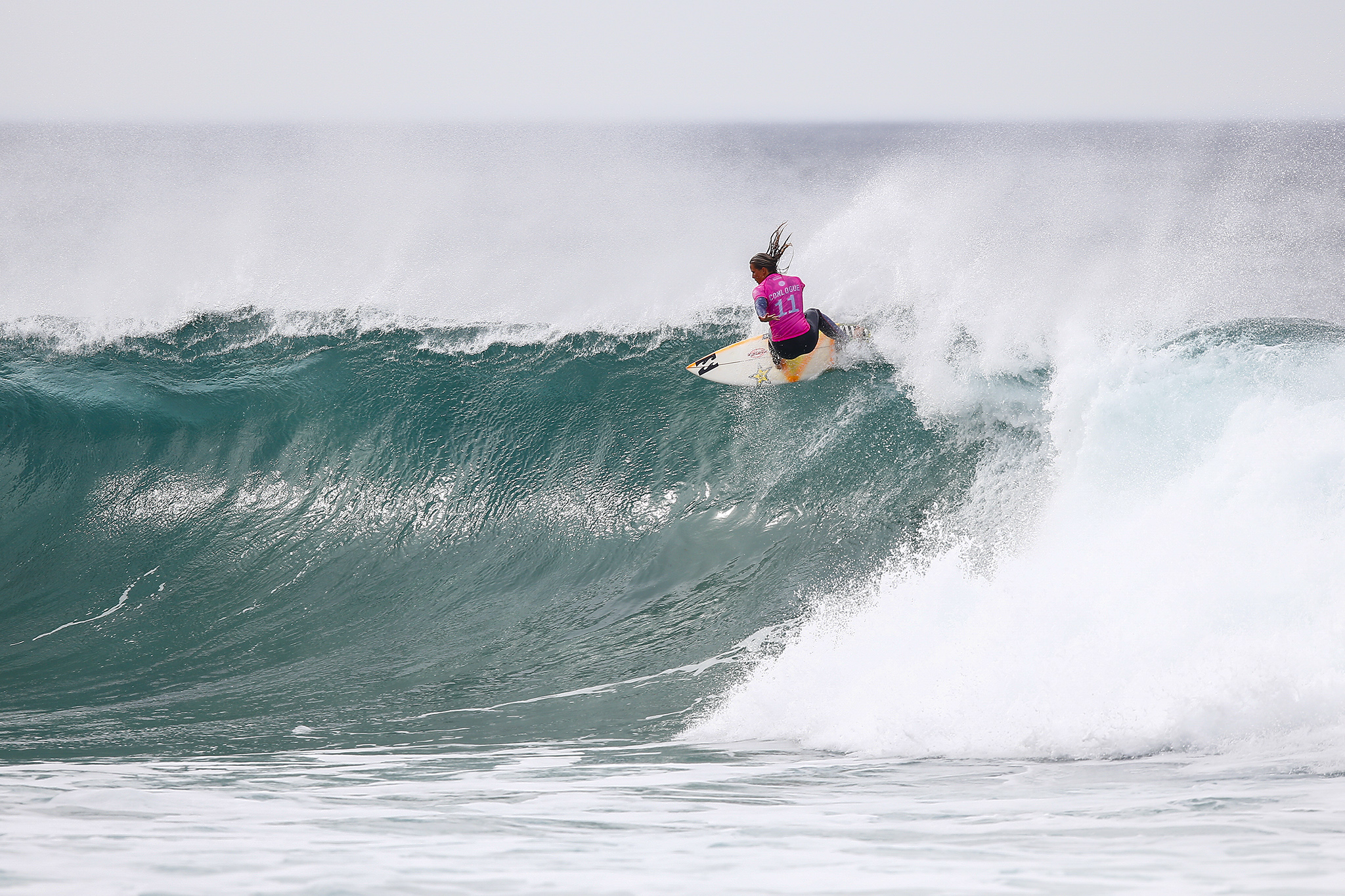 In addition to the culmination of the women's event, the Rip Curl Pro Bells Beach men's event completed Round 4 and the opening half of Round 5 today, setting itself up for a potential finish this weekend.
The first half of Men's Round 5 saw Matt Wilkinson (AUS), current World No. 1, defeat presumed 2016 Title contender Julian Wilson (AUS) in Round 5 Heat 2 to advance to the Quarterfinals. Trailing Wilson for a majority of the heat, Wilkinson answered back with two huge tail-drifts giving him a 9.57. Both competitors earned a 16.57 two-wave combined score, but because Wilkinson had the highest single scoring ride – the 9.57 – he was given the win.
In non-elimination Round 4, Mick Fanning (AUS), three-time World Champion and four-time event winner, faced Jordy Smith (ZAF) and 2016 WSL Rookie Conner Coffin (USA). Coffin posted a massive 9.13 point ride to control the heat and challenge the CT heavyweights. Coffin held onto the lead and will advance straight to the Quarterfinals.
"I was definitely the underdog," Coffin said after his heat. "Those guys are surfing so well. To get to surf heat like that in waves like that is unreal. It is nice to have some clean offshore walls and get to land some turns. Those are the waves I love to surf. To surf them with two of my  favorite surfers – guys I've looked up to forever – is awesome."
Event organizers will reconvene tomorrow at 7:30 am local time to assess conditions for a possible 8 am start tomorrow morning.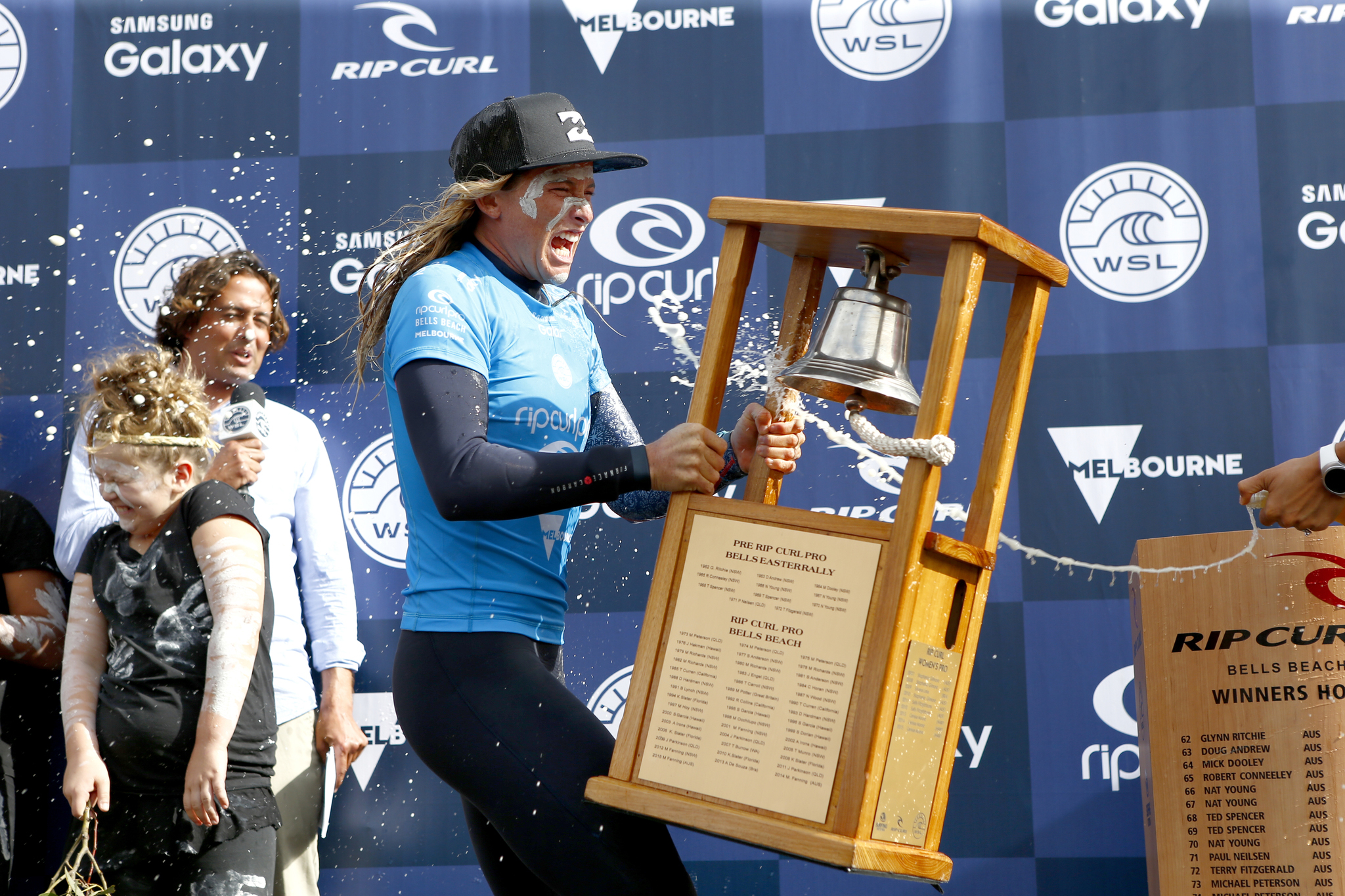 Highlights from the Rip Curl Pro Bells Beach will be webcast LIVE atWorldSurfLeague.com.
Rip Curl Women's Pro Final Results:
1 – Courtney Conlogue (USA) 16.53
2 – Sally Fitzgibbons (AUS) 16.43
Rip Curl Women's Pro Semifinal Results:
SF 1: Sally Fitzgibbons (AUS) 16.16 def. Carissa Moore (HAW) 15.37
SF 2: Courtney Conlogue (USA) 16.83 def. Tatiana Weston-Webb (HAW) 15.67
Rip Curl Women's Pro Quarterfinal Results:
QF 1: Sally Fitzgibbons (AUS) 15.60 def.  Alessa Quizon (HAW) 13.33
QF 2: Carissa Moore (HAW) 19.23 def. Stephanie Gilmore (AUS) 13.26
QF 3: Courtney Conlogue (USA) 15.00 def. Tyler Wright (AUS) 13.13
QF 4: Tatiana Weston-Webb (HAW) 12.67 def. Johanne Defay (FRA) 11.67
2016 Samsung Galaxy WSL Top 5 (after Rip Curl Women's Pro Bells Beach):
1. Courtney Conlogue (USA) 18,000 pts
2. Tyler Wright (AUS) 15,200 pts
3. Carissa Moore (HAW) 13,000 pts
4. Tatiana Weston-Webb (HAW) 11,700 pts
5. Joanne Defay (FRA) 11,700 pts
Rip Curl Pro Bells Beach Round 4 Results:
Heat 1: Italo Ferreira (BRA) 14.00, Nat Young (USA) 10.93, Julian Wilson (AUS) 8.60
Heat 2: Wiggolly Dantas (BRA) 15.37, Matt Wilkinson (AUS) 12.20, Mason Ho (HAW) 10.93
Heat 3: Conner Coffin (USA) 16.86, Mick Fanning (AUS) 15.44, Jordy Smith (ZAF) 15.30
Heat 4: Michel Bourez (PYF) 13.36, Caio Ibelli (BRA) 8.00, Davey Cathels (AUS) 6.43
Rip Curl Pro Bells Beach Round 5 Results:
Heat 1: Nat Young (USA) 16.83 def. Mason Ho (HAW) 11.67
Heat 2: Matt Wilkinson (AUS) 16.57 def. Julian Wilson (AUS) 16.57
Rip Curl Pro Bells Beach Remaining Round 5 Match-Ups:
Heat 3: Mick Fanning (AUS) vs. Davey Cathels (AUS)
Heat 4: Caio Ibelli (BRA) vs. Jordy Smith (ZAF)