WSL MEN'S QS1000 & WOMEN'S QS1000
WSL MEN'S LSQ1000 & WOMEN'S LQS1000
– APPLY FROM TODAY TO COMPETE THIS SUMMER –
Fistral Beach, Cornwall | Wednesday 10th – Sunday 14th August 2016
f: @Boardmasters i:@Boardmasters t:@Boardmasters81 #Boardmasters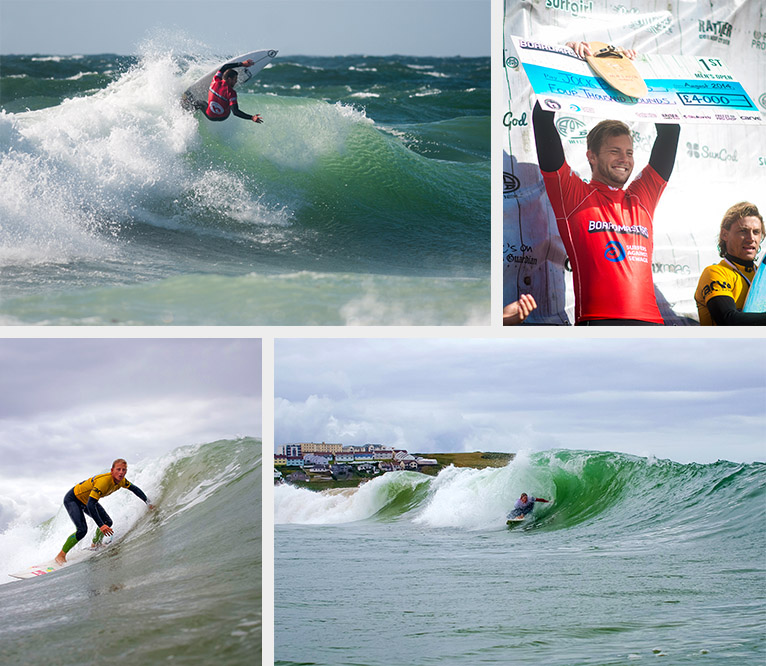 Boardmasters has today announced that applications are now being accepted for this summer's Boardmasters Cornwall international surf competitions. This year, the world famous competitions will be included as part of the World Surf League Qualifying Series, featuring as a QS1000 event. Entries are now open for the WSL Qualifying Series (QS1000) and Longboard Qualifying Series (LQS1000). Applications must be submitted via the WSL Website where users must take out their WSL membership and enter.
Rob Gunning, WSL Europe Tour Manager commented, "It's fantastic news to be bringing back a WSL QS event to the Boardmasters again. In addition to the LQS we will also witness the best of visiting international, European and British short board talents at Fistral Beach. The Boardmasters has a long history and WSL is proud to partner with the event and continue to promote professional surfing on British soil.
Established in 1981, Boardmasters is a 5-day event situated across two stunning locations in Cornwall – the surfing mecca of the UK, Fistral Beach where Boardmasters famous International Surf Competitions take place and arguably the most stunning location in the country to watch live music, Watergate Bay. Last year saw Boardmasters welcome over 150,000 festivalgoers across its two sites over the 5 days of the festival. Boardmasters operates a tiered ticket system with price bands for tickets changing over time. The sooner you buy, the cheaper it is! Book tickets via the website.
BOARDMASTERS 2016 MUSIC LINE-UP
Headline Acts
Deadmau5 // James Bay // Chase & Status
Joined by
Catfish and the Bottlemen // Kaiser Chiefs // Primal Scream
Lianne La Havas // Sigma // Craig David's TS5 // Wilkinson // Wolf Alice
Example & DJ Wire // Foxes // Soul II Soul // Mystery Jets // Kano // Krept & Konan
The Magic Numbers // Eats Everything // Protoje // Jackmaster // Roots Manuva
Rat Boy // Blossoms // Mike Skinner & Murkage presents TONGA // Raleigh Ritchie
SOAK // Maxïmo Park // Michael Kiwanuka // SG Lewis
Alibis // Antimatador // Apres // Artwork // Auction For The Promise Club
Ben Remember // Bicep // Big Deal // Bodhi // COASTS // Camelphat // Carly Foxx
Charlie Tee // Danny Howard // Detroit Swindle // Dinosaur Pile Up // Doorly // Dusky
Eli & Fur // Eliza & The Bear // Eton Messy // Formation // Gabrielle Aplin // Heidi
Hein Cooper // Hidden Charms // Icarus // Jack Savoretti // Jamie Lawson
Jonas Rathsman // Joseph J Jones // Keir // Kloe // Louis Berry // MNEK // Maribou State
My NU Leng & Dread MC // Nahko and Medicine for the People // Rationale
Recreations // Smokin' Durrys // Spring King // The Big Moon // The Correspondents
The Duke Spirit // The Mouse Outfit // The Steelers // Toucan
VANT // White // Youth Club
Friday:
Chase & Status, Catfish and the Bottleman, Lianne La Havas, Wilkinson, Wolf Alice, Krept & Konan, Eats Everything, Blossoms, Maxïmo Park, Auction for the Promise Club, Bicep, Big Deal, Bodhi, Carly Foxx, Danny Howard,
Dinosaur Pile Up, Formation, Jack Savoretti, Jonas Rathsman, Keir, Nahko & Medicine for the People,
Smokin' Durrys, Spring King, The Correspondents, Toucan, Youth Club
Saturday:
Deadmau5, Kaiser Chiefs, Craig David's TS5, Kano, Example & DJ Wire, Foxes, Michael Kiwanuka, Protoje, SG Lewis, Roots Manuva, Jamie Lawson, Antimatador, Après, Camelphat, The Duke Spirit, Dusky, Eli & Fur, Eliza & The Bear, Eton Messy, Gabrielle Aplin, Icarus, Joseph J. Jones, Kloe, Louis Berry, Mouse Outfit, Panda, Recreations,
The Steelers
Sunday:
James Bay, Primal Scream, Sigma, Soul II Soul, SOAK, Raleigh Richie, Mike Skinner & Murkage presents Tonga, Mystery Jets, The Magic Numbers, Jackmaster, Rat Boy, Alibis, Artwork, Ben Remember, Coasts, Charlie Tee,
Detroit Swindle, Doorly, Heidi, Hein Cooper, Hidden Charms, MNEK, Maribou State, My Nu Leng & MC Dread, Rationale, The Big Moon, VANT, White
Full breakdown available at: http://www.boardmasters.co.uk/line-up
Ticket Information:
Watergate Bay tickets on sale NOW
Boardmasters operates a tiered ticket system with price bands for tickets changing over time.
The sooner you buy, the cheaper it is!
A set allocation of tickets is saved for each tier, which will close when the allocation of tickets is sold out.
Charger tickets available now (Charger ticket includes bus pass, parking, VIP camping, Beach Session gigs, After Parties, Boardmasters t-shirt and tote bag)