Australians Matt Wilkinsonand Tyler Wright emerged victorious today, claiming the Quiksilver and Roxy Pro Gold Coast titles respectively, in clean three-to-four foot (1 metre) waves at Snapper Rocks.
The opening events on the 2016 Samsung Galaxy WSL Championship Tour, the Quiksilver and Roxy Pro Gold Coast pres. by BOQ showcased the world's best surfing, massive upsets and a significant tone-setting for the season ahead.

Wilkinson's victory today marked his maiden on the elite Championship Tour with the Australian putting on an exciting performance throughout the event, pushing scorelines and knocking out top-seeded opponents. The goofy-footer unleashed a variety of technical maneuvers to solidify his position atop the ranks of the Jeep Leaderboard. Wilkinson previously dispatched reigning World Champion Adriano De Souza (BRA) and last year's event winner, Filipe Toledo (BRA).
Wilkinson faced Kolohe Andino (USA) in the Final and the frontside verse backside match-up did not disappoint. The two battled wave for wave, with multiple lead changes throughout. Wilkinson took an early lead with an 8.60 opening score and held off Andino until halfway through. Andino took the lead and stayed busy as the time ticked down, while Wilkinson waited for a wave. The Australian's patience paid off with a 5.60 point ride at the six minute mark to regain the lead. With thirty seconds left on the clock Andino caught a wave to chase the 7.38 score needed, but Andino's efforts were not enough. Wilkinson won the event 14.22 to 13.66.
"I started this year with a win in the Qualifying Series and to win this event felt amazing. I did not expect this but I was hoping for it," said Wilkinson. "My heat against Adriano is the kind of heat where I usually lose. I just got the score right at the end and it gave me the fire to make me feel like the ocean was on my side. I surfed well with so much pressure on, and I knew I hadn't gotten a great Snapper wave this whole event, and that first wave of the Final had two really nice sections at the start. I am so stoked to win."
"I was hoping to make it in the top five or ten this year, and I have been at the back end of the teens for the last few years, so this is a different start," continued Wilkinson. "I feel like I have matured a lot in my heat surfing and in my surfing in general. Hopefully I can put a lot of heats together this year and win the Title."
"There are so many great surfers that went out early in this event or did not make the final, so I am stoked, but obviously I wanted to win that final really bad," Andino said. "I guess it is like the first loser, so it is going to fire me up even more. I am excited for the rest of the year. Obviously, I've got big goals and big plans, but it's a long year. I'm trying to stay even-keeled with my attitude in surfing."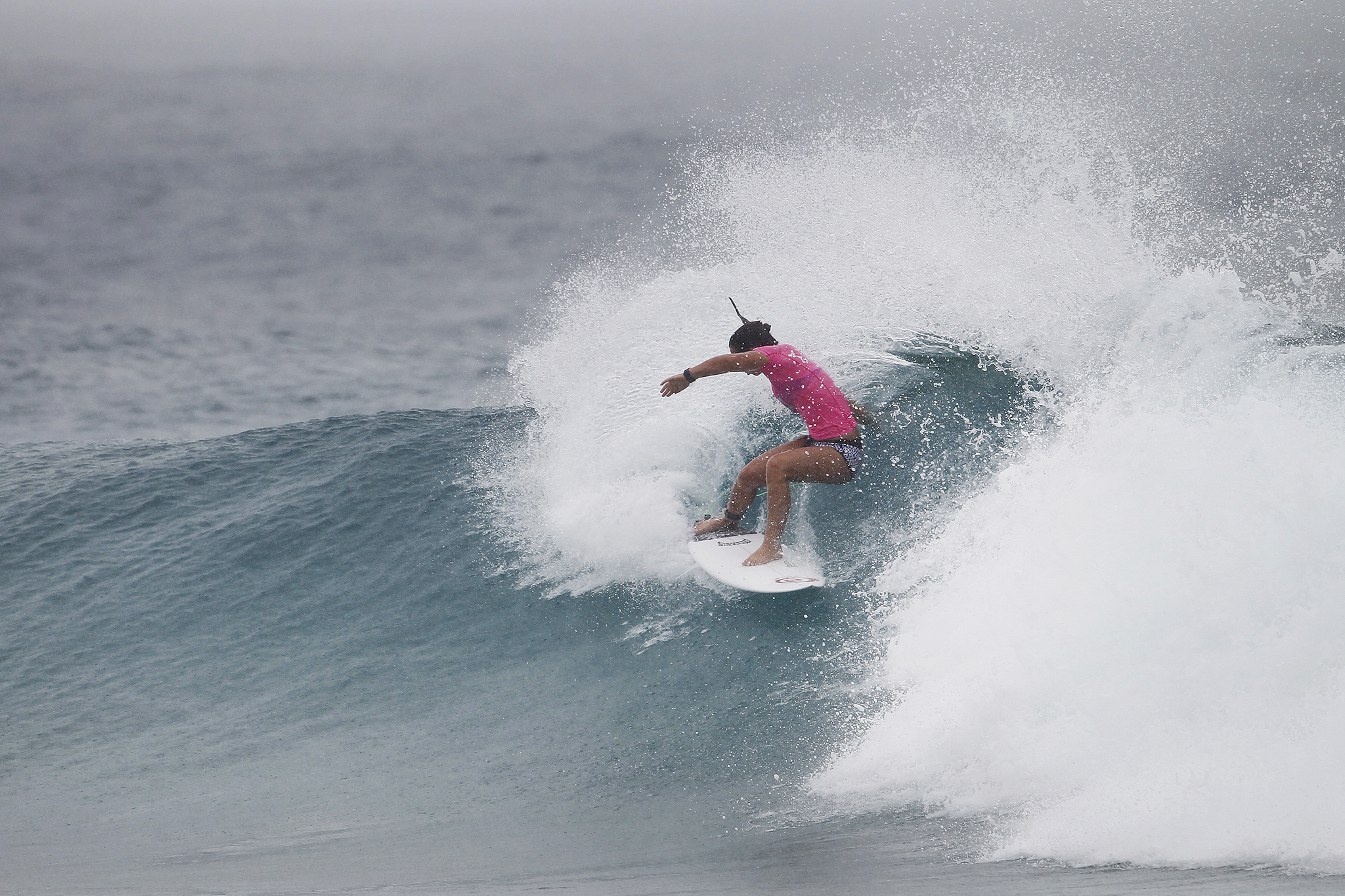 The final match-up of the Roxy Pro Gold Coast saw Tyler Wright (AUS) battle Courtney Conlogue (USA) in an epic clash. Wright looked smooth and powerful, claiming a win at the first event of the season and climbing the Jeep Leaderboard ranks to earn the top spot. Throughout the competition, Wright stayed focused and committed, winning each heat leading up to the Final. Today was the 10th match-up for Wright and Conlogue, adding a 7th win to Wright's tally.
Wright and Conlogue went wave for wave to start the heat, but Wright continued to outperform her previous wave scores to give her a control halfway through the Final. Wright showcased her powerful rail-to-rail surfing, with a clean and precise rhythm. Wright landed a 14.67 over Conlogue's 10.94 to give Wright her second Roxy Pro Gold Coast Title. Wright will wear the yellow jersey going into Bells. This was Conlogue's highest finish at this event, as it was her first Finals appearance on the Gold Coast.
"The last few months and everything that has happened, it has been such an experience and a crazy one. It brought so much clarity for me and simplified everything so I could come here and absolutely be my best on the day. It made me realize that I want to win a World Title and I want to do it my way."
"I want to verse the best, and Steph (Gilmore), Carissa (Moore), Courtney (Conlogue) and all the girls on Tour, they are all the best. I just want to do my own thing. I've known for a long time that I could win and it is having that belief and going out in heats saying 'Yes, you've got this – just get it done.'"
"I want to thank Micro [Glen Hall] for being in my corner and helping me out, as well as my family and Rip Curl and everyone who came down today and supported us. It has been absolutely incredible so thanks."
"It was an amazing final as I always wanted to have a heat against Tyler, and she surfed absolutely stellar," said Conlogue. " I'm really looking forward to being at Bells and starting over again. I thought every heat was a challenge posing obstacles I had to overcome. Your biggest challenge is usually you and the ocean and trying to get yourself on the right waves and creating those opportunities to perform. I am happy to be out here. To be able to surf Snapper with only a few women out there is amazing."
Filipe Toledo (BRA), defending Quiksilver Pro Gold Coast Champ and favorite to win the event, was injured after trying to perform an air-reverse in the Semifinals. Toledo fought through his injury to score a 13.27, but Matt Wilkinson (AUS) came back with a 14.43 two-wave combined score, earning a 6.60 in his last wave to advance to the Finals.
"I went for the air on the last maneuver of the wave and when I was landing the wave just came up on my board and put the pressure on my leg, which went up and sideways," Toledo said. "I kept surfing after that and it was painful. But now I am good. I am not dying at all, I am just feeling a lot of pain. Besides that, I am happy with my result. I was surfing good and the board was good."
In a major upset, Matt Wilkinson (AUS) knocked out reigning World Champion, Adriano De Souza (BRA), in the Quarterfinal match-up. De Souza began the heat with a relaxed approach, where Wilkinson took an early lead, but De Souza snagged the lead right back from Wilkinson. Needing a strong second-wave score to defeat the World Champion, Wilkinson caught a buzzer-beater giving him a 0.43 edge to eliminate De Souza.
"He [Matt Wilkinson] has been surfing good with a nice rhythm as well," De Souza said. "It was a tough heat. He got the score he needed right at the end. I'll just keep fighting. It is another result where I'll walk away thinking I can do better, I can improve. I'm definitely hunting for a good result at Bells."
Stuart Kennedy (AUS) continued his streak of upsets as he eliminated John John Florence (HAW) from the competition with a buzzer-beater ride in the last heat of the Quarters. Kennedy, who gained entry into the event as an injury replacement, earned a 15.23 combined two-wave score to defeat Florence's 14.00.
"I learned so much coming out of last year and I'm putting it all together this year and figuring out how it all fits together," Florence said. "The Quarters isn't a super bad result at all. I am confident going into the next events. I love Bells and Margaret. I am looking forward to doing some carves."
Carissa Moore (HAW), reigning WSL World Champion and last year's event winner, was defeated by long-time rival Tyler Wright (AUS) in the Quarterfinals. Moore was not able to find a second wave score to answer back to Wright's 8.50. Wright beat the three-time World Champion 14.17 to 14.00 despite a strong event showing from Moore who swept all heats leading up to the Quarterfinals.
"Two minutes to go, I still feel like that was a lot of time," said Moore. "Just the way that the waves were coming in I was losing a little bit of faith there, but wanted to fight all the way to the end. I am stoked for Tyler. It is good to see she is surfing really well and she's in rhythm with the ocean. I think for me the most disappointing part of it is that I never felt like I opened up the entire event. It's just one of those events where I didn't feel like I really clicked. I am super stoked to start off the year with the semis, not bad."
Highlights from the Quiksilver and Roxy Pro Gold Coast will be webcast LIVE at WorldSurfLeague.com.
For more information, log onto WorldSurfLeague.com   
Quiksilver Pro Gold Coast Final Results:
1 – Matt Wilkinson (AUS) 14.20
2 – Kolohe Andino (USA) 13.66
Roxy Pro Gold Coast Final Results:
1 – Tyler Wright (AUS) 14.67
2 – Courtney Conlogue (USA) 10.94