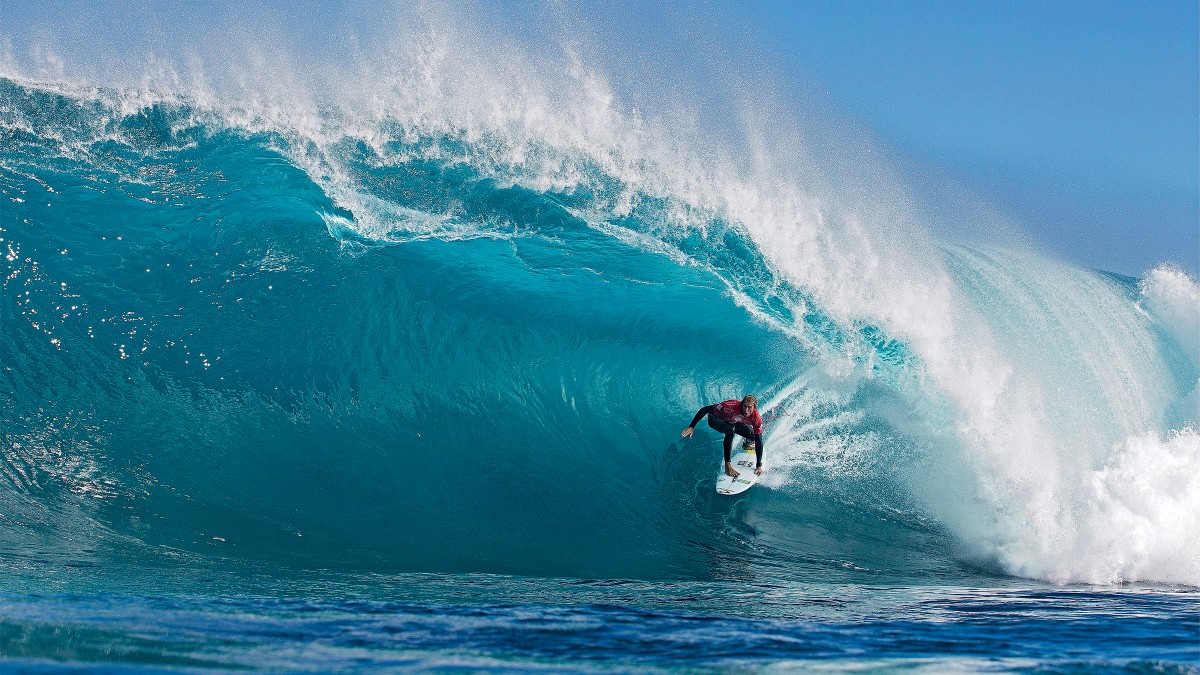 If competitive surfing floats your boat you'll be glad to know the WSL kicks back in to gear tomorrow. The trials for the Quik/Roxy Pro start on March 9 and the main event 'Quiks' off on the tenth (so, so sorry about that).
The hangovers from the annual WSL awards should just about have abated and the Brazilians must be rubbing their hands together in gleeful anticipation looking forward to defending their position as kings of the castle. The Brazilian storm took home the silverware for Men's World Champ/ Rookie of the Year/ Breakthrough Performer / Junior Champ / Move of the Year (guys and gals) which if isn't domination I don't what is.
•So will Kelly make this the last hurrah? One more year to show the young bucks he's still got it before retiring into an Outer Known world of wave pool perfection and picking chia seeds out of his perfect teeth.
•Can anyone stop the momentum of Gabriel Medina, Filipe, Adriano and the new Brazilian generation?
•Is Adriano well bummed with Slater totally pissing on his title bonfire with the drop of his pool?
•Is this the year John Florence finally gets his head round a title campaign now he's finished making very expensive films?
•Can Jordy, Julian, Taj and other assorted 'should have a world title supposedly' sorts get it together?
•Can we make a law banning the use of the words 'knifing' and 'spicy' by the commentary team?
•Will any sea life try and steal the show again, perhaps a giant squid attack at Supertubes for a bit of variety?
•Will the WSL make it to the end of the year before it runs out of money? Will pay per view ever be a thing and would you pay?
So many questions…
One thing's for sure it'll be entertaining. That after all is the whole point. We live in an era of unparalleled access and the webcasts are hitting sublime levels of production. Let's just hope Mama Nature comes to the party and gives us some banging conditions for the guys and girls to show their best.
ps: If you're a Fantasy Surfer head get your team sorted asap and the get involved with the Carve Surf League clubhouse.
WSL AWARDS
Heat of the Year: Mick Fanning (AUS)/John John Florence (HAW)/Kelly Slater (USA) at Banzai Pipeline & Sally Fitzgibbons (AUS)/Carissa Moore (HAW) at Honolulu Bay
Move of the Year: Gabriel Medina (BRA) and Silvana Lima (BRA)
Wave of the Year: Owen Wright (AUS) and Carissa Moore (HAW)
WSL Junior Champions: Lucas Silver (BRA) and Isabella Nichols (AUS)
WSL Longboard Champions: Piccolo Clemente (PER) and Rachel Tilly (USA)
WSL Big Wave Tour Champion: Greg Long (USA)
CT Breakthrough Performers: Filipe Toledo (BRA) and Courtney Conlogue (USA)
CT Rookies of the Year: Italo Ferreira (BRA) and Tatiana Weston-Webb (HAW)
WSL Women's Champion: Carissa Moore (HAW)
WSL Men's Champion: Adriano de Souza (BRA)
Quiksilver Pro Gold Coast Round 1 Match-Ups:
Heat 1: Italo Ferreira (BRA), Keanu Asing (HAW), Ryan Callinan (AUS)
Heat 2: Julian Wilson (AUS), Michel Bourez (PYF), Adam Melling (AUS)
Heat 3: Filipe Toledo (BRA), Jadson Andre (BRA), Stuart Kennedy (AUS)
Heat 4: Gabriel Medina (BRA), Caio Ibelli (BRA), Sebastian Zietz (HAW)
Heat 5: Mick Fanning (AUS), Matt Banting (AUS), TBD (One of these is Mikey Wright, other's trials winner)
Heat 6: Adriano de Souza (BRA), Kolohe Andino (USA), TBD
Heat 7: Jeremy Flores (FRA), Adrian Buchan (AUS), Davey Cathels (AUS)
Heat 8: Kelly Slater (USA), Matt Wilkinson (AUS), Conner Coffin (USA)
Heat 9: Nat Young (USA), Kai Otton (AUS), Alex Ribeiro (BRA)
Heat 10: Josh Kerr (AUS), Taj Burrow (AUS), Kanoa Igarashi (USA)
Heat 11: Jordy Smith (ZAF), Wiggly Dantas (BRA), Miguel Pupo (BRA)
Heat 12: Joel Parkinson (AUS), John John Florence (HAW), Jack Freestone (AUS)
Roxy Pro Gold Coast Round 1 Match-Ups:
Heat 1: Tyler Wright (AUS), Johanne Defay (FRA), Alessa Quizon (HAW)
Heat 2: Bianca Buitendag (ZAF), Nikki Van Dijk (AUS), Coco Ho (HAW)
Heat 3: Carissa Moore (HAW), Chelsea Tuach (BRB), TBD
Heat 4: Courtney Conlogue (USA), Sage Erickson (USA), Bronte Macaulay (AUS)
Heat 5: Sally Fitzgibbons (AUS), Malia Manuel (HAW), Laura Enever (AUS)
Heat 6: Stephanie Gilmore (AUS), Tatiana Weston-Webb (HAW), Keely Andrew (AUS)