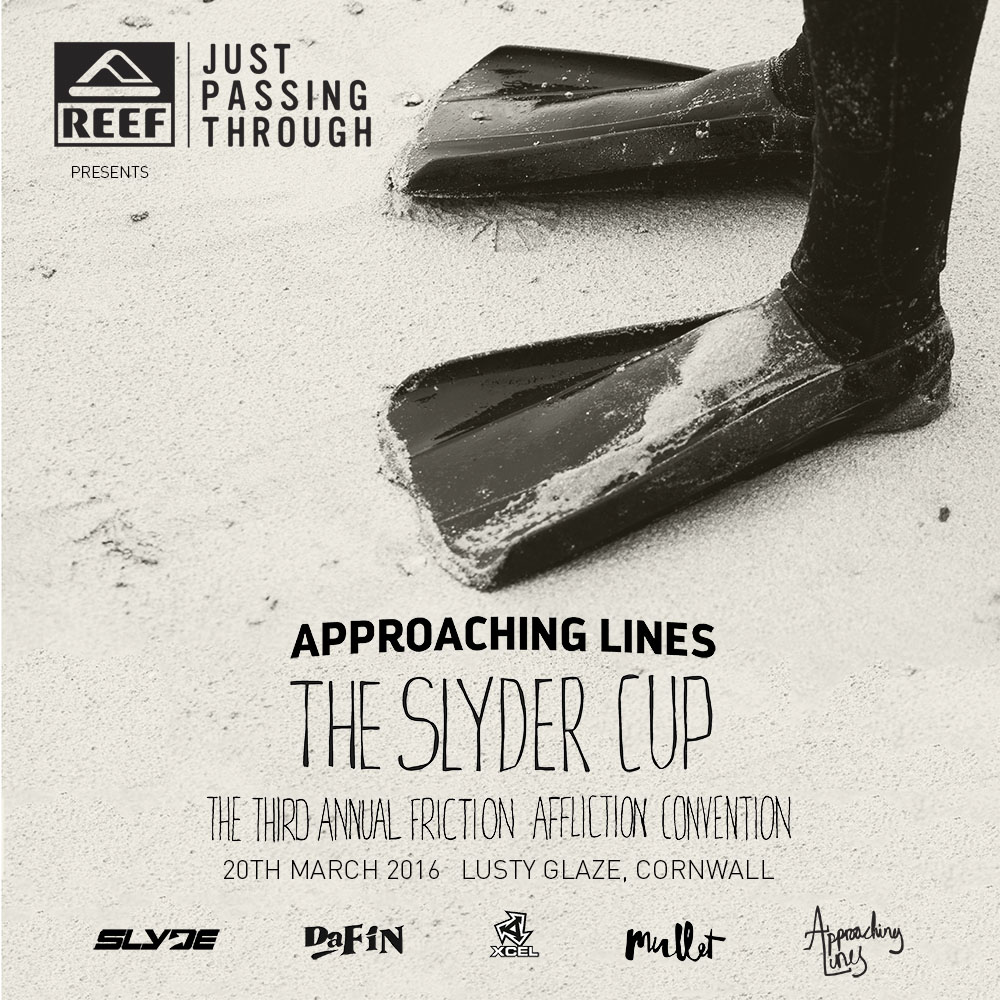 The Approaching Lines Slyder Cup Presented by Reef is on!
Hitting Lusty Glaze, Cornwall on 20th March 2016, the 3rd Annual Frigid Friction Affliction Convention is a coming together for the alternative breed of surfers.
This one-day surf competition and social gathering celebrates the art of wavesliding from a 'finless' perspective and as always, the emphasis is on good vibes, good rides and good times.
"We were really disappointed to have to postpone the event last winter in the face of massive storm surf and onshores but are delighted to be returning to the natural amphitheatre and shred wedge that is Lusty Glaze for the rescheduled event later this month," says Approaching Lines Director Chris Nelson.
The Slyder Cup is broken into 4 classes: body surf / handplane; paipo / bellyboard; surf mat and alaia with a winner in each. The Grand Final will see the winners go head to head in a surf-off and the 3rd Slyder Cup Champion crowned. In this event it's all about the style of your glide and your skill on your slyde…
The only event of its kind in the UK, places are limited and sign up is available at approachinglines.com on a first come, first serve basis. Those who registered in December will have their places carried forward. Reef, Da Fins, Slyde Handboards and Mullet Surfboards are providing some incredible prizes but you've got to be in it to win it!
The 'Run What You Brung' expression session open to on the day beach entry is a chance to showcase a diverse range of fins free wavesliding vehicles – the only limit on what you can ride is in the parameters of your skill and imagination – in previous years the toilet seat poo-po was a big hitter.
Celebrating those at the heart of the scene, The Shapers Shield, presented in previous years to Handout Handplanes, G-Mat Surf Mats and Empire Surfboards, will be awarded for design excellence and innovation. Shapers and makers from across the waveriding spectrum – from backyard builders to established names ­– are invited showcase their alternative surf craft.  If you have a finless wave-slider you would like to show, get in touch E: [email protected] about bringing it along.
To sign up and for full event information: www.approachinglines.com/slydercup
For inspiration here's how to build a hand plane:
The Slyder Cup is an Approaching Lines production