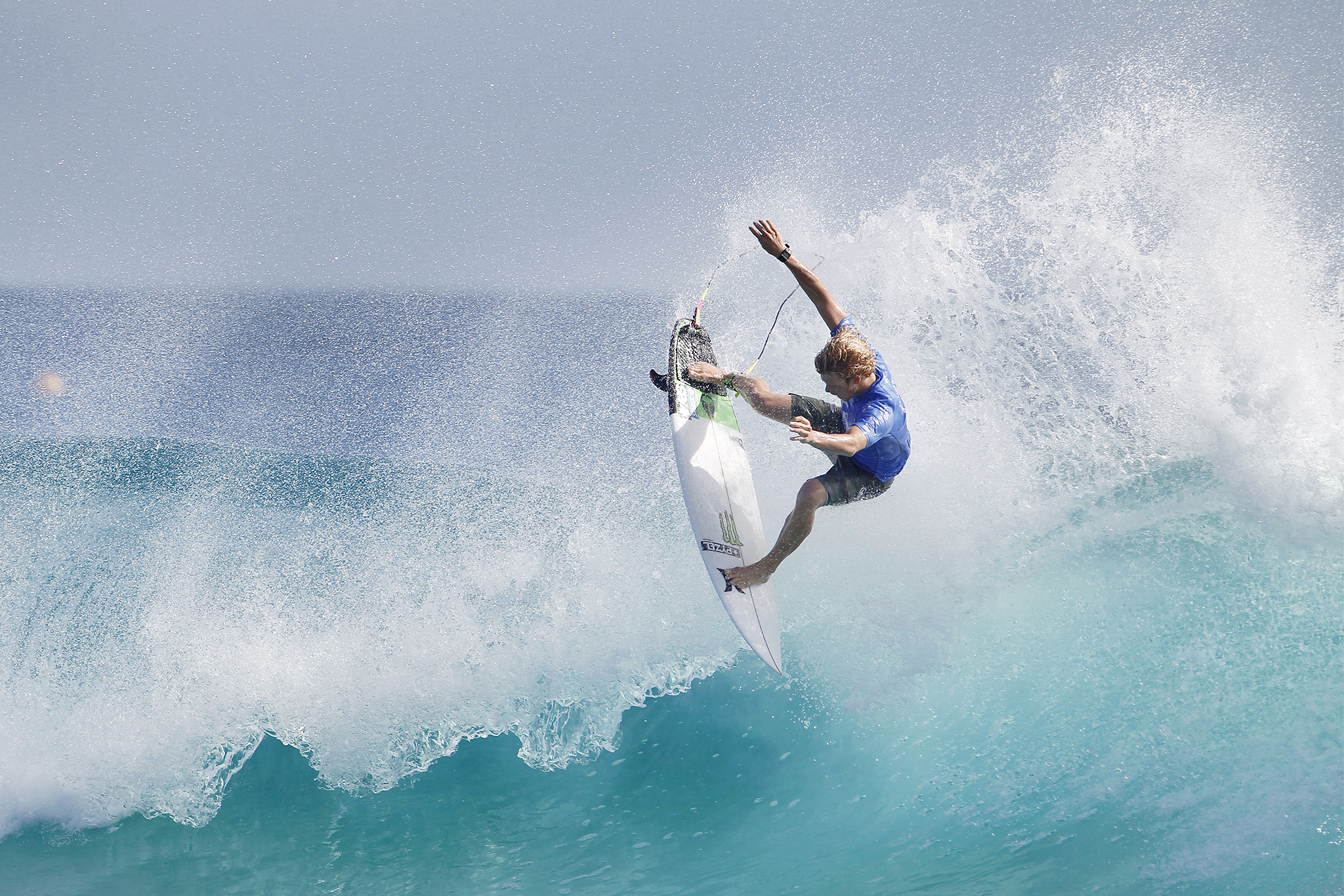 Competition continued today at the Quiksilver and Roxy Pro Gold Coast presented by BOQ with an action packed day at Snapper Rocks. Silky smooth 3 to 4 foot (1.5 meter) waves rolled into Rainbow Bay, providing the perfect canvas for the world's best to battle for a chance to compete on finals day.
The first stop on the 2016 Samsung Galaxy WSL Championship Tour, the Quiksilver Pro Gold Coast bore witness to the world's best surfing once again today as major results and huge upsets unfolded in front of thousands on the beach and millions watching around the world.
The opening Quarterfinal match-up saw a battle between Tyler Wright (AUS) and Stephanie Gilmore (AUS), six-time World Champion and five-time event winner. Gilmore and Wright fought hard for the lead after tying their first wave scores. Wright came out on top by earning a 6.50 point ride to eliminate Gilmore by 1.27 points.
"This year I feel different," said Wright. "I've come into this year different with a coach, and I'm ready to take on Steph and Carissa and girls like that. I asked Micro [Glen Hall] to come on and help me. In the past I was definitely not open to a coach, and it took me a long time to realize that I could actually learn more. It has been an easy transition, because with Micro it is a balance between having fun and going out there and doing what you are best at."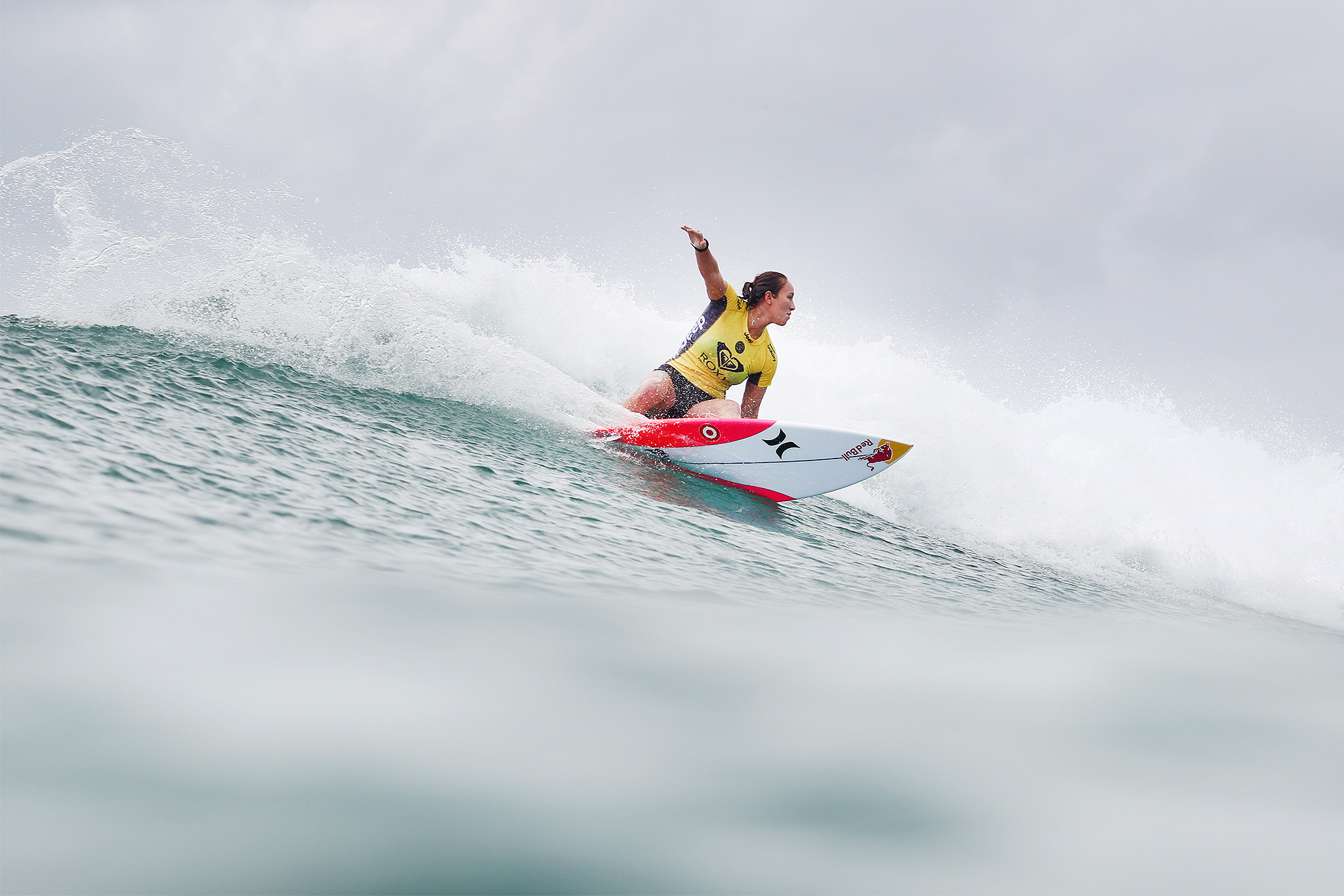 Carissa Moore (HAW), reigning WSL World Champion and last year's event winner, defeat compatriot Malia Manuel (HAW) in the Heat 2 of the Quarterfinals. Moore came out with an early lead, creating a 2.93 gap that Manuel was unable to close.
"I was actually really nervous going into that heat because I knew the high tide was coming and I knew it was slowing down," Moore said. "I feel comfortable when there are lots of waves and we just get to surf, but when it comes down to wave selection, I think that is my biggest weakness and Malia really thrives on that. I was just trying to be patient and wait for the good ones that had the wall, but also stay busy."
Courtney Conlogue (USA) went up against Sage Erickson (USA) in the Quarterfinal match-up, and with a semifinal spot on the line, both competitors gave their all to advance. Conlogue showcased her power game and took an early lead to hold off the fellow Californian with 15.17 points. Erickson put up a 10.00 two-wave combined score, but could not find the waves to defeat Conlogue.
"I just thinking 'come on, you can get into the semis' and I think it was just a matter of getting on the right waves and getting on the opportunities that allowed me to let loose," Conlogue said after her heat. "These conditions are incredible with the low tide pushing out and it is so fun being out there. I am just trying to get through so I can surf more."
Tatiana Weston-Webb (HAW), 2015 WSL Rookie of the Year, took on Johanne Defay (FRA) in the last heat of the Quarterfinals. Defay pulled off a major technical maneuver in the heat to lock in a 7.17 point ride. Weston-Webb struggled to fight off Defay's 12.50 two-wave combined score and close the 2.96 gap needed to advance to the next round.
"I am trying to go big with innovation and I just felt like I had nothing else to do on this wave, so I just tried and it went well," said Defay. "I am very happy and there's not a lot of times where I am innovating in the heat, so it was good timing."
Adriano De Souza (BRA), reigning WSL World Title holder, defeated 2016 WSL Rookie, Conner Coffin (USA), in Round 5 Heat 2. Coffin opened the heat with a solid 8.00 ride, surfing sharp and clean, but was unable to find a second score to match-up. Coffin held priority for 85% of the heat, but De Souza worked away at the inside to gain a 0.99 point lead over the rookie.
"I needed to fight so hard in order to come back in this heat," De Souza said after advancing to the Quarterfinals. "Conner is a super talented kid and he started the heat pretty well with that 8. I realized that when I have the opportunity I have to push as hard as I can every single turn."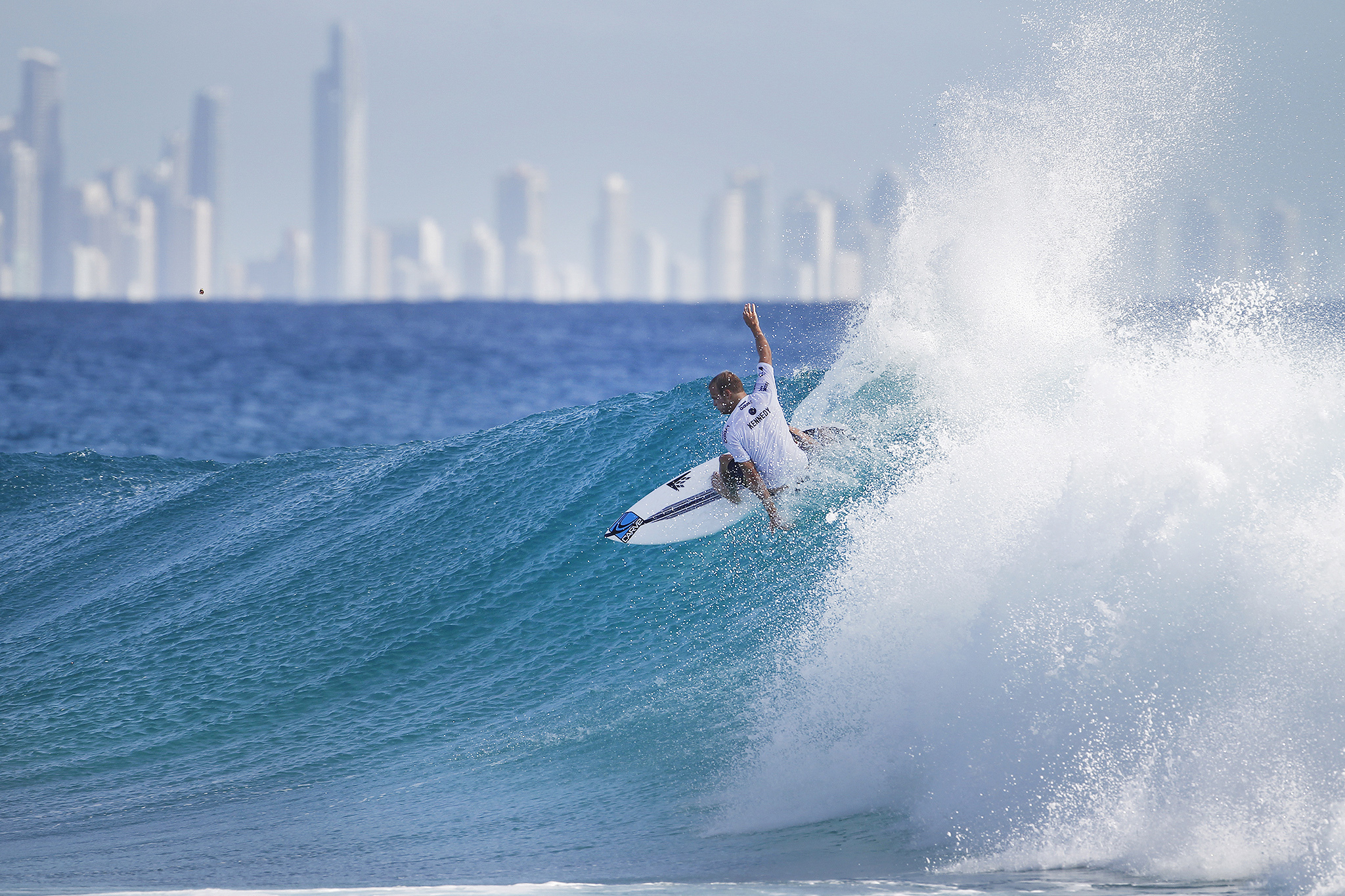 Injury replacements Stuart Kennedy (AUS) and Sebastian Zietz (HAW) faced off in the last heat of Round 5. Both surfers caused massive upsets earlier in the event, and the showdown between the two did not disappoint. Throughout the heat Kennedy kept increasing wave scores forcing Zietz to chase his lead. Kennedy eliminated Zietz with a 17.67 combined two-wave score.
"It is good to finally let loose on that one," Kennedy said. "I felt a lot more comfortable and glad the waves turned on in that heat."
Joel Parkinson (AUS), hometown hero and 2012 WSL World Title winner, defeat 2016 WSL Rookie, Caio Ibelli (BRA), in a close match-up. Ibelli surfed with lots of variety, notably completing a huge layback hack, but it was Parkinson who answered back with two solid 8 point rides.
"We both got an opportunity or two," Parkinson said. "Caio's waves probably did not have the length. He ripped on them and had good starts on them, but they just didn't have the legs the rest of the way. I hadn't had a heat where I had two 8s, but I wanted to really put a heat together with a big total."
Adrian Buchan (AUS) set a tough pace against 18 year old rookie, Kanoa Igarashi (AUS). Buchan earned a towering 16.04 two-wave combined score to defeat Igarashi. Igarashi tried to deliver aggressive moves, but could not find a rhythm to advance.
"I give him [Kanoa Igarashi] a lot of respect." Buchan said. "I didn't give him an inch and I just wanted to use all of my experience in that heat. I knew it was going to be slow, but I knew there would be good waves if I was patient and I managed to pick two good ones."
Keely Andrew (AUS), 2016 WSL Rookie, and Bronte Macaulay (AUS), who gained entry into the competition as an injury replacement, were knocked out of the competition in Round 4 by Sage Erickson (USA) and Malia Manuel (HAW) respectively.
The WSL Commissioner's Office will reconvene tomorrow morning at 6:30am to assess conditions for a possible 7am start.
Highlights from the Quiksilver and Roxy Pro Gold Coast will be webcast LIVE at WorldSurfLeague.com.
For more information, log onto WorldSurfLeague.com   
Quiksilver Pro Gold Coast Remaining Round 4 Results:
Heat 3: Kolohe Andino (USA) 16.10, Adrian Buchan (AUS) 15.74, Sebastian Zietz (HAW) 15.33
Heat 4: John John Florence (HAW) 11.90, Stuart Kennedy (AUS) 11.43, Kanoa Igarashi (USA) 4.74
Quiksilver Pro Gold Coast Round 5 Results:
Heat 1: Joel Parkinson (AUS) 16.07 def. Caio Ibelli (BRA) 12.66
Heat 2: Adriano de Souza (BRA) 13.76 def. Conner Coffin (USA) 12.77
Heat 3: Adrian Buchan (AUS) 16.04 def. Kanoa Igarashi (USA) 9.87
Heat 4: Stuart Kennedy (AUS) 17.67 def. Sebastian Zietz (HAW) 10.77
Quiksilver Pro Gold Coast Quarterfinal Match-Ups:
QF 1: Filipe Toledo (BRA) vs. Joel Parkinson (AUS)
QF 2: Matt Wilkinson (AUS) vs. Adriano de Souza (BRA)
QF 3: Kolohe Andino (USA) vs. Adrian Buchan (AUS)
QF 4: John John Florence (HAW) vs. Stuart Kennedy (AUS)
Roxy Pro Gold Coast Round 4 Results:
Heat 1: Stephanie Gilmore (AUS) 15.43 def. Nikki Van Dijk (AUS) 15.24
Heat 2: Malia Manuel (HAW) 18.03 def. Bronte Macaulay (AUS) 16.66
Heat 3: Sage Erickson (USA) 12.90 def. Keely Andrew (AUS) 9.57
Heat 4: Johanne Defay (FRA) 15.50 def. Bianca Buitendag (ZAF) 8.93
Roxy Pro Gold Coast Quarterfinal Results:
QF 1: Tyler Wright (AUS) 15.10 def. Stephanie Gilmore (AUS) 13.83
QF 2: Carissa Moore (HAW) 12.50 def. Malia Manuel (HAW) 9.57
QF 3: Courtney Conlogue (USA) 15.17 def. Sage Erickson (USA) 10.00
QF 4: Johanne Defay (FRA) 12.50 def. Tatiana Weston-Webb (HAW) 9.54
Roxy Pro Gold Coast Semifinal Match-Ups:
SF 1: Tyler Wright (AUS) vs. Carissa Moore (HAW)
SF 2: Courtney Conlogue (USA) vs. Johanne Defay (FRA)