Vissla is joining the advancement of the relatively untouched category of eco friendly wetsuits with launch of their newest wetsuit The Eco Seas,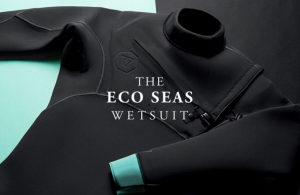 The Vissla Eco-Seas wetsuit is developed in conjunction with Sheico to utilize some of the most earth conscious materials and production techniques, including natural rubber instead of neoprene, water based glues rather than solvent based materials for laminating and recycled plastic bottles used for the interior and exterior lining.
With anatomically correct, tailored fit body lines and minimal seams, the suit allows for unrestricted warmth and performance. The suit goes even further with subtle embossed branding, eliminating the need for any unnecessary solvent based printing.
The initial product release available in surf shops around the globe starting August 2016 features a 3/2mm for cool water ranging from 56 – 65° F / 13 – 18° C.
After years of development Sheico finalised NaturalPrene™. This cutting edge material is a Natural Rubber Foam harvested from renewable rubber trees that replaces traditional neoprene. NaturalPrene™ is 100% neoprene-free.
Aqua-A™ lamination glue is water based and completely solvent free with no harmful chemicals. Aqua-A™ replaces traditional solvent based glues in the lamination process.
Upcycled Ultraspan™ water repellent jersey made from recycled bottles replaces traditional petroleum based fabrics. Each wetsuit uses approx. 45 Recycled bottles to make up the material used in the jersey lining. Upcycled Thermal full body lining insulates heat and dries fast.
Together these Eco friendly materials make the Eco Seas wetsuit warm, soft, and stretchy. This allows for more freedom of movement while surfing and more ease to put on and take off.