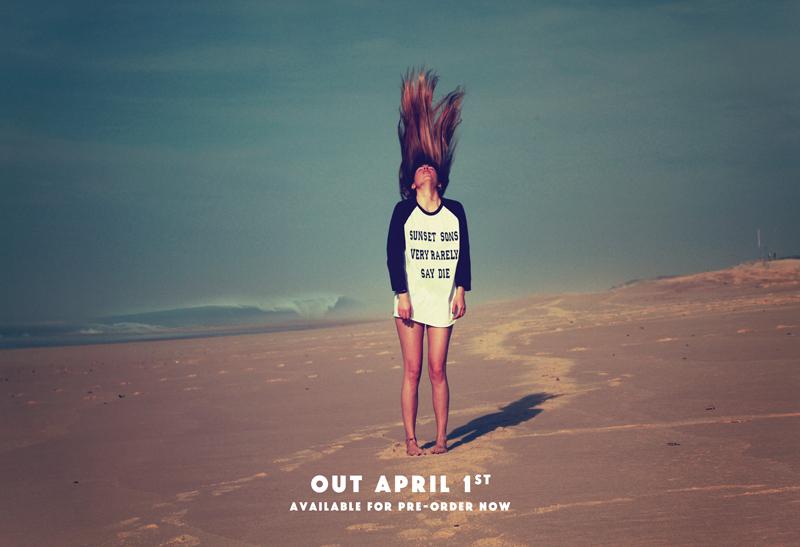 Sunset Sons have announced the release of their debut album Very Rarely Say Die for April 1 2016 on French Exit via Kobalt Label Services. The album will be preceded by new single 'Somewhere Maybe' in February. Very Rarely Say Die – recorded between London, Nashville and their adopted hometown of Hossegor with Jacquire King (Kings of Leon) and James Lewis (Arctic Monkeys) – will arrive amidst a 14 date UK and Ireland headline tour. The tour begins in Newcastle on March 23, hits London's KOKO on April 6 (following previous sold-out London headlines at Scala, House of Vans and Community Festival) and will then take the band on a 17 date European leg – for full dates see below. The headline tour follows their support slot for Imagine Dragons across their current UK and European arena dates.
The Anglo-Aussie band have had a blinding past 12 months, which has seen them play over 20 summer festival dates (Glastonbury, T In The Park, Isle of Wight, Boardmasters), secure Radio 1 (Track of The Day) and Radio X (Daytime Playlist) support, and win over hundreds of new fans, night after night opening up for Imagine Dragons. Prior to that, the band embarked on a sold-out UK tour through the spring, which ended on a sold-out London Scala show – all none too shabby for a bunch of four surfers who fell into music as a means to pay the bills just two years previously.
Sunset Sons came into being when Rory, Pete, Jed and Rob encountered each other whilst pursuing their love of surfing in the sleepy French beach town of Hossegor. Drummer Jed came across frontman Rory hammering out cover versions (which incredibly took in everything from QoTSA to D12) on a bar piano, inbetween stints pot-washing in the kitchen. That bar, 'Le Surfing', happened to be owned by Australian bassist Pete's cousin, and lent its name to Sunset Sons' self-funded and released debut EP (which entered at No.6 on the iTunes Rock Chart, having been recorded in just three days).
A subsequent UK tour took the band not to the typical major city dates in London and Manchester, but out to the coastal surf towns of the UK including Thurso, Scarborough and St Ives. It's part and parcel of that same down-to-earth love for surfing and its no-nonsense lifestyle which keeps all four members of Sunset Sons still living by the sea in Hossegor, still more than a little bemused by their own success; 'That was part of the deal' says Rory. 'We couldn't write the songs we do living in, say, London'. True to form, as soon as the festival season was over, the band returned to Hossegor to finish recording Very Rarely Say Die.
vinyl http://smarturl.it/sunsetsonsvrsdlp
download http://smarturl.it/sunsetsonsvrsddl
cd http://smarturl.it/sunsetsonsvrsdcd
website http://smarturl.it/sunsetsons 
Very Rarely Say Die Album Tracklisting:
1 Know My Name
2 Tick Tock
3 Remember
4 Bring The Bright Lights
5 She Wants
6 September Song
7 The Jam (Interlude)
8 Gold
9 Somewhere Maybe
10 Loa
11 On The Road
12 Lost Company
13 I Can't Wait
2016 HEADLINE TOUR DATES
March 2016
23 March NEWCASTLE Newcastle University Student Union http://www.gigsandtours.com/tour/Sunset-Sons 
24 March GLASGOW QMU http://www.gigsinscotland.com/homepage.aspx 
25 March LEEDS Leeds University Stylus http://lunatickets.co.uk/events/sunset-sons.html 
26 March MANCHESTER O2 Ritz www.gigsandtours.com/tour/Sunset-Sons 
28 March BELFAST The Limelight http://www.ticketmaster.ie/venueartist/461484/2056869 
29 March DUBLIN The Academy http://www.ticketmaster.ie/venueartist/461484/2056869 
30 March BIRMINGHAM O2 Institute http://www.livenation.co.uk/artist/sunset-sons-tickets 
April 2016
1 April EXETER Exeter Phoenix http://www.seetickets.com/event/sunset-sons/phoenix-arts-centre/924819 
2 April FALMOUTH Princess Pavilion http://www.seetickets.com/event/sunset-sons/princess-pavilion/924820 
3 April CARDIFF Y Plas https://orchardentertainment.ticketsolve.com/shows/873542879/events 
4 April BRIGHTON Concorde 2 www.loutpromotions.co.uk/sunset-sons 
6 April LONDON KOKO http://www.livenation.co.uk/artist/sunset-sons-tickets
8 April BOURNEMOUTH 02 Academy Bournemouth http://www.livenation.co.uk/artist/sunset-sons-tickets 
9 April BRISTOL 02 Academy Bristol http://www.livenation.co.uk/artist/sunset-sons-tickets 
12 April EINDHOVEN Effenaar http://www.ticketmaster.nl/event/155445?CAMEFROM=EFFENAAR&brand=nl_effenaar 
13 April AMSTERDAM Melkweg http://www.eventim.nl/Tickets.html?affiliate=MEL&doc=artistPages%2Ftickets&fun=artist&action=tickets&erid=1525612 
14 April BRUSSELS AB Club http://www.abconcerts.be/en/ 
15 April PARIS La Flêche D'Or http://alias.fnacspectacles.com/place-spectacle/manifestation/Pop-rock-Folk-SUNSET-SONS-FLSUN.htm 
16 April LYON Ninkasi Kao http://alias.fnacspectacles.com/place-spectacle/manifestation/Pop-rock-Folk-SUNSET-SONS-LSUNS.htm  
18 April ZURICH Härterei http://www.starticket.ch/0ShowInfo.asp?ShowID=99099&ShowDetails=1 
19 April BERN Bierhuebeli http://www.starticket.ch/0ShowInfo.asp?ShowID=99216&ShowDetails=1 
20 April STUTTGART LKA-Longhorn http://www.fkpscorpio.com/de/konzerte-tickets/ticketshop/?sprache=0&standort=TIX&veranst_nr=5837 
23 April STOCKHOLM Debaser Strand 
24 April OSLO Parkteateret http://www.billettservice.no/event/477797 
25 April COPENHAGEN Vega 
27 April HAMBURG Uebel & Gefahrlich http://www.fkpscorpio.com/de/konzerte-tickets/ticketshop/?sprache=0&standort=TIX&veranst_nr=5838 
28 April BERLIN PBHFCLUB http://www.fkpscorpio.com/de/konzerte-tickets/ticketshop/?sprache=0&standort=TIX&veranst_nr=5839 
29 April COLOGNE Die Kantine http://www.fkpscorpio.com/de/konzerte-tickets/ticketshop/?sprache=0&standort=TIX&veranst_nr=5840 
30 April MUNICH Technikum http://www.fkpscorpio.com/de/konzerte-tickets/ticketshop/?sprache=0&standort=TIX&veranst_nr=5841 
  3 May MILAN Biko www.ticketone.it 
  6 May MADRID Moby Dick Club http://www.livenation.es/artist/sunset-sons-tickets?c=WEB_WP_sunsetSons_021115 
https://twitter.com/SunsetSons // http://sunsetsons.com/ // https://www.facebook.com/SunsetSons
https://instagram.com/sunsetsons/
For further information please contact: Hayley Newnham // [email protected] // 07703 322876