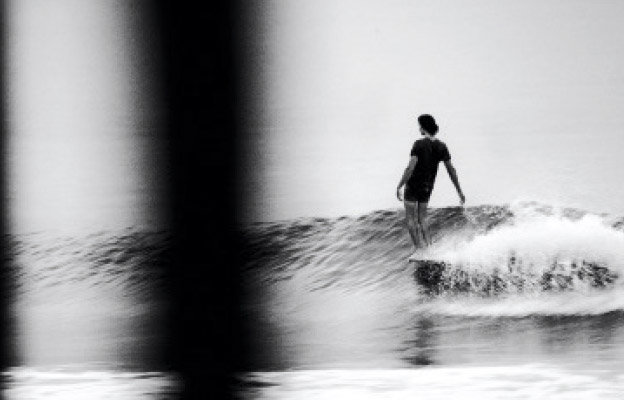 Zye Norris on the nose at Batu Keras, Java.
COURTESY DEUS EX MACHINA
Your book The Longboard Travel Guide is just out. It's the first dedicated guidebook to cover the subject, so the longboard community should be pretty stoked.
Yeah, I hope so. Longer boards are obviously harder to travel with, but riding them opens up so many interesting breaks around the planet, all sorts of thrilling points and peelers.  
The book includes some interesting off-the-beaten-track destinations like Gabon, Western Sahara, Canada and Angola. Why were you keen to include countries like those?
It's a fact of life that lineups around the world are becoming more crowded, so I think it's important to open peoples' eyes to new surf zones where they can be assured of high quality waves and minimal crowds. Only the most adventurous surfers make it to places that are a challenge to get to, therefore they remain uncrowded. Many of these places already have a small number of low-key tourism facilities available, such as eco-lodges, and they benefit tremendously when there's an increase in adventure tourism. If you accept that the journey is part of the adventure, then I think many of the countries in the book will stoke your fires. 
More and more surf travel companies seem happy to cater for longboarders these days. That's got to be good news for loggers.
For sure. Surfing embraces such a wide range of abilities and approaches that any savvy surf travel company will cater for every level and every board type. But I think there's still a gap in the market for specialist surf travel operators to provide exciting quivers of boards to use on location, so that the client doesn't have to travel with a massive coffin bag of boards. Wouldn't it be good to arrive at your destination and be able to borrow a small quiver for the duration of the trip (say a specific noserider, a performance longboard and a fish)? Obviously the premium might be higher, but what a great way to free-up the stress of travelling with boards, and enjoy the chance to sample new designs in new waves. Surf travel operators could easily collaborate with local shapers to achieve this.
Do you prefer searching remote coasts by road or by boat? 
By road, if it's possible. For me, one of the biggest rewards of surf travel is meeting people, experiencing the landscape and learning about the local culture.
Getting through airports with a 9'0″ is a mission. How do you do it?
It's never easy! Lately, I've noticed that Gatwick and a couple of the Heathrow terminals have introduced a 2.5 metre (8'2") limit for oversized baggage. This is because oversized baggage is placed in trays which go down chutes (for automated sorting) before being loaded onto the relevant plane. If the attendant working at the oversized baggage check-in refuses to take your longboard, it's at the discretion of the duty manager to have a member of staff take the board by hand…and they might refuse to take it altogether. So, the options are either to travel with a board no longer than 8'2" at suspect airports/terminals, or choose airports/terminals with a track record of accepting full longboards (9'0" plus). I know from experience that Heathrow Terminal 3 (the home of Virgin, who are great for longboards) is at ground level and it doesn't have a size limitation for surfboards as they get transported to the loading area without using chutes. Also, smaller international airports like Bristol (where you can connect to bigger hubs such as Amsterdam) currently have a good track record with 9'0" plus boards. It's always wise to talk to the airline before you book and gather as much information as possible from fellow travellers.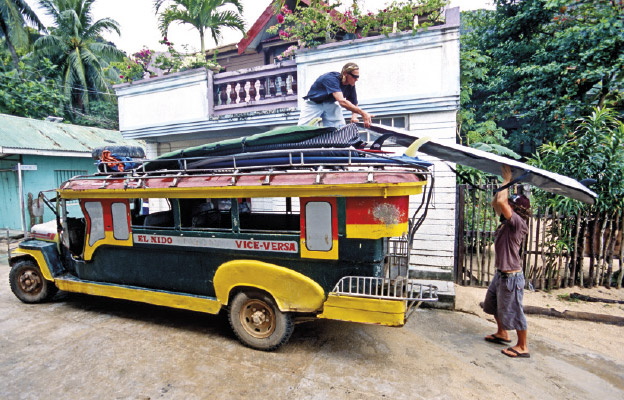 Sam on the road in the Philippines. 
JOHN CALLAHAN / SURFEXPLORE
When you're planning a long-haul trip, do you choose somewhere consistent and book flights in advance, or wait for a good chart and go at the drop of a hat?
Well, our SurfExplore team doesn't have the resources to go jetting off at the drop of a hat, so we hone in on an area and choose a month which is likely to give us good swell and good light for shooting. For example, July and August are the best months for surf in West Africa but it tends to rain heavily, so the early season (May and June) is a better bet if you're shooting. Similarly, areas in the South China Sea that work during the northeast monsoon – Southern China, Malaysia and Vietnam – tend to have a pervasive gloom after Christmas which is awful to photograph, so it's often best to go early in the season, say November. If you want to publish material or produce films, good planning certainly makes a difference. If you're only freesurfing, of course, it's just a matter of choosing the peak swell season. 
What are your own personal all-time surf discovery highlights?
I'd say exploring Algeria in 2009. After three months of research and planning, photographer John Callahan and our SurfExplore team documented the northeast Mediterranean coast of the country, culminating in a few sessions at the outstanding left point of Ain Barber on a solid mistral swell. We were really on a roll at that time as our travel tactics had become almost military in planning and execution. The local crew in Annaba now ride this spot when it breaks (a handful of times per year) and our trip has become part of their surfing folklore!
How important is it that travelling surfers act responsibly while on surf trips to developing countries?
During my travels I've seen how sensitive cultural tourism can bring employment and resources to previously unstable and economically-deprived corners of the world, such as Madagascar and Liberia. So, positive cultural exchange is really important – it's how bridges are built between different cultures and communities.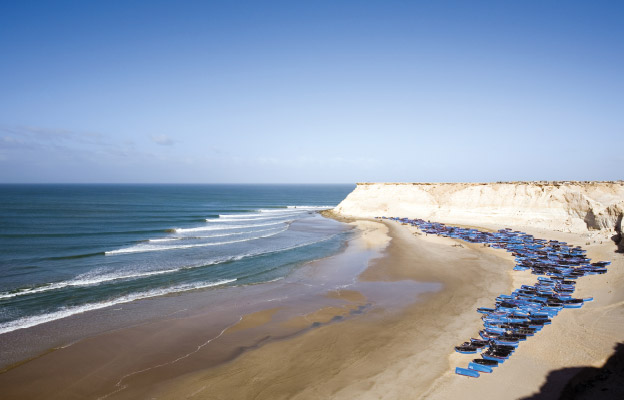 N'Tirift, way down in Western Sahara. 
JOHN CALLAHAN / SURFEXPLORE
The Longboard Travel Guide (Orca Publ.s) is available now price £17.99. Click here to buy.