Day one of four at the Pipeline ticked off*. A wild and wooly trials saw heroics and oddness, Aussie grom Jack Robbo used his West Oz honed tube smarts to take the win and JOB is joining him in the main event. So the top seeds have Robbo, JOB or Bruce Irons to contend with. No biggy…
The first heat may be a record breaker, only two waves ridden, both take off to pull off due to close out. But that was enough to see Jack Freestone and Griffin Colapinto into the next round. So Jack advanced with a one wave score of 0.87?!?!? A record surely?
Get well soon Owen Wright who's been hospitalised after feeling wonky after a man sized Rick-rolling at huge Pipe. More on this as we get it. He's okay and being checked out by the medics.
*Event permit bureaucracy in Hawaii and many events/limited window means the WSL gets four on days to complete the event. So no half days or late calls. It's either on for the day or it's not.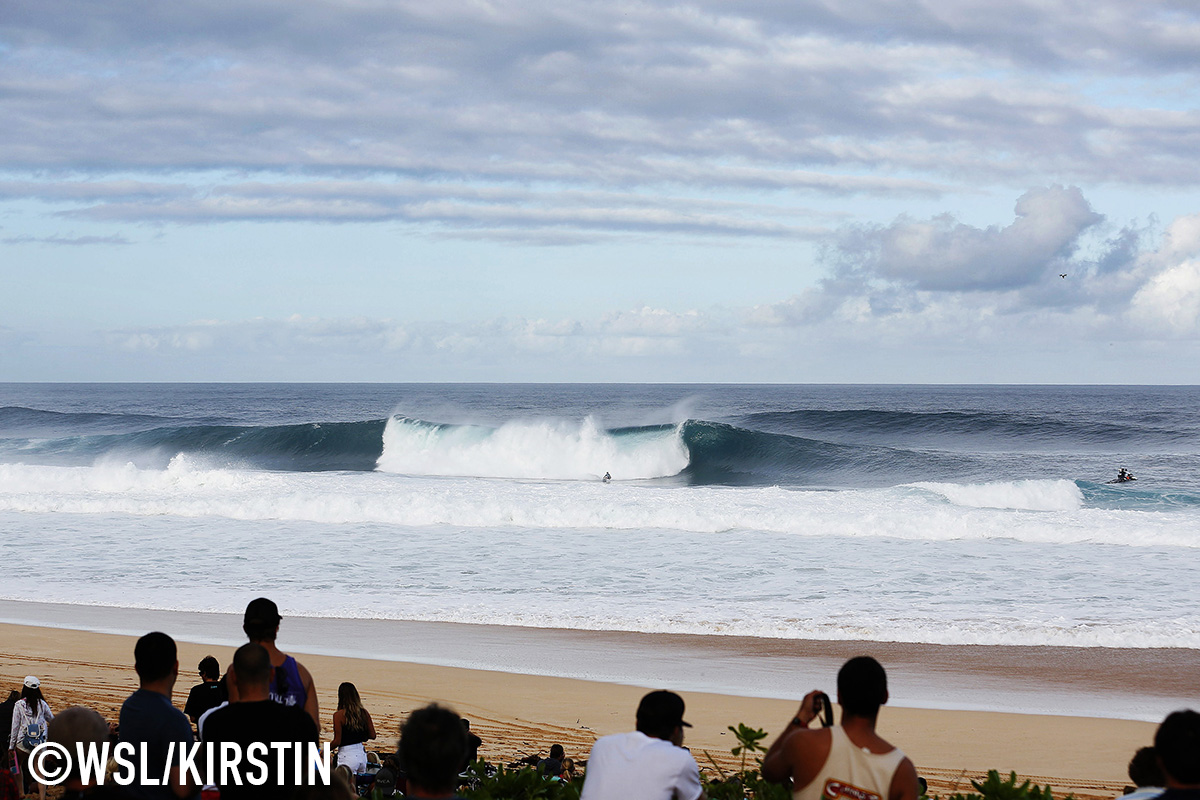 WSL PRESS RELEASE
Jack Robinson (AUS), 17, claimed the Pipe Invitational this afternoon, besting a specialist field of 32 to take the prestigious win and advance, alongside Runner-up and former Pipe Master, Jamie O'Brien (HAW), into the Billabong Pipe Masters in Memory of Andy Irons.
The final event of the 2015 Samsung Galaxy World Surf League (WSL) Championship Tour (CT) and the Vans Triple Crown of Surfing, the Billabong Pipe Masters In Memory of Andy Irons is a highly-competitive event that pits some of the world's best surfers against one of the world's most renowned waves.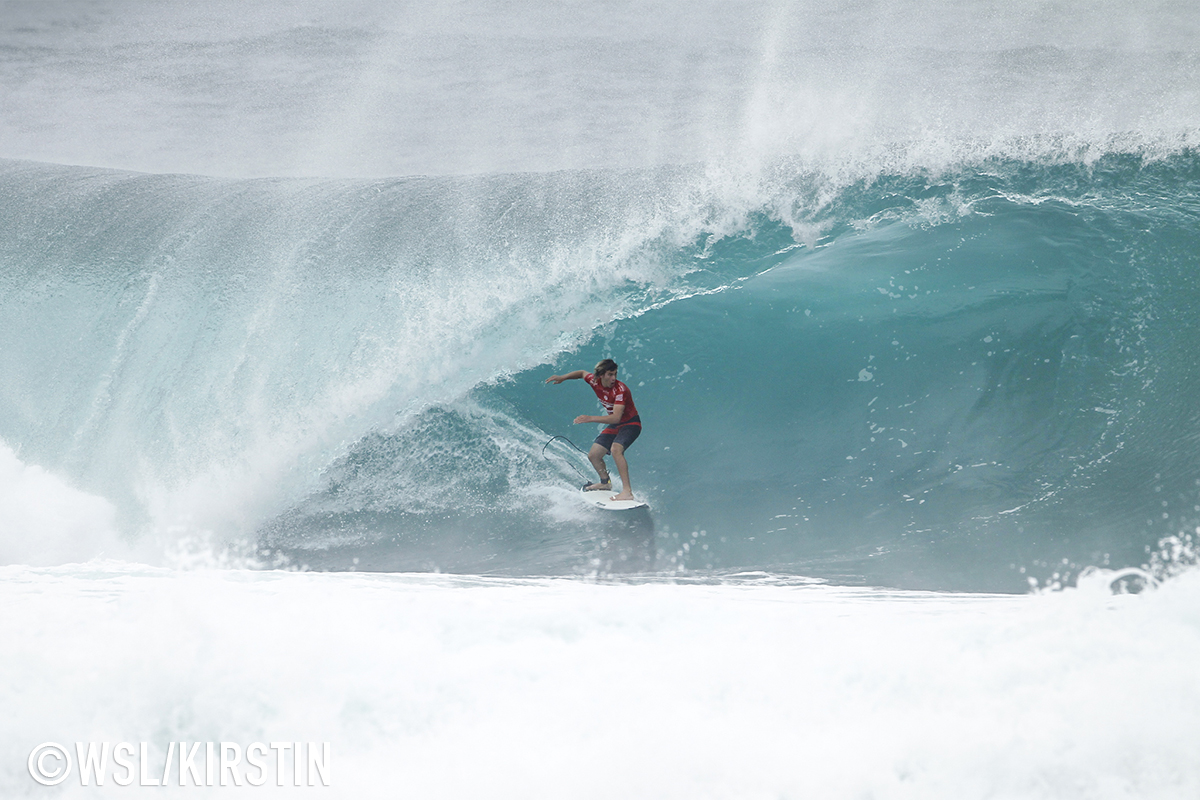 Solid 10-to-15 foot (3 – 5 metre) surf steamed through the world-famous Banzai Pipeline all day, providing the backdrop for incredible barrels and horrendous wipeouts by some of the best Pipeline surfers on the planet.
In the end, it was 17-year-old phenom, Robinson, that came away with the win – turning in one excellent score of a 9.43 to claim the victory over O'Brien, Mason Ho (HAW) and Kekoa Cazimero (HAW). Leading the front of youthful standouts including Griffin Colapinto (USA), Kalani David (HAW), and Luke Shepardson (HAW), Robinson was in-form, collecting impressive scores throughout the event, winning each of his four heats, and has his eyes now set on the main event.
"I just wanted to get the best waves and go against the best guys but the trials were so gnarly," Robinson said. "Any one of the trialists could take down a CT guy so I'm just stoked to get a few waves against them. It was great to have my dad here and I had a lot of fun – just wanted to go and get it done. I'd be stoked to get a couple of drainers, that's what it's all about here and it'd be great to get into a few heats."
Robinson won the Vans Triple Crown Rookie of the Year award at Sunset last week during the Vans World Cup of Surfing and has had a phenomenal performance in Hawaii this season. With a fourth place finish in the HIC Pro, the official Vans Triple Crown qualifying event, the young Australian has quickly become a fan favorite.
Wade Carmichael (AUS), winner of the Hawaiian Pro, leads the Vans Triple Crown ratings ahead of defending WSL World Champion Gabriel Medina (BRA), Dusty Payne (HAW), Mick Fanning (AUS) and John John Florence (HAW) respectively. Carmichael will surf against Medina and Keanu Asing (HAW) once the Billabong Pipe Masters commences.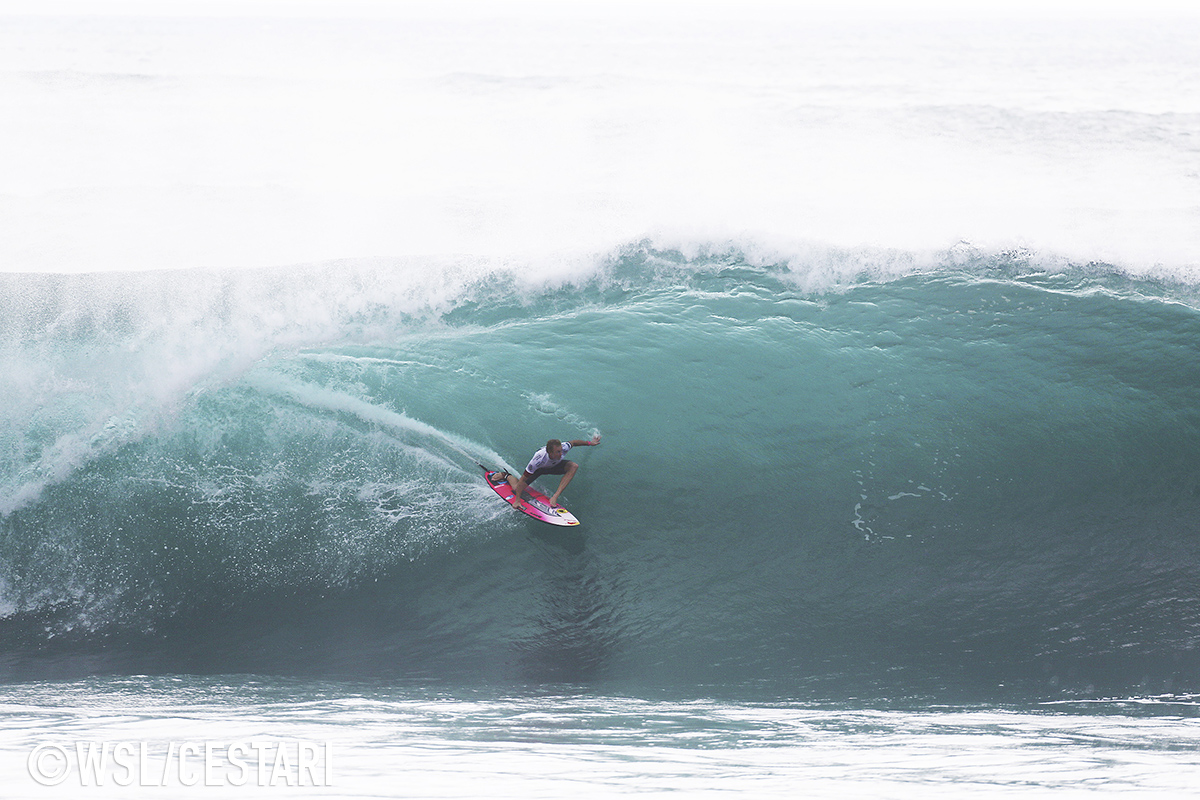 Claiming Runner-up, 2004 Pipe Master and local charger Jamie O'Brien (HAW) punched his ticket into this year's main event after a near-miss last year. Known for his fearless approach to one of the heaviest waves in the world, O'Brien will now have a chance to show his prowess against the world's best.
"I narrowly missed out last year coming in third so I made it a goal here to get second and I'm excited with the forecast looking really good," O'Brien said. "I'm really stoked with everyone that came down today in support of the trials and excited we got to put on a good event in some unruly conditions at times. I think today was the hard day coming into a lot of good heats. Guys were surfing great and every heat was like a Final. The best thing about the main event is we're only surfing one or two heats a day and that'll give us time to relax – whereas today we had to surf four times and that's really draining so I'm excited to make the main event."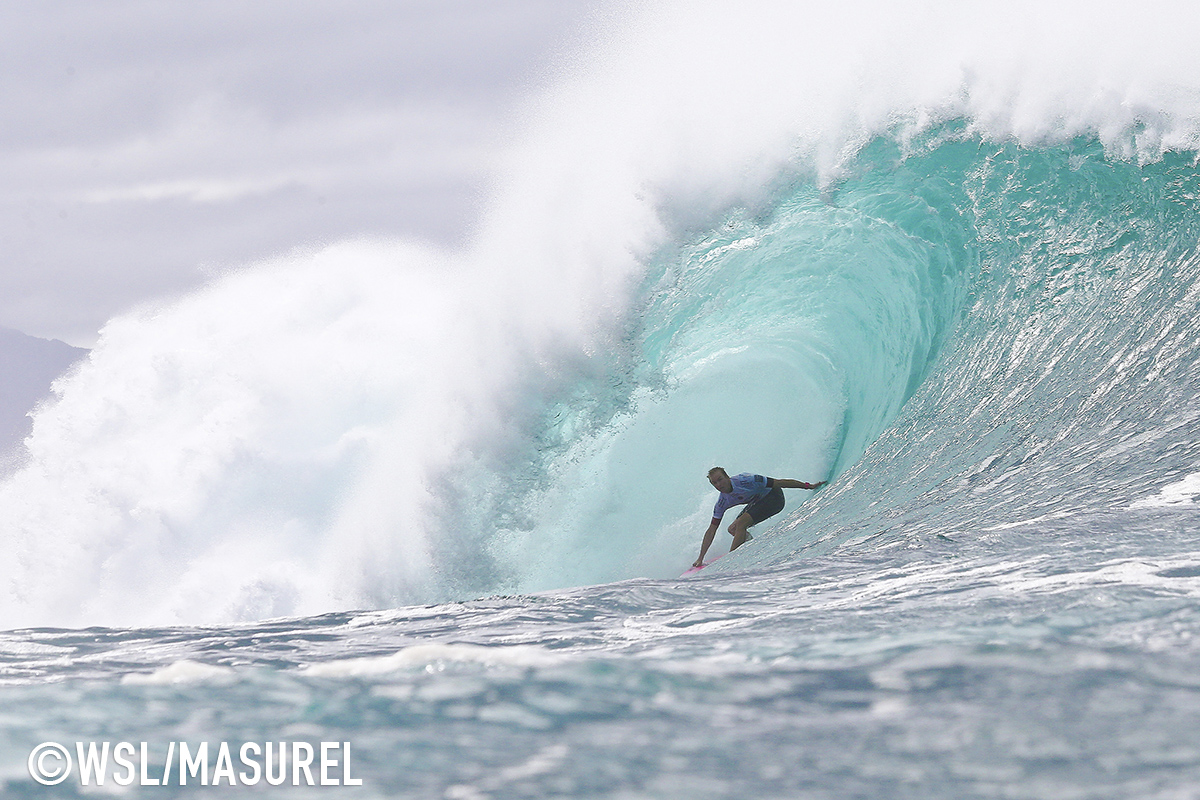 Turning heads during his Pipe Invitational run, local young gun Luke Shepardson (HAW), 20, posted the event's only perfect 10 in Heat 8 of Round 1, but couldn't find the scores needed to advance from the Quarterfinals. Finding a pristine Pipeline bomb, Shepardson locked into the barrel with equipment made for these conditions – beating multiple sections and finding a clean exit.
"I knew it was a really, really good wave," said Luke Shepardson. "And I thought it's either a 10 or a 1. I was super stoked I made it. I'm riding a 6'10, I was thinking I would ride my 6'8, but I think the 6'10 helped a lot. As I bottom turned into it there was a warble in the wave and the board almost skidded out – the couple extra inches held the rail and helped me get out of it. I think that was my best wave ever at Pipe. It's the best feeling I ever got, especially because it's in a contest and the whole world is watching."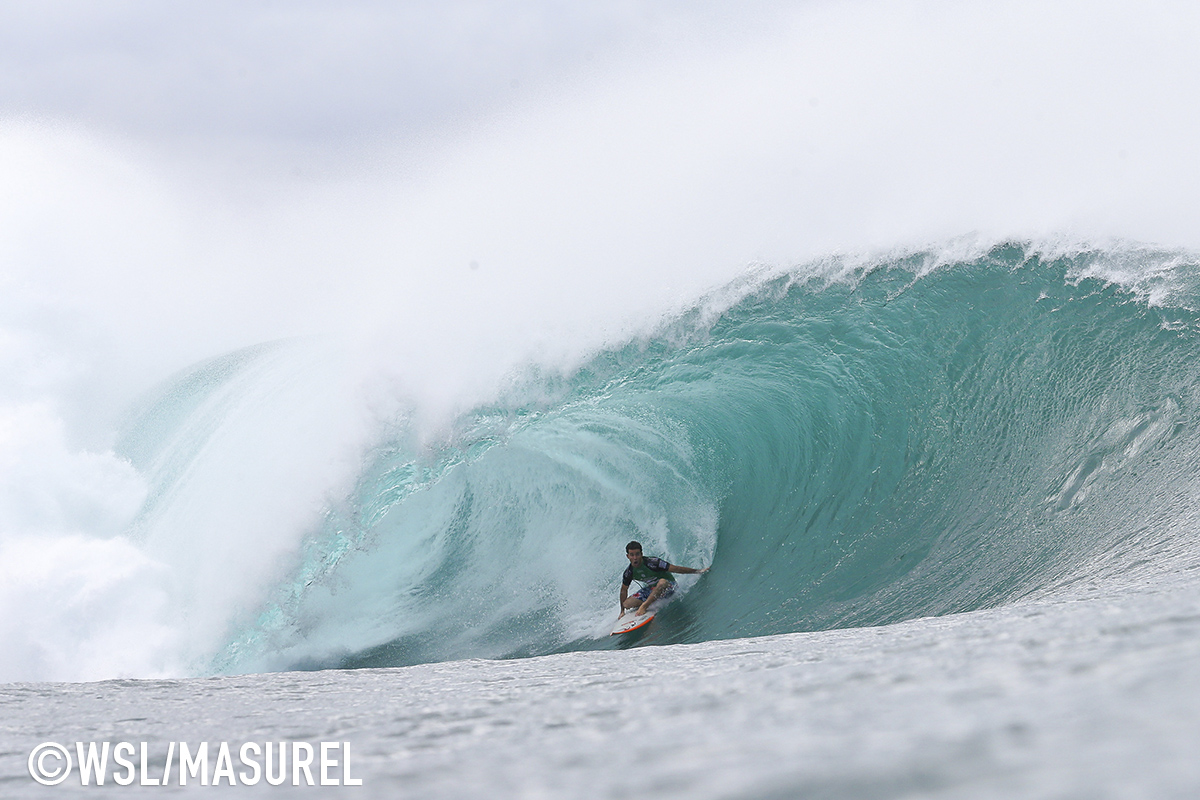 Three-time WSL Champion and current Jeep Rankings' Leader Mick Fanning (AUS), Filipe Toledo (BRA), Adriano de Souza (BRA), reigning WSL Champion Medina, Owen Wright (AUS) and defending Pipe Master Julian Wilson (AUS) are all in the running for the 2015 WSL Title, which will be decided at the final stop of the 2015 Samsung Galaxy WSL Championship Tour, the Billabong Pipe Masters.
Fredrick Patacchia (HAW) and Matt Banting (AUS) have withdrawn from the event. They've been replaced by former Pipe Master Bruce Irons (HAW) and current Vans Triple Crown ratings' leader Carmichael in the main event.
Irons has drawn Fanning and compatriot Sebastian Zietz (HAW) while Carmichael will take on Medina and Hawaiian rookie Keanu Asing (HAW) in Round 1 of competition.
Organizers will reconvene tomorrow morning at 7:00am to reassess conditions.
Surfline, Official Forecasters for the World Surf League, are calling for:
Large WNW swell peaks early Wednesday morning, with Pipe expected to be mainly maxed out. However, watch for the surf to gradually become more tame through the day, especially over the afternoon. The swell eases a couple notches for Thursday (but still solid) and shifts more NW'erly in angle. The swell continues to ease over Friday and the weekend. Breezy ENE veering East Trades through Wed/Thurs, then backing off some over Friday and veering ESE. Watching for a possible good size NW swell for around the 15th-17th.
The Billabong Pipe Masters will be webcast LIVE on WorldSurfLeague.com and on the WSL app.
Late news: Owen Wright has been taken to hospital at Queens in Honolulu after getting rolled during a freesurf. Word is concussion, get well soon big man.
PIPE INVITATIONAL FINAL RESULTS:
1 – Jack Robinson (AUS) 9.43
2 – Jamie O'Brien (HAW) 8.70
3 – Mason Ho (HAW) 5.53
4 – Kekoa Cazimero (HAW) 1.50
PIPE INVITATIONAL SEMIFINAL RESULTS:
SF 1: Jack Robinson (AUS) 13.00, Mason Ho (HAW) 11.70, Griffin Colapinto (USA) 7.53, Kalani David (HAW) 4.23
SF 2: Jamie O'Brien (HAW) 18.00, Kekoa Cazimero (HAW) 9.34, Myles Padaca (HAW) 2.63, Nathan Florence (HAW) 1.57