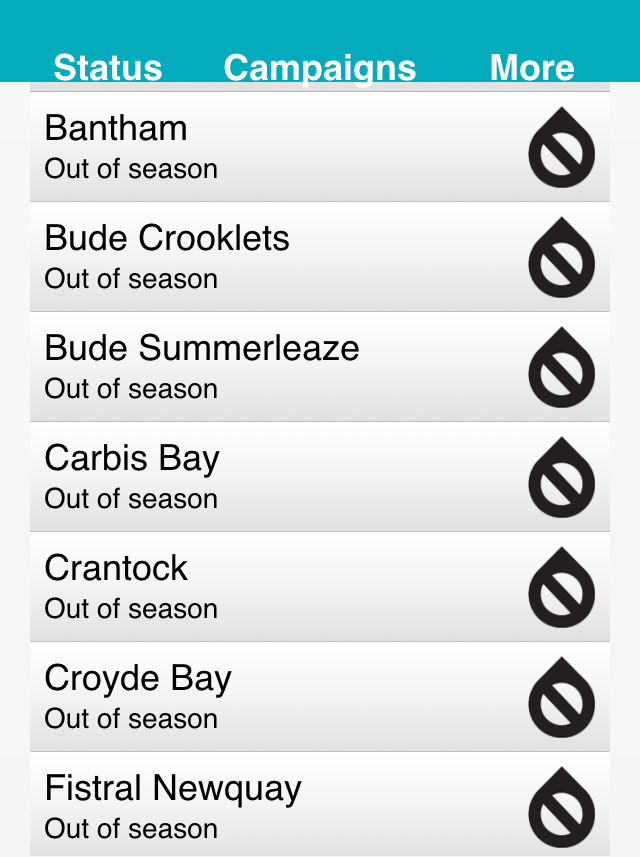 "Out of season" More like 'Out of touch" SWW think no one surfs during winter.

Just as winter surf season really kicks in and surfers all over the country look forward to constant swells SWW have turned off the data feed to SAS Safer Seas App and their own 'Beach Live' service meaning surfers and water users will not be informed if and when they are surfing in RAW sewage until next May.
The data feed for many popular surf spots just reads "Out of season' which really highlights the lack of understanding (or care factor) of the south wests largest polluter during surfings 'high surf season'.
In an appalling turn of events surfers health will be put at risk by the denial of information which is readily at hand and easily providable. Most users see it as a cynical attempt to hide pollution data as more rain overloads inept systems.
Surfers travel from all areas of the country to the south west as the season kicks in. Also affected are thousands of local children who in large swells have to surf at 'safer' beaches sheltered from the swell. In a cruel twist these beaches are also some of the worst affected by South West Waters failing sewage system and overflows. The children will now not know if they are surfing in sewage leaving parents in a terrible position of having to make uninformed decisions. The question "Am I sending my child into raw sewage?", just shouldn't have to be asked in 2015. As the EA and Cornwall Country Council (among others) refuse to provide sufficient signage after or during sewage pollution incidents due to CSO failure the apps were surfers only means of making informed decisions.
Surfing in sewage has huge health implications. In 2000 at the Heather Preen case – an 8 year old who died at Dawlish – CSO pollution was included by the coroner as a possible route of infection. Together with previous a Judicial review (Delaney and Shelley V Carrick DC, '96) these cases had established duty of care to protect public health. South West Water, EA, and local Councils (Cornwall, Devon) seem to have conveniently forgotten these cases and are allowing discharges across south west beaches ad hoc.
The Environment Agency policy and their testing regime has been recently ridiculed by releases of their test results on south west beaches which passed 'excellent standards' many despite double figure, highly publicised sewage pollution incidents right through the busy tourist season. The toothless 'watchdog' is now seen as a redundant box ticking organisation onside with the water companies in protecting the status quo by many water users.
Meanwhile SWW hides behind an EU statement that allows them to release sewage if they feel 'systems are threatened', however when the statement was written this was deemed as three times per year or in periods of exceptional weather. 15 years later and systems now seem to be threatened on daily basis during summer and winter periods and the statement is misinterpreted and misreprestened as a carte blanche to release sewage willy nilly all over beaches without any consideration of public health.
SWW regularly display a 'head in the sand approach' to their shortcomings repeatedly relying on a hefty press release as their only response to press questioning acclaiming the 'Clean Sweep' programme, most the work of which was done 18 years ago. Ironically many CSO's that fail in the SWW areas serviced by systems that received 'investment' as part of that very programme. Fistral, St Agnes, Crantock, Porthtowan and St Ives Bay being prime examples.
If you disagree with the current state of the recreational water policy Surfers Against Sewage have launched an online letter which water users can use to send their concerns to the SS for the Environment. You can fill in the form here.
* WHO state that beaches polluted by sewage remains a threat to health for 24-48 hours meaning one sewage spill could have a detrimental affect to health for two days.
* In the USA beaches affected by raw sewage are immediately shut until testing by local councils ensures they are safe. There is no such procedure in the south west.
* An estimated 100,000 surfers use SW beaches through winter.
* Cold water surfing is now hip. More surfers using high the wastes surf through winter than ever before.
* Cornwall and the south west are seeing a rise in tourists and short breaks right through winter. Many tourists enjoy the beaches will not know if they are also enjoying their own excrement.
*Micro organisms live longer in winter months than summer due to lower levels of UV from sunlight
* Thousands of surfers have now come forward over the years giving evidence of illness contracted after surfing in polluted water.
*Heather Preen was an eight-year-old girl from Birmingham who died of E coli poisoning while on holiday at Dawlish. A judge stated she could have caught the infection from sewage discharged into the sea near the beach where she played. She became ill with diarrhoea and blood loss a week later.
* Heather was one of four cases of E coli 0157 contracted at the resort, linked by the fact that all four people visited the same beach on the same day, July 28
*The Environment Agency had received complaints on July 22 and 24 as well as one on July 29, about sewage discharges at the Black Bridge combined sewer overflow – two kilometres from the beach.