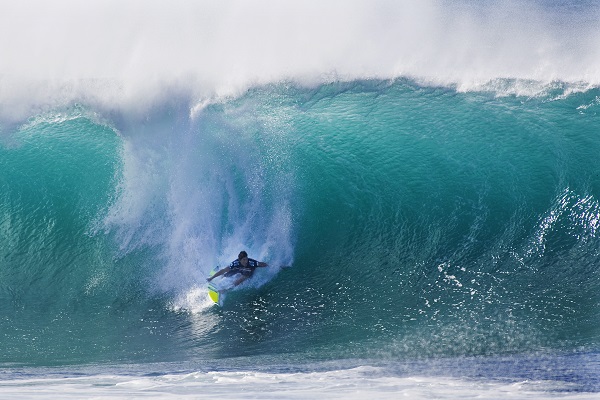 Bruce Irons, Pipe Masters Champion (2001), has been allocated a position in the upcoming Billabong Pipe Masters in Memory of Andy Irons, the final stop of the 2015 Samsung Galaxy WSL Championship Tour (CT).
"I'm so honored to be given the opportunity to compete in the Pipe Masters in memory of my brother," Irons said. "I reached out to Kieren (Perrow) a couple of weeks ago and asked if it would be a possibility and he's been completely open with me through this whole process. I understand that the opportunity is coming to me due to someone withdrawing, which is never what you hope for, but I'm really pumped to surf Pipe with the world's best. Really looking forward to the event and I hope the waves fire."
A free surfing virtuoso since his early teens, Irons won the Pipe Masters in 2001 as a 22-year-old wildcard and qualified for the elite Championship Tour in 2004. Irons's tenure amongst the world's best was marked by his stylish approach to progressive surfing as well as victories at the 2004 Quiksilver in Memory of Eddie Aikau and the 2008 Rip Curl Pro Search Bali. Irons's older brother, Andy, was a three-time WSL Champion celebrated for his powerful and progressive approach to the sport.
"Bruce and I have been talking about a possible opportunity and it's great to see him charging Pipe again this season," Perrow said. "He's always been a standout at Pipeline and remains amongst the world's best surfers when conditions get critical out there. With the withdrawals of Fredrick Patacchia and Matt Banting, the WSL is in a position to allocate one of the replacement spots to Bruce and we feel like he's certainly a worthy candidate given the form he's in. Looking forward to a great event."
Long-serving elite tour member Fredrick Patacchia (HAW) and 2015 CT rookie Matt Banting (AUS) have officially withdrawn from the Billabong Pipe Masters opening up two replacement positions in the main event. Irons has been allocated the initial spot by the WSL and the second opening will be determined in the coming weeks.
The Billabong Pipe Masters in Memory of Andy Irons will determine the 2015 WSL Champion amongst the six remaining contenders: Mick Fanning (AUS), Filipe Toledo (BRA), Adriano de Souza (BRA), Gabriel Medina (BRA), Owen Wright (AUS) and Julian Wilson (AUS).
The Billabong Pipe Masters will be held from December 8 – 20, 2015 and be webcast LIVE on WorldSurfLeague.com and on the WSL app.