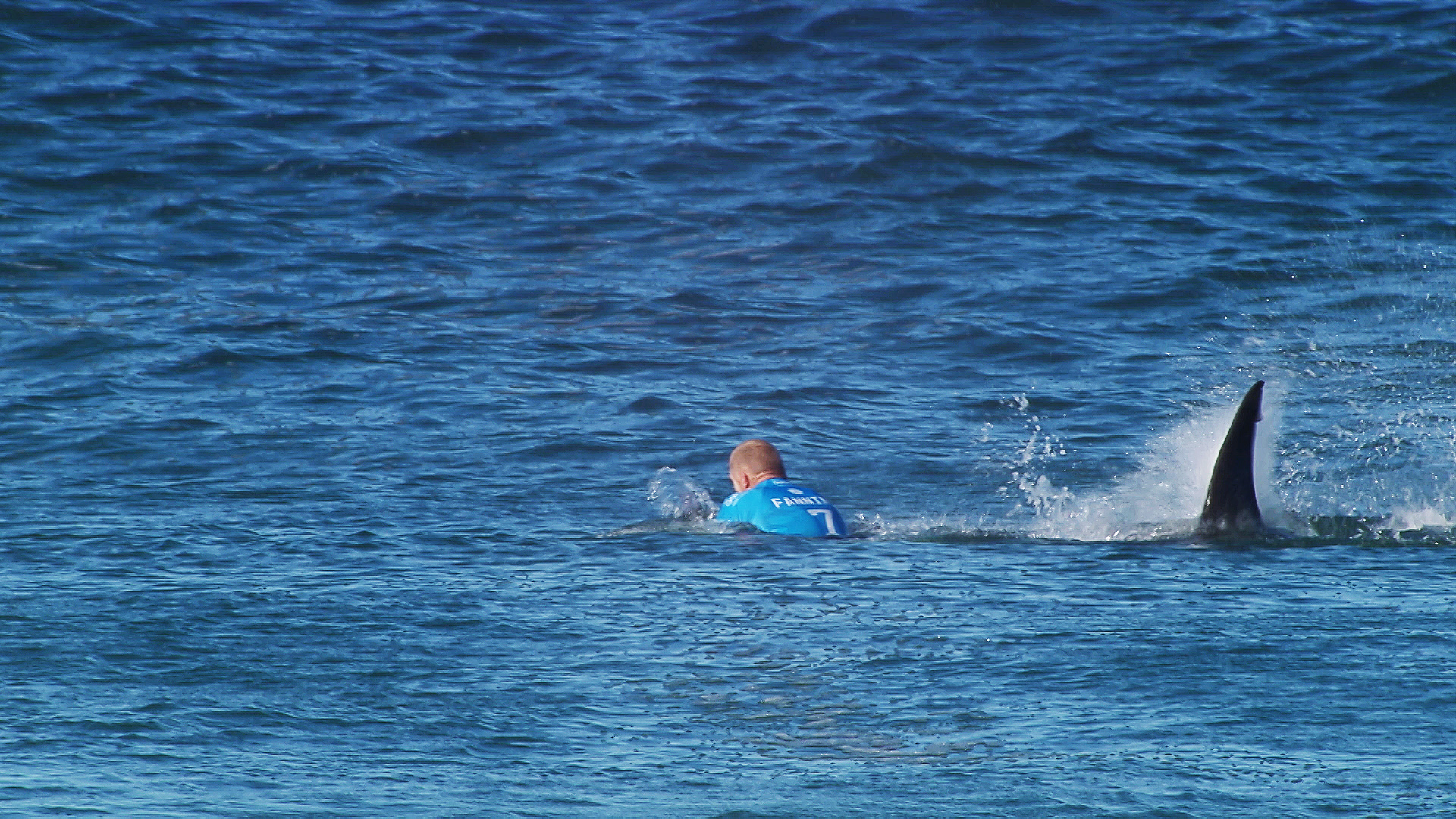 Were you having a cruisey Sunday watching the J-Bay Open like we were when things escalated quickly? As in really got out of hand fast. All thanks to a shark. Just as it was shaping up to be a classic final a fin appeared behind Mick and next thing you know they are going at it. In the rough and tumble Mick punches the beast on the back sandpapering his hand and the shark left hooked* him. All while we sat there jaws on the floor. Julian Wilson was paddling over fast like a bally hero and the safety team came in quick but it was a terrifying to scene to witness. Helpless as we were behind our screens. Especially when he went underwater. So. Mick's fine. Shaken not stirred. And below is the official version from the WSL and the YouTube clip has the brown wetsuit making moment we all secretly dread around the two minute mark…
*Yeah, yeah, it tail whipped him but go with the boxing analogy.
***
The J-Bay Open, Stop No. 6 on the 2015 Samsung Galaxy World Surf League (WSL) Championship Tour (CT), has been called off following a dramatic incident that involved three-time WSL Champion and defending event winner Mick Fanning (AUS) being attacked by a shark in the opening minutes of the Final against Julian Wilson (AUS).
https://youtu.be/U9Ht0lBA-x0
The scene unfolded live on WorldSurfLeague.com as the Australian essentially fought off the two animals before the Water Safety Team quickly arrived and pulled both Fanning and compatriot Julian Wilson into the safety boat. Despite a severed leash, Fanning remained physically unscathed by the incident.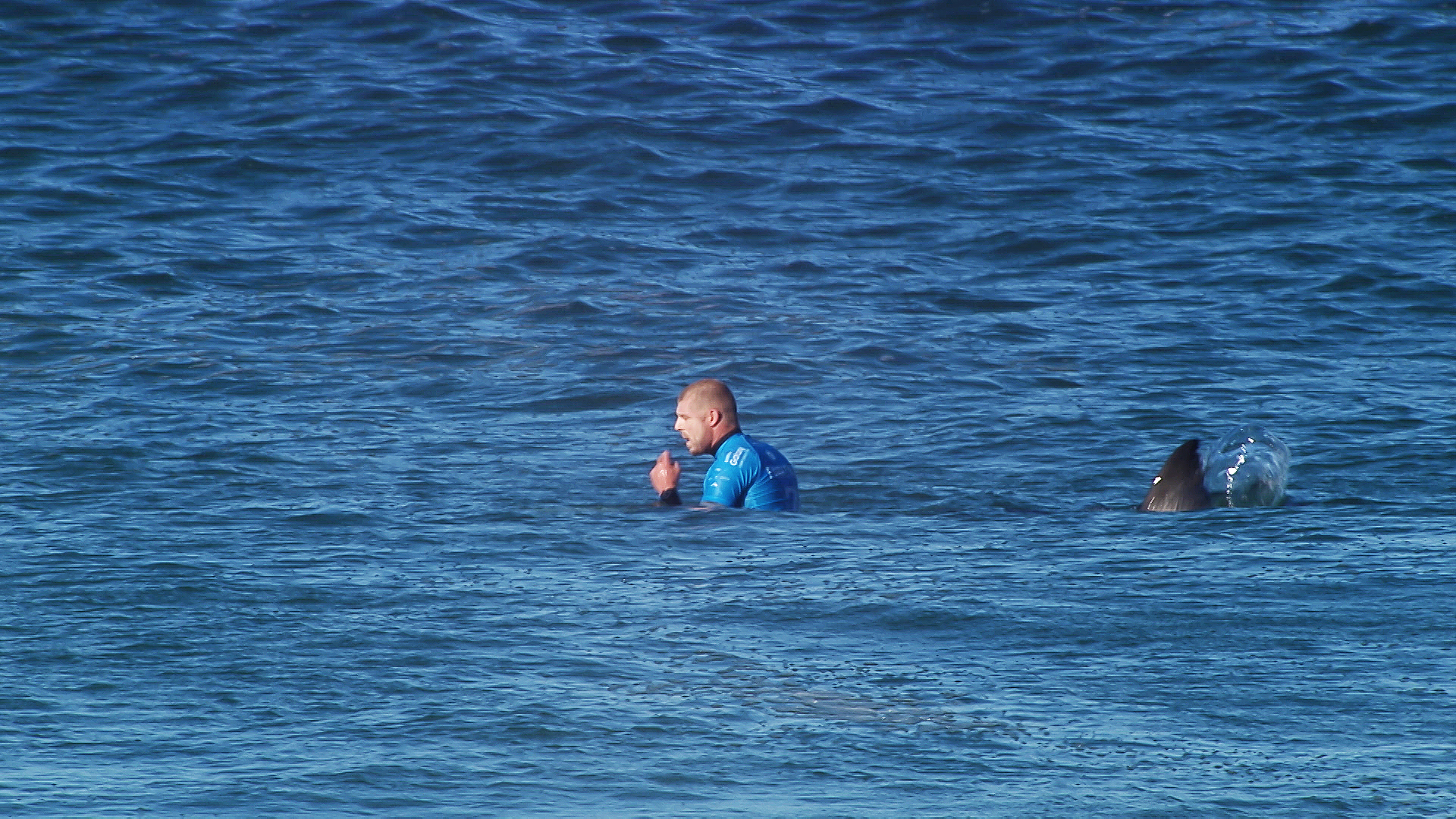 "We are incredibly grateful that no one was seriously injured today," Kieren Perrow, WSL Commissioner, said. "Mick's composure and quick acting in the face of a terrifying situation was nothing short of heroic and the rapid response of our Water Safety personnel was commendable – they are truly world class at what they do. The safety of our athletes is a priority for the WSL and, after discussions with both Finalists, we have decided to cancel the remainder of competition at the J-Bay Open. We appreciate the ongoing support we have in South Africa and once again want to express our gratitude to the Water Safety Team."
"I was just sitting there and I felt something grab or get stuck in my leg rope and I instantly just jumped away," Fanning said. "It just kept coming at my board and I was kicking and screaming. I just saw fins, I didn't see any teeth. I was waiting for the teeth to come at me as I was swimming. I punched it in the back. I'm totally fine, I've got nothing wrong with me. There's a small depression in my board and my leg rope got bitten and I'm totally tripping out."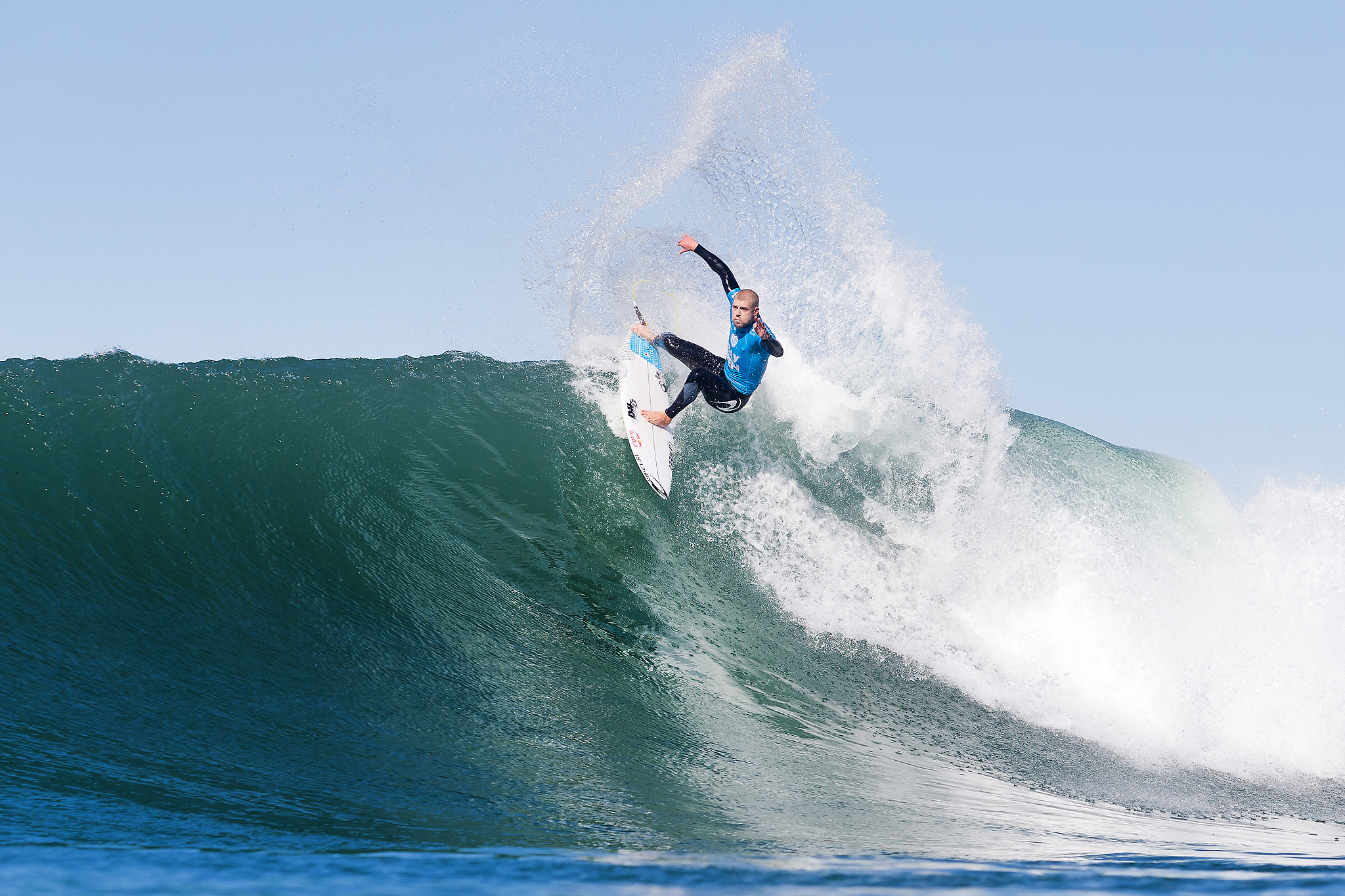 "I was just cruising and waiting for my turn, my opportunity and I knew Julian (Wilson) was down the point," continued Fanning. "I was just about to get moving and start paddling again and all of a sudden I had this instinct that something was behind me. I started getting pulled underwater and then the thing came up and I was on my board and it was right there. I saw the whole thing thrashing around but I was getting dragged under by my leg rope. I felt like it kicked me off but it was still there going and I was still attached to my board. I felt like I punched it a couple of times and then it was dragging me and then my leg rope broke."
"I started swimming and screaming and yelling at Jules (Julian Wilson) to move as well, but he was coming at me," said Fanning. "What a legend, coming after me. I was swimming in and I turned around and I had this thought, what happens if it comes to have another go at me, so I turned around so I could at least see it coming. Before I knew it the boat was there, the jet skis were there and we were in safely. I just can't believe it. To walk away from that, I'm just so stoked. I want to let all my family and friends know that I'm okay."
"Mick (Fanning) was kind of out in no man's land so I was really watching him and had my eyes on him," said Wilson. "Mick (Fanning) was looking down the point and I saw the whole thing pop up behind him. It can up and he was wrestling it. I saw him get knocked off his board and then a wave popped up and I thought, 'he's gone'. I felt like I couldn't get there quick enough. The results don't mean anything to me, I'm just happy he's alive. I literally thought when I was paddling for him that I wasn't going to get there in time, especially when I saw him off his board and swimming away. I thought it was going to grab him and take him under. I'm so happy we're both on the beach right now, I was so worried about Mick's life."
Both Fanning and Wilson will receive equal second place and 8,000 points on the Jeep Leaderboard. They will split the prize money between them equally, receiving $70,000 each. The result sees Fanning move up two places to second on rankings, Wilson move up to third and Adriano de Souza (BRA) retain the Jeep leader jersey.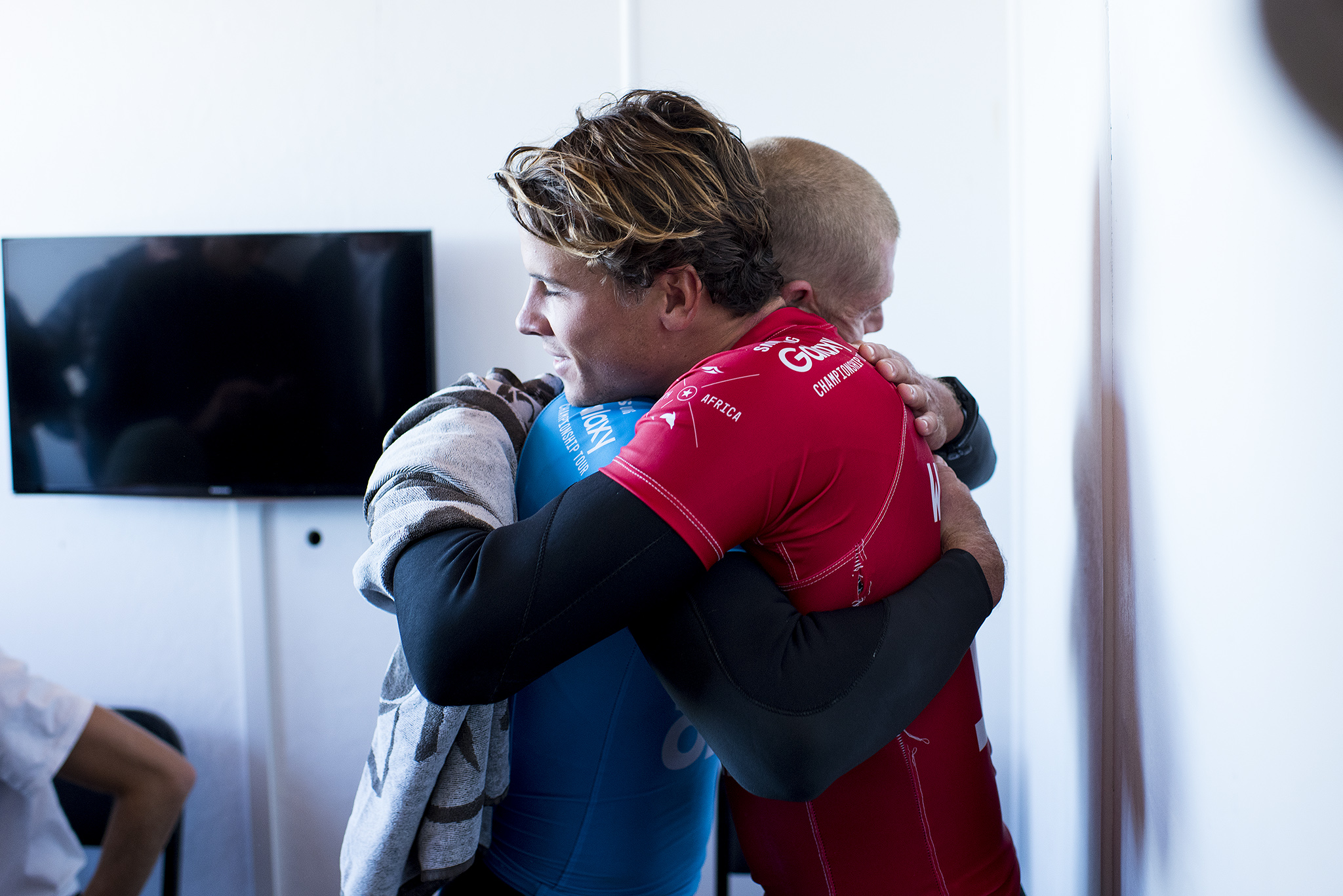 Before the incident occurred the pair were set for an exciting 40-minute all-Australian Final with Wilson searching for his first CT win and Fanning looking to defend his J-Bay Open title and claim his 21st CT victory. The pair has had four previous head-to-head heats with Fanning claiming the win each time.
Earlier in the day the form goofyfooter of the event, Adrian Buchan (AUS), faced Wilson in an all-Australian clash in the opening Semifinal. Buchan won through each Round of competition before losing out to Wilson in the Semifinals, who won through thanks to his heat-high opening score, sending Buchan home in third place. Previously 30th on the Jeep Leaderboard and in need of a good result after a series of early exits this year the result today sees Buchan jump up ten places to 20th on the Jeep Leaderboard and marks his first Semifinal appearance since the 2014 Billabong Pipe Masters.
"At the moment it doesn't feel great" said Buchan. "I had an opportunity at the end and didn't really finish, but like you said I feel really proud that I've got my year back on track and I felt like I was doing the surfing here to go all the way. It was great to have a good battle out there with Julian (Wilson) in pumping J-Bay. I feel confident at all the locations coming up, I've had big results everywhere and I know I can perform at all the spots left. I'm just going to go there and just surf and rely on my instincts and have fun. That's what I did here and it really worked."
The second Semifinal saw Kelly Slater (AUS) and Fanning, the two most successful surfers at Jeffreys Bay and long time rivals, battle for a place in the Final. The pair have had 15 previous man-on-man heats in CT history, with Slater taking 9 wins to Fanning's 6 and their last match-up was the Final in Fiji in 2013. Two 8-point rides from Fanning with less than ten minutes gone left the 11-time World Champion in a combination situation. Slater managed to escape with an excellent 9.43 for a long floater, quick barrel and series of carving turns but was left searching for a 7.30. Fanning sealed the deal with a 9.63 in the final minutes and sailed through to the Final. The Semifinal berth for Slater marks his best result of the season sees him move up to 6th place on the rankings.
"Now I've seen it all," said Slater of the attack. "I was coming up the beach and I saw all the boats and skis go straight to the lineup. I knew there was only one possible reason that would ever happen in a contest and that's if someone got attacked by a shark. I ran up the beach trying to get some information. I'm halfway between crying and laughing because he (Fanning) got so lucky. I'm lost for words to be honest. We almost just watched our friend get eaten by a shark and I'm just blown away that there's no damage at all."
World no. 1 Adriano de Souza (BRA) was sent home after the Quarterfinals by Wilson. With only seven waves surfed during the 35-minute clash it was the Australian that held the edge and took the win. De Souza wasn't able to find the waves or the scores he needed but retains his place at the top of the rankings heading into the next event in Tahiti.
"Julian (Wilson) is such a good surfer," De Souza said. "I think I lost that heat for myself, I lost my rhythm on my last wave and that cost me. I'm definitely in the hunt for a good result in Tahiti right now. I started my training early and I'm trying to get strong. I just need to do well and get to the Quarters or Semis at every single contest. That's my goal. At this stage everyone has a chance and I'm focused on my training and my equipment."
Reigning WSL Champion Gabriel Medina (BRA) was also eliminated in the Quarterfinals at the hands of Semifinalist Slater. Despite a strong showing from the Brazilian and an impressive 17.23 heat total two nine-point rides from the 11-time World Champion were too much for Medina to overcome. A 5th place finish sees Medina move to 15th place on the Jeep Leaderboard heading into Stop No. 7, the Billabong Pro Tahiti.
"We both got some sick waves," said Medina. "It's hard to beat Kelly (Slater) out here, especially when the waves are like this. He's the guy out here and I knew that was going to be tough. There isn't much I can do, but I had fun out there and I'm happy with the end result. I'm excited for Tahiti. Last year I had a great result over there. Now I'm going back home to get prepared."
https://youtu.be/1VQJ5_NyDDs
Highlights from the J-Bay Open are available on WorldSurfLeague.com.
J-Bay Open Final Results:
2 – Mick Fanning (AUS)
2 – Julian Wilson (AUS)
J-Bay Open Semifinal Results:
SF 1: Julian Wilson (AUS) 16.40 def. Adrian Buchan (AUS) 15.20
SF 2: Mick Fanning (AUS) 18.13 def. Kelly Slater (USA) 16.26
J-Bay Open Quarterfinal Results:
QF 1: Adrian Buchan (AUS) 18.00 def. Kai Otton (AUS) 15.67
QF 2: Julian Wilson (AUS) 15.53 def. Adriano de Souza (BRA) 12.33
QF 3: Kelly Slater (USA) 18.10 def. Gabriel Medina (BRA) 17.23
QF 4: Mick Fanning (AUS) 18.17 def. Alejo Muniz (BRA) 9.00
J-Bay Open Round 5 Results:
Heat 1: Kai Otton (AUS) 16.60 def. Nat Young (USA) 11.34
Heat 2: Julian Wilson (AUS) 18.67 def. Wiggolly Dantas (BRA) 13.83
Heat 3: Kelly Slater (USA) 17.53 def. Michel Bourez (PYF) 15.00
Heat 4: Mick Fanning (AUS) 15.90 def. Keanu Asing (HAW) 14.87