https://youtu.be/jVkNrW_Z05s
The fifth stop of the 2015 Samsung Galaxy WSL Championship Tour (CT), the Fiji Women's Pro, got underway today with Round 1 running in solid conditions at Cloudbreak. With the swell steadily increasing, the day saw big scores, barrels and upsets, including defending event winner Sally Fitzgibbons (AUS) being sent to elimination Round 2 at the hands of Laura Enever (AUS).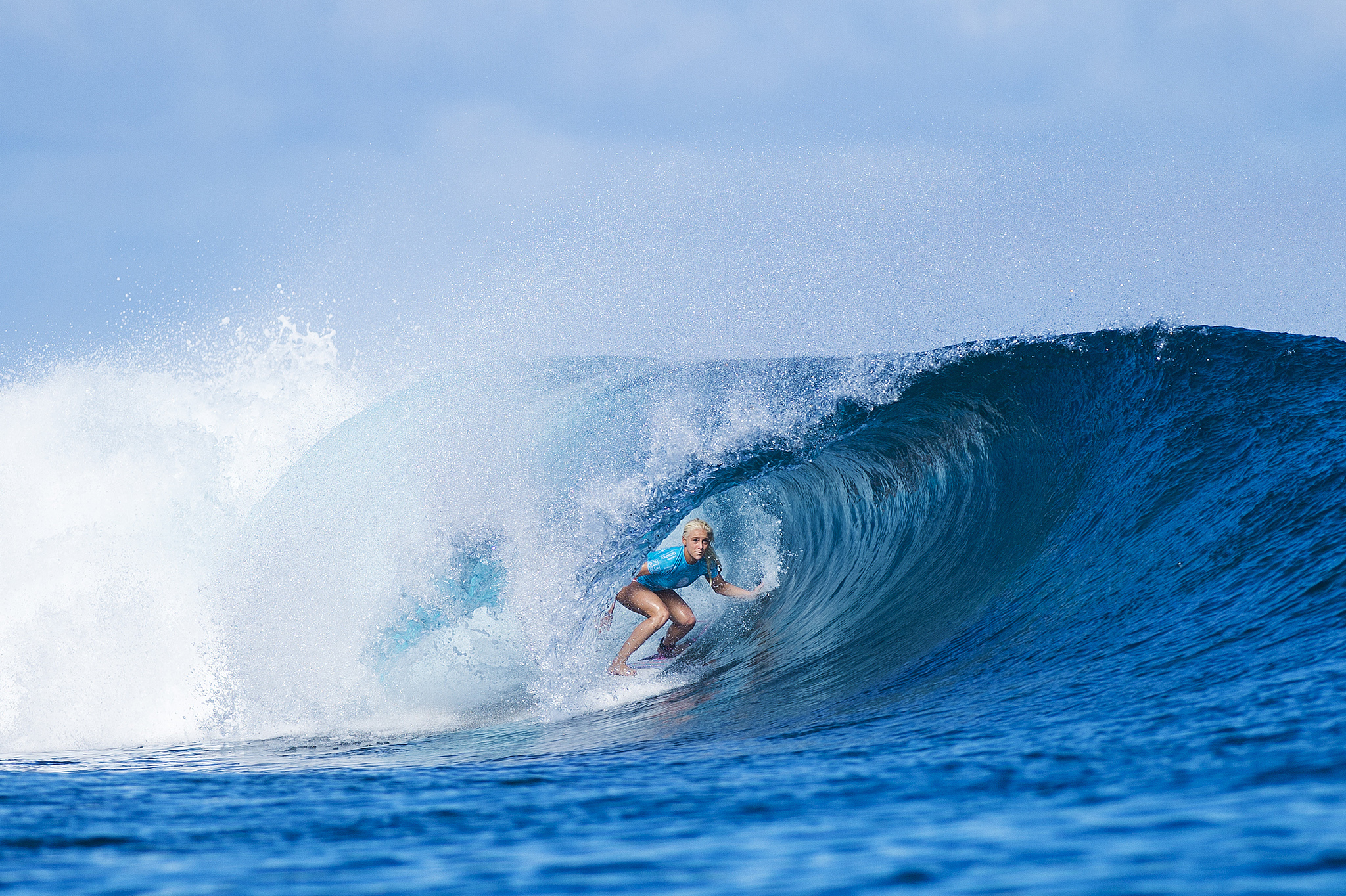 The day began with Lakey Peterson (USA) taking on Alessa Quizon (HAW) and rookie Tatiana Weston-Webb (HAW) in the opening heat of Round 1. Peterson came back from a disappointing result in Fiji last year to sail through to Round 3 with great wave selection despite a strong showing from Weston-Webb. A final attempt from the rookie fell just short and she will surf again in Round 2 alongside Quizon.
"It's such an amazing wave and it's really challenging and tricky," said Peterson. "Last year I didn't have the best go but I've come here a few times since then. It's a great opportunity to surf a different type of wave so I'm trying to really enjoy that and learn from every heat. It's definitely intimidating but it will be fun. All the girls have really been charging and we're all really excited about pushing the sport."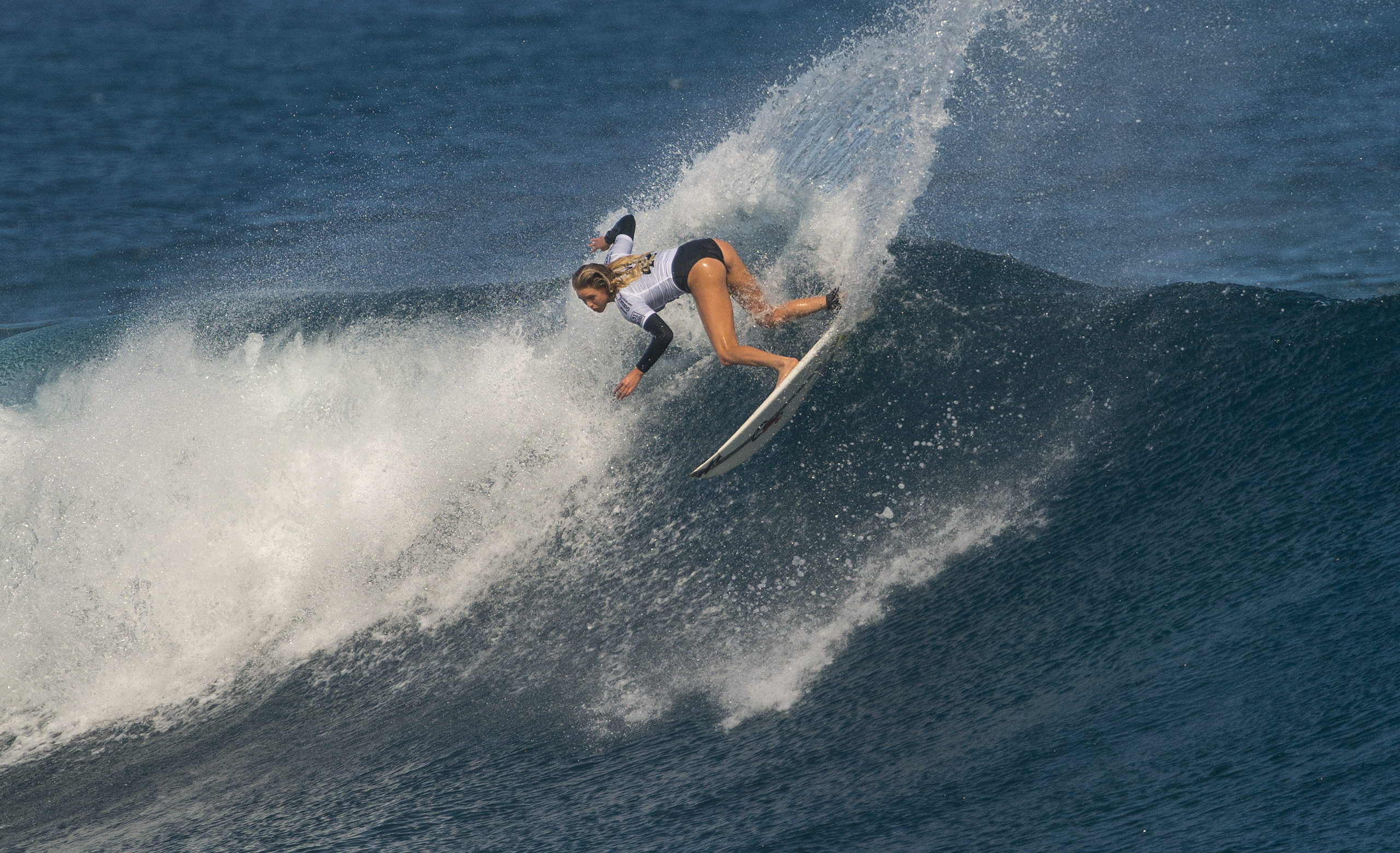 An incredible battle unfolded between defending event winner Sally Fitzgibbons (AUS) and Laura Enever (AUS) in Heat 2 against Coco Ho (HAW). Fitzgibbons opened strong, posting an excellent 8.00 on her first ride, backing it up with a 6.83 to leave her opponents in a combination situation. Enever came back with a near-perfect 9.43 for three powerful turns on a set wave but Fitzgibbons answered with a 9-point ride of her own to solidify her lead. An 8.37 from Enever in the final moments saw her snatch the lead from the current world no. 6, sending her to elimination Round 2 for the first time this year and causing the upset of the day.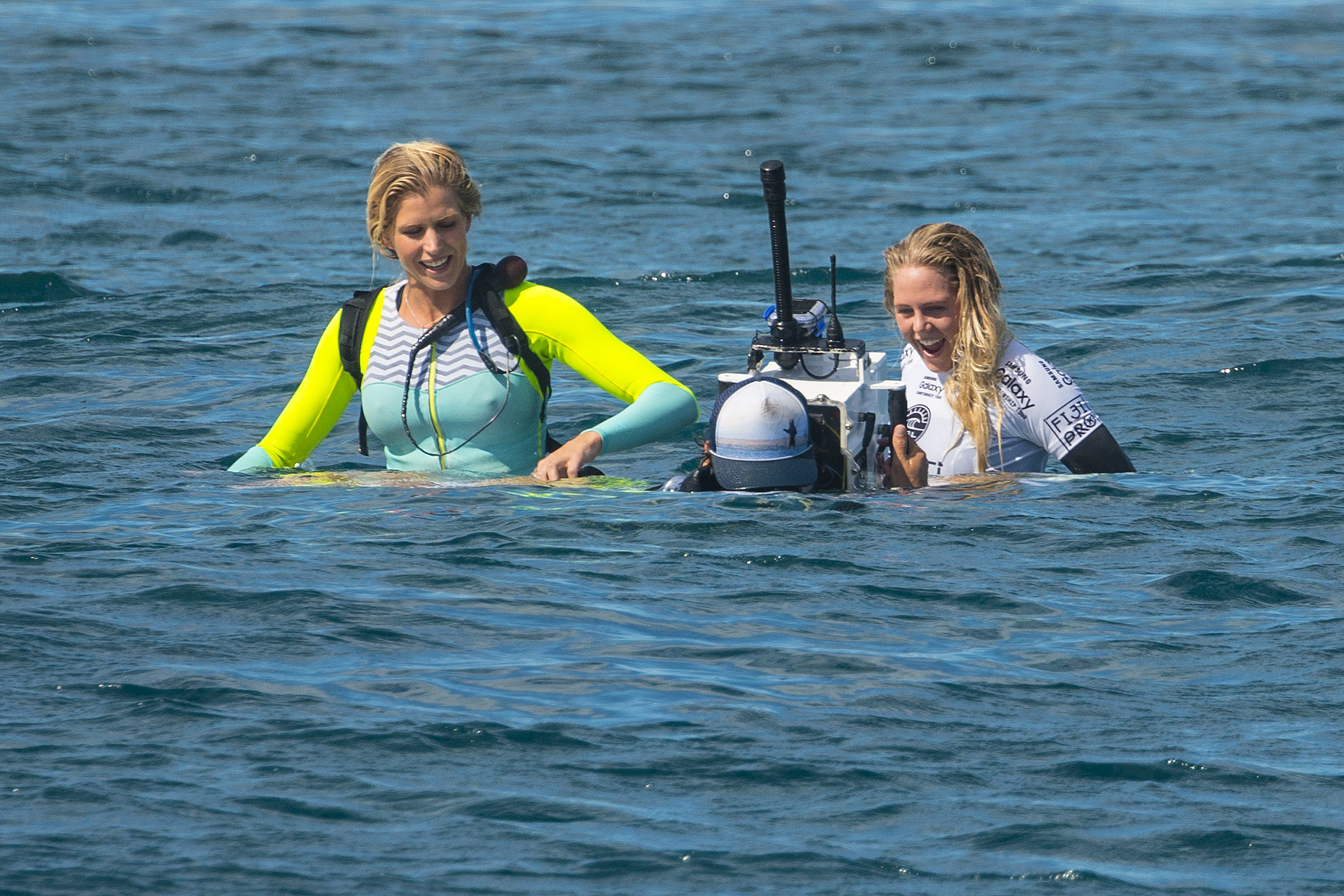 "It's a big relief to skip Round 2," Enever said. "I'm so stoked. It really started pulsing for our heat and we were going wave for wave. I feel really comfortable out there. It's been awesome, all the girls are ripping and I hope we get some more waves."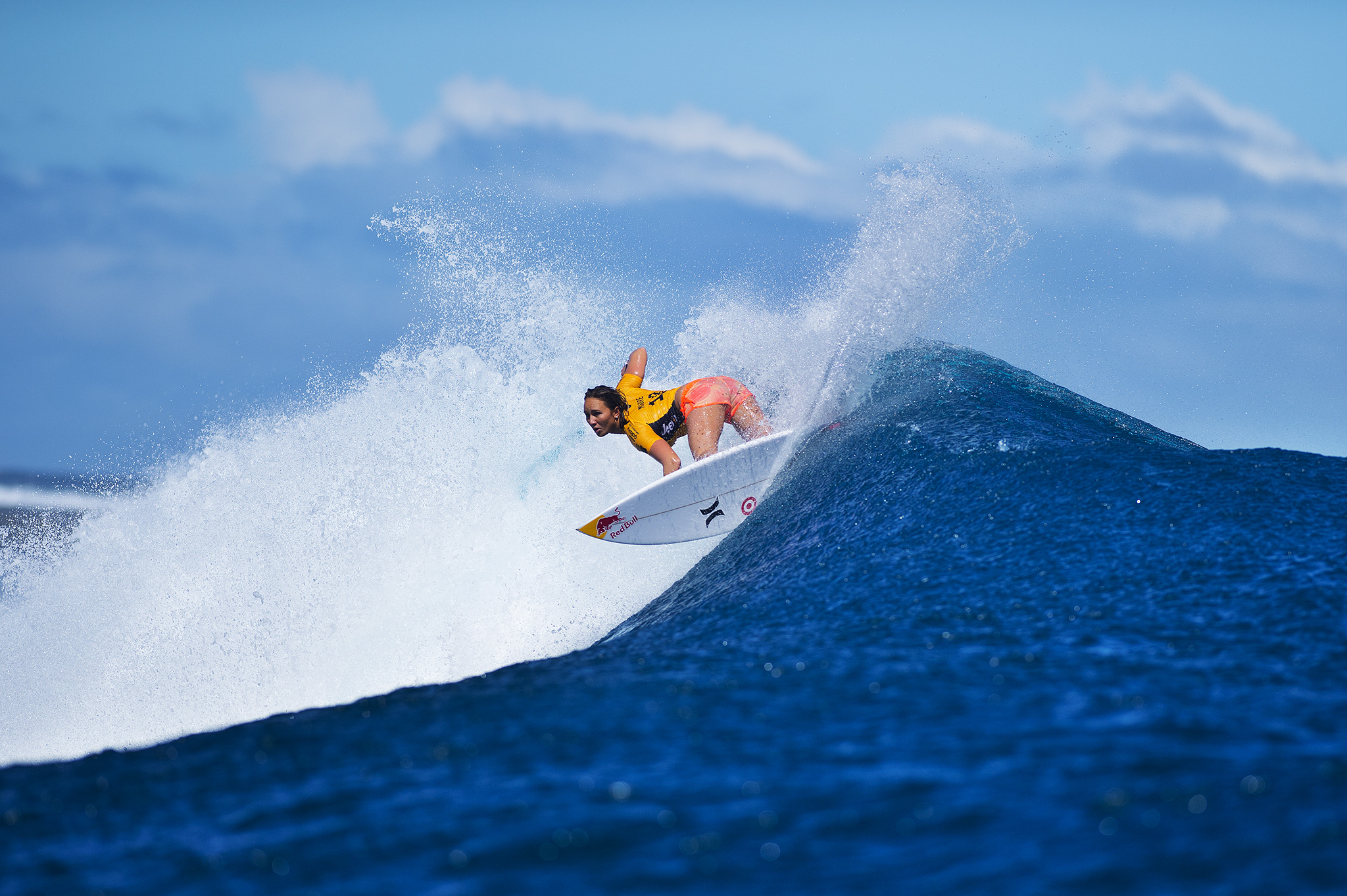 Jeep rankings leader Carissa Moore (HAW) posted the score of the heat with ten minutes remaining, finding a barrel for an 8.50 and securing her place in Round 3 with a back-up 6.10. Dimity Stoyle (AUS) and wildcard Mahina Maeda (HAW) will have to battle again in Round 2 when competition continues.
"I'm stoked that I got to come here early and experience some bigger surf," Moore said. "It's definitely really tough and I know that there's girls like Sally (Fitzgibbons) and Courtney (Conlogue) who have a lot of experience here so I'm trying to catch up."
No. 2 on the Jeep Leaderboard, Courtney Conlogue (USA), continued her excellent run of form today with a Round 1 win over European threat Johanne Defay (FRA) and replacement surfer Keely Andrew (AUS) thanks to an 11.50 heat total.
"I had so much anticipation to get out here," said Conlogue. "I've been out here for a week now. Last year I was frothing to come surf Fiji, it was one of my dream spots. To not be able to surf it made it that much sweeter to get the jersey on this year and get out in the lineup. I'm so excited about the prospect of some bigger waves to come."
Tyler Wright (AUS) took an early lead in the penultimate heat of the day, where she faced Silvana Lima (BRA) and Sage Erickson (USA). Lima and Erickson were left trailing through the first half of the heat but came back with an excellent 8.33 and 7.10 respectively to put them back in contention. Neither could find the scores they needed and Wright sails through to Round 3.
"It feels good to win that heat," Wright said. "I felt a little bit off balance on my new board but once I figured that out I was really enjoying it out there. There's so much water moving and waves everywhere so I let everyone do their thing and do mine."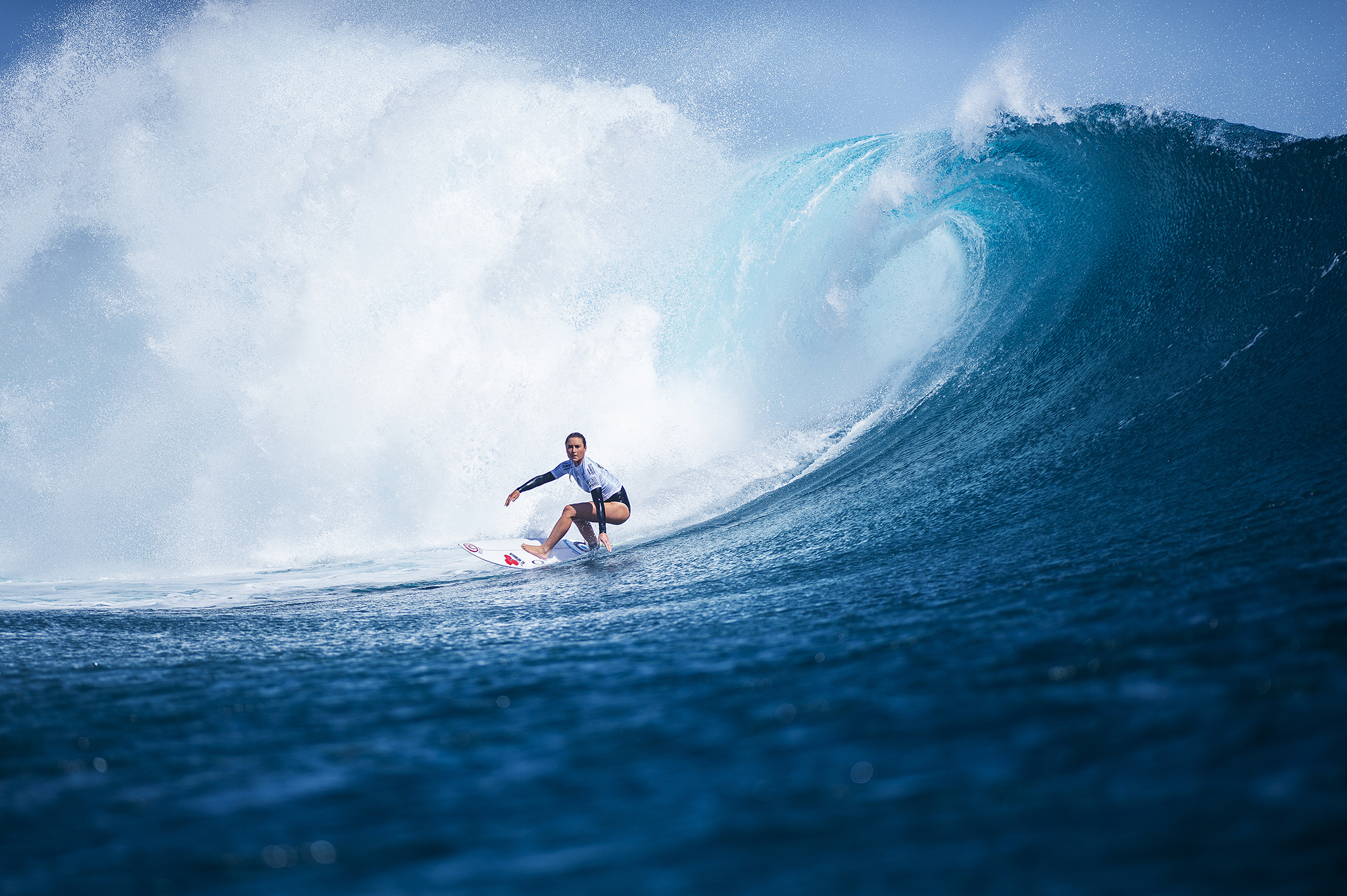 An exciting exchange played out in the final heat of the day between Malia Manuel (HAW), Nikki Van Dijk (AUS) and Bianca Buitendag (ZAF), leaving the South African in first place with others close behind. Manuel quickly stole the lead but Buitendag posted an excellent 9.43 for a series of power turns to reclaim the top spot and the win.
"This is my third time here and last year I came straight after Brazil so spent more than two weeks here before the contest started," said Buitendag. "It's every goofyfooters dream so it's more of a holiday than preparation and it seems to be paying off."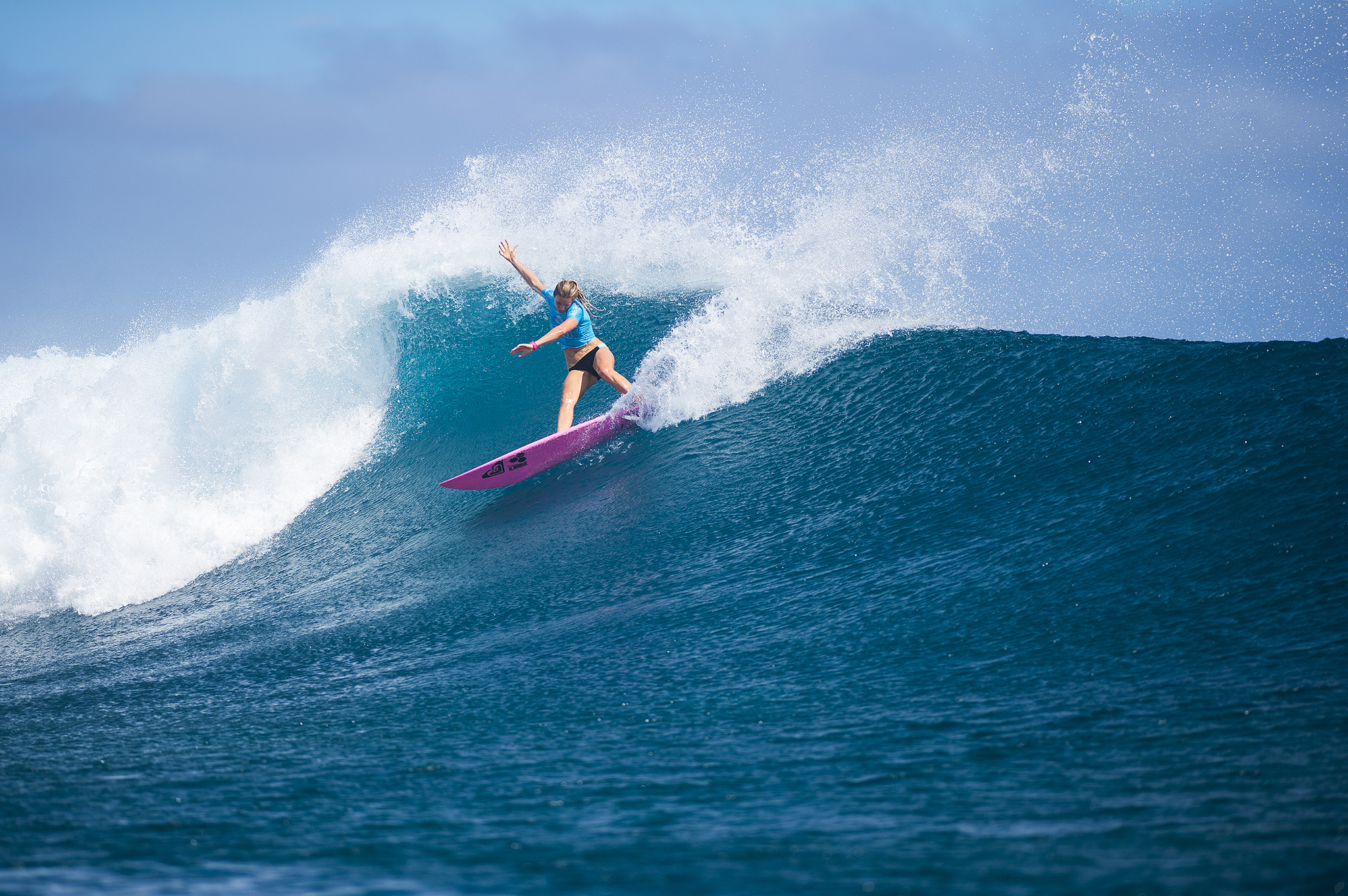 The Fiji Women's Pro will be webcast LIVE on WorldSurfLeague.com. The world's best surfing will also be broadcast LIVE on Fox Sports in Australia, MCS Extreme in France, EDGE Sports in China, South Korea, Malaysia and other territories and on Globo TV  in Brazil.
Fiji Women's Pro Round 1 Results:
Heat 1: Lakey Peterson (USA) 12.00, Tatiana Weston-Webb (HAW) 11.00, Alessa Quizon (HAW) 6.83
Heat 2: Laura Enever (AUS) 17.80, Sally Fitzgibbons (AUS) 17.67, Coco Ho (HAW) 11.17
Heat 3: Carissa Moore (HAW) 14.60, Dimity Stoyle (AUS) 12.83, Mahina Maeda (HAW) 7.66
Heat 4: Courtney Conlogue (USA) 11.50, Johanne Defay (FRA) 7.83, Keely Andrew (AUS) 5.50
Heat 5: Tyler Wright (AUS) 11.93, Sage Erickson (USA) 11.13, Silvana Lima (BRA) 10.23
Heat 6: Bianca Buitendag (ZAF) 17.06,  Nikki Van Dijk (AUS) 15.57, Malia Manuel (HAW) 14.40
Fiji Women's Pro Round 2 Match-Ups:
Heat 1: Silvana Lima (BRA) vs. Nikki Van Dijk (AUS)
Heat 2: Coco Ho (HAW) vs. Alessa Quizon (HAW)
Heat 3: Sally Fitzgibbons (AUS) vs. Mahina Maeda (HAW)
Heat 4: Malia Manuel (HAW) vs. Keely Andrew (AUS)
Heat 5: Tatiana Weston-Webb (HAW) vs. Sage Erickson (USA)
Heat 6: Johanne Defay (FRA) vs. Dimity Stoyle (AUS)