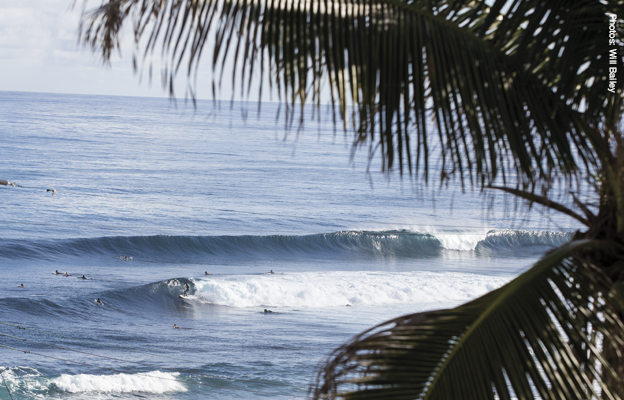 When the publishers of Kelly Slater's autobiography For The Love were looking for a covershot, it was pretty much a no-brainer that they'd choose a sick action photo of The Great One standing tall in some mental, grinding world-class barrel. They did…but the wave wasn't Backdoor, Chopes or Cloudbreak. Nope, the shot in question was actually taken at Soup Bowl, one of several gems on the small Caribbean island of Barbados.
Yes, Soup Bowl can be absolutely epic on its day – a wedgy, powerful righthand barrel, as intense as any other wave in the Caribbean. Trouble is, those epic days occur about as often as the West Indies cricket team trouncing England by 500 runs. Soup Bowl – situated at Bathsheba, halfway along the island's east coast – faces straight into the prevailing northeasterly trades, so a lot of the time it's howling onshore and blown to smithereens. If you catch a couple of calm mornings during the course of a week, you're doing pretty well. If you score proper offshores plus a chunky groundswell, then you've hit the jackpot. Give the locals some rrr-respect, they're a cool bunch and they rip. Getting in and out of the water across the ledgy reef can be quite interesting, with abundant urchins adding to the fun.     
Fortunately, you still have plenty of options on days when the trades are trashing the east coast. Since the island is only 14 miles (22 kilometres) wide, it's a doddle to drive around and scope out the other coasts.
Up towards the northern tip of the island you'll find Duppies, a righthand point which offers long rippable walls when there's a moderate north or northwest swell running. Although it may look inviting to intermediates, it's best left to experienced surfers due to the long paddle out and currents. Avoid high tide as the waves get messed up by backwash from the cliffs.

Maycock's, a few miles down the west coast, is a mellow righthand reef popular with longboarders and intermediates. Its beautiful setting could almost be described as idyllic…if it wasn't for the clatter of the cement factory nearby.    
Further down the west coast are some really good reefs, among them Tropicana, Sandy Lane and Batt's Rock. Most days the west coast is mirror flat and you wouldn't even know those spots were there. But every now and then during the winter months a beefy north swell wraps down the coast and lights up them up. They all get hollow, and Tropicana is so shallow you can only ride it at high tide. Advanced surfers only.
Past Bridgetown, Brandon's is a south coast spot which doesn't show unless there's a decent swell running. Its short, fun lefts break over a flat, urchin-infested reef.
Continuing along the south coast, Freights is a sand-bottom left point tucked in behind the headland at the eastern end of Oistin's Bay. It's so sheltered you rarely see anything but anklesnappers here. But very occasionally, when a southwest hurricane swell slams into the island, Freights transforms itself into a dreamy lefthander with aquamarine barrels for the lucky souls who happen to be on the island at the time. Around the headland, South Point is a far more consistent spot that always seems to have a wave of some description (even if it's only a disorganised windswell) thanks to the relentless easterly trades. When a lined-up groundswell hits, South Point shapes up to provide fun racy lefts which break over a flat coral reef. Hit it at lower stages of the tide as it gets messed up by backwash towards high.
There are many other spots on the island, including one or two classic secret spots. So jump in your rental car and see what you can find. Happy hunting!