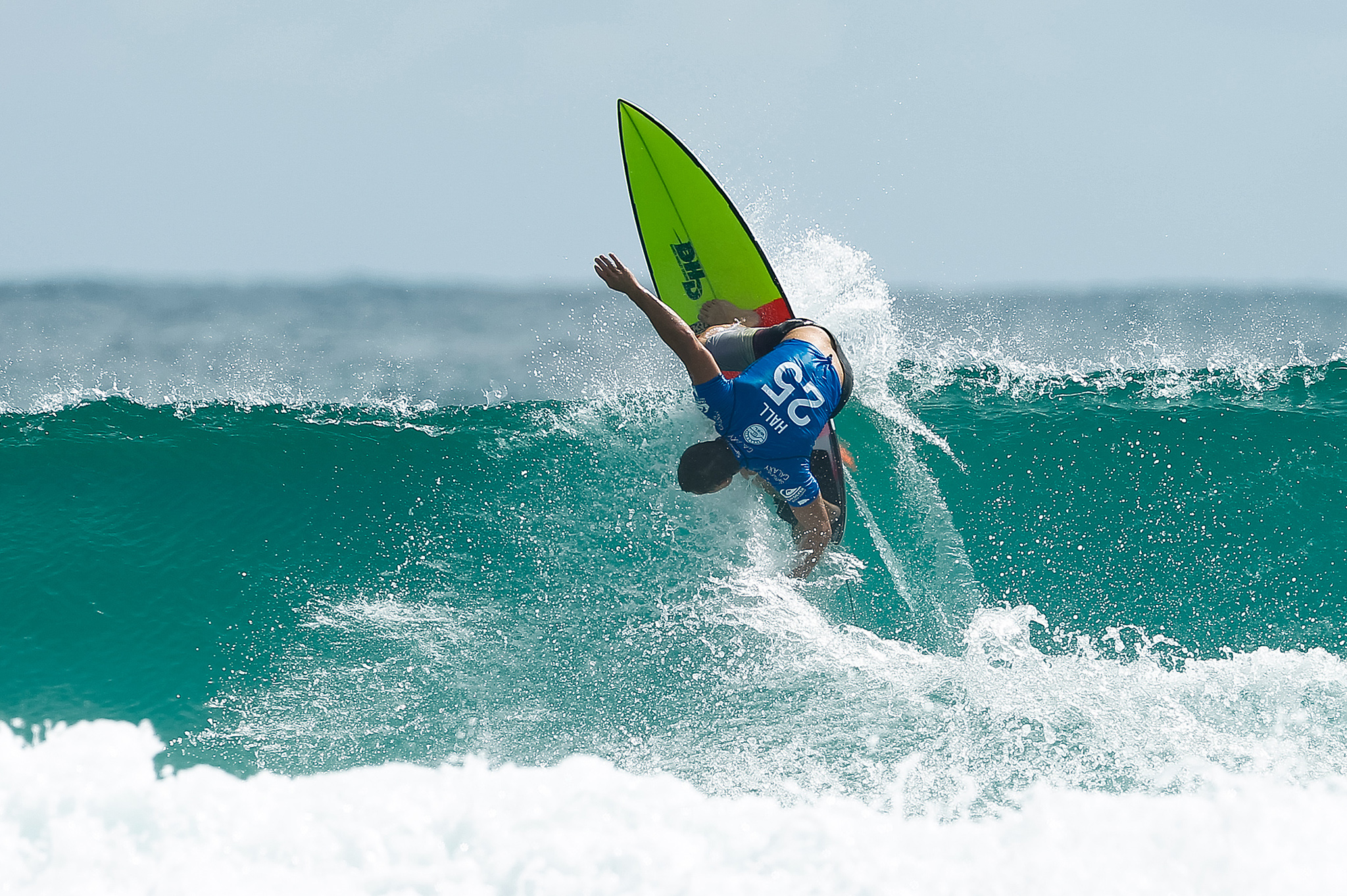 So…
The Quiksilver Pro blew up last night.
Medina vented his frustration at the comp organiser, and after getting into a bit of a battle with Glenn Hall, recounted the 'F-Bomb' Glenn had allegedly thrown at him and was in the midst of telling Peter Mel that he would "Teach him …" a few words … when he was cut off. Then Freddy P rode his board up a rock into a rail grind and Josh Kerr not to be outdone thew a tantrum and punched his board like it was a Top Gear producer.
It has been quite funny reading the outrage, the indignant comment and some of the reporting that has gone on surrounding #Medinagate and #FreddiesRock.
Just to weigh in with our tuppence worth and put it on the record. We LOVED it all. The reason? It showed the surfers care. It showed their passion and it shows the comp and the tour means something. Something that money can't buy and the threat of sanctions can't quell. Desire, emotion and commitment are all on show. Dreams and hopes are on the line, online and there for all to see. It is great sport!
What we don't love so much is that some areas of the surfing press seem to have turned into pink rinsed Daily Mail readers and are expressing moral outrage at most the above.
In criticising the commish, KP, Medina was a bit harsh, but let's face it it's nothing any comp organiser hasn't heard when conditions don't play ball. Slap on the wrist naughty world champion! But what has really seemingly shocked everyone though was Medina's use of the F-Bomb. A word, hardly ever heard on Australian beaches … Errrrrrm … was uttered as Gabriel recounted what Glenn had said after the interference call. Unusually in this kind of situation the clip, now viral, and Medina's intended statement was't made better by Peter Mel pulling the mic away as the full sentence and context was lost. "If Glenn tells me to fuck off again I will teach him…"
In the background you can hear Gabe's true intention if you listen closely which we interpreted as "…bad words in Portuguese." A little juicy for minors but hardly #thuglife. You'd think. But no the Aussie press, never happy with Brazilian winners, have blown it up into a proper fracas, which it never was. Heated in battle, yes, but no punches over a star dinner. Annoyed apres heat interview, yes, call out: definitely not. And an F-Bomb live, yes, but not used in anger. In fact it could have been quite a funny retort if left to run, yet the headlines are now screaming Medina calls out Hall, and demanding action … Really? Teaching Micro to swear at him in his native language shows wit and a sense of fun.
Since then the WSL have tweeted pics of Glenn and Medina joking in the competitor area. KP has issued a statement saying Medina's actions were unfitting and would be reviewed. Hopefully it will settled over a cup of tea and a nice cup cake. Glenn's quoted as saying, "It was a good heat. The end result was a bit wild with the interference but he was way too close to me for me to be able to get a clean take off. I really like Gabriel and I was legitimately stoked for him last year. He's passionate in the water and a legend out of the water. We did have words out in the water but it's nothing personal." See. No biggy.
The #FreddiesRock incident has had me laughing for about three hours now. Poor fella had an atrocious heat and thus decided to end it by bouncing his way through the whitewater and onto a rock on the inside. He then ended up running about twenty minutes up the beach to vent his anger away from cameras and thus avoid fines.
In my mind this guy is a bona fide legend! Not only does he care, he wears his heart on his sleeve, and when shit (apologies for the gratuitous swear!) goes down he is one of the most creative and entertaining surfers on tour. I mean who else would have had the insight to grind the rock on the inside? It is surf rage genius! Probably one of the funniest moments in world professional surfing. Not only that Sir P has also set up comp where best photo on "Freddie's Rock" will win his board. I'm putting him back in my FS team and he will stay there until retirement.
The third incident involved normally happy-go-lucky Mr Josh Kerr punching his board as he came in. I've never been massive fan of board punching. There was an outbreak of it in the late eighties as it it became the thing to do. Just seems a bit crass. Punch yourself in the head by all means.
Anyway to the point in hand which is this. Most of the 'names' have gone apart from Mick, and the surf has been pretty terrible, but we are all talking about the WSL so the undeniable elephant the room is this: we don't want grey media savvy surfers who constantly pander to the corporate line. We want passion, we want opinion, we want talking points, and we want surfers being surfers not machines. Be human. Be real. Show the fire.
How boring would it be if everyone came out of a heat as a loser eloquently and submissively accepting defeat. The answer is 'very'. At its peak elite competition in any sport is one step down from war. It's about the battle. And for every great sporting winner there has been an outstanding, and often outspoken adversary. There are heroes, there are villains, there are gifted mercurial talents, and there are entertainers. Sure there are spanners in the works for organisations, sponsors and live TV hosts, but life would be pretty dull without the occasional talking point or disagreement. Winners and sport need that spark. Don't beat it out of them…
Words: Steve England. Photos: WSL
https://youtu.be/YDOKJ97ary4
Official press release below:
COOLANGATTA, Queensland/Australia (Thursday, March 12, 2015) – Competition continued today at the Quiksilver Pro Gold Coast presented by BOQ with an action packed day at Snapper Rocks. The Quarterfinalists are set after the opening stop on this year's Championship Tour (CT) ran through Rounds 3, 4 and 5. The day saw its share of upsets with Gabriel Medina (BRA), Kelly Slater (USA), John John Florence (HAW) and Joel Parkinson (AUS) all being eliminated from competition in Round 3 at the hands of their lower-seeded opponents.
Three-time World Champion Mick Fanning (AUS) looked strong throughout the day, first facing Dusty Payne (HAW) in Round 3 where he used his trademark carves to claim a nine-point ride and the top spot. Next he went on to win through Round 4 in a stacked heat against Adriano de Souza (BRA) and Bede Durbidge (AUS) for a place in the Quarterfinals. Beautiful rail work from De Souza almost sent the Australian to Round 5 after the pair tied the heat with 16.50 each, but victory went to Fanning for the highest single-wave score.
"Once you get to these final rounds everyone is ripping," said Fanning. "I had a look at the draw last night and thought there was a lot of heats that I didn't know which way they would go. Everyone on this Tour has the ability to win this event, it's whoever gets the waves."
Fanning will face De Souza again in the Quarterfinals, after the Brazilian moved on to dispatch Matt Wilkinson (AUS) in a close Round 5 match-up with a passionate and energetic performance. Wilkinson previously delivered one of the day's upsets in Round 3, and looked in blistering form as he defeated John John Florence (HAW), eliminating him from the competition.
Filipe Toledo (BRA) was another of the day's standout performers. He started strong in his highly anticipated Round 3 bout against Kolohe Andino (USA), opening his account with a near-perfect 9.57 and holding the American off with an 8.93 and the day's highest heat total, 18.50. The progressive Brazilian continued to shine in Round 4 where another nine-point ride helped him dispatch Jordy Smith (ZAF) and Wilkinson to move through to the Quarterfinals where he will face Durbidge.
"I love to surf rights and I've been really confident and comfortable," Toledo said. "The long wait was good for my mind and to figure out my boards. I'll just keep going and having fun, doing what I loved to do, I'm super stoked. I think this year is going to be a great year for Brazil and for the younger guys on tour."
Reigning WSL Champion Gabriel Medina (BRA) is out of the competition after being defeated by Glenn Hall (IRL) in Round 3. Hall put the pressure on from the start, holding the lead with five minutes remaining to leave the champion searching for a 6.73 to turn the heat. Medina went for a wave under Hall's priority causing an interference and losing his second score, ending his chances of making it through to the next round. Medina leaves in equal 13th place.
"It's great to beat Gabriel," said Hall. "It was a good heat. The end result was a bit wild with the interference but he was way too close to me for me to be able to get a clean take off. I really like Gabriel and I was legitimately stoked for him last year. He's passionate in the water and a legend out of the water. We did have words out in the water but it's nothing personal."
Brazilian rookies Italo Ferreira (BRA) and Wiggolly Dantas (BRA) also dealt out big upsets in Round 3 today. Ferreira eliminated 11-time World Champion Kelly Slater (USA) while Dantas took down Joel Parkinson (AUS).
Ferreira built on his momentum from Round 2, where he defeated CT veteran Adrian Buchan (AUS), and held the edge over Slater through their heat, completing an explosive rotation for a 7.17. Despite a board change, Slater couldn't find the waves or the excellent score required to avoid defeat and leaves the first event of the season in 13th place.
"I'm super stoked to make another heat," Ferreira said. "Kelly is an inspiration for me and he's a legend. I got a good couple of waves and some good maneuvers so I'm really pleased."
"I saw fun waves from the beach before I went out there but I couldn't find them," said Slater. "I missed one that might have been okay but in hindsight there's not a whole lot more I could have done. The first year I won the title I came in 31st place in the first event so I'm not too worried. This is just one event and we throw a couple of results away, but even so it's not good to get off to a start like this."
Ferreira made it through to Round 5 where he was eventually defeated by two-time Quiksilver Pro Gold Coast winner Taj Burrow (AUS), who takes his place in the Quarterfinals where he will face Julian Wilson (AUS).
"The rookies are all on fire, they came out so strong," said Burrow. "I didn't take Italo lightly at all and I knew he'd be tough. I tried to be really selective and it was a close heat. I'm hoping for a few more feet on the swell tomorrow."
Dantas held the lead over Parkinson with a 7.67 and a 5.50 for his aggressive backhand attack, while the 2012 World Champion was left with just a 3.83 on the board. The local favorite looked out of rhythm while Dantas maintained his composure through the heat against his more experienced opponent, securing his win with an 8.10. This is Parkinson's worst ever result the Quiksilver Pro, taking home an equal 13th place finish.
"I'm just wanted to surf good today," said Dantas. "I surfed against Parko who knows this bank and has been surfing here his whole life so I was looking for the bigger waves. I have my confidence from yesterday and I'm feeling good."
"I had no rhythm and no oppportunity, but that's just the way it went," said Parkinson. "I haven't thought about the next event yet. I think it will be the luckiest surfer here that will win."
Dantas went on to claim his place in the Quarterfinals after defeating Hall in Round 5 thanks to a 9.17 for a series of powerful maneuvers to leave his opponent in a combination situation. He will face compatriot Miguel Pupo (BRA) in the Quarterfinals tomorrow.
The Quiksilver and Roxy Pro Gold Coast is webcast LIVE at WorldSurfLeague.com.
The world's best surfing is also broadcast LIVE on Fox Sports in Australia, MCS Extreme in France, EDGE Sports in China, South Korea, Malaysia and other territories and the WSL's new partner in Brazil, Globo TV.
Quiksilver Pro Gold Coast Round 3 Results (1st to R4, 2nd = 13th):
Heat 1: Italo Ferreira (BRA) 13.00 def. Kelly Slater (USA) 8.77
Heat 2: Miguel Pupo (BRA) 13.67 def. Josh Kerr (AUS) 13.20
Heat 3: Wiggolly Dantas (BRA) 15.77 def. Joel Parkinson (AUS) 9.93
Heat 4: Taj Burrow (AUS) 16.60 def. Sebastian Zietz (HAW) 11.90
Heat 5: Julian Wilson (AUS) 10.43 def. Nat Young (USA) 8.94
Heat 6: Glenn Hall (IRL) 14.23 vs. Gabriel Medina (BRA) 7.50
Heat 7: Mick Fanning (AUS) 17.56 def. Dusty Payne (HAW) 15.00
Heat 8: Bede Durbidge (AUS) 15.90 def. Owen Wright (AUS) 14.44
Heat 9: Adriano de Souza (BRA) 14.76 def. Freddy Patacchia Jr. (HAW) 1.13
Heat 10: Jordy Smith (ZAF) 14.67 def. Matt Banting (AUS) 13.90
Heat 11: Filipe Toledo (BRA) 18.50 def. Kolohe Andino (USA) 15.74
Heat 12: Matt Wilkinson (AUS) 17.83 def. John John Florence (HAW) 16.13
Quiksilver Pro Gold Coast Round 4 Results (1st to QF, 2nd & 3rd to R5):
Heat 1: Miguel Pupo (BRA) 17.23, Wiggolly Dantas (BRA) 13.47, Italo Ferreira (BRA) 13.37
Heat 2: Julian Wilson (AUS) 15.37, Taj Burrow (AUS) 11.13, Glenn Hall (IRL) 10.50
Heat 3: Mick Fanning (AUS) 16.50, Adriano de Souza (BRA) 16.50, Bede Durbidge (AUS) 14.50
Heat 4: Filipe Toledo (BRA) 17.83, Jordy Smith (ZAF) 16.57, Matt Wilkinson (AUS) 12.23
Quiksilver Pro Gold Coast Round 5 Results (1st to QF, 2nd=9th):
Heat 1: Wiggolly Dantas (BRA) 17.34 def. Glenn Hall (IRL) 13.33
Heat 2: Taj Burrow (AUS) 15.73 def. Italo Ferreira (BRA) 15.50
Heat 3: Adriano de Souza (BRA) 16.94 def. Matt Wilkinson (AUS) 16.07
Heat 4: Bede Durbidge (AUS) 15.83 def. Jordy Smith (ZAF) 11.83
Quiksilver Pro Gold Coast Quarterfinal Match-Ups (1st to SF, 2nd=5th):
QF 1: Miguel Pupo (BRA) vs. Wiggolly Dantas (BRA)
QF 2: Julian Wilson (AUS) vs. Taj Burrow (AUS)
QF 3: Mick Fanning (AUS) vs. Adriano de Souza (BRA)
QF 4: Filipe Toledo (BRA) vs. Bede Durbidge (AUS)