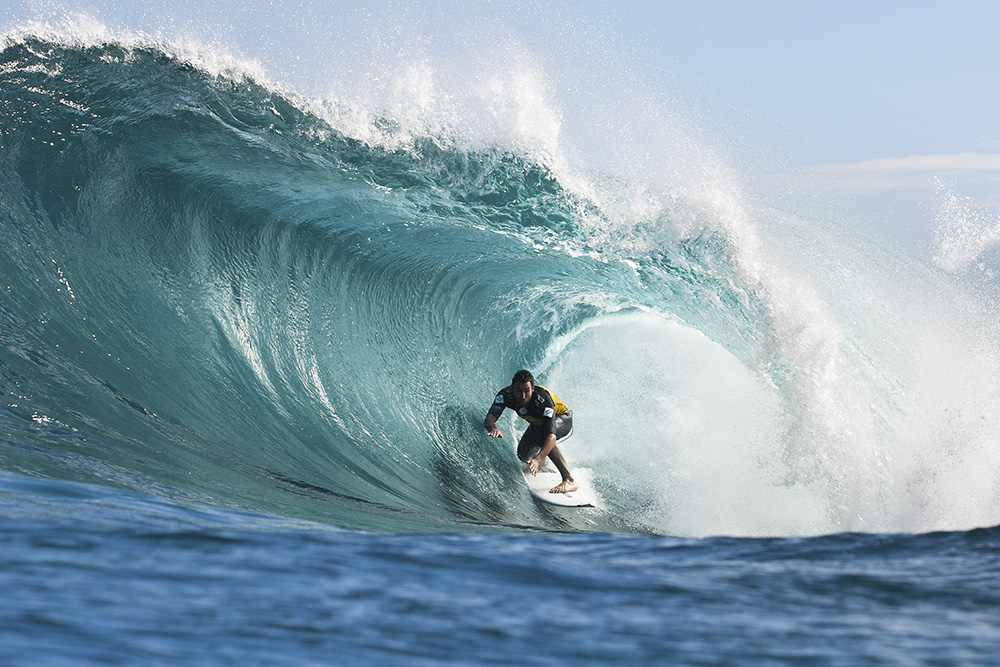 MARGARET RIVER, Western Australia (Thursday, April 10, 2014):Quarterfinalists were decided today at the Drug Aware Margaret River Pro, stop No. 2 on the 2014 Samsung Galaxy ASP World Championship Tour. Following the completion of Round 4 at Main Break, history was made when Round 5 of the competition was held at the iconic Western Australian slab 'The Box' for the first time in history.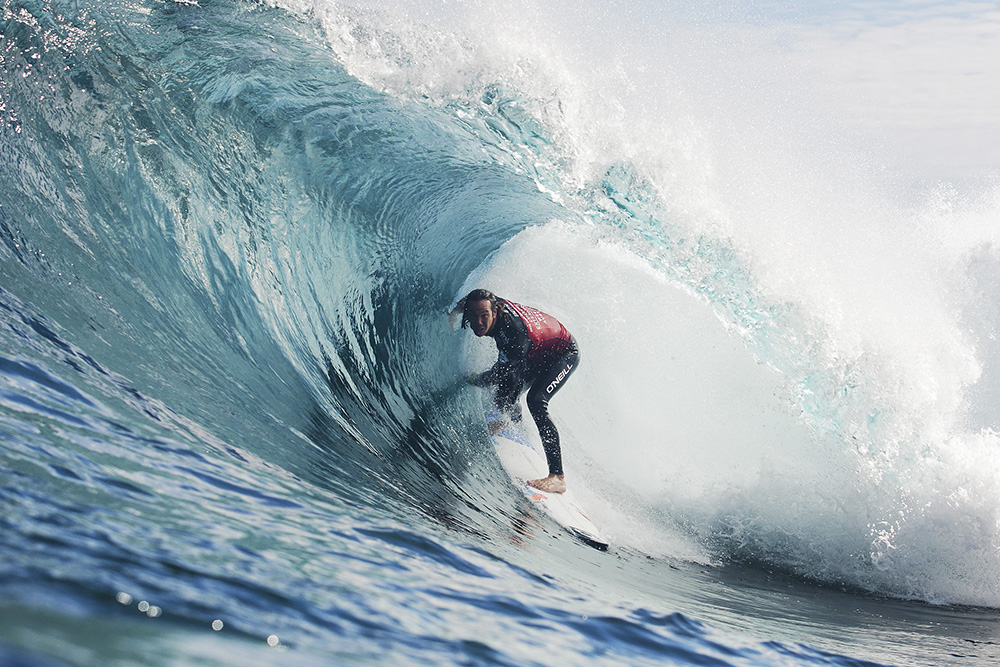 Jordy Smith (ZAF) and Miguel Pupo (BRA) became the first ever surfers to compete at The Box, with both taking heavy wipeouts while battling for a slot in the Quarterfinals. Smith logged the first score of significance, posting a 6.33 for a solid forehand tube. The South African followed up with a mid-range score shortly after and placed the heat out of reach for the Brazilian goofy-footer. Smith historic victory secures his place in the Quarterfinals where he will face Bede Durbidge.
"I've had zero experience out there and I didn't really have a great heat but I got it done," said Jordy Smith. "My energy is feeling really good and I can't wait to keep going. It was amazing and I'm glad I got the first win (at The Box). I've got Bede (Durbidge) in the Quarterfinals, he's a great surfer and you can guarantee he's going to wait for the best waves. I'm going to go out there and do my thing and hopefully I'll get a win over him."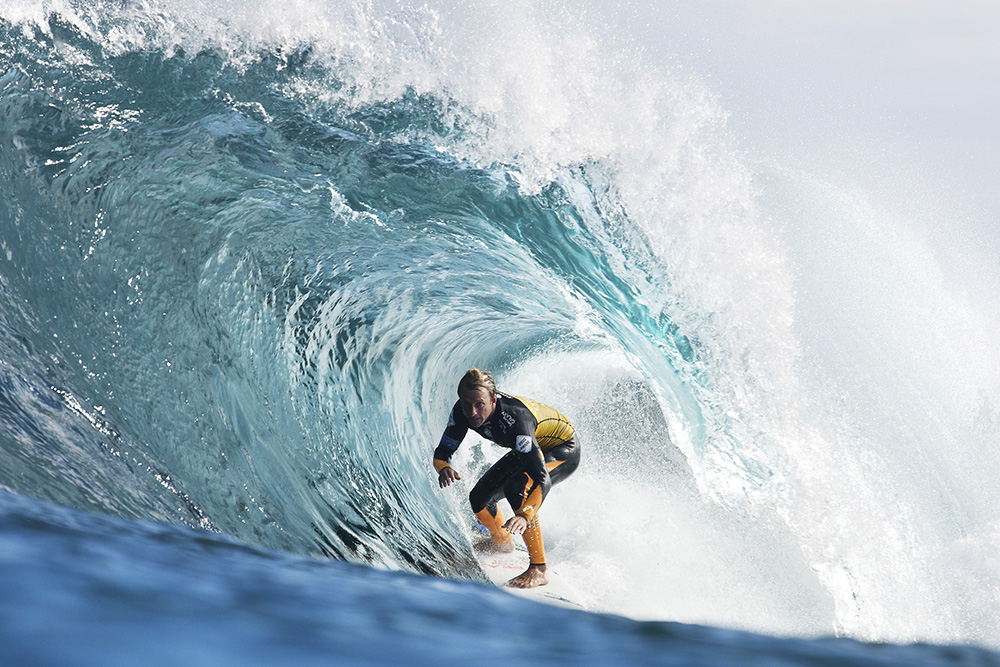 The Box turned on for the clash between Josh Kerr (AUS) and compatriot Yadin Nicol. After a flurry of mid-range scores, Kerr split the heat wide open with an excellent 8.17 for a particularly deep forehand barrel. Despite a comeback late in the heat, Nicol was unable to overtake Kerr's lead and finishes equal 9th at the Drug Aware Margaret River Pro. Kerr will face current ASP World No. 1 Gabriel Medina in the Quarterfinals.
"The Box is actually a pretty easy wave," said Josh Kerr. "It's a short intense wave and you have to take off behind it and be fully committed. Once you draw the right line it blows you straight through. I surf a reefbreak similar to this back home that's short and intense and it's my favorite kind of wave so it's exciting to be at The Box. Just to surf a heat out there is so fun."
Conditions continued to fire at the Western Australian slab and 2012 ASP World Champion Joel Parkinson (AUS) celebrated his birthday and a place in the Quarterfinals. Parkinson faced ASP Dream Tour sophomore Filipe Toledo (BRA) and the pair spent 30 minutes exchanging barrels. Parkinson navigated the technical barrels with ease, earning an 8.17 on his opening ride. While some doubted the Brazilian's abilities in the tube, Toledo quickly put questions to rest, responding with an 8.23 of his own, briefly overtaking the former champ for the lead. The Australian answered back, however, earning the highest single-wave score of the day, an 8.43, and a place Quarterfinals against Kelly Slater.
"The Box is a fun wave to ride," said Joel Parkinson. "It's such a cool wave to surf a Heat on. I love that wave, everybody loves it. After surfing Main Break earlier today and then The Box it's totally different. Kelly (Slater) and I have had enough match-ups in the past. The Quarterfinals will just be another one."
Earlier in the day, current ASP WCT No. 1 Gabriel Medina (BRA), compatriot Miguel Pupo and WA wildcard Yadin Nicol did battle for a place in the Quarterfinals in Round 4 Heat 2. Nicol's comfort at Margaret River's Main Break was apparent, but it was Medina's world-class form that was on display and took the heat win and a place in the Quarterfinals where he will face Josh Kerr.
"That was a fun Heat," said Gabriel Medina. "I started out kind of bad, Yadin (Nicol) got the first good wave and I think Miguel (Pupo) was a little lost out there. I think I got lucky to find a 7.5 on the inside wave, which was a good move. It was an important Round and I'm happy to make it through."
11-time ASP World Champion Kelly Slater (USA), high-flying Brazilian Filipe Toledo and Tahitian Powerhouse Michel Bourez brought their distinct styles to the competition in Round 4. Toledo was first to score, locking in a 5.33 to take an early lead. Slater battled back however, securing a 5.60 score of his own. The seesaw battle continued with an answer from the Brazilian, but Slater's final score of a 6.33 solidified his win and a slot in the Quarterfinals. Bourez went on to secure his own Quarterfinal berth after defeating Adriano de Souza in Round 5.
"I really felt totally relaxed out there and I didn't care if I won or lost because we're going to The Box," said Kelly Slater.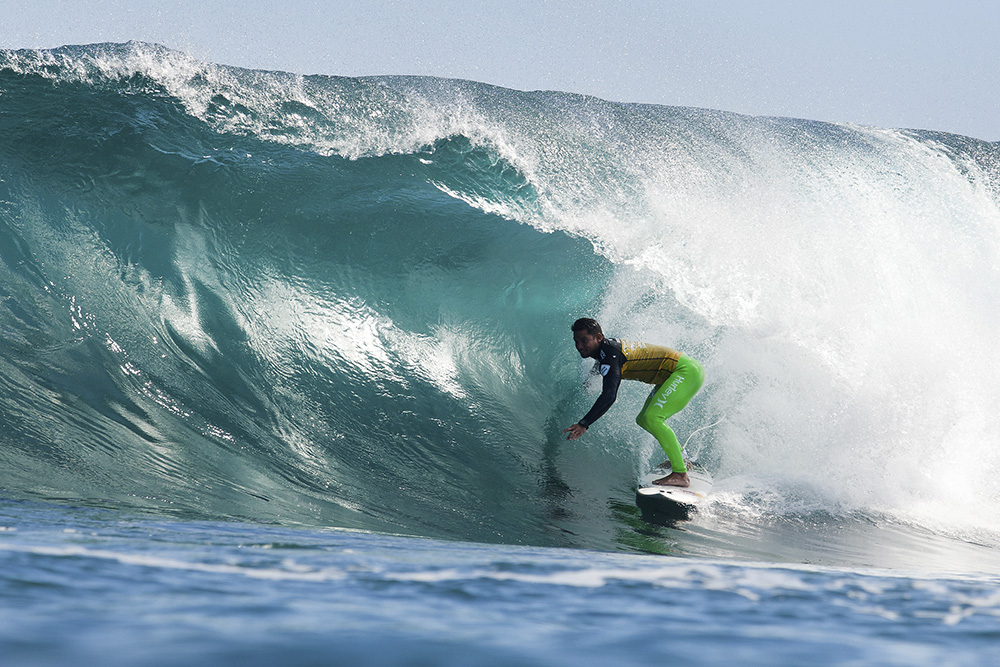 Drug Aware Margaret River Pro Quarterfinal Match-Ups:
QF 1: Bede Durbidge (AUS) vs. Jordy Smith (ZAF)
QF 2: Gabriel Medina (BRA) vs. Josh Kerr (AUS)
QF 3: Kelly Slater (USA) vs. Joel Parkinson (AUS)
QF 4: Nat Young (USA) vs. Michel Bourez (PYF)