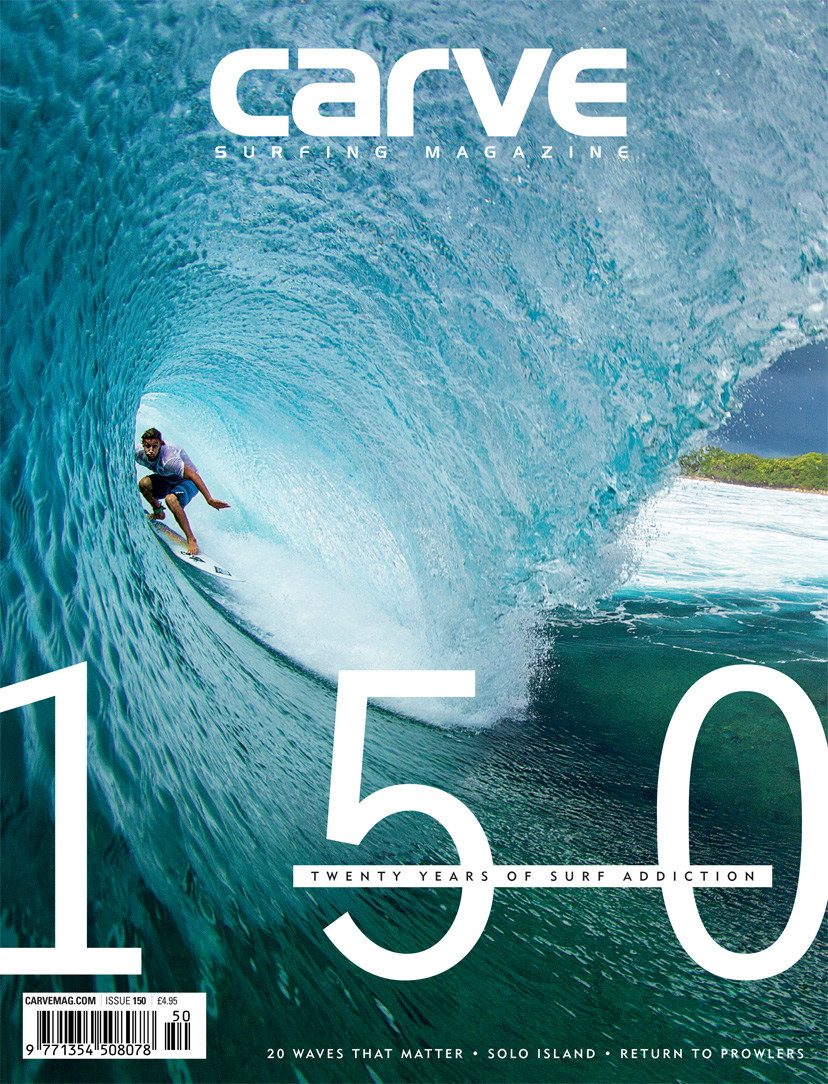 March 1994. Porthleven is under threat from a marina, Derek Ho is the ASP World Champion and a little magazine called Carve sets on its merry way amongst the surfing world. It's raison d'être: to give British surfing, surfers and industry a voice, a showcase and a bit of amusement to be proud of. As I wrote about a trip to Portugal for issue one on the sofa behind which I literally lived in the front room of a friend's student house little did I know that 20 years later I'd still be here tapping away on a keyboard late into the night.
Over the years there have been many memorable and worthwhile moments documented by the magazine that many of you have shared with us, but for me personally the greatest rewards have been behind the scenes helping young British and Irish surfers chase their dreams, receiving the tweets and emails that read simply "Thanks!" and the smiles, laughs and hoots the simple act of riding waves and making a magazine have brought.
And thus with issue 150 we set sail into the future and hopefully another 20 surfing years. As for an introductory thought to this brand new chapter I shall furnish you with this. If working here has taught me anything it is that there is nothing more joyful and fulfilling than living a life chasing the simplistic pleasure of riding waves and there is no telling what life events following such a path may lead you to. Whether your experience is that of 30 second rides fanging down a tropical point, or two seconds wobbling about before face planting into a two foot shoredump in four degree water, we can all feel like world champions on any given day. It is that feeling of what we call 'stoke' (because there is not another relevant description) that binds us all, whatever our ability, board choice, facial hair trend, sex, political agenda, skin colour, race, or religion. Once we open the door into our surfing world our eyes are opened and we become educated in so many facets of life like geography, oceanography, environment, sociology and the sometimes the school of hard knocks. And anything that can do all of that is a wonderful thing.
On behalf of everyone who has worked on or been involved with Carve I would like to thank the surfers, shapers, wetsuit design geeks, photographers, designers, writers, critics, trolls, competitors – past and present, and the advertisers without whose backing the magazine wouldn't exist. You have all helped us along the way.
Above all we would like to thank you and the thousands of readers and followers without who all of this would still be an amusing but ultimately pointless pastime. In the age of the web and low, or no cost throwaway internet posts it takes balls to lay out the thousands of pounds to put a mag together and get it out there. But we are convinced people want to see their pics in print, gaze at the mesmerising photos and pick up, hold, keep and cherish a high quality print mag. There is not a day goes by that we are not trying our hardest to be that mag.
Steve England
Editor in Chief