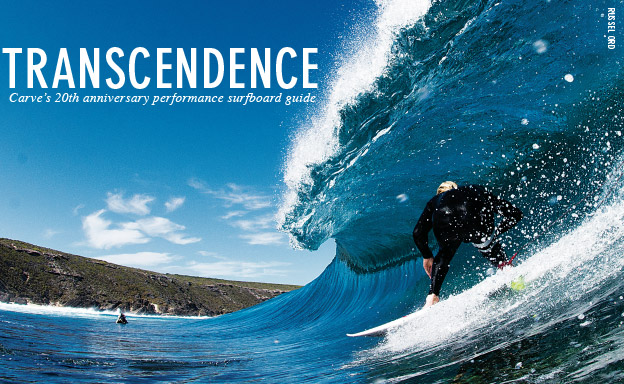 Carve's 20th anniversary performance surfboard guide. By Steve England
Since Carve was invented in 1994 we have seen radical changes in attitudes to board design and production methods. Once it was one board for everything apart from Indo and anything else life threatening, PU construction, hand shaped to order, and ready when it was ready… Today the whole industry has transcended to one of dynamics, minuscule tolerances and daily design tweaks. We even speak of volume in our specifications. In issue 151 we speak to some of Britains and indeed the worlds, top shapers to get their opinions on subjects on everything from where surfboard design has been and where it is heading featuring 70 models, tips, reviews, pitfalls, how to buy, and shaper interviews.
Of course with huge variety often comes confusion. The boards are there, but what is best for you? To answer this question we have enlisted the owner of one of Britain's best surf shops, Trevor at Down the Line, to dish out timely and unbiased advice. Click here. And on top of that right here we have an endless supply of those most sought after objects of desire; surfboards. Well what are you waiting for? Dig in….
Dorset
Sorted Surf Shop

Web: www.sortedsurfshop.co.uk Email: [email protected]
Tel: 01202 399099 Address: 42 Sea Road, Boscombe, Bournemouth, BH5 1EW

One of the largest stocks of surfboards in the country with expert friendly advice, give us a call to discuss your next board.
Devon
Tiki Surf Shops

Web: www.tikisurf.co.uk Tel: +44 ( 0) 1271 815757 Email: [email protected]
Address: Caen Street, Braunton EX33 1AA

Europe's largest range of surf hardware, instore and online. Wetsuits by Tiki, Patagonia, O'Neill and Rip Curl. Surfboards by Tiki, McKee, Hydroflex, Southpoint, NSP and more. Plus factory outlet store for ex-demo and end of line bargains!
Tad Surf Shop

Web: www.tadsurf.com Email: [email protected]
Facebook: tad Tel: 01395 227007 • 01392 216666
Address: Shops at 14A Rolle St, Exmouth and 3 South Street, Exeter

Here's what our customers say: "real people… real opinions… real service… real integrity…" "friendly knowledgable core people who have integrity.. no bubble gum here!"
Cornwall
Constantine Bay surf store

Web: www.constantinesurf.com Tel: 01841 520250 Email: [email protected]
Address: Constantine Bay, Padstow PL28 8JJ

Providing the equipment, clothing, accessories and information to improve your surfing experience… where service counts!
Zuma Jay

Web: www.zumajay.co.uk Tel: 01288 354956 Email: [email protected]
Address: Belle Vue Lane, Bude, North Cornwall EX23 8BR

Here at Zuma Jay all we do is surf. We only stock the best quality wetsuits and equipment from the leading surf manufacturers and we cater for all abilities. You have to be a surfer to work at Zuma Jays and for that reason we will give you excellent and friendly advice.
LY Surfboards

Web: www.lukeyoungshapes.co.uk Tel: 07789663693
Address: LY Surfboards, Battisford Farm, Plympton, Plymouth, PL7 5AT

Custom surfboard specialists, catering for everyone's abilities and needs from high performance short boards to classic mals and retro, guns and tow boards. All produced from the finest available materials, processes and craftsmanship.
Adams Surfboards

Web: www.adamssurfboards.co.ukTel: Shop 01637 850250 Factory 01726 861091
Email: [email protected]

Adams Surf Shop has been Newquay's premier British made Custom surfboard outlet for last 3 years and now has a range of wetsuits to match the choice of boards. There's a complete range of wetsuits from Rip Curl and Body Glove as well as a complimentary range of wetsuit accessories from these two choice brands.
Down The Line Surf Company

Web: www.downthelinesurf.co.uk Tel: 01736 757025 Email: [email protected]
Address: Market Square Arcade, Copperhouse, Hayle, Cornwall TR27 4EA

Europe's number one board store with over 600 boards in stock from the world's leading shapers including: Channel Islands, Lost…, DHD, JS, Bing, Firewire, Christensen to name a few. We also have longboards, retro boards, mid-lengths, single fins, hulls. We have everything… come check us out!
Wales
JP Surfboards

Web: www.jpsurfboards.co.uk Email: [email protected]
Tel: 01792 851759 Address: Unit 7a Crofty Industrial Estate, Penclawdd, Swansea SA4 3RS

JP Surfboards UK surfboard manufacturer of custom surfboards. The latest concepts in performance shortboards, quads and hybrids to retros and rides of the past. Since 2006 we have been in our new factory and showroom on the Crofty Industrial Estate 10 minutes drive from Llangennith.
OnLine
SurfDome

Tel: 0844 357 1022 From outside of the UK: +44 208 795 1218 Email: [email protected] Web: www.surfdome.com

Surfdome is Europe's leading surf store, stocking the biggest range of surfboards including Chilli, Hayden Shapes, JS Industries, Lost, Toy Factory and more, with FREE delivery. Catering for the gun grom to the grey soul surfer, our expert team will keep you surfing longer.
King Of WaterSpOrtS

Tel: 01202 763675 Email: [email protected] Web: www.kingofwatersports.com

Kingofwatersports.com has a huge selection of boards for all abilities, with brands including BIC, Bilbo, O'Shea, Circle One, JS, Rusty, Fanatic, Santa Cruz, FCS, Gorilla and many more! Most available with a free boardbag and delivery!