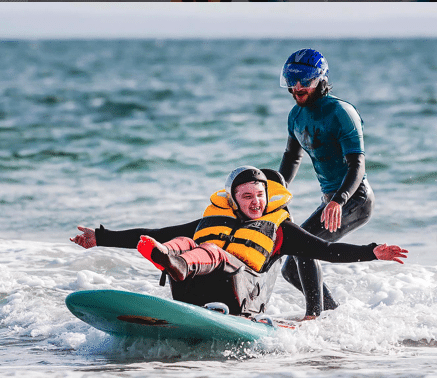 World surfing champion Llywelyn 'Sponge' Williams is running an open surf day for anyone with a disability that would love to get in the water and learn to surf in a safe environment.

The day will run at Porth Neigwl (Hells Mouth), North Wales with the amazing support of @surfability_uk who are coming up for the day with all their adapted boards to make sure everyone gets to surf comfortably!
The date will be 29th or the 30th of April depending on surf and weather conditions!
Participation is free but a donation would be much appreciated to cover costs needed to make it a success and safe.
If you would like to take part email Llywelyn , or message him on Insta or facebook Fb- Llywelyn Sponge Williams
Lew says "I want to thank all the volunteers we have had on this day in the past and would really appreciate if you could come down and give us a hand to make sure it all goes super smoothly once again.
"Please message me if you or know of anyone with a disability that would love to get in the water! Who knows you may love it and join our team one day for the @isasurfing world championships to Represent Wales !!"
"If you would like to donate to help cover costs of the day also send me a message , this will cover food drinks , costs of travel and accommodation for Surfability and hopefully a disabled toilet for us down on the beach."