• Ewing Dedicates Win to His Late-Mother Helen Lambert on 40th Anniversary of Her Win at Bells
• Molly Picklum and Ryan Callinan Claim Runner-up Finishes To Round out Australian Podium Sweep
• Picklum and Joao Chianca Lead the Rankings Going into Stop No. 5
• More Available at WorldSurfLeague.com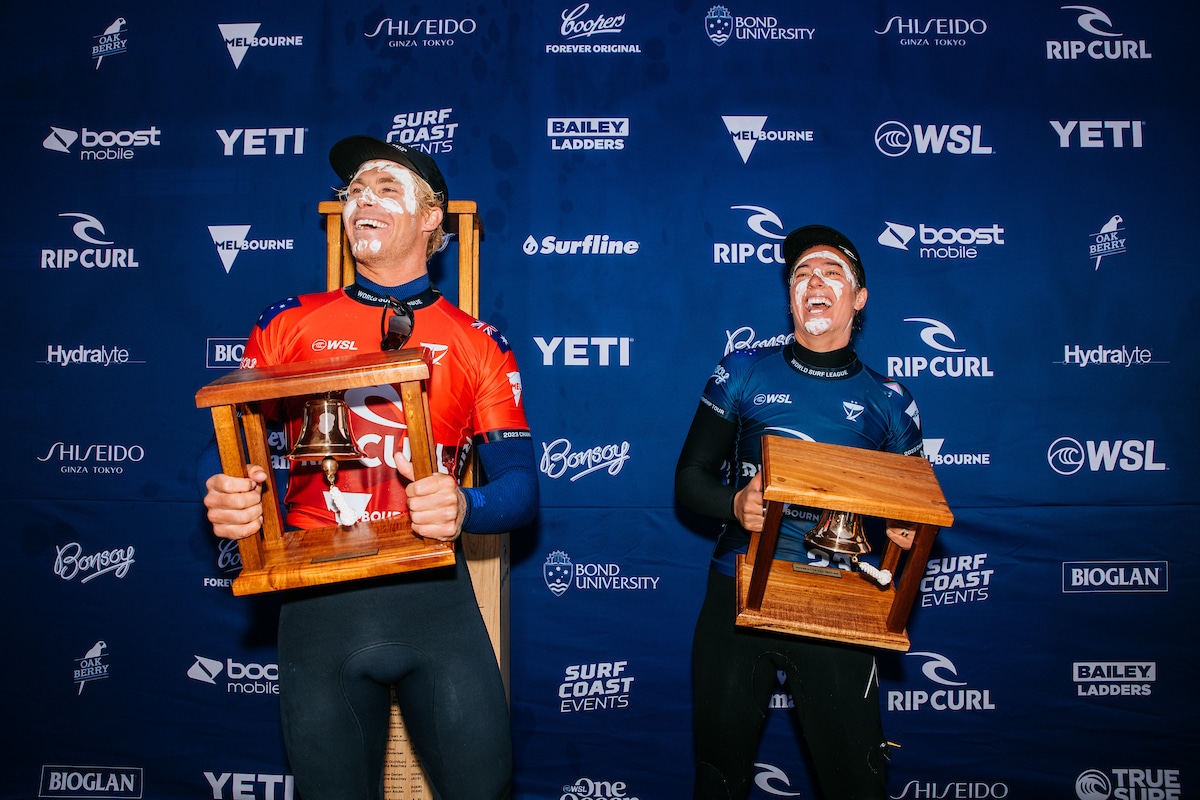 Australian duo Tyler Wright and Ethan Ewing (AUS) won the 60th edition of the Rip Curl Pro Bells Beach Presented by Bonsoy, today in two-to-three-foot waves with light onshore winds at Winki Pop. The full day of competition witnessed two Australians 'ring' the iconic Bell at the closing awards presentation for the first time in over a decade.
Two-time World Champion Tyler Wright and 2022 Final 5 competitor Ethan Ewing were unstoppable in their quest to ring the Bell today, each taking out World Champions on the road to the Finals. The rankings received a big shake-up today, with several more surfers being confirmed for a spot in the back half of the season. Current No. 1 Molly Picklum (AUS) managed to maintain her spot at the top of the rankings, representing how dangerous the young guard is; with the early elimination of Jack Robinson (AUS), CT sophomore Joao Chianca (BRA) has been confirmed as the new World No. 1.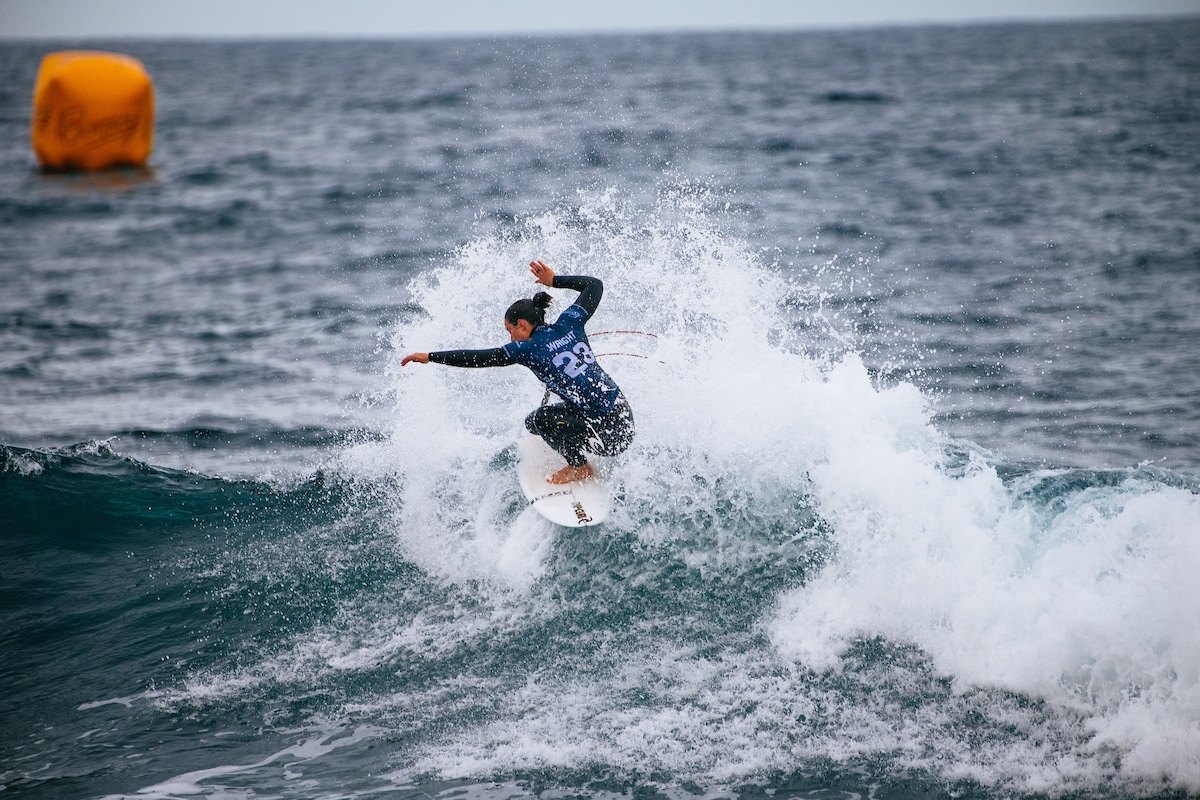 WSL Champion Tyler Wright Goes Back-to-Back at Bells
Tyler Wright (AUS) rang the Bell for the second-consecutive time, marking an impressive 16th CT career win. Her road to the podium was not easy, as she had to take down World Champions Carissa Moore (HAW) and Stephanie Gilmore (AUS) along the way. This win was a special one as it marked her brother, Owen Wright's (AUS) final CT event appearance of his career before officially retiring from competitive surfing. Wright hasn't worn the yellow Leader jersey since 2021, but she is getting closer to taking it back, now sitting at No. 2 on the world rankings.
"It took me 12 years to get the first Bell, and this one, it felt different but all the same," said Wright. "It's an absolute honor and a privilege to surf here at Djarrak. It's been amazing to have my full team and support here. It's moments like these that mean the world to me now. To really execute this week the way I wanted to, like I have, I'm really proud."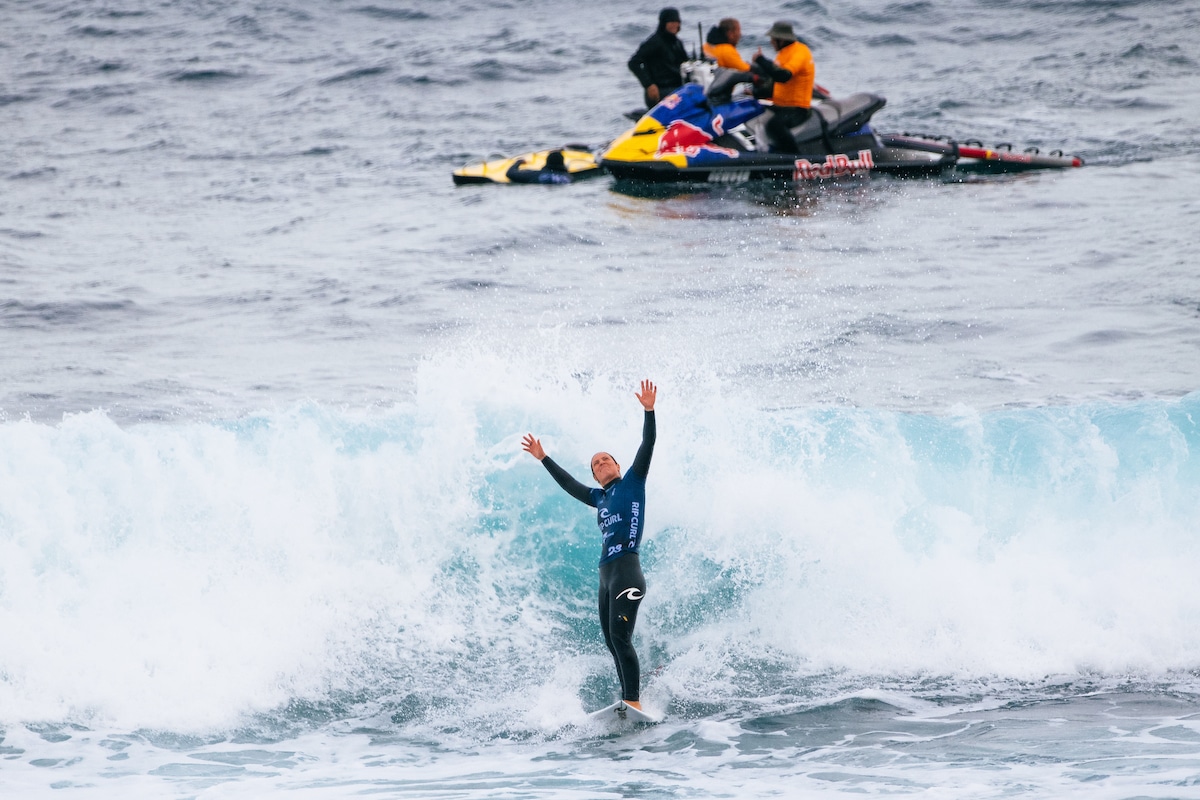 Wright dominated her competition throughout the day and showed no signs of slowing down during the Final. The two-time World Champion looked sharp and aggressive in her approach at Winki Pop. Her powerful, fins-free maneuvers earned her an 8.17 and 7.83 (out of possible 10) to set herself apart from Picklum. Picklum demonstrated her progressive edge, throwing several small airs to try and close the gap on Wright, but it wasn't enough. As time wound down, the Tour veteran emerged victorious over the young talent.
"I feel really at home here, safe and able to open up a lot, and it's lovely to do that," said Wright. "It's been a big week with my bro (Owen Wright) retiring, and it's been really special. He had an amazing career and had obviously very traumatic points through that, so it was really cool to see him finish here."
Current No. 1 Picklum continued her incredible run today, finding herself in the second CT Final of her career. Picklum showed how far her surfing has come, going from a 17th finish here last year all the way to a runner-up finish this year. She will once again hold onto the yellow Leader jersey going into the Western Australia Margaret River Pro.
"Coming home to Australia No. 1 in the world in front of my friends and family, means everything to me," said Picklum. "I love being home, and to have had one of my best performances right here at home makes me super happy. Tyler and I have traveled a lot together and talked a lot of smack to each other; she's always had me under her wing and helped me grow up and become a good athlete. I'm taking so much inspiration from Tyler; it's incredible."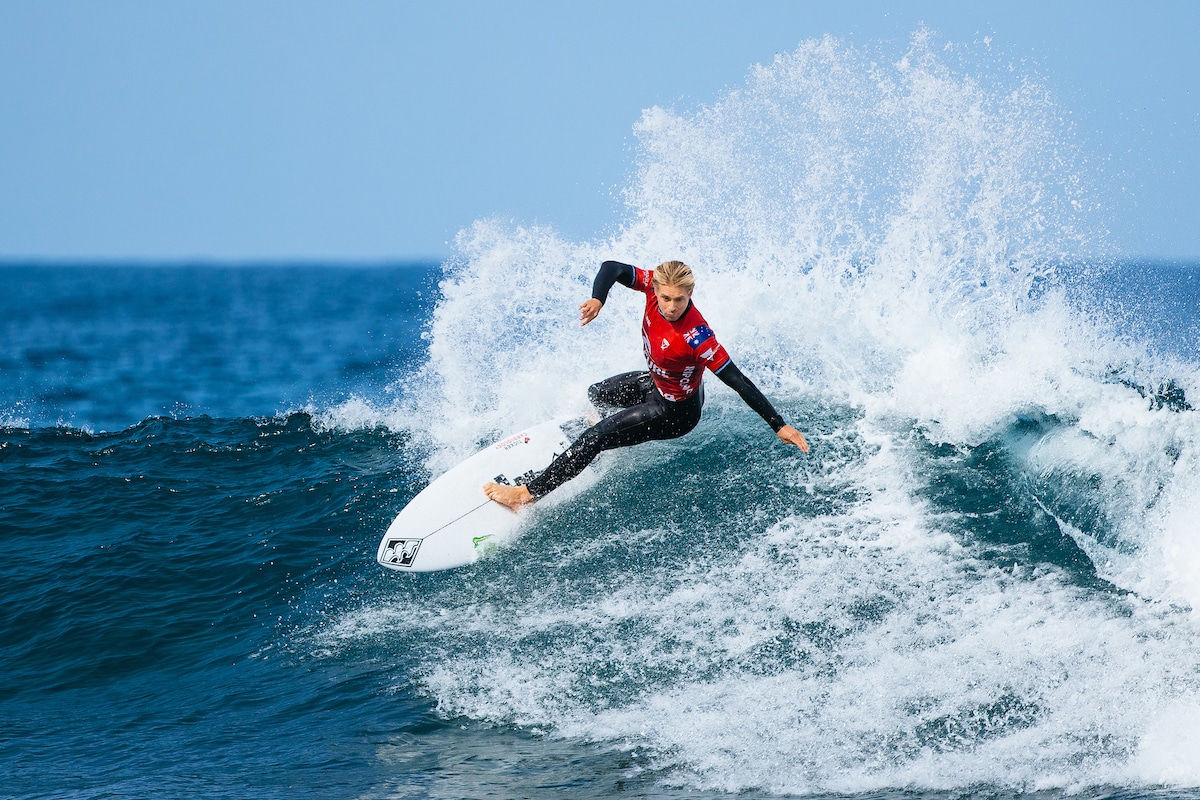 Ethan Ewing Rings the Bell on 40th Anniversary of Mother Helen Lambert's Bells Win
Ethan Ewing made history today, winning the Rip Curl Pro Bell Beach on the 40th anniversary of the year his late mother, Helen Lambert (AUS), won the event and rang the Bell in 1983. This marks the second CT win of Ewing's career, the first being at J-Bay in 2022. With this meaningful win, he also moves up to No. 4 on the rankings going into Margaret River.
"This is far-out, it's been such a crazy week and this event is the one I wanted to win the most, said Ewing. "It's such a special thing, I've been thinking about it since I've been on Tour. It's been a huge goal of mine and in honor of her [Ewing's late mother, Helen Lambert], I wanted to do her proud. I've had her trophy next to my bed since I can remember and I've dreamt of having my name on the stairs with her. Tell your mum you love them because you never know what life throws at you."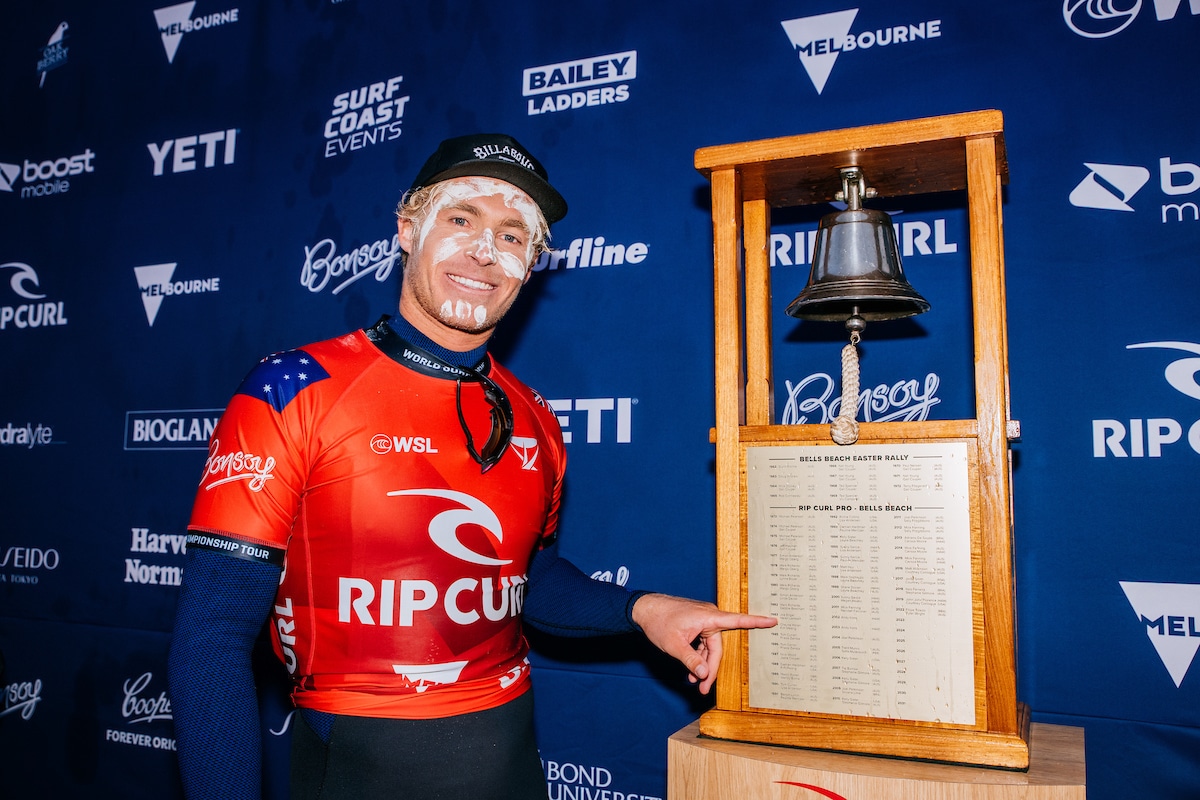 Ewing's victory came with redemption, as he was defeated by Filipe Toledo (BRA) in the Semifinals last year, and he had to face him again in today's Semifinals. Not wanting a repeat of last year, Ewing turned the heat on Toledo in the dying minutes by scoring an excellent 8.43 (out of possible 10).
Ewing was in sync with the ocean and stayed busy during the Final against Ryan Callinan. He effortlessly connected with the waves to throw powerful turns and earn a 14.50 heat total (out of possible 20). Callinan struggled to find a score of significance and ended the match with an 11.00.
"It feels pretty good. I've had a slow start this year," continued Ewing. "This event I really found my feet, and I'm really looking forward to all of the events. There's a lot of beautiful places we get to go to and I'm looking forward to all of them."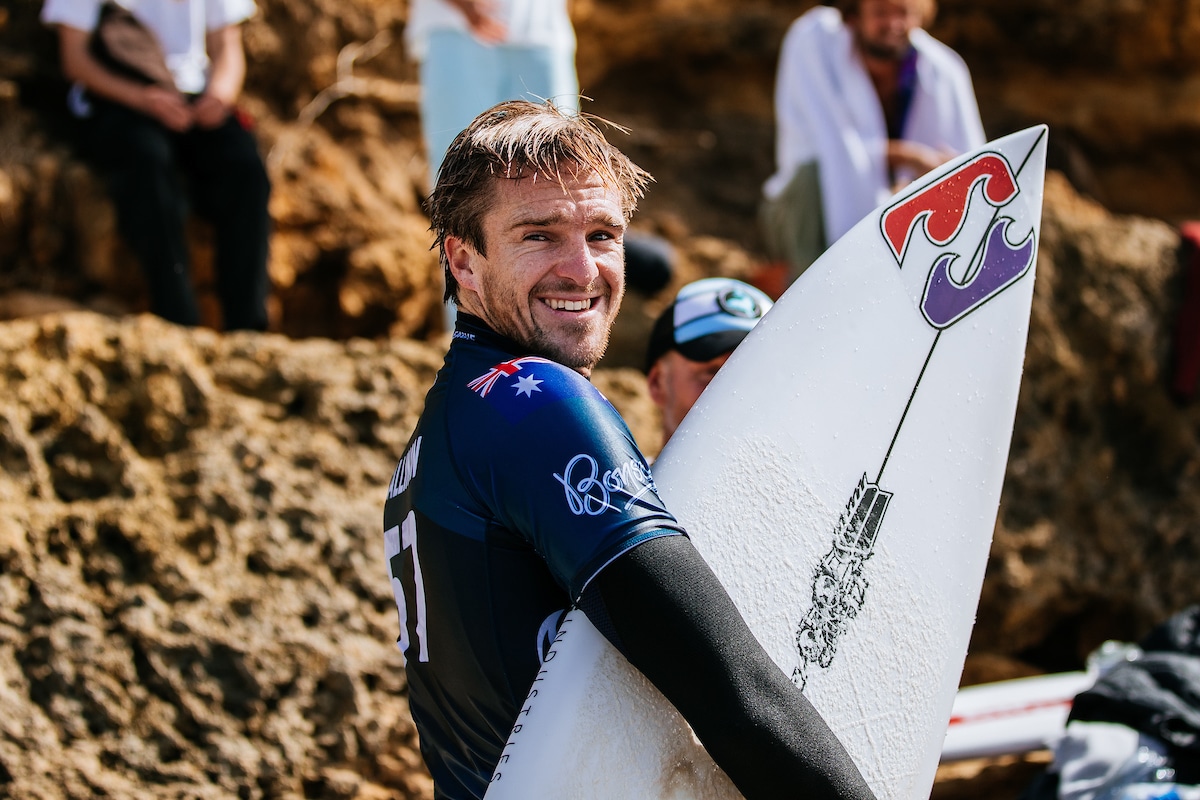 Today marks the second Finals appearance of Callinan's career, the first being in 2018 in France. After falling off the CT last season and a slow start this year he needed a big result at Bells to keep himself above the Mid-season Cut. In his Semifinal heat, Callinan remained calm under the pressure of two-time World Champion and past Bells winner John John Florence (HAW). Florence maintained a narrow lead the majority of the heat. But, at the seven-minute mark Callinan took to the air and landed a full-rotation to post an excellent 8.50 (out of a possible 10) and take the heat win.
"It's a bit of a blur to be honest," said Callinan. "To be here competing at Bells is an honor, it's one of my favorite events of the year every year. I love it down here, I always have a lot of support. My aunt and uncle are here in the crowd. It was incredible seeing Occy and trying to rep it for him and the goofies. I'd like to say thank you to my coach, I don't get too many opportunities to be on stage very often and I want to say thank you for always pushing me a lot to improve and be the best I can be."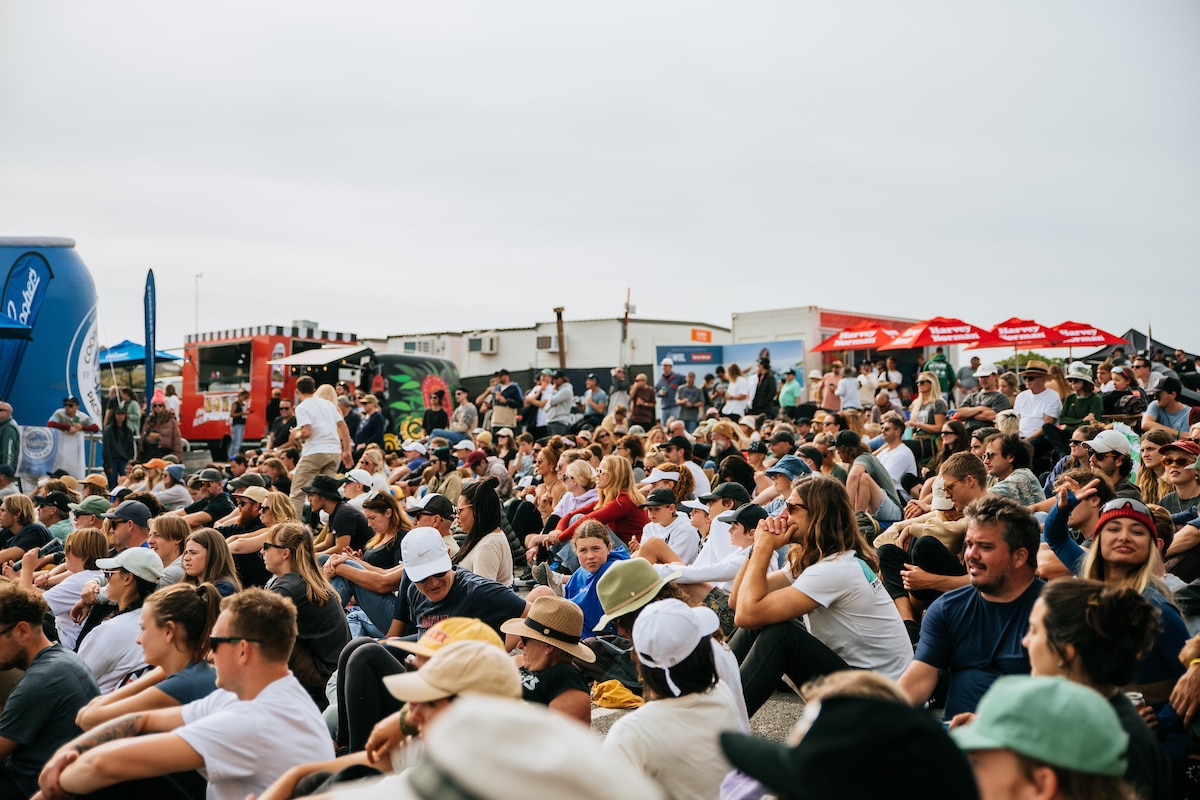 Updated Confirmations for the Mid-season Cut
The full day of competition saw the world's best surfers push each other to the limit as they fought for critical ranking points to keep their spots on Tour. Alongside today's event finalists, Callinan, Ewing, Wright, and Picklum; Carissa Moore (HAW), Yago Dora (BRA) Leonardo Fioravanti (ITA), Gabriel Medina (BRA) and John John Florence (HAW) were all confirmed spots above the Mid-season Cut, which means they've secured their place in the back-half of the 2023 CT season.
Women's CT: Made the Mid-season Cut
Molly Picklum (AUS)
Tyler Wright (AUS)
Carissa Moore (HAW)
Men's CT: Made the Mid-season Cut
Joao Chianca (BRA)
Jack Robinson (AUS)
Filipe Toledo (BRA)
Ethan Ewing (AUS)
Griffin Colapinto (USA)
Ryan Callinan (AUS)
Caio Ibelli (BRA)
John John Florence (HAW)
Yago Dora (BRA)
Leonardo Fioravanti (ITA)
Gabriel Medina (BRA)
Rip Curl Pro Bells Beach Women's Final Results:
1 – Tyler Wright (AUS) 16.00
2 – Molly Picklum (AUS) 12.00
Rip Curl Pro Bells Beach Men's Final Results:
1 – Ethan Ewing (AUS) 14.50
2 – Ryan Callinan (AUS) 11.00
Rip Curl Pro Bells Beach Women's Semifinal Results:
HEAT 1: Molly Picklum (AUS) 12.83 DEF. Isabella Nichols (AUS) 12.24
HEAT 2: Tyler Wright (AUS) 15.33 DEF. Stephanie Gilmore (AUS) 9.66
Rip Curl Pro Bells Beach Men's Semifinal Results:
HEAT 1: Ethan Ewing (AUS) 15.93 DEF. Filipe Toledo (BRA) 14.30
HEAT 2: Ryan Callinan (AUS) 15.30 DEF. John John Florence (HAW) 12.26
Rip Curl Pro Bells Beach Women's Quarterfinal Results:
HEAT 1: Isabella Nichols (AUS) 12.53 DEF. Caroline Marks (USA) 8.67
HEAT 2: Molly Picklum (AUS) 14.74 DEF. Bettylou Sakura Johnson (HAW) 14.54
HEAT 3: Tyler Wright (AUS) 13.30 DEF. Carissa Moore (HAW) 12.70
HEAT 4: Stephanie Gilmore (AUS) 12.50 DEF. Tatiana Weston-Webb (BRA) 11.00
Rip Curl Pro Bells Beach Men's Quarterfinal Results:
HEAT 1: Ethan Ewing (AUS) 13.43 DEF. Matthew McGillivray (RSA) 12.67
HEAT 2: Filipe Toledo (BRA) 15.00 DEF. Jackson Baker (AUS) 14.90
HEAT 3: John John Florence (HAW) 14.17 DEF. Connor O'Leary (AUS) 11.44
HEAT 4: Ryan Callinan (AUS) 11.23 DEF. Griffin Colapinto (USA) 11.10

Rip Curl Pro Bells Beach Men's Round of 16 Results:
HEAT 1: Matthew McGillivray (RSA) 10.43 DEF. Joao Chianca (BRA) 9.90
HEAT 2: Ethan Ewing (AUS) 14.33 DEF. Gabriel Medina (BRA) 10.10
HEAT 3: Filipe Toledo (BRA) 13.34 DEF. Jordy Smith (RSA) 11.86
HEAT 4: Jackson Baker (AUS) 10.86 DEF. Yago Dora (BRA) 9.07
HEAT 5: Connor O'Leary (AUS) 13.33 DEF. Xavier Huxtable (AUS) 11.80
HEAT 6: John John Florence (HAW) 14.77 DEF. Michael Rodrigues (BRA) 14.10
HEAT 7: Ryan Callinan (AUS) 13.63 DEF. Maxime Huscenot (FRA) 10.90
HEAT 8: Griffin Colapinto (USA) 16.33 DEF. Kanoa Igarashi (JPN) 15.10
For highlights from the Rip Curl Pro Bells Beach Presented by Bonsoy, please visit WorldSurfLeague.com.
Next Stop: Western Australia Margaret River Pro