The MEO Rip Curl Pro Portugal Presented by Corona, Stop No. 3 on the World Surf League (WSL) 2023 Championship Tour (CT), has been called back ON, starting at 7:02 a.m GMT with the Women's Round of 16 in 6-to-8 foot waves, slightly affected by the side onshore winds.
The overlapping heats format will be in use this morning for the Women's Round of 16. The remaining two heats of the Men's Round of 32 as well as the Men's Round of 16 and the Women's Quarterfinals are on standby to possibly run later in the day.
Away with the current co-World No.1 Molly Picklum (AUS) taking on compatriot Isabella Nichols (AUS) in the day's opening heat.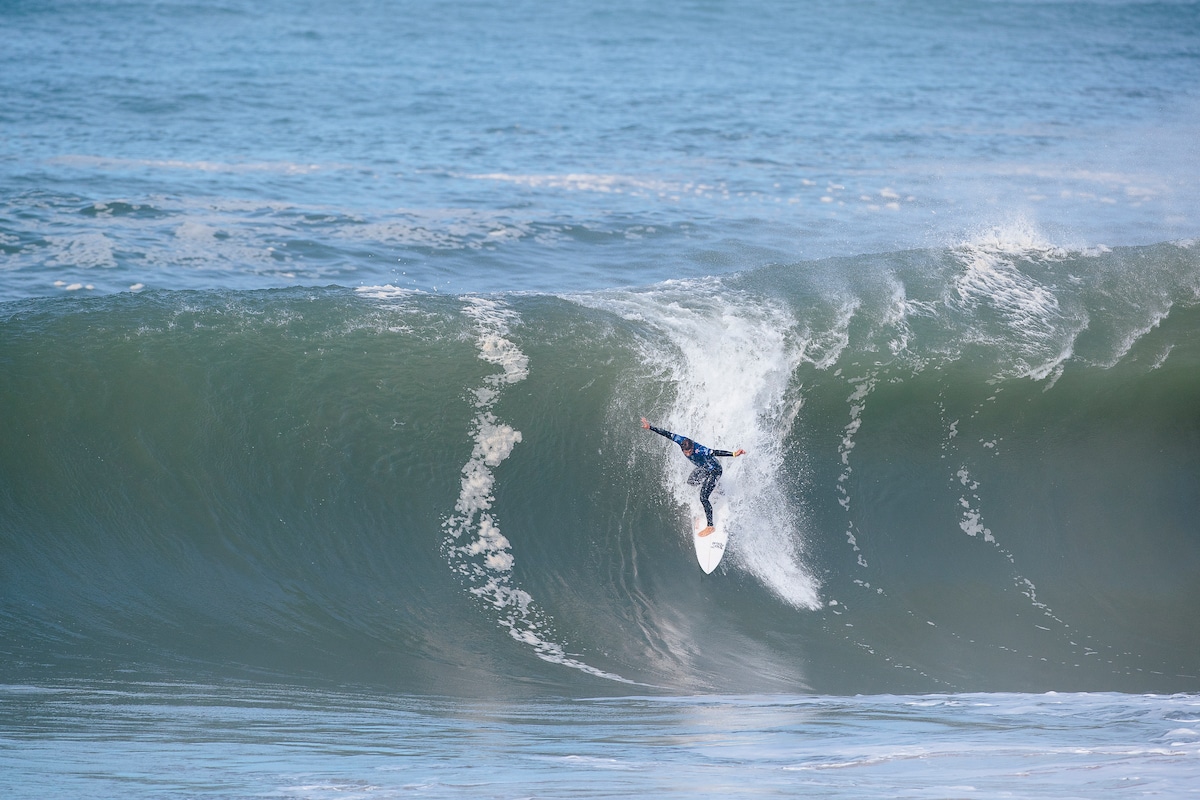 Local favourite Teresa Bonvalot (POR) has a challenge on her hands, taking on the reigning event winner Tatiana Weston-Webb (BRA) in the second heat of the day. Event wildcard Yolanda Hopkins (POR) will be surfing against 5X World Champion Carissa Moore (HAW) later this morning in another anticipated battle.
MEO Rip Curl Pro Portugal Women's Round of 16 Matchups:
HEAT 1: Molly Picklum (AUS) vs. Isabella Nichols (AUS)
HEAT 2: Tatiana Weston-Webb (BRA) vs. Teresa Bonvalot (POR)
HEAT 3: Stephanie Gilmore (AUS) vs. Sally Fitzgibbons (AUS)
HEAT 4: Gabriela Bryan (HAW) vs. Courtney Conlogue (USA)
HEAT 5: Carissa Moore (HAW) vs. Yolanda Hopkins (POR)
HEAT 6: Bettylou Sakura Johnson (HAW) vs. Macy Callaghan (AUS)
HEAT 7: Caroline Marks (USA) vs. Caitlin Simmers (USA)
HEAT 8: Brisa Hennessy (CRC) vs. Sophie McCulloch (AUS)
Remaining MEO Rip Curl Pro Portugal Men's Round of 32 Matchups:
HEAT 15: Gabriel Medina (BRA) vs. Seth Moniz (HAW)
HEAT 16: Griffin Colapinto (USA) vs. Jackson Baker (AUS)
MEO Rip Curl Pro Portugal Men's Round of 16 Matchups:
HEAT 1: Caio Ibelli (BRA) vs. Connor O'Leary (AUS)
HEAT 2: Ethan Ewing (AUS) vs. Joao Chianca (BRA)
HEAT 3: Joan Duru (FRA) vs. Callum Robson (AUS)
HEAT 4: Ian Gentil (HAW) vs. Samuel Pupo (BRA)
HEAT 5: Jack Robinson (AUS) vs. Ryan Callinan (AUS)
HEAT 6: Barron Mamiya (HAW) vs. Rio Waida (INA)
HEAT 7: Italo Ferreira (BRA) vs. Yago Dora (BRA)
HEAT 8: TBD vs. TBD
Watch LIVE
The MEO Rip Curl Pro Portugal Presented by Corona holds a competition window from Wednesday, March 8, through Thursday, March 16, 2023. Once called ON, the competition will be broadcast LIVE on WorldSurfLeague.com,