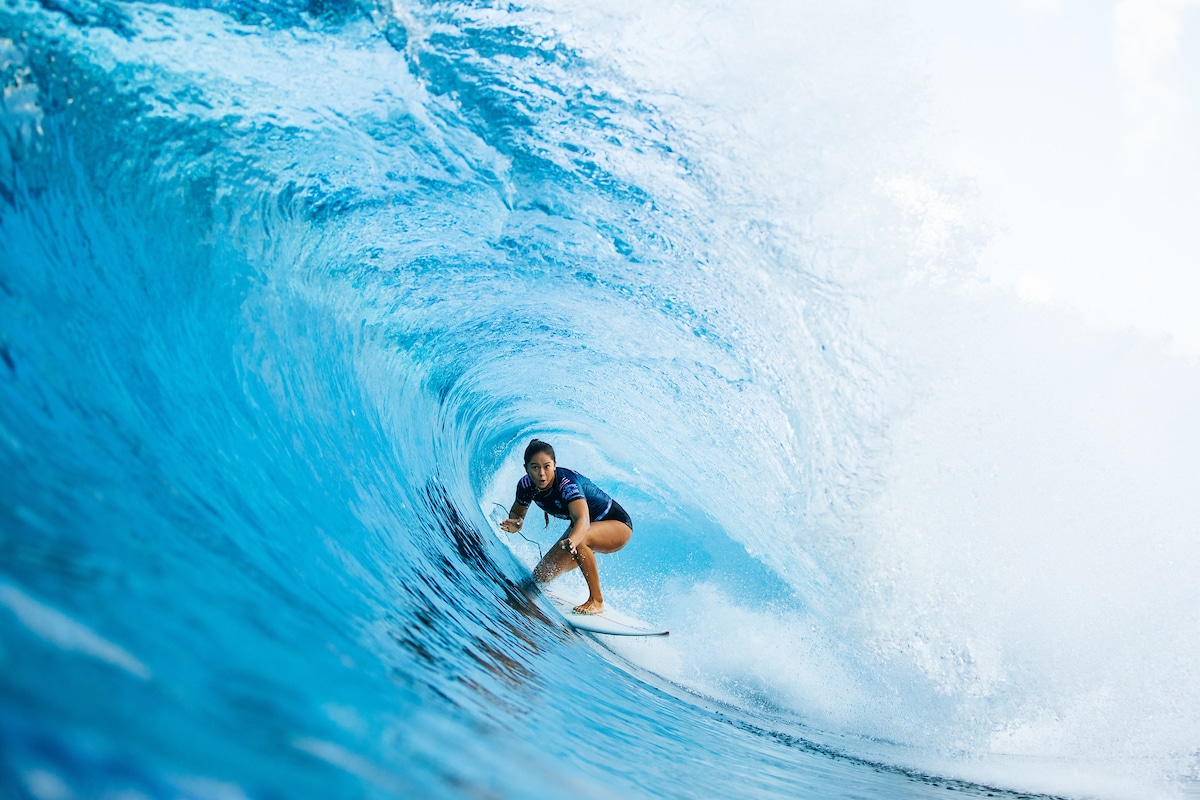 Stephanie Gilmore Falls to Teens Caitlin Simmers and Alyssa Spencer
• Hawaii's Carissa Moore, Bettylou Sakura Johnson (above), and Gabriela Bryan Secure Spots in the Quarterfinals
• Molly Picklum Earns First Excellent Score of Women's 2023 CT
• More Available at WorldSurfLeague.com
The Billabong Pro Pipeline kicked off the start of the World Surf League (WSL) 2023 Women's Championship Tour (CT) today in clean four-to-six-foot swell at Banzai Pipeline on the North Shore of Oahu. Women's Opening Round 1 witnessed the Hawaiian surfers showcase their talent at home, while several rookies excelled in their career-first CT heats.
Today saw two huge upsets, including reigning eight-time World Champion, Stephanie Gilmore (AUS), and reigning event winner Moana Jones Wong (HAW) being eliminated early in the competition. The full day of competition ran all the way through the Round of 16 and locked in the Quarterfinalists.
The next call will be tomorrow, Friday, February 3, at 7:45 a.m. HST for a possible 8:00 AM HST start.
Stephanie Gilmore Falls to Teens Caitlin Simmers and Alyssa Spencer
In the biggest upset of the day, eight-time WSL Champion Gilmore was eliminated by two of Southern California's rising stars, injury replacement Alyssa Spencer (USA) and CT rookie Caitlin Simmers (USA). Oceanside, California's young phenom Simmers performed brilliantly under pressure. She navigated two Backdoor barrels of consequence, scoring a commendable 7.0 and 5.67 (out of possible 10). Spencer focused on utilizing her forehand at Pipeline and found two quick, successful barrel rides to earn the scores she needed to take the lead over Gilmore.
"It's funny, I feel like I've gone from hero to zero," said Gilmore. "Surfing has a way of keeping you humble, that's for sure. Caity (Simmers) did really well, she sat and waited, and got two really good waves. But that's the sport, that's the way it is, and there's no better motivation than to have a shocker and want to come back better. I'm already two heats ahead of where I was last year. We have that fresh crop of new girls on the Tour and some of the rookies that were on Tour last year who didn't make the cut, but now they're back with a vengeance. I think this year will be different, and I won't be able to just scrape by."
Simmers and Spencer were later eliminated in the Round of 16, but the rookies certainly made a name for themselves at Pipeline today.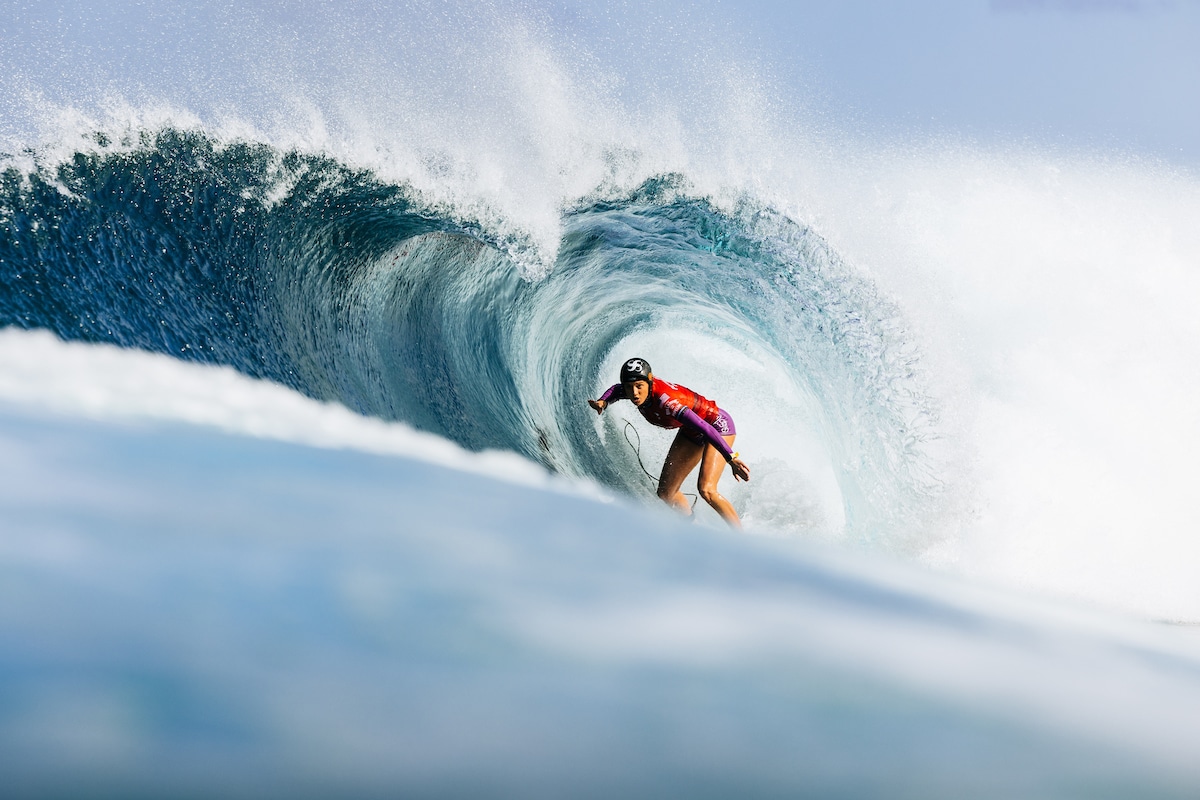 In the second upset of the day, reigning event winner and Pipeline specialist Jones Wong fell to tour veteran Lakey Peterson (USA, above) in the Round of 16, Heat 2. Jones Wong sailed through her Opening Round matchup but struggled to find a scoring wave in her second heat. Peterson will now continue her campaign in the Quarterfinals.
Courtney Conlogue (USA) suffered a similar fate, being eliminated at the hands of event wildcard Teresa Bonvalot (PRT) and Australia's Isabella Nichols in the women's Elimination Round, Heat 2.
Hawaii's Carissa Moore, Bettylou Sakura Johnson, and Gabriela Bryan Secure Spots in the Quarterfinals
Hawaii's five-time World Champion Carissa Moore, rising-star Bettylou Sakura Johnson, and 2022 Rookie of the Year, Gabriela Bryan demonstrated their local knowledge at Pipeline, securing their spots in the Quarterfinals.
Moore got off to a dominant start, taking her Opening Round heat win. She continued her momentum into the Round of 16, eliminating an in-form Spencer. With her spot secured in the Quarterfinals, she now hopes to improve on her runner-up result from last year and add a Billabong Pro Pipeline event win to her name.
"I think there's just so much anticipation in the lead-up to that first event that carries so much weight and nerves," said Moore. "It just felt good to rip the bandaid off, and to come away with the win is very nice. It's a little inconsistent, but beautiful conditions, so there are some nice little barrels on offer."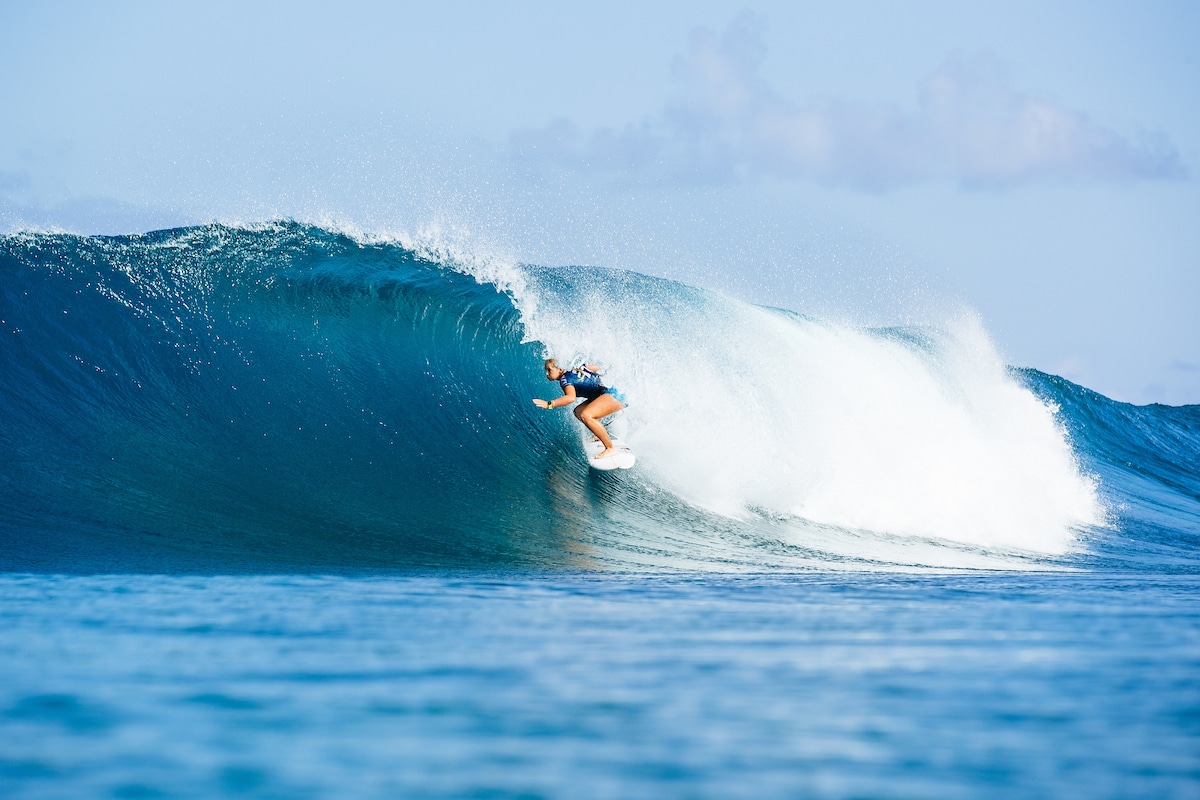 Bryan (above) kicked off her second year on Tour in fantastic form, winning her Opening Round heat over Tour veterans Sally Fitzgibbons (AUS) and Peterson with two Backdoor barrels. She then took on Macy Callaghan (AUS) in the Round of 16. Callaghan started strong, but Bryan once again found waves with opportunity, showing her ability to throw powerful turns and take the heat win.
This is also the second year on the CT for Sakura Johnson. She got off to a quick start in the Opening Round, finding the first Backdoor barrel of the women's event and earning a 6.50. Sakura Johnson then secured the last spot in the Quarterfinals after a nail-biting battle with Caroline Marks (USA) in the last heat of the day.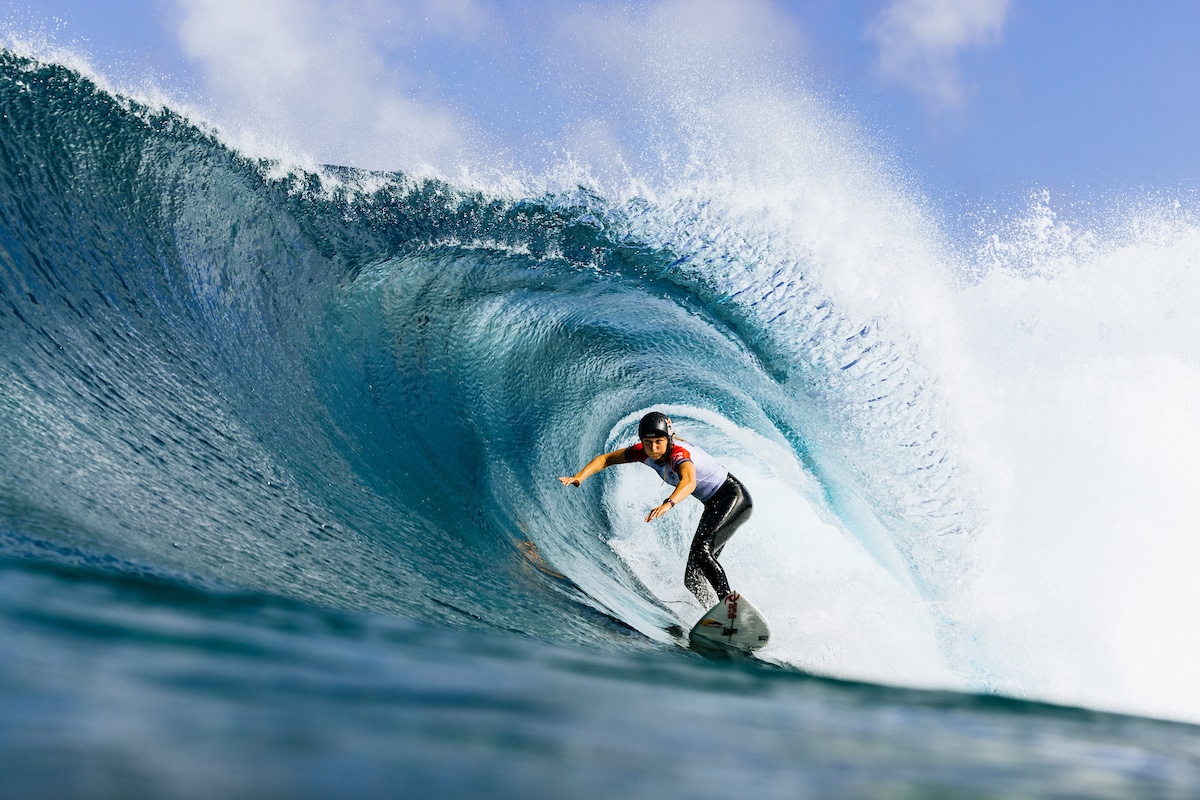 Molly Picklum Earns First Excellent Score of Women's 2023 CT
In the final heat of the women's Opening Round, Molly Picklum (AUS, above) claimed the first excellent score of the women's event, an 8.0 on a Backdoor cave. Picklum flew through the long hallway, finishing the wave off with a big maneuver on the end section.
Picklum then took the win over Nichols in the Round of 16, securing her spot in the Quarterfinals.
"I feel like it is tough out there, and there's a lot of current moving," said Picklum. "But I feel comfortable on the reef and with my lineups out there. I just knew I needed to finish that last good score, and it was going to be a good one, so I'm happy to get a seven for it and onto the next."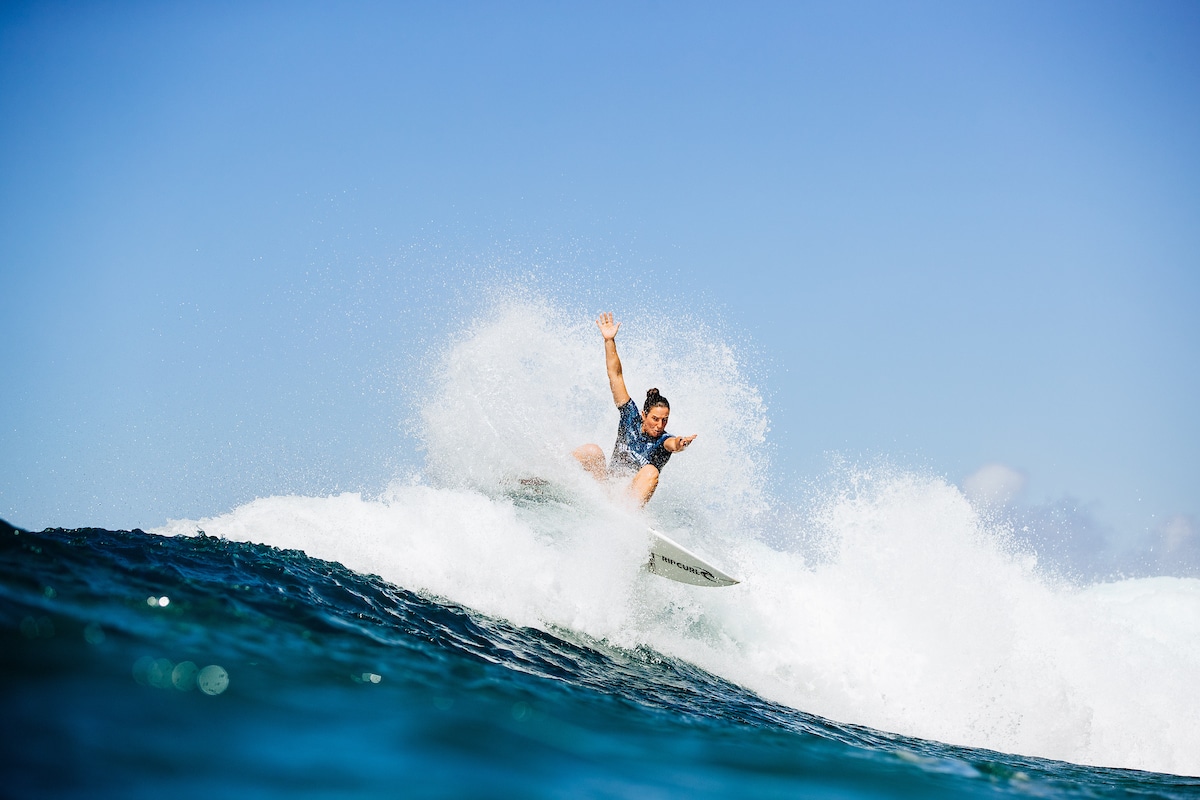 Billabong Pro Pipeline Quarterfinalists Confirmed
Two-time WSL Champion Tyler Wright (AUS, above) and Final 5 competitors Brisa Hennessy (CRC) and Tatiana Weston-Webb (BRA) also found their way into the Quarterfinals alongside Moore, Peterson, Picklum, Sakura Johnson and Bryan. They will all continue the battle towards winning the prestigious Billabong Pro Pipeline when the competition commences.
For more information, please visit WorldSurfLeague.com.
Billabong Pro Pipeline Women's Opening Round Results:
HEAT 1: Caroline Marks (USA) 6.36 DEF. Tatiana Weston-Webb (BRA) 4.84, Teresa Bonvalot (POR) 2.04
HEAT 2: Carissa Moore (HAW) 10.43 DEF. Bettylou Sakura Johnson (HAW) 9.23, Alyssa Spencer (USA) 4.44
HEAT 3: Moana Jones Wong (HAW) 9.00 DEF. Macy Callaghan (AUS) 5.13, Stephanie Gilmore (AUS) 2.80
HEAT 4: Sally Fitzgibbons (AUS) 7.67 DEF. Brisa Hennessy (CRC) 3.87, Isabella Nichols (AUS) 1.87
HEAT 5: Gabriela Bryan (HAW) 10.66 DEF. Lakey Peterson (USA) 9.67, Caitlin Simmers (USA) 3.44
HEAT 6: Molly Picklum (AUS) 11.67 DEF. Tyler Wright (AUS) 7.63, Courtney Conlogue (USA) 5.40
Billabong Pro Pipeline Women's Elimination Round Results:
HEAT 1: Caitlin Simmers (USA) 12.67 DEF. Alyssa Spencer (USA) 6.63, Stephanie Gilmore (AUS) 6.43
HEAT 2: Teresa Bonvalot (POR) 6.34 DEF. Isabella Nichols (AUS) 4.73, Courtney Conlogue (USA) 4.60
Billabong Pro Pipeline Women's Round of 16 Results:
HEAT 1: Brisa Hennessy (CRC) 7.40 DEF. Caitlin Simmers (USA) 4.93
HEAT 2: Lakey Peterson (USA) 12.34 DEF. Moana Jones Wong (HAW) 7.16
HEAT 3: Tatiana Weston-Webb (BRA) 9.10 DEF. Teresa Bonvalot (POR) 5.00
HEAT 4: Tyler Wright (AUS) 10.24 DEF. Sally Fitzgibbons (AUS) 7.27
HEAT 5: Carissa Moore (HAW) 7.93 DEF. Alyssa Spencer (USA) 4.47
HEAT 6: Molly Picklum (AUS) 12.17 DEF. Isabella Nichols (AUS) 3.26
HEAT 7: Gabriela Bryan (HAW) 11.17 DEF. Macy Callaghan (AUS) 7.96
HEAT 8: Bettylou Sakura Johnson (HAW) 9.03 DEF. Caroline Marks (USA) 8.30
Billabong Pro Pipeline Women's Quarterfinal Matchups:
HEAT 1: Brisa Hennessy (CRC) vs. Lakey Peterson (USA)
HEAT 2: Tatiana Weston-Webb (BRA) vs. Tyler Wright (AUS)
HEAT 3: Carissa Moore (HAW) vs. Molly Picklum (AUS)
HEAT 4: Gabriela Bryan (HAW) vs. Bettylou Sakura Johnson (HAW)
Billabong Pro Pipeline Men's Round of 32 Matchups:
HEAT 1: Italo Ferreira (BRA) vs. Ian Gentil (HAW)
HEAT 2: Jordy Smith (RSA) vs. Nat Young (USA)
HEAT 3: Griffin Colapinto (USA) vs. Leonardo Fioravanti (ITA)
HEAT 4: Callum Robson (AUS) vs. Jackson Baker (AUS)
HEAT 5: Ethan Ewing (AUS) vs. Liam O'Brien (AUS)
HEAT 6: Seth Moniz (HAW) vs. Barron Mamiya (HAW)
HEAT 7: Caio Ibelli (BRA) vs. Ezekiel Lau (HAW)
HEAT 8: Samuel Pupo (BRA) vs. Ryan Callinan (AUS)
HEAT 9: Filipe Toledo (BRA) vs. Carlos Munoz (CRC)
HEAT 10: Yago Dora (BRA) vs. Kelly Slater (USA)
HEAT 11: Connor O'Leary (AUS) vs. Rio Waida (INA)
HEAT 12: Kanoa Igarashi (JPN) vs. Joao Chianca (BRA)
HEAT 13: Jack Robinson (AUS) vs. Michael Rodrigues (BRA)
HEAT 14: Gabriel Medina (BRA) vs. Jake Marshall (USA)
HEAT 15: John John Florence (HAW) vs. Kolohe Andino (USA)
HEAT 16: Miguel Pupo (BRA) vs. Maxime Huscenot (FRA)