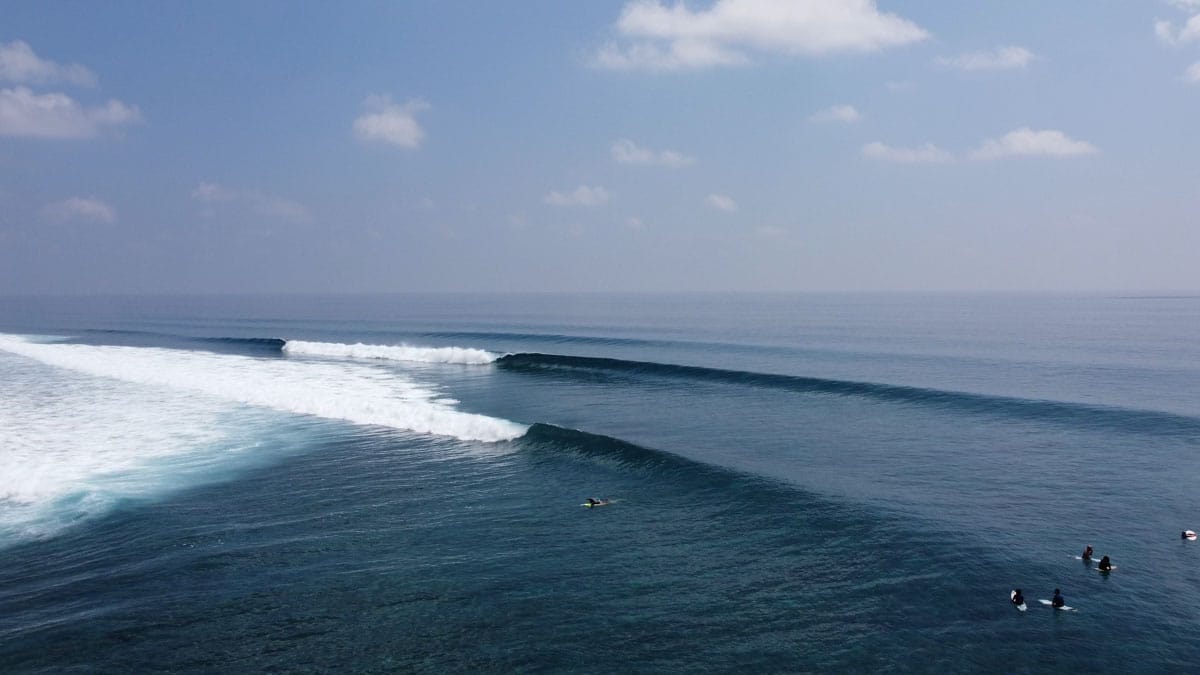 Is there anything better than a surf charter in the Maldives with your mates?
Surf, snorkel and island hop your way around the atolls onboard Island Hop Maldives newly refit 90' Handhu. For a fraction of the cost of a surf resort package, there is no better way to see and experience the real Maldives than onboard a boat.

Island Hop Maldives is the latest venture by Shaun Levings; one of the pioneers of Maldives surf tourism: 

"Our crew have vast surf charter experience and will go that extra mile to ensure you wake up at the best surf spots to suit your group needs."
Read on for full information on this surf trip to paradise …
The Boat
The 90' Handhu motor cruiser has been refit inside and out and caters for groups of up to 12 guests in absolute comfort with 6 private cabins, spacious relaxation areas and massive deck space. Brand new 450hp engine fit in 2022 with cruising speed of 10 knots.
Surf Spots
You can choose to surf the Male' atolls which offer a dozen breaks within 3 hours of the international airport or venture future to the Central Atolls to experience remote reef breaks in 4 different atolls with a variety of lefts and rights from long peelers to mechanical barrels.
The Maldives surf is highly regarded as the most user friendly on the planet with something for everyone. Deep water takeoffs at most places without the fear of scraping yourself off dry reef. Expect biggest swells during May-Aug period, mid range swells in April & Sept and smaller swells in Feb, Mar, Oct and Nov.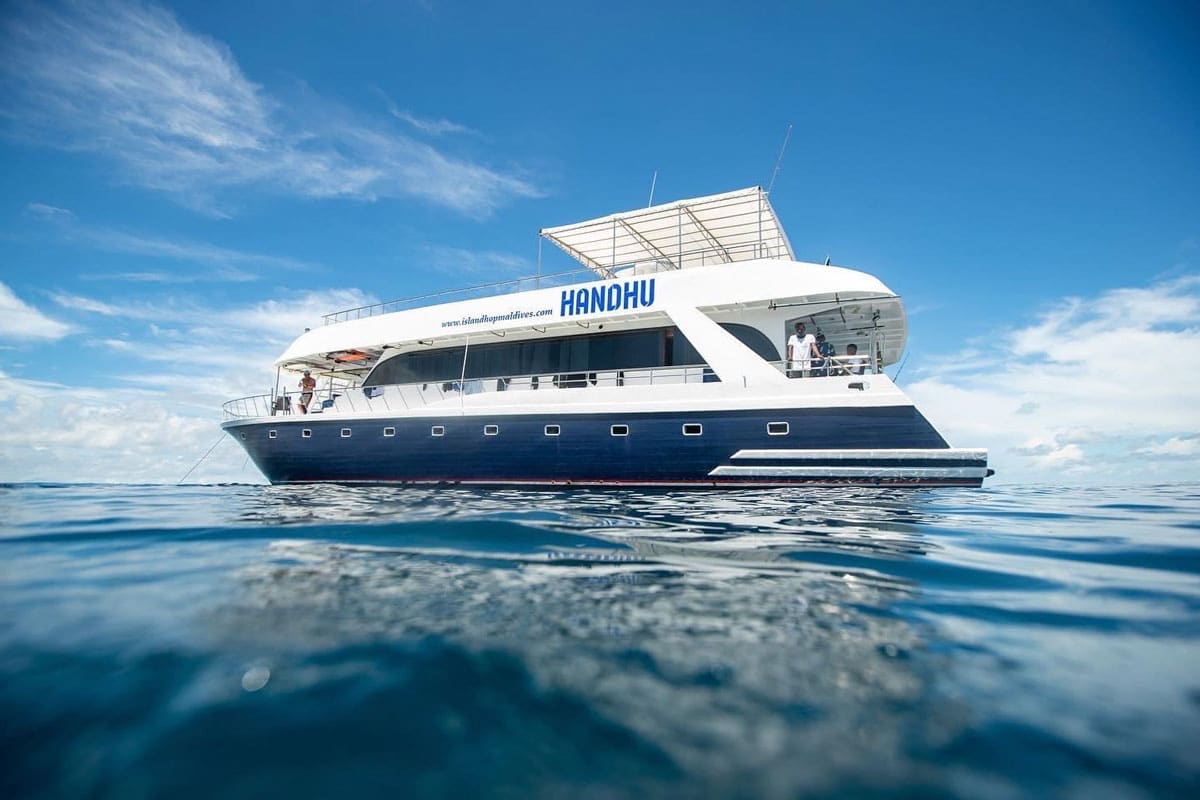 Accommodation and Food
Enjoy a vast selection of dishes catering to all tastes and dietary requirements. The onboard chef 'Gopal' has a knack for sourcing the freshest produce available and will even offer a cooking class during the trip. If you catch a big fish then Gopal will be down on the aft deck in no time and fresh sashimi will be served soon after.
Being a bespoke custom trip, expect your favourite drinks (beer, wine, spirits, non-alcoholic etc.), to be stocked in advance, to suit your group needs. Plus nightly dinner parties with your favourite people.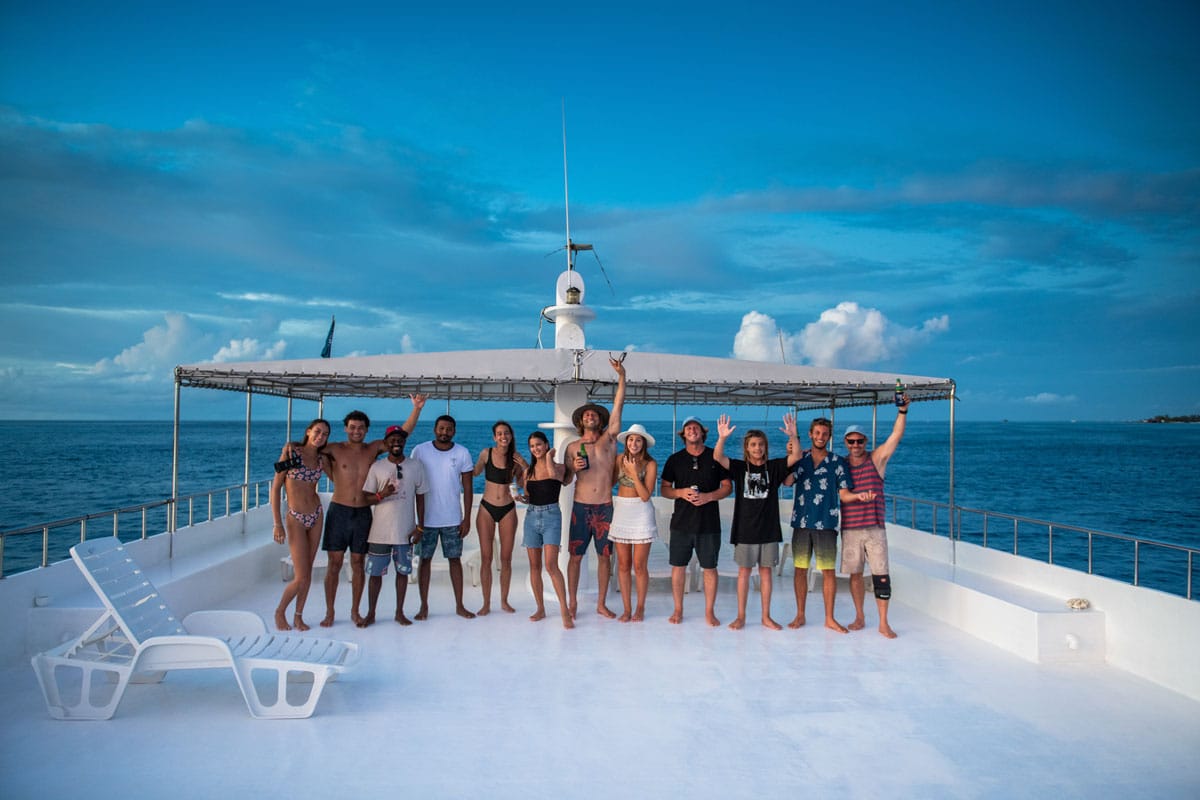 Who this is best suited for?
In the prime time season from Apr-Sep, it is advised that you should be a high intermediate or above in your surfing capabilities due to the larger swells. Although some smaller protected options can be found if the swell size is too big for the group surf level.
For early and late season, Feb-Mar & Oct-Nov low level surfers will find some really fun conditions, ideal for longboarders and family trips.
Booking:
Flights to Male' operate from most UK and EU capital cities using Emirates, Qatar and other airlines.
The Handhu can be chartered for any duration from 5 to 30 days depending on your needs and budget.
Operating as a private group charters only, with exclusive use of Handhu for groups of any size to maximum 12 guests in 6 x double/twin cabins.
Click here for prices, deals and to book your surf trip in paradise.