Upsets Rattle Men's Hurley Pro Sunset Beach Presented by SHISEIDO
Nail Biting Round of 16 Decides Men's Quarterfinalists
More Available at WorldSurfLeague.com
Upsets Rattle Hurley Pro Sunset Beach Presented by SHISEIDO
The Round of 32 was not kind to top seeds with multiple upsets affecting World Title contenders in the heavy lineup of Hawaii's North Shore. Last year's World No. 4 Conner Coffin (USA) was the first to drop in a tense matchup against injury replacement surfer Caio Ibelli (BRA) in the day's opening heat. Ibelli's form was undeniable throughout the day, and continued through the Round of 16, where Ibelli took on Kolohe Andino (USA) and continued with his brilliant run in Hawaii by securing back-to-back Quarterfinal appearances.
"It's been a good Hawaiian season for me," said Ibelli. "I'm so grateful. Life does this crazy turnarounds and I'm witnessing this in my life. There's been so many turnarounds and here I am again. Three days before the event I was worried something was going to happen at this spot and now I'm in the Quarterfinals and it feels good. I spend so much time here in Hawaii and so many hours in this lineup trying to get better, and sometimes experience in those spots pays off."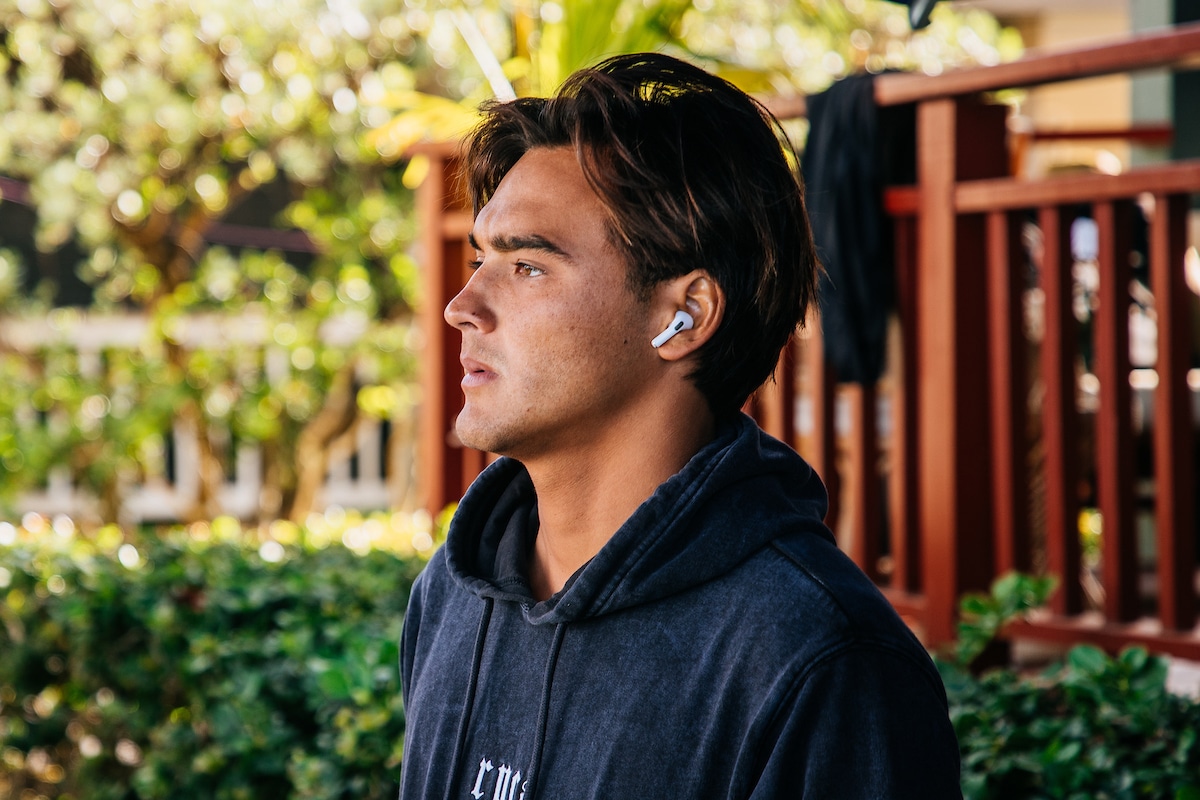 Event wildcard and Pipeline standout Barron Mamiya (HAW, above) eliminated WSL Champion Italo Ferreira (BRA), with a flawless approach on the big rights of Sunset.
"Italo is a super tough competitor, I've been watching him for the past couple of years," Mamiya said. "The both of us got pounded in the first half of that heat, then I got back out, took a deep breath and thought 'now it's our priority so let's just pick some good waves and surf them well'."

Mamiya tried to continue the momentum into the Round of 16, but was almost stopped by Deivid Silva (BRA). Mamiya needed a 6.90 in the dying minutes and unleashed his searing forehand to earn a 7.03 to turn the heat with Silva's efforts falling short of the 6.41 he needed as time expired.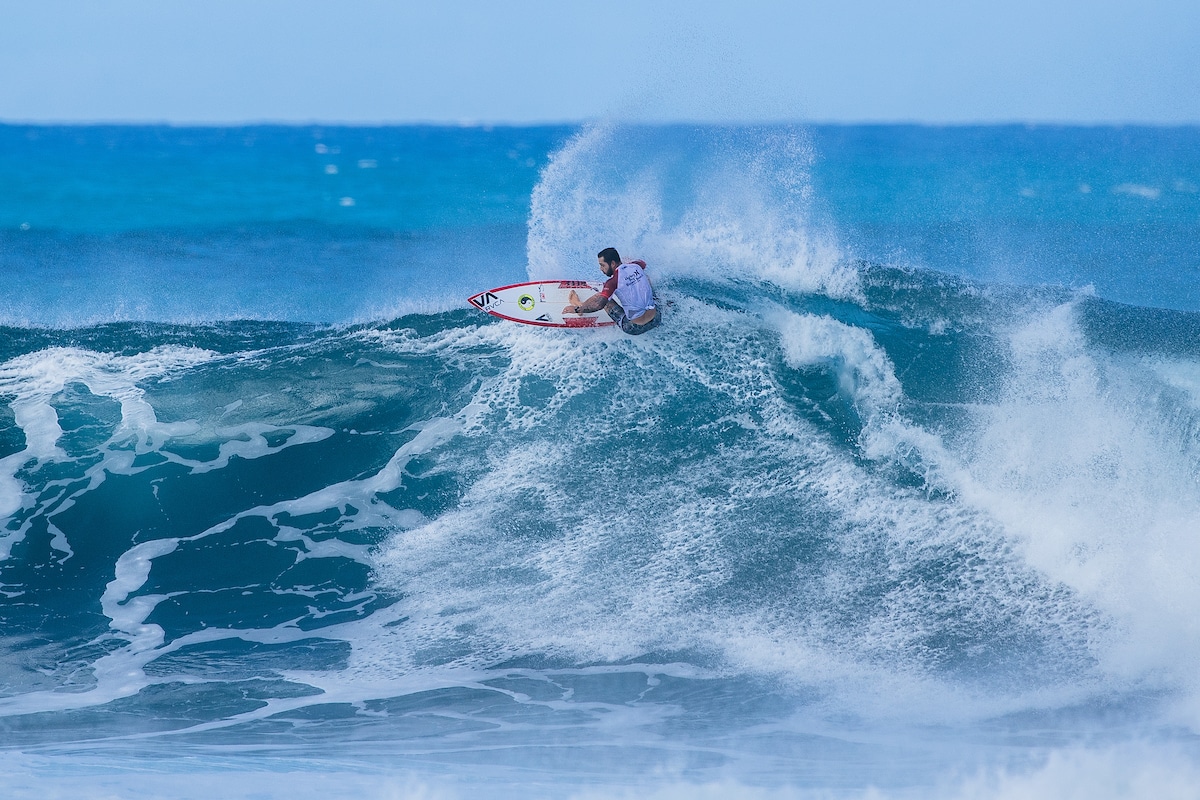 For a long time it looked like Filipe Toledo (BRA, below) was going to be the next victim of event wildcard Billy Kemper (HAW, above), but with only just over 10 minutes on the clock, the Brazilian turned the heat up with two excellent scores to overcome the Big Wave World Champion and get a chance at the Round of 16 against Ethan Ewing (AUS). Toledo started strong and tried to steal the tempo right away with a 5.33. But, Ewing answered back with a 7.50 of his own and took the lead before unloading on an excellent 8.57 to put distance between the two. Toledo struck right back with a 7.33 before dropping the hammer and a near-perfect 9.17 on an intense, two-turn combination. However, the Australian wasn't finished and locked into a Sunset gem to unload on three different, powerful maneuvers to accrue an immaculate 9.67 and take the heat.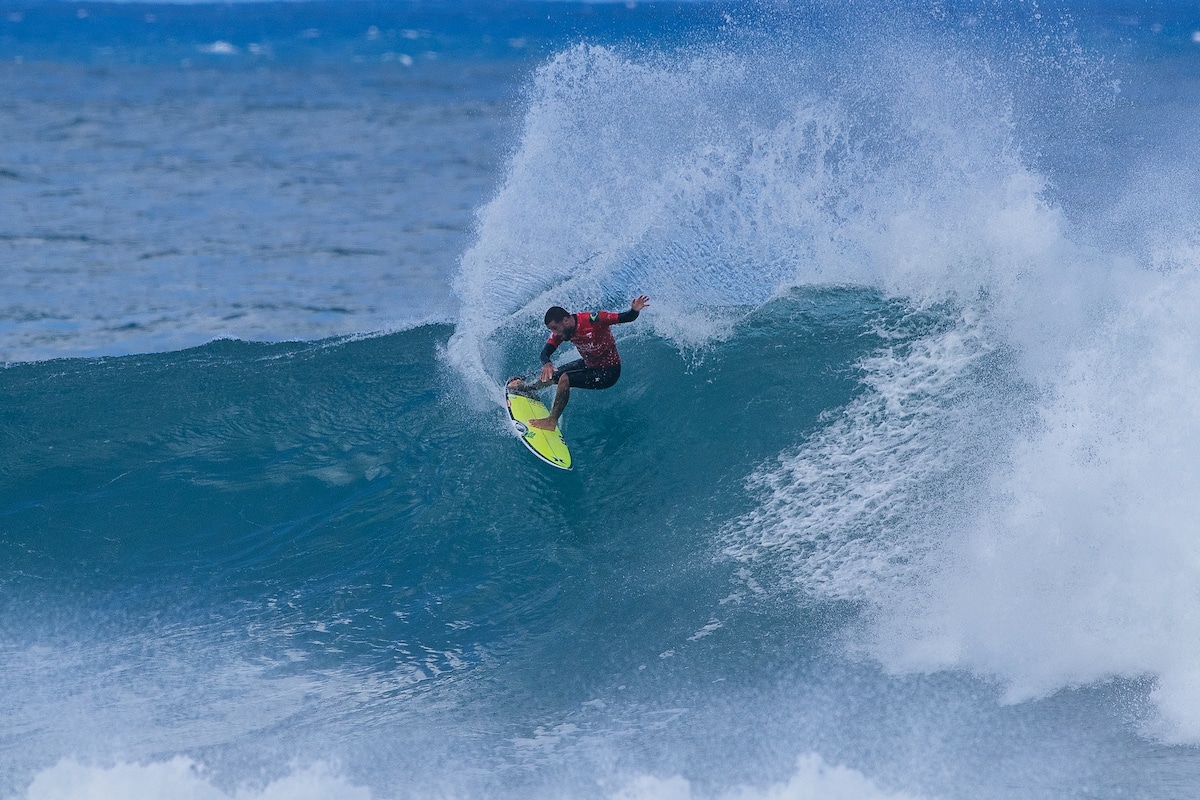 "Filipe is one of my favourite surfers and he's always exciting to watch," said Ewing. "Stoked to have a heat with him and he's beaten me a lot more so it felt good to get one back on him. I'm looking forward to the Quarters now."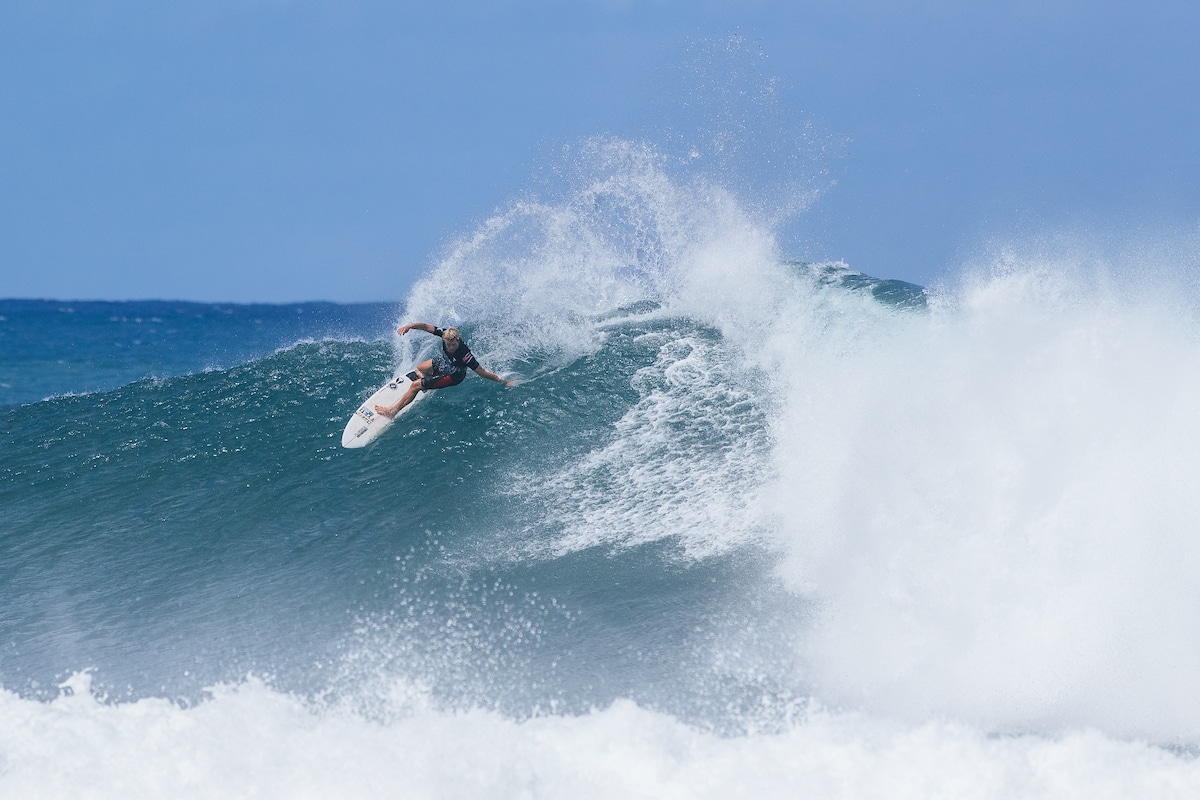 Another major upset came in Heat 12 when rookie Jake Marshall (USA) eliminated two-time WSL Champion John John Florence (HAW, above). Marshall's big rights antics are a secret to no one and in a relatively slow heat, Florence did not find enough opportunities to express his full repertoire, bowing out in a disappointing equal 17th place on home turf. Marshall also took on an in-form Connor O'Leary (AUS) at the Round of 16 and earned a spot at the Quaterfinals, where he will face Ewing.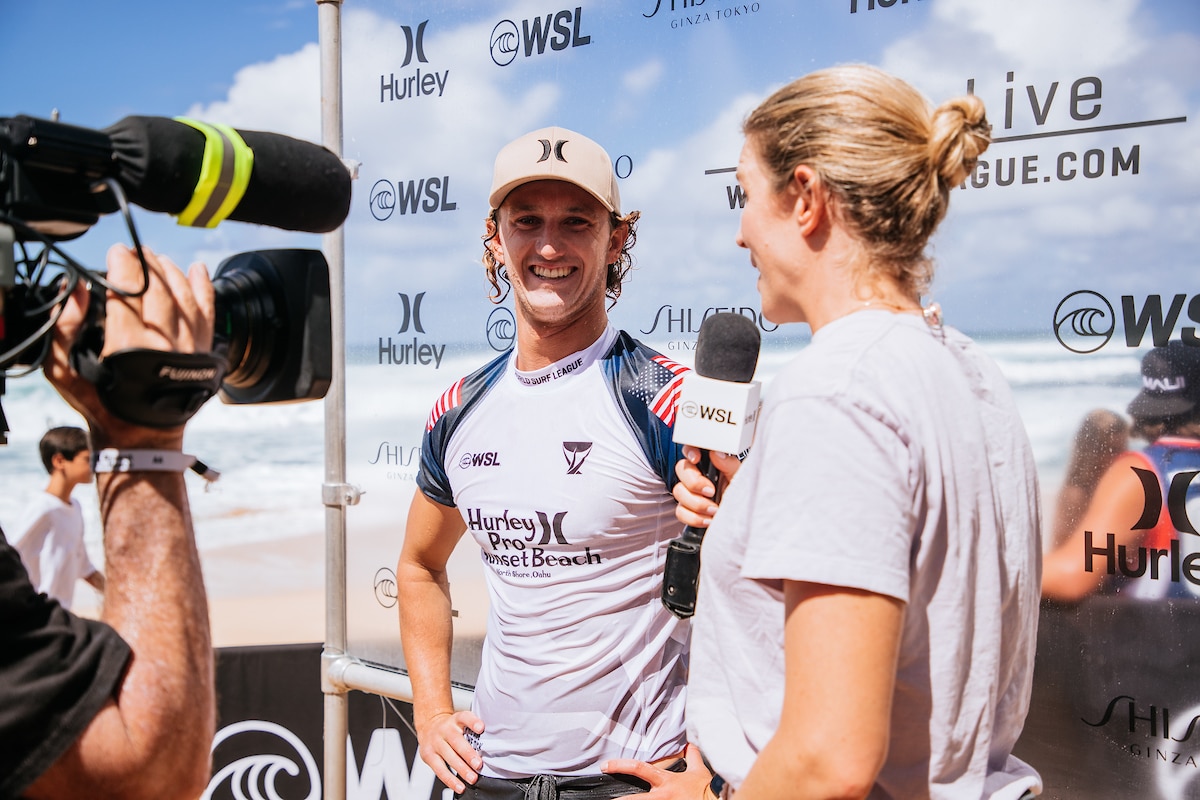 "I'm really stoked to make a few heats and it was a pretty fun day," said Marshall (above). "When you're out at the Sunset lineup, the playing field is so big and I was making a few mistakes on my end more doing my own thing. Just at the end of the heat I saw him paddling in and he looked pretty rattled and I thought he might have gotten hurt. I came in and his board was super jacked up and just hoped he's okay. Connor's a really good dude and good friend of mine so hopefully he can recover before the next event."
While Florence was in trouble, another star was scrapping for leftovers in the Sunset lineup. Current World No. 1 Kelly Slater (USA) was feeling the pressure from Matthew McGillivray (ZAF), who scored a 9-point ride (out of a possible 10) early on. Starting deep on an inside wave, after negotiating the drop and a long drawn bottom turn, Slater realised Florence in the dying moments of the priority heat dropped on the same wave and the Floridian kicked out. But judges had no choice but to award Slater an interference as he surfed past Florence on the same wave, putting an end to the 11-time World Champion's chances to come back in his own battle.
"By the time I had committed to my bottom turn, I thought, 'Oh no, I'm under John's line,'" said Slater. "I was just trying to work out in my head all the scenarios and I'm like I don't think we can cross but I'm going to cross over and the white water's going to cover my line way before he gets up. I was thinking if I jump off in the white water then my board could be there where he can hit it when he paddles or I'm going to get totally cleaned up and washed in. So I just made the wrong choice really. Matt already had his nine at that point so with that I'm straight out of the heat. It was over before it started."
"There's highs and lows on this Tour," continued Slater. "I had the highest high last week and I barely escaped the elimination round yesterday. I really haven't put in any performance out here. I honestly don't love Sunset. I don't respect the wave and it doesn't respect me back."

McGillivray was defeated by Jack Robinson (AUS) at the Round of 16, with the Australian continuing to improve his scoreline with each ride, finishing with a combined score of 15.84 (out of a possible 20).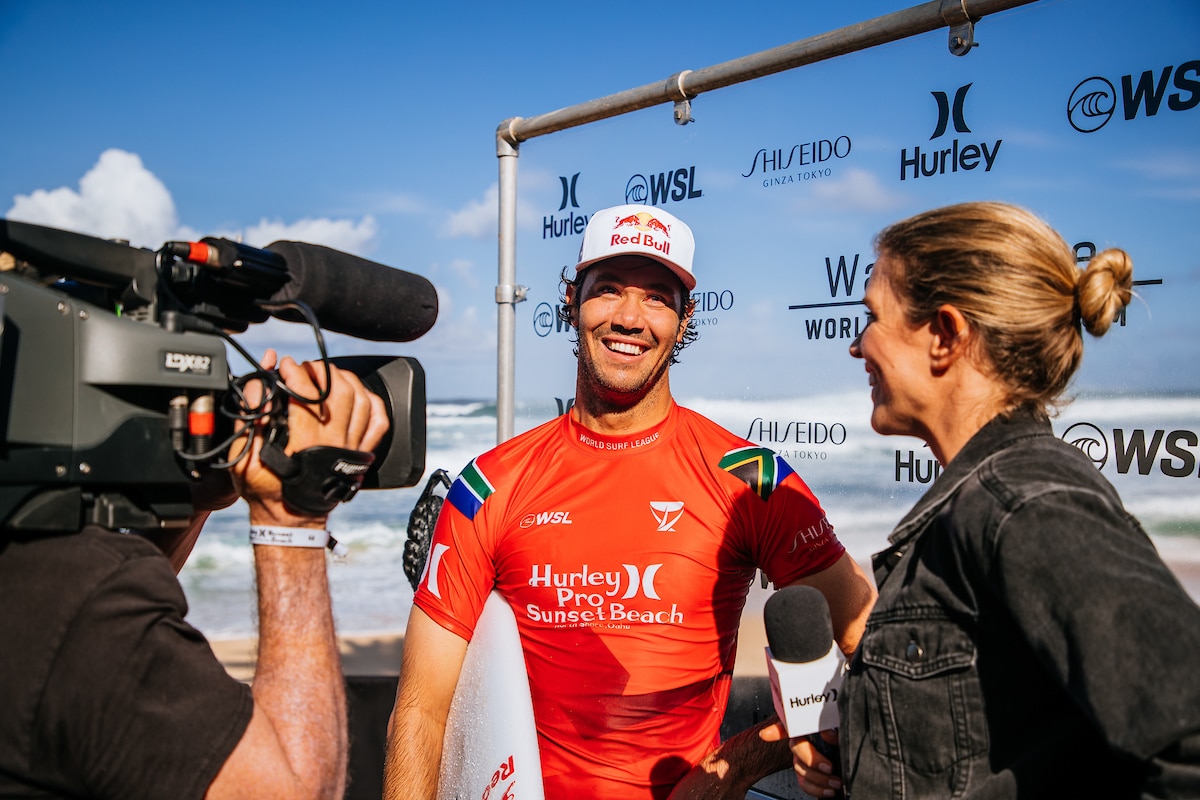 Nail Biting Round of 16 Decides Men's Quarterfinalists
Former Sunset Beach winners Jordy Smith (ZAF, above) and Ezekiel Lau (HAW) clashed in their Round of 16 heat with Lau getting started early under Heat 1's priority to put pressure on Smith. Lau's powerful forehand laid into each section to garner a 7.90 and never lost a grip on his lead heading into the final minutes and, to Smith's dismay and Lau's satisfaction, the ocean went quiet until after the horn sounded.
"It's nerve racking," said Lau. "I mean, it feels good to get one of those waves under priority and so I knew I was out in the lead and knew all I needed was one more. Next thing you know there's five minutes left and I have a two for a back up so I was just kind of squeezed in there a bit. Jordy didn't really get anything going toward the end either so I figured it was just hard to pick waves and I just had to trust it."
A stout heat between Seth Moniz (HAW) and CT veteran Nat Young (USA) unraveled with low scores plaguing the heat toward the halfway mark. Moniz struck once more with five minutes remaining to raise Young's requirement slightly as the ocean showed signs of life but his last effort wasn't enough and Moniz earned his way toward another Quarterfinal result.
"It's pretty crazy that last year I had the worst start ever and had such a struggle," said Moniz. "Things just seem to be going my way. That was a rough heat and just didn't really surf the heat  I wanted to, and at the end I was pretty much just managing the last ten minutes of it. But, I made it and I'm really excited to surf again and just try to put on a good performance. I haven't really had my heat where I come in super excited for it yet but I'm stoked to be in the Quarters."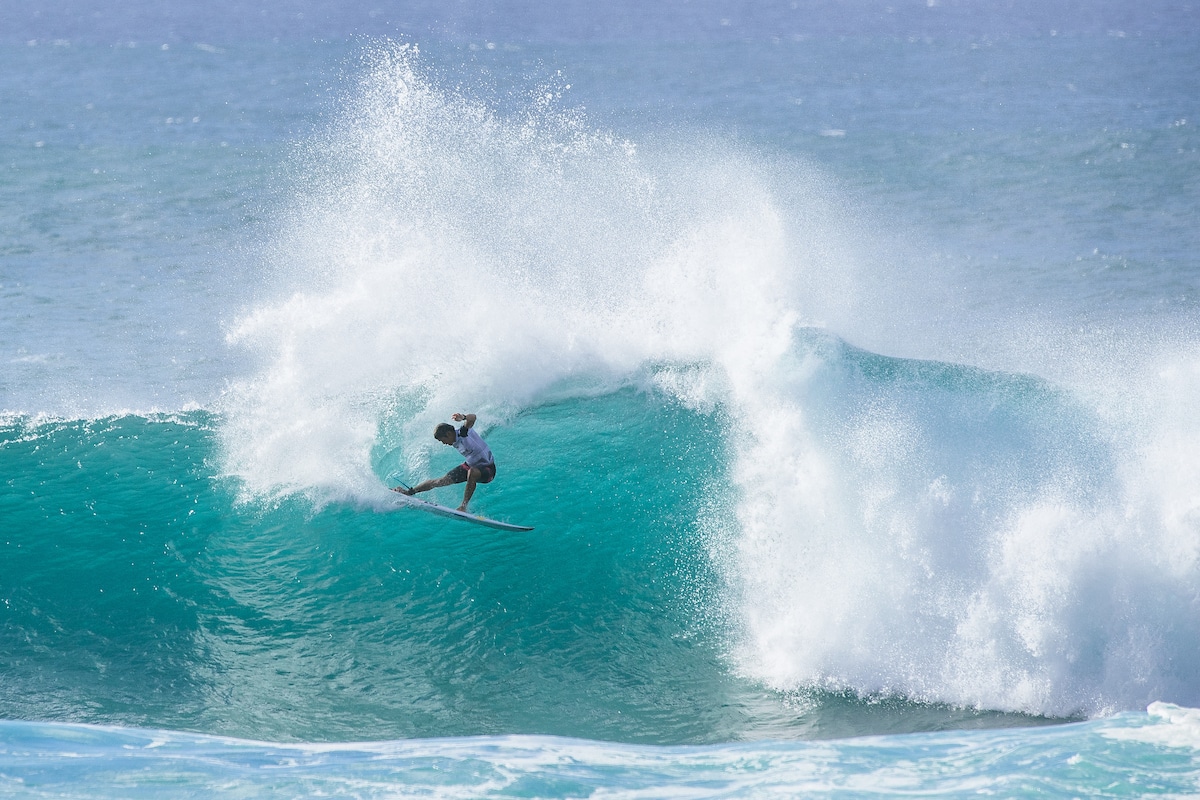 Kanoa Igarashi (JPN, above) kept his form intact from a massive opening day showing and carried it into the Round of 16 over Jadson Andre (BRA). Igarashi built his heat brilliantly with a 12.56 before locking into one of the day's best waves, laying down powerful rail carves and finishing off with a quick barrel section to earn a near-perfect 9.77 (out of a possible 10). The score notched the day's best single-wave score and solidified his spot into the Quarterfinals once more in 2022 with incredible momentum.
"It's solid right now," said Igarashi. "Everyone only sees the waves we're catching but I don't think they realize how many waves were catching on the head. It's fun, it's exciting, and it was just one of those heats where there was a lot of water moving. I just tried to engage as much rail as possible and when I came out of the second turn I looked up and remember Snake (Jake Patterson) telling me that back in the day if you don't feel like you're going to make the section just pull in. And that's exactly what I felt." 
Hurley Pro Sunset Beach presented by SHISEIDO Men's Round of 32 Results:
HEAT 1: Caio Ibelli (BRA) 15.00 DEF. Conner Coffin (USA) 14.26
HEAT 2: Kolohe Andino (USA) 12.66 DEF. Lucca Mesinas (PER) 8.57
HEAT 3: Jordy Smith (ZAF) 16.23 DEF. Jackson Baker (AUS) 14.10
HEAT 4: Ezekiel Lau (HAW) 12.50 DEF. Leonardo Fioravanti (ITA)
10.50
HEAT 5: Barron Mamiya (HAW) 14.40 DEF. Italo Ferreira (BRA) 10.60
HEAT 6: Deivid Silva (BRA) 14.44 DEF. Ryan Callinan (AUS) 9.60
HEAT 7: Nat Young (USA) 16.13 DEF. Morgan Cibilic (AUS) 13.67
HEAT 8: Seth Moniz (HAW) 13.60 DEF. Joao Chianca (BRA)11.53
HEAT 9: Filipe Toledo (BRA) 16.47 DEF. Billy Kemper (HAW) 14.50
HEAT 10: Ethan Ewing (AUS) 15.50 DEF. Samuel Pupo (BRA) 14.76
HEAT 11: Connor O'Leary (AUS) 15.93 DEF. Griffin Colapinto (USA) 15.70
HEAT 12: Jake Marshall (USA) 13.93 DEF. John John Florence (HAW) 13.27
HEAT 13: Matthew McGillivray (ZAF) 15.67 DEF. Kelly Slater (USA) 2.50
HEAT 14: Jack Robinson (AUS) 17.67 DEF. Callum Robson (AUS) 14.23
HEAT 15: Jadson Andre (BRA) 11.33 DEF. Frederico Morais (PRT) 10.27
HEAT 16: Kanoa Igarashi (JPN) 11.04 DEF. Imaikalani deVault (HAW) 8.63
Hurley Pro Sunset Beach presented by SHISEIDO Men's Round of 16 Results:
HEAT 1: Caio Ibelli (BRA) 13.10 DEF. Kolohe Andino (USA) 10.57
HEAT 2: Ezekiel Lau (HAW) 10.23 DEF. Jordy Smith (ZAF) 9.50
HEAT 3: Barron Mamiya (HAW) 14.00 DEF. Deivid Silva (BRA) 12.77
HEAT 4: Seth Moniz (HAW) 8.67 DEF. Nat Young (USA) 7.63
HEAT 5: Ethan Ewing (AUS) 18.24 DEF. Filipe Toledo (BRA) 16.50
HEAT 6: Jake Marshall (USA) 9.66 DEF. Connor O'Leary (AUS) 6.50
HEAT 7: Jack Robinson (AUS) 15.84 DEF. Matthew McGillivray (ZAF) 10.37
HEAT 8: Kanoa Igarashi (JPN) 16.10 DEF. Jadson Andre (BRA) 13.54
Hurley Pro Sunset Beach presented by SHISEIDO Men's Quarterfinals Matchups:
HEAT 1: Caio Ibelli (BRA) vs. Ezekiel Lau (HAW)
HEAT 2: Barron Mamiya (HAW) vs. Seth Moniz (HAW)
HEAT 3: Ethan Ewing (AUS) vs. Jake Marshall (USA)
HEAT 4: Jack Robinson (AUS) vs. Kanoa Igarashi (JPN)
Hurley Pro Sunset Beach presented by SHISEIDO Women's Opening Round 1 Matchups:
Heat 1: Johanne Defay (FRA), Gabriela Bryan (HAW), Molly Picklum (AUS)
Heat 2: Tatiana Weston-Webb (BRA), Malia Manuel (HAW), Bronte Macaulay (AUS)
Heat 3: Carissa Moore (HAW), Bettylou Sakura Johnson (HAW), Moana Jones Wong (HAW)
Heat 4: Sally Fitzgibbons (AUS), Brisa Hennessy (CRI), Luana Silva (HAW)
Heat 5: Lakey Peterson (USA), Isabella Nichols (AUS), Courtney Conlogue (USA)
Heat 6: Tyler Wright (AUS), Stephanie Gilmore (AUS), India Robinson (AUS)