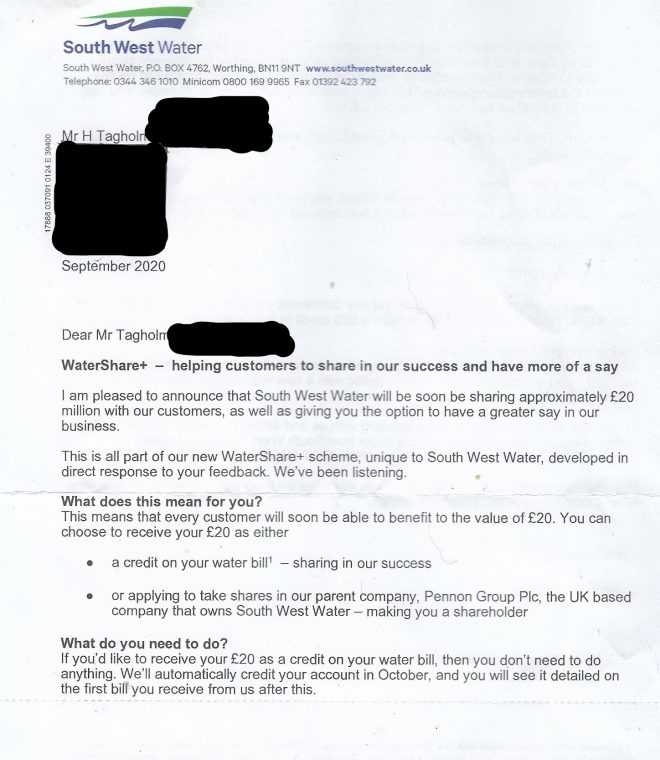 Have you had this letter? Read on…
Fed up with SWW polluting your local? Well here's your chance to get even and end sewage pollution… from the inside.
If there is one thing listed companies hate it is shareholder action. Back in the 90's SAS bought shares in SWW and turned up at the AGM with other shareholders. The SWW PR freaked out called in the riot police and dogs, then SAS reps arrived in a BMW wearing suits and ties and handed him a bag of sanitary towels and condoms collected from Porthtowan. He literally lost his shit in front of camera. It was class, and went down as one of the first and most innovative action in environmental actions of the time.
Anyway SAS are now planning an exciting new campaign action to influence South West Water from the inside. If you in the SWW area you need to do this…
"As part of a new scheme, South West Water (SWW) have announced they are providing their customers with the opportunity to hold shares in their business. SWW supposedly 'outperformed' its last business plan providing them with an excess of £20 million. The water firm plan to share this bonus with their customers, who can either choose to receive a cash sum of £20 or register to become a shareholder FOR FREE.
"When you become a shareholder of a business or company you are able to participate and benefit from its future growth. As a SWW customer shareholder, you will have the opportunity to meet with SWW regularly and attend the Customer Annual General Meeting. This means you are able to have more of a say in how the business is run and use your voice to influence change from the inside."
Have your say on stage pollution…. YES PLEASE!
Why register for FREE shares?
If you are South West Water customer and you have received this letter (photographed below), this is a unique opportunity to use your voice and help #endsewagepollution in the South West. Here are a few reasons why you should take up the offer to register for your FREE share:
You can be a powerful voice and make yourself heard from the 'inside'
You will be able to attend meetings to ask questions about SWW business plans –Surfers Against Sewage will support you with that
You can hold SWW to account for their polluting ways and demand they work to end sewage pollution in the UK
We will work together, as customers and ocean activists, to demand action on important environmental actions
You have the opportunity to ensure the voice of the ocean is heard within the conference rooms of a polluting industry
How to register for your shares?
If you are a South West Water customer and you want to be part of the movement to #EndSewagePollution from the inside, here's what you need to do:
Register for your FREE share by October 9th 2020 by visiting href="https://watershare.signalshares.com/welcome">https://watershare.signalshares.com/welcome
You will need your customer number and access code provided on your SWW letter
Let SAS know if you take up your shares and we'll be in touch to outline the next steps for this important campaign action – send confirmation to [email protected]
If you want to find out more about how South West Water is polluting the ocean and rivers take a look at the 2019 Water Quality Report >>> https://www.sas.org.uk/wp-content/uploads/SAS_2019_Water_Quality_Report_Digital-1.pdf