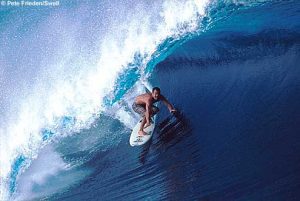 Derek Ho, Pipe. Photo: Pete Frieden
Derek Ho has died aged 55. Hawaii's first-ever men's world champion, 4 time Triple Crown winner, twice Pipe Master was admitted to hospital with a suspected heart attack slipped into a coma and passed away last night. Thoughts are with the family and friend at this time.
Derek was still charging, known as Uncle D won the World Title in 1993, the Pipe Masters in 1986 and 1993, and the Triple Crown in 1984, 1986, 1988, and 1990.  He appeared classic videos, such Wave Warriors, Surfers: The Movie and many more.