[metaslider id=35512]
Update
Surfers for Roofs have been charging ahead to help the families in the surf town of Canoa. They have campsite and the ground will be ready for infrastructure 9 May. Over 75 surfers will join forces to set it all up.
So far they have got 167 tents, 10 boxes of baby formula, 4 water filters. 4 generators, 2 water pumps, 500 blankets, 1000 square meter of thick plástic for the cover of our comunal área, 1 50 kw transformer, 1000 diapers. All this means you have directly affected peoples lives for the better!
They now need cash to buy matresses and linen and help with the building costs – equipment hire etc. You can help by donating a little cash or buy a product for them here.
You can give as much or as little as you like, it all helps and all goes towards helping the families!
http://www.amazon.com/gp/registry/wishlist/XLL6FUTGKU91
SFR have fully teamed up with Madre Tierra, who will build the showers, the bathrooms, the communal kitchen and the communal dining área.
Check the site at www.colectivoculturalmadretierra.com/campamentocanoa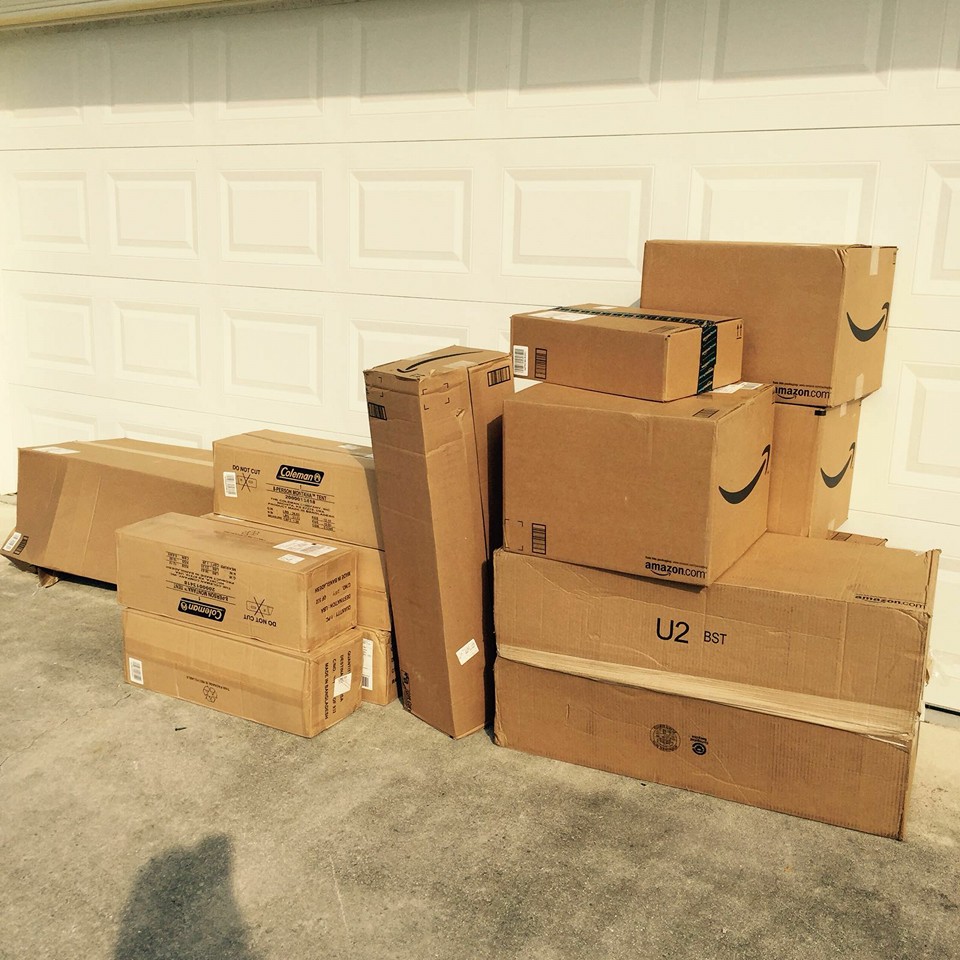 Tents on their way to Ecuador!
The Ecuadorian surf town of Canoa has been devastated.
A bunch of surfers from all over the world are providing valuable aid in the earth quake hit surf town of Canoa, they need your help.
*Please share. Any media reading feel free to take the text
Parts of Ecuador are devasted right now. It's small country with a lot of simple infrastructure, dirt streets in many villages. You probably won't have heard much about it after the initial quake as the mainstream media have much sexier stories to pursue, and Ecuador is a long way from Europe or North America, but it is the worst disaster the country has had in 60 years. The coastal Manabi Province has been the worst his, where about 200 people died.
In the midst of the chaos a bunch of surfers have got together to try and do their bit for the popular coastal town of Canoa. A lot of travellers to South America will know it. As global NGO's and charities send in assessors the surfers have already raised thousands in aid, are buying tents, have acquired some land for the rehousing of victims.
Part of the group is Eddie Salazar, a former Ecuadorian surfing champion, who surf guides in the Ecuador and the Galapagos for a living. Right now he is asking for donations to buy 200 tents. They have the land and equipment all sorted already. You can make a difference by pledging or sending a small bit of coin to the address below. If everyone on here donated a pound/euro /dollar we would surpass the target ten fold. They have raised over half the amount needed in a two days.
In essence you will be directly responsible for putting a roof over someones head.
For a direct cash donation get in contact with Eddie at [email protected] or directly to the Surfers for a Roof administration office at [email protected] (Gustavo plaza)
The immediate goal is to get family-sized tents and a handful of aid packages sent out within the next week. The group have got an Amazon wishlist going through which you can donate items directly, or send monetary assistance of any amount in the form of an Amazon gift card that will go directly to purchasing the items on the list.
Shelter wishlist:
http://amzn.com/w/XLL6FUTGKU91
SURFERS FOR A ROOF BRIGADE UPDATE
A very generous person that I will mention later on has just donated 100 tents!!! Our 200 tent goal is getting closer!!
The land has been secured (3 hectares) The work will start to make the land ready next Monday but all the goverment machinery is busy with all the debris work, so we will need to pay for the working ours. The machinery will be on site Monday. The land will be ready May 7th. This has been apointed as the date that our camp will start to get its final form. I havent see it yet, but I will on sathurday. I heard it is amazing location. I will post some pictures.
We got 4 generators, we still need 4 more.
We got 2 20 feet containers. Once for tool storage and one will be used for a comunal kitchen
We got the tools for the construction of the septic tanks and the kitchen
We got a fully skilled team of Ecuadoreans and Americans that will build the toilets, showers and kitchen. They are joining us from the group called "Madre Tierra"
We got a group of 30 surfers volunteers from all over the contry coming to help to set up the camp
We got a team of doctors and psychologist that will be on site the first 2 weeks of the camp…they will stay longer if needed (volunteers)
We got our spirits very high!!
We need: 2 water pumps (fuel) small ones
We need: pipes, cables, 2 Eectricity transformes, light bulbs, etc
We need: a metal industrial kitchen, metal tables for the kitchen, metal fridges, metal frezzers, cooking items (pots, pans, etc)
We need: linnen, pillows, matresses (shelter box got directed to a different location), etc
We need: material to build the kitchen, showers
WE NEED CASH!!!