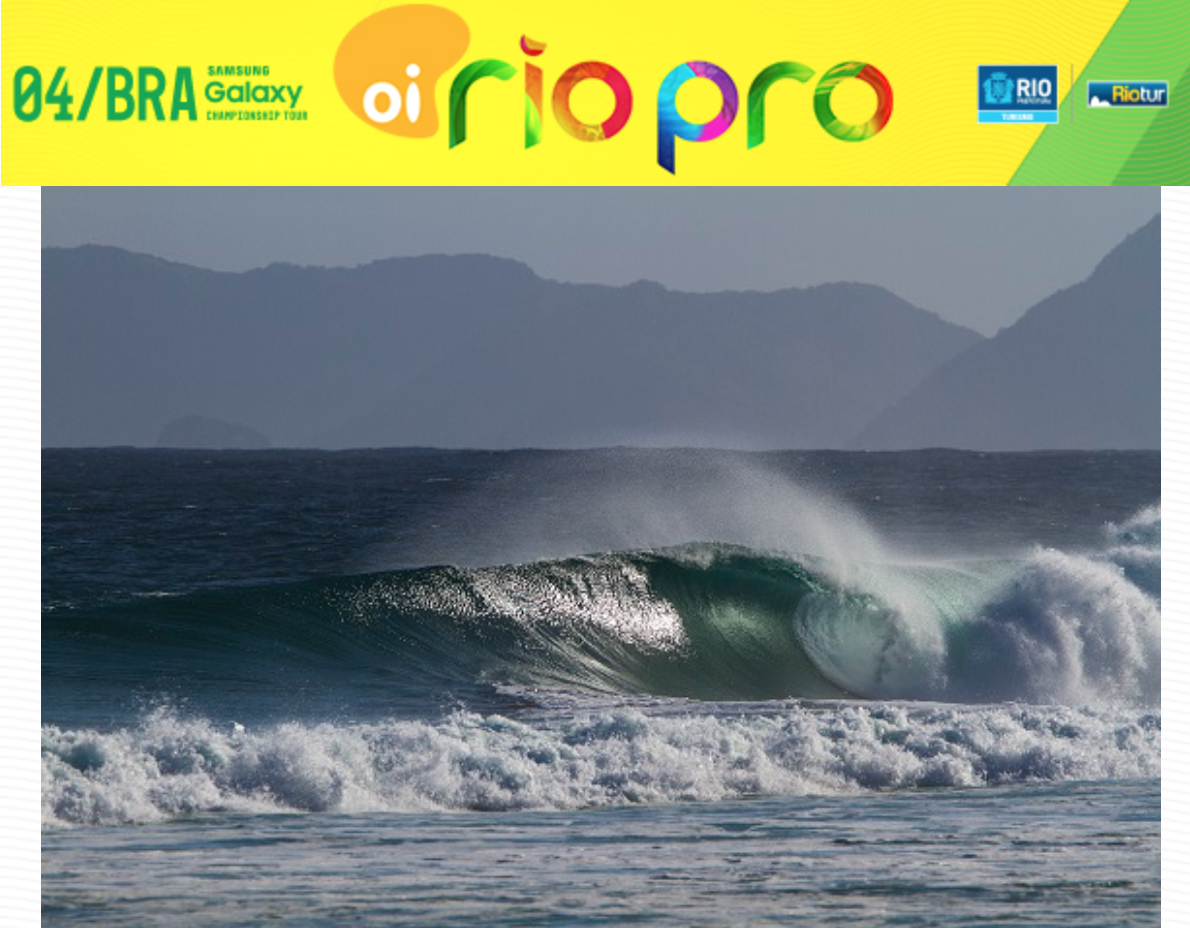 The World Surf League (WSL) and Oi today announced the Brazilian telecommunication giant's title sponsorship of the elite WSL Championship Tour (CT) event in Rio de Janeiro from May 11 – 22, 2015. This multi-dimensional partnership will see the largest telecommunications company in South America align with the world's best surfers at the sole elite tour event in Brazil, tapping into the unparalleled adventure, competitive drama and athleticism of surfing's greatest stage.
The Oi Rio Pro begins next week and with the Australian leg of CT now complete the world title race is focused on Brazil as the WSL Top 34 and Top 17 prepare to compete in Rio de Janeiro. A staple on the elite CT for several years, this year's Brazilian event not only boasts a home country status from the rising power within the surfing world but offers a festival platform for an array of partnership activations in its Rio de Janeiro site.
"The past several years have seen the rise of the 'Brazilian Storm' phenomenon within the world of professional surfing," Paul Speaker, WSL CEO, said. "The crowning of their maiden world champion in Gabriel Medina, the current frontrunner of Adriano de Souza, the electric surfing of Silvana Lima and the rest of the Brazilian surfers on tour. There's never before been a more exciting time for Brazilian surfing. There's never been a more exciting time for professional surfing worldwide. It is with great enthusiasm that we announce Oi as the title sponsor of the Championship Tour event in Rio de Janeiro."
Reigning WSL Champion Gabriel Medina (BRA) will make his first competitive appearance in Brazil since winning his maiden world title and will take on Freddy Patacchia Jr. (HAW) and injury replacement Alejo Muniz (BRA) in Round 1.
Current ratings leader Adriano de Souza (BRA) comes into the event wearing the Jeep leader jersey after a fantastic run of form through the Australian leg, including a third-place finish in Snapper Rocks, a runner-up result at Bells Beach and a win in Margaret River. De Souza matches up against Kai Otton (AUS) and one of the wildcards.
Filipe Toledo (BRA), fresh from victory at the WSL Qualifying Series (QS) 10000 event in Lower Trestles, California, enters the contest in third place on CT rankings after his maiden elite tour victory on Australia's Gold Coast at the start of this season. Toledo will match-up against last year's runner-up Kolohe Andino (USA) and Adam Melling (AUS) in the opening round of competition.
David do Carmo (BRA) has been selected as one of two wildcards to compete in the men's event. The second will be awarded to the highest ranked non-CT surfer on the QS, which will be determined on completion of the upcoming QS10000, the Quiksilver Pro Saquarema.
Defending event winner Michel Bourez (PYF) will not be competing in the event due to a broken hand vertebra suffered while freesurfing Teahupo'o earlier this week. Alejo Muniz (BRA), who is currently leading the QS rankings, has been chosen as the injury replacement.
On the women's side two-time World Champion Carissa Moore (HAW) and 2011 event winner has been on dominant form so far this year with two back-to-back wins at the opening two events of the season, followed by a runner-up finish in Western Australia. Wearing the Jeep leader jersey, Moore will take on Dimity Stoyle (AUS) and wildcard Luana Coutinho (BRA).
Defending event winner Sally Fitzgibbons (AUS) is looking for a return to form in Rio, keen to defend her title and move back up the rankings from her current fifth place. She will battle Johanne Defay (FRA) and Laura Enever (AUS) in Round 1.
Reigning six-time WSL Champion Stephanie Gilmore (AUS) has withdrawn from the competition due to a knee injury sustained during a freesurf in Margaret River last month. Replacement surfer Keely Andrew (AUS) will compete in her place.
The Oi Rio Pro holds a competitive from Monday, May 11, until Friday, May 22 and will be webcast live on WorldSurfLeague.com
The world's best surfing will also be broadcast LIVE on Fox Sports in Australia, MCS Extreme in France, EDGE Sports in China, South Korea, Malaysia and other territories and on Globo TV in Brazil.
Oi Rio Men's Pro Round 1 Match-Ups:
Heat 1: Taj Burrow (AUS), Jeremy Flores (FRA), Brett Simpson (USA)
Heat 2: Kelly Slater (USA), Adrian Buchan (AUS), Ricardo Christie (NZL)
Heat 3: John John Florence (HAW), Wiggolly Dantas (BRA), C.J. Hobgood (USA)
Heat 4: Gabriel Medina (BRA), Freddy Patacchia Jr. (HAW), Alejo Muniz (BRA)
Heat 5: Mick Fanning (AUS), Italo Ferreira (BRA), TBD
Heat 6: Adriano de Souza (BRA), Kai Otton (AUS), TBD
Heat 7: Josh Kerr (AUS), Jadson Andre (BRA), Dusty Payne (HAW)
Heat 8: Jordy Smith (AFR), Sebastian Zietz (HAW), Keanu Asing (HAW)
Heat 9: Nat Young (USA), Bede Durbidge (AUS), Glenn Hall (IRL)
Heat 10: Filipe Toledo (BRA), Kolohe Andino (USA), Adam Melling (AUS)
Heat 11: Julian Wilson (AUS), Miguel Pupo (BRA), Matt Banting (AUS)
Heat 12: Joel Parkinson (AUS), Owen Wright (AUS), Matt Wilkinson (AUS)
Oreo pic: Wikipedia Commons