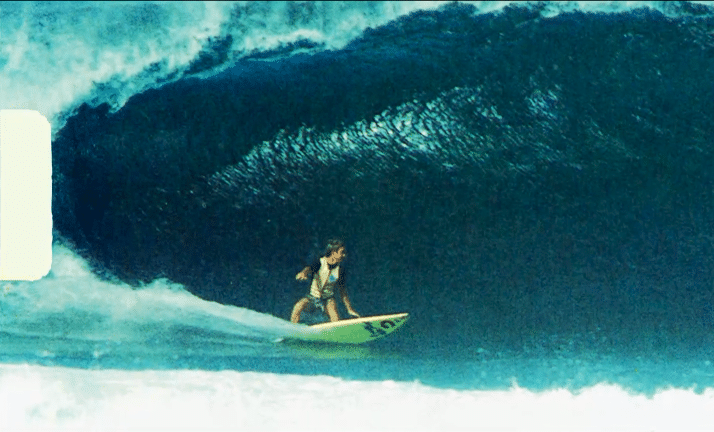 Carwyn Williams, repping Swansea, Wales, and the underdogs at Pipeline, Hawaii.
Much loved and respected by surfers world wide he was living in a car under a tree when he was 'adopted' by the Black Shorts. (Mahalo!) Just one of the classic Carwyn tales.
Tonight marks the launch of a new documentary for BBC Wales – Carwyn Williams – Legends of Welsh Sport. It is a story that should be celebrated by every Welsh surfer and inspire all surfers from outside the big surfing powerhouses of Australia, Brazil and the US that even if you have shitty waves, with talent and determination you can achieve. But perhaps the biggest lesson is to be learned from his comeback from a 'surf career stopping' accident to placing second in Europe.
Gareth Rees, fellow Welsh surfer and Managing Director of Welsh TV production company Nimble, has been trying to tell his story for years. Tonight it airs on BBC Wales and BBC IPlayer at 10.40. Steve England caught up with him to find out more.
For those who don't know Carwyn came from Langland Wales, at a time when most the surfing world thought England was Britain and, well most had never heard of Wales really. Carwyn had a dream of making the world tour, and off he went first shredding the British circuit and then the European circuit. In-between he lived in car parked under a tree on the North Shore where he was adopted by the 'black shorts' who ran the joint, and truly repped Wales at breaks around the world where his talent and character shone. He featured in many top surf movies of the day until a horrific car crash stopped him mid flow. He then came back from a horrendous knee injury that doctors said would end his surfing career to once again rip and finished second in Europe.
He is a legend, and personally at the time when they said he'd never surf again, I knew he'd prove them wrong… because nothing was ever going hold him back from chasing his dream.
SE: How long have you been trying to get your Carwyn documentary off the ground. Must be ten years now?
Gareth: I shot my first Carwyn doc in 1996 when he was on the European tour for the first time since his injury and came second. The crew spent six months off and on following him on the tour and interviewing surfers about him. I knew of Carwyn from my days in the Gower, but I didn't know him, only his reputation in and out of the water. I was so impressed by the respect everyone had from him. We interviewed Kelly Slater, Ross Clarke Jones, Robbie Page and loads more and they all had great stories!
Twenty-five years on and we had an opportunity with our new company Nimble Productions to do it again, this time for BBC Wales. It's a different type of film, more reflective on a life very much played for keeps. Carwyn hasn't changed. Ok, maybe a bit older and surfs less, but the zest for life is still there and the respect of his peers is as strong as ever. He tells of his height such as beating Damian Hardman, the world No1, as a wildcard in the Hossegor Pro, and the lows, snapping his leg in a terrible car accident and hitting rock bottom in a Swansea hospital. His fight back is inspirational and now the chilled out older Carwyn has a lot of wisdom to pass on. It's a classic 'local boy done good' story.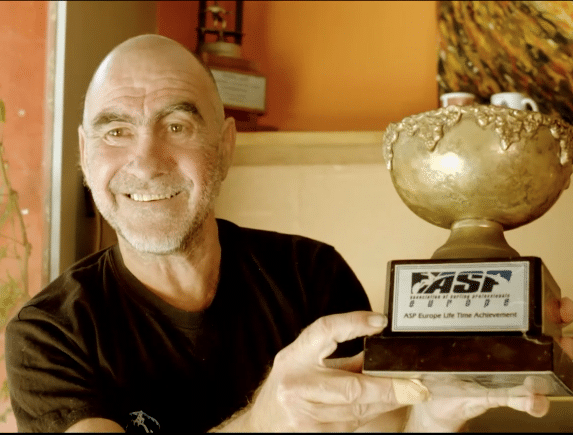 ASP Lifetime Achievement Award.
Why did you want to do it so badly?
Carwyn epitomises to me a heyday of surfing that has probably now been lost. Free spirited adventures chasing waves without a care about tomorrow.
What is your favourite story/most surprising fact you found out while making it?

There are so many Carwyn stories of talent in the water and especially out of it. It's what people say about Carwyn that I love. Robbie Page said in an interview about Carwyn 'He'd give you his last piece of bread, as long as you smiled whilst you ate it'
What can young Welsh surfers, or indeed sports people, learn from his story. I think he kind of chased and captured his dream for the most part.
Carwyn has a wonderful philosophy of life. I think young sports people should follow his single-minded ambition to become the best. He was blessed with raw talent and didn't squander that talent. If the accident hadn't happened he would have been a top 44 surfer, but his fight back is his real legacy. The strength of mind to not only walk and surf, but to challenge again at the top is remarkable. And he did it all with a smile and a beer in his hand!
Welsh surfing legend Carwyn Williams features on Legend of Welsh Sport tonight 10.40pm on
BBCWales 1 and BBCiPlayer. Watch it.