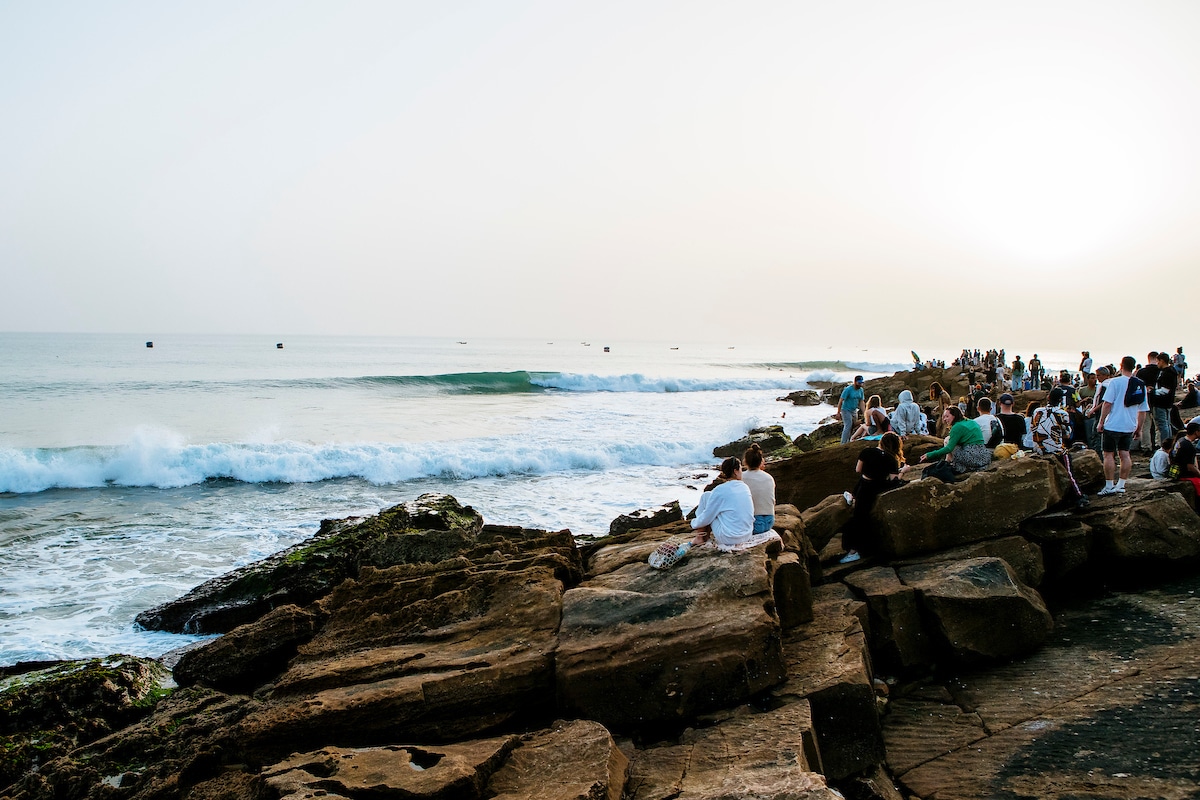 • Men's Round of 128 Launched at Iconic Anchor Point
• Competition Relocates to Backup Location of Anza
• Next Call Today, Monday, February 20, 2023 at 8:15 a.m CET
• Photos WSL/DamienPoullenot
• More Information at WorldSurfLeague.com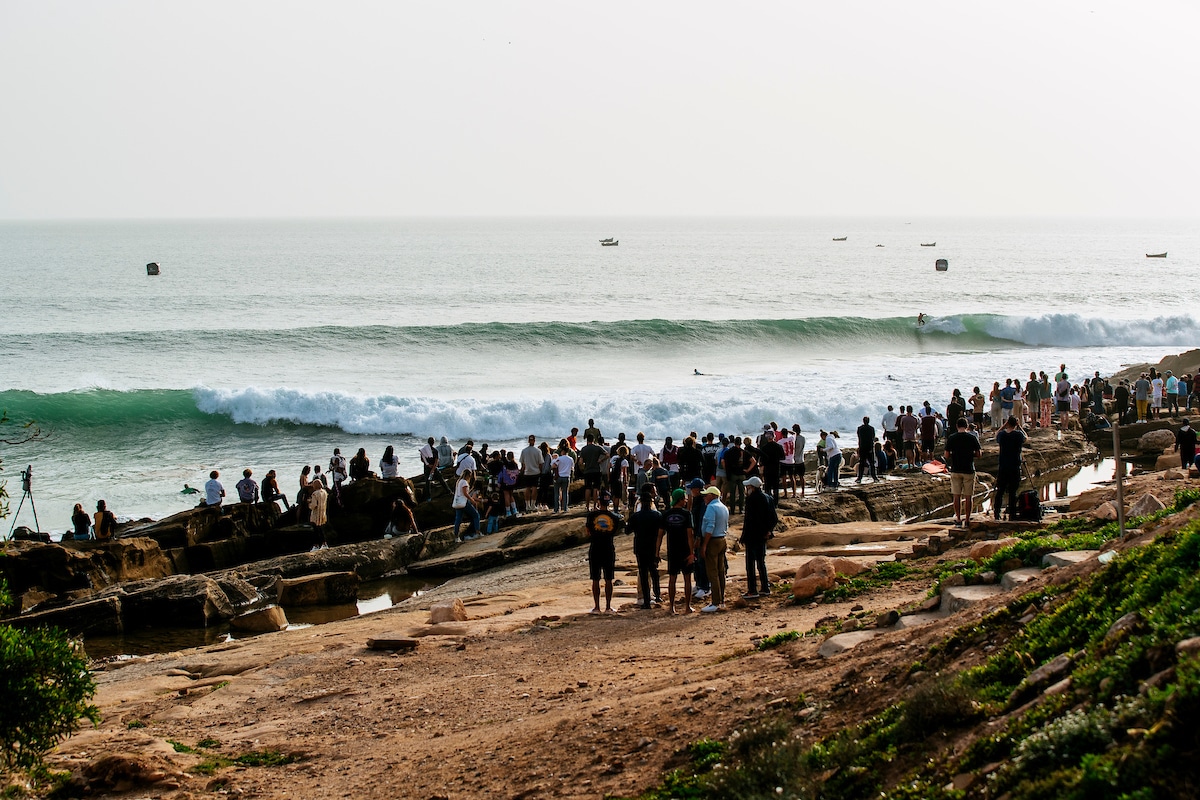 The QS 3,000 Rip Curl Pro Search Taghazout Bay has officially launched with 12 heats of the men's Round of 128 completed today in three-to-four foot surf at the iconic righthand pointbreak of Anchor Point.
Conditions aligned for an early start at low tide this morning and allowed 7 heats to be completed before the waves stopped breaking. After a long pause, the event got back underway on the outgoing tide for an additional 5 heats before the sunset.
France's Enzo Cavallini (below) Drops First Excellent Score of the Event
The light regular foot from Guadeloupe racked up the highest scores of the morning wave, with an excellent 8.17 for his attack of a nice long wall in Heat 6. Here in 2020 for the inaugural edition, Cavallini unfortunately bowed out before having the opportunity to taste Anchor Point in competition. Today he turned that experience into success with an impressive display to advance into the Round of 96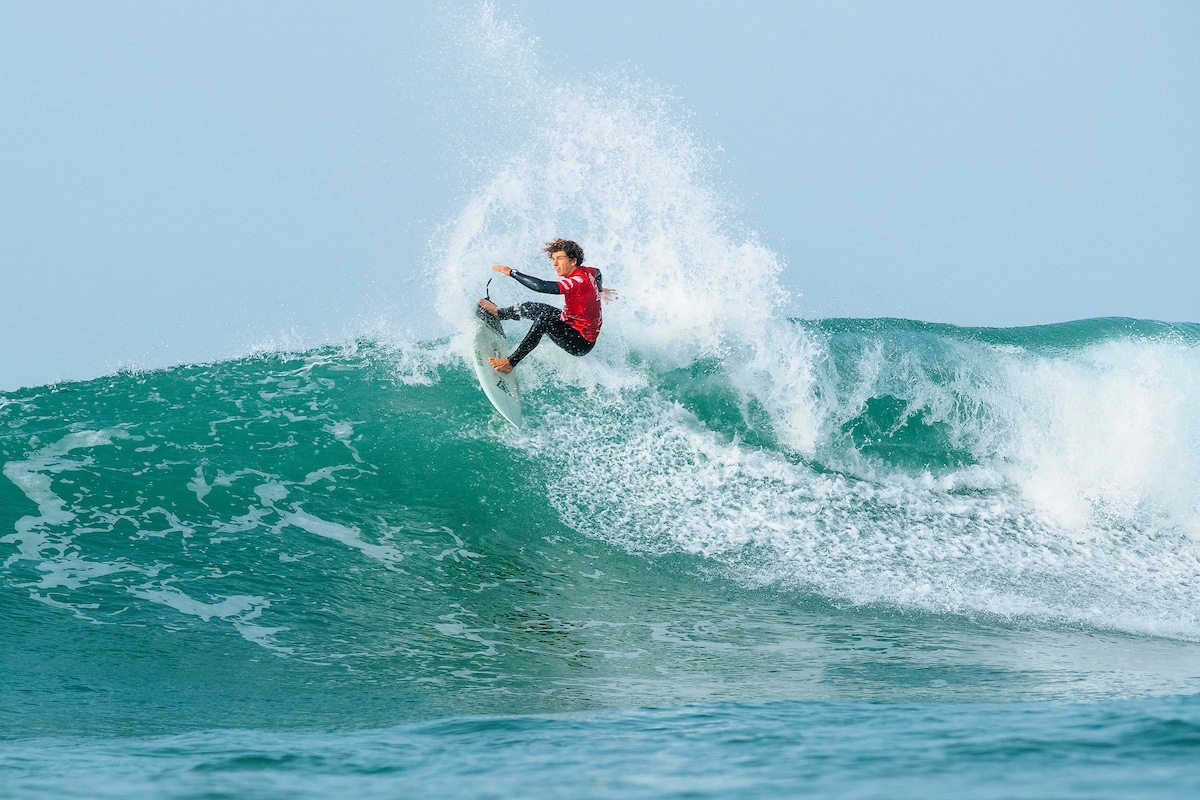 Afternoon Wave Scores Glassy Sets at Anchor Point
When competition got back underway around 5:30 p.m the wind dropped and sets began to riffle down the point for 5 heats to be held in dreamy conditions. Paul Cesar Distinguin (FRA) was first to enjoy the lineup as he set a couple of rights on fire with his deadly backhand. Cherif Fall (SEN) was another standout, claiming the highest single-score of the afternoon with a near-excellent 7.93 and youngster Hans Odriozola (ESP), fresh off a runner-up in yesterday's Rip Curl GromSearch European Final made his Anchor Point debut look like a walk in the park. Morocco's own Chadi Lahrioui (MAR) and Redouane Regragui (MAR) advanced into the Round of 96.
Competition Relocates to Backup Venue of Anza
The size of the swell continued to decrease throughout the day and unfortunately conditions are expected to be too small for competition at Anchor Point in the next few days. Event officials have opted to relocate to the backup venue of Anza, starting tomorrow.
Anza is a quality soft reef located just south of Taghazout, where the event in 2020 ran in perfect conditions before moving to the point. The forecast looks great with light winds and decent swell for the coming days of competition.
The next call will be made at 8:15 a.m CET on Monday, February 20, 2023 at Anza for the remaining heats of the men's Round of 128, and a call at 9:30 a.m for the women's opening round.
The 2023 Rip Curl Pro Pro Search Taghazout Bay is scheduled from February 18-26, 2023, at Anchor Point, Taghazout Bay / Morocco. For all results, photos, video highlights and press releases, log on to worldsurfleague.com.