• Rookie Ian Gentil Posts Highest Scores of the Day
• Brazilians Samuel Pupo, Yago Dora, and Gabriel Medina Dominate the Opening Round
• Current World No. 1 Jack Robinson Narrowly Escapes Elimination Round
• More Available at WorldSurfLeague.com 
The Hurley Pro Sunset Beach, the second stop on the World Surf League (WSL) 2023 Championship Tour (CT), saw the completion of the men's Opening Round 1 and Elimination Round 2 in challenging conditions the North Shore's iconic Sunset Beach. 
Rookie Ian Gentil Posts Highest Scores of the Day
Maui's Ian Gentil (above) was calm and collected in his Elimination Round matchup after his Opening Round loss earlier in the day. Gentil showcased his signature power surfing, opening the heat with a 6.67 (out of possible 10). He then backed it up with a 5.50, putting himself comfortably in the lead over wildcard Keanu Asing (HAW) and Connor O'Leary (AUS). In the last minute of the heat, Gentil cemented his win by attacking a critical inside section and posting the highest score of the day, a 7.67, and earning the highest heat total of the day, a 14.34 (out of a possible 20).
"After the first heat, I went back to the apartment and actually watched the replay of that heat, and felt like I made that one, so maybe they just wanted to see me surf again [laughs]," said Gentil. "But, I had fun and didn't really think too much of this morning, it was a close heat, and I just got back out there. I went a little bit smaller of a board just to deal with the chop and bump, so that was a good change. I'm probably going to be the most comfortable I'll be all year on Tour here in Hawaii, so I'm enjoying it."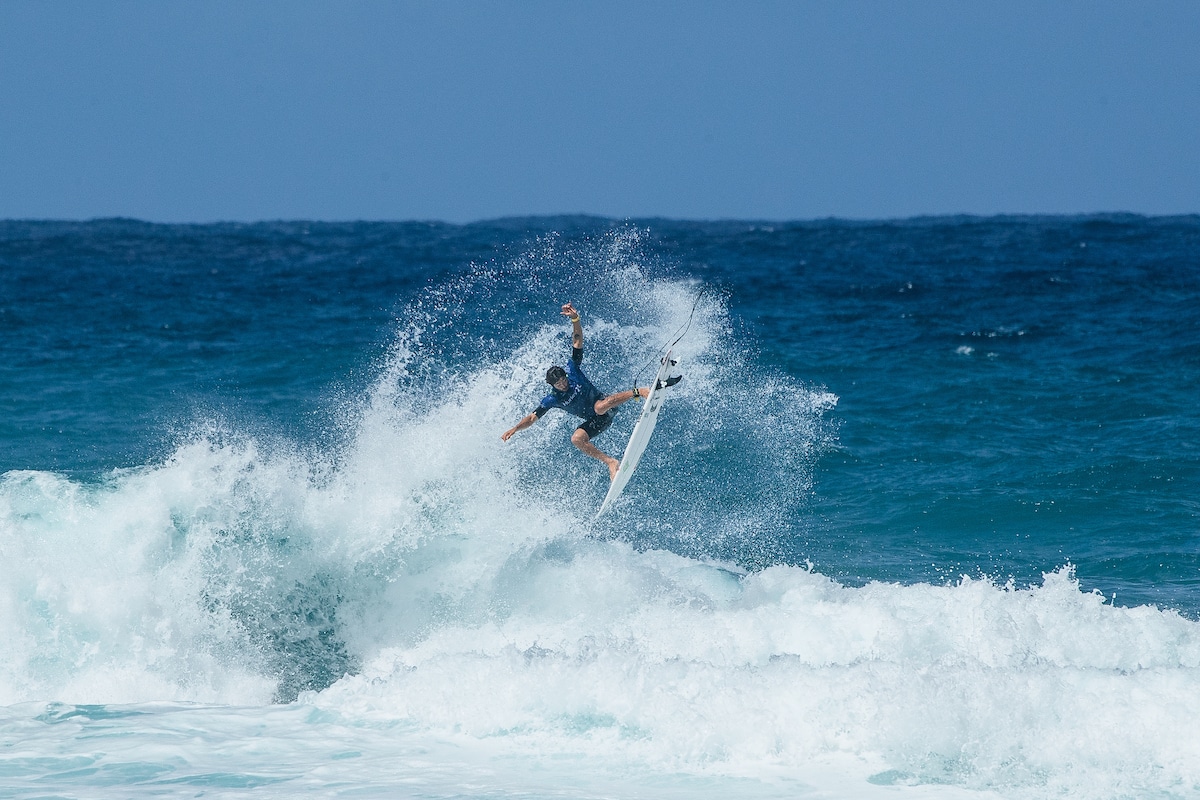 Brazilians Samuel Pupo, Yago Dora (above), and Gabriel Medina Dominate the Opening Round
Brazil's Yago Dora put on a show-stopping performance during the Opening Round in Heat 10. He utilized his explosive backhand to kick off his heat with a commendable 6.17. He then tracked down a left and demonstrated his aerial antics, throwing a frontside rotation to earn a 6.83. Dora ultimately took the heat win, with Callum Robson (AUS) advancing alongside him and Rio Waida being sent to the Elimination Round.
"This morning when I was surfing, I thought to myself, this is Sunset Beach, I have to ride a longer board and go right and do big turns," said Dora. "But looking at it, this doesn't feel like real Sunset Beach. It looks like a beach break out there, and I'm going to approach it like a beach break. But, I'm grateful to be doing the season from the start this year, and I really missed it when I was back home on the couch watching it, so it's amazing."
Tour newcomer and 2022 Rookie of the Year Samuel Pupo (BRA) earned his first CT heat win of 2023 in the opening heat of the day. Pupo commanded the lead for the entirety of the heat, leaving competitors Griffin Colapinto (USA) and Gentil fighting for second place. Colapinto's critical turn under the lip was enough to earn him a 5.50 and take second place over Gentil. Pupo and Colapinto are now hoping to improve on their early Round of 32 losses from last year here at Sunset Beach.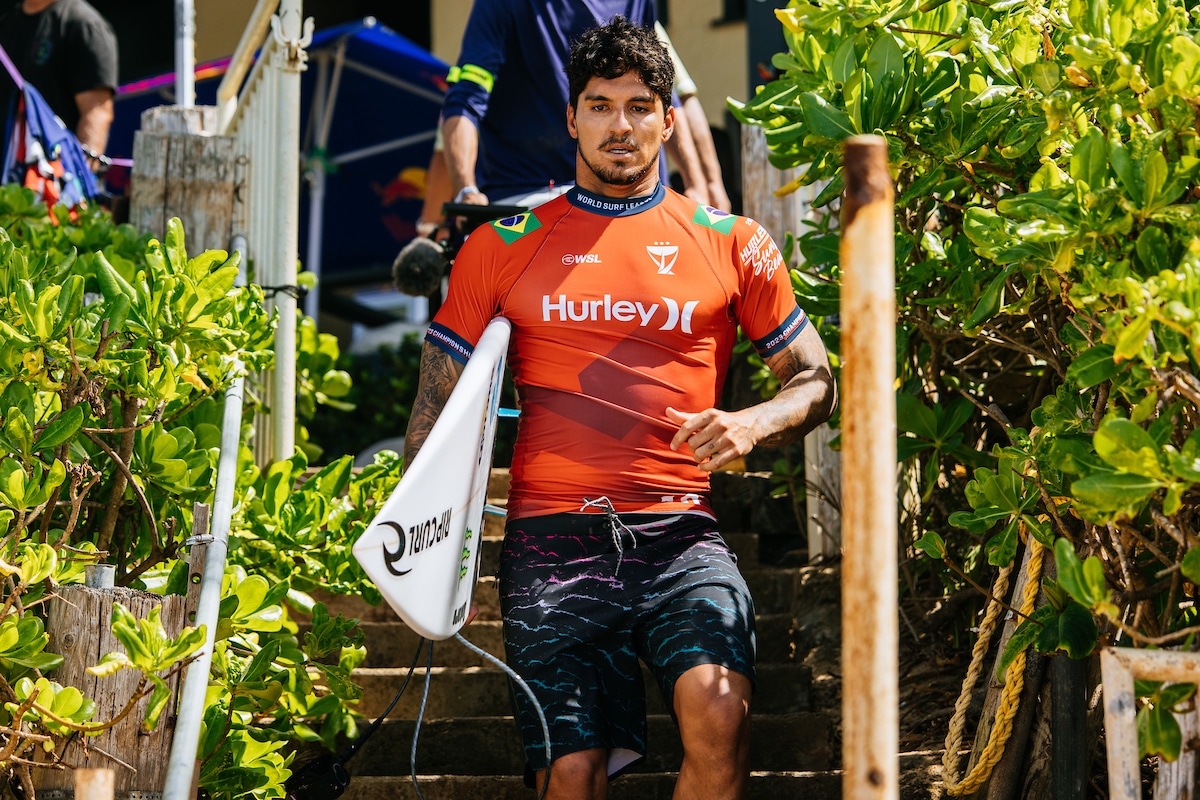 Three-time World Champion Gabriel Medina (BRA, above) started his second event of the season in good form, winning his Opening Round matchup. Medina adapted brilliantly to the conditions, throwing vertical turns, holding his speed, and getting the heat win. Australia's Ryan Callinan was able to maintain his lead over fellow Australian O'Leary by a narrow margin and advance alongside Medina. 
"That was fun, it's not the Sunset Beach we know, but I'm happy to get a heat win and I just tried to catch waves," said Medina. "Billy Kemper is a guy that knows this wave really well, and he told me to just catch waves. I don't spend a lot of time here at Sunset Beach, so I asked him for some tips, and it worked out. Every time I'm in Hawaii, I pretty much use Tokoro surfboards. He's a shaper I really like to use while I'm here, and I definitely feel more comfortable on his boards."
Also notching an important Opening Round win and his milestone 100th CT event appearance was Tour veteran Kolohe Andino (USA). Andino's top-scoring wave was one he found under priority, landing a throw-tail reverse to earn a 6.00. In the last seconds of the matchup, Jordy Smith (RSA) had one more opportunity to overtake Andino but came up short by just half a point. Andino and Smith advanced to the Round of 32, while current World No. 2 Leonardo Fioravanti (ITA) was sent to the Elimination Round. 
After an Opening Round loss, current World No. 1 Jack Robinson (AUS) found himself in unfamiliar territory, surfing for survival in the first Elimination Round. Fellow Australian Baker looked comfortable under pressure and maintained the lead during the slow heat. At the halfway mark, Robinson was still without a score and facing potential elimination. But Robinson finally found his rhythm, earning a 5.67 and taking second place over wildcard Kai Lenny (HAW).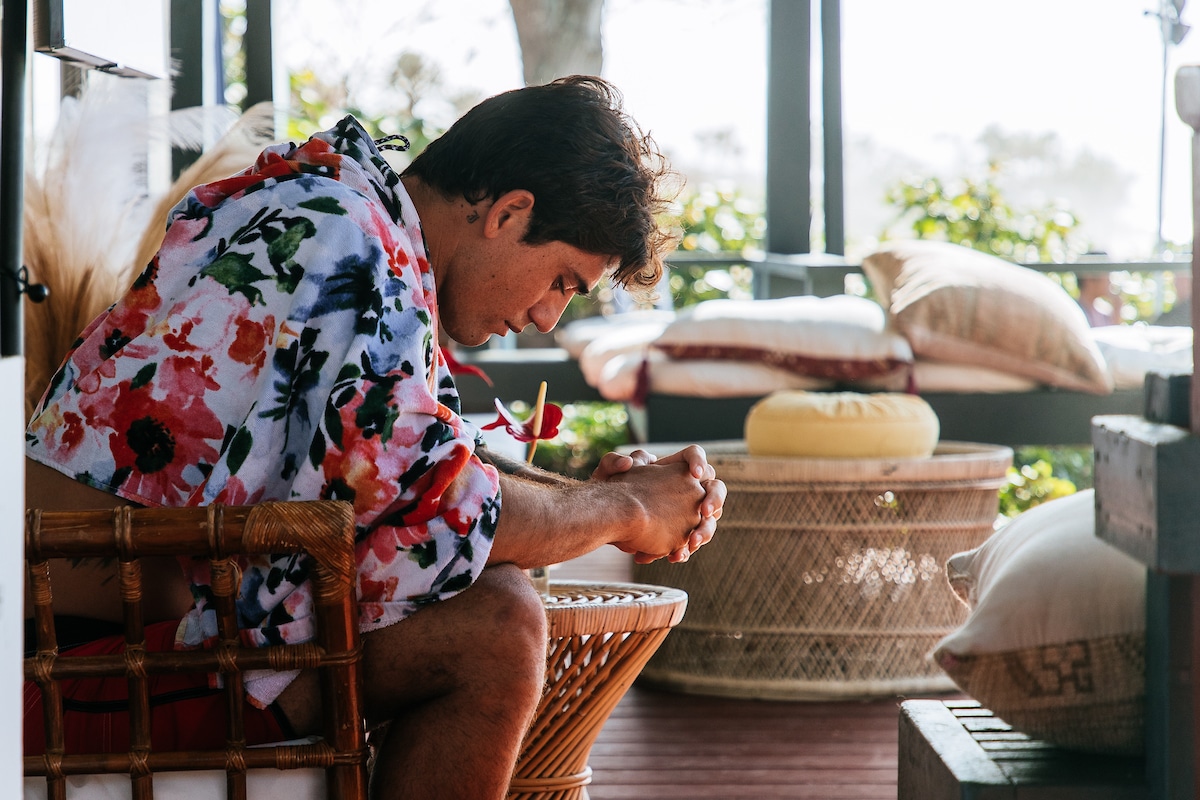 In a shocking finish to Elimination Round, Heat 3 Ezekiel Lau (above) suffered an interference penalty on Waida in the dying seconds of the heat. The interference caused Lau's top score to go to zero, dropping him from first place to third. With the new situation, Fioravanti took the heat win with Waida advancing in second and forcing Lau's elimination.
The day's action concluded with former Rookie of the Year Nat Young (USA) earning an important heat win over Matthew McGillivray (RSA) and Maxime Huscenot (FRA). Young posted a near-perfect 7.50, destroying the lip with his powerful backhand. McGillivray was happy to survive the Elimination Round and improve on his early loss at Pipeline last week, while rookie Huscenot was eliminated.
For more information, please visit WorldSurfLeague.com.
Hurley Pro Sunset Beach Men's Opening Round Results (Heats 9 – 12):
HEAT 9: Samuel Pupo (BRA) 10.66 DEF. Griffin Colapinto (USA) 9.10, Ian Gentil (HAW) 8.76
HEAT 10: Yago Dora (BRA) 13.00 DEF. Callum Robson (AUS) 5.43, Rio Waida (INA) 2.83
HEAT 11: Kolohe Andino (USA) 11.43 DEF. Jordy Smith (RSA) 10.94, Leonardo Fioravanti (ITA) 6.33
HEAT 12: Gabriel Medina (BRA) 11.67 DEF. Ryan Callinan (AUS) 9.87, Connor O'Leary (AUS) 9.33
Hurley Pro Sunset Beach Men's Elimination Round Results:
HEAT 1: Jackson Baker (AUS) 9.77 DEF. Jack Robinson (AUS) 8.50, Kai Lenny (HAW) 8.00
HEAT 2: Ian Gentil (HAW) 14.34 DEF. Keanu Asing (HAW) 8.00, Connor O'Leary (AUS) 5.93
HEAT 3: Leonardo Fioravanti (ITA) 9.87 DEF. Rio Waida (INA) 9.10, Ezekiel Lau (HAW) 5.93
HEAT 4: Nat Young (USA) 11.40 DEF. Matthew McGillivray (RSA) 9.63, Maxime Huscenot (FRA) 4.50
Hurley Pro Sunset Beach Men's Round of 32 Matchups:
HEAT 1: Jack Robinson (AUS) vs. Carlos Munoz (CRC)
HEAT 2: Samuel Pupo (BRA) vs. Leonardo Fioravanti (ITA)
HEAT 3: John John Florence (HAW) vs. Ian Gentil (HAW)
HEAT 4: Callum Robson (AUS) vs. Nat Young (USA)
HEAT 5: Ethan Ewing (AUS) vs. Keanu Asing (HAW)
HEAT 6: Kelly Slater (USA) vs. Jake Marshall (USA)
HEAT 7: Gabriel Medina (BRA) vs. Rio Waida (INA)
HEAT 8: Griffin Colapinto (USA) vs. Liam O'Brien (AUS)
HEAT 9: Filipe Toledo (BRA) vs. Eli Hanneman (HAW)
HEAT 10: Barron Mamiya (HAW) vs. Seth Moniz (HAW)
HEAT 11: Miguel Pupo (BRA) vs. Kolohe Andino (USA)
HEAT 12: Caio Ibelli (BRA) vs. Ryan Callinan (AUS)
HEAT 13: Italo Ferreira (BRA) vs. Michael Rodrigues (BRA)
HEAT 14: Yago Dora (BRA) vs. Joao Chianca (BRA)
HEAT 15: Jordy Smith (RSA) vs. Matthew McGillivray (RSA)
HEAT 16: Kanoa Igarashi (JPN) vs. Jackson Baker (AUS)
Hurley Pro Sunset Beach Women's Round of 16 Matchups:
HEAT 1: Brisa Hennessy (CRC) vs. Sally Fitzgibbons (AUS)
HEAT 2: Molly Picklum (AUS) vs. Isabella Nichols (AUS)
HEAT 3: Stephanie Gilmore (AUS) vs. Zoe McDougall (HAW)
HEAT 4: Tyler Wright (AUS) vs. Macy Callaghan (AUS)
HEAT 5: Carissa Moore (HAW) vs. Luana Silva (BRA)
HEAT 6: Lakey Peterson (USA) vs. Gabriela Bryan (HAW)
HEAT 7: Tatiana Weston-Webb (BRA) vs. Caitlin Simmers (USA)
HEAT 8: Bettylou Sakura Johnson (HAW) vs. Caroline Marks (USA)