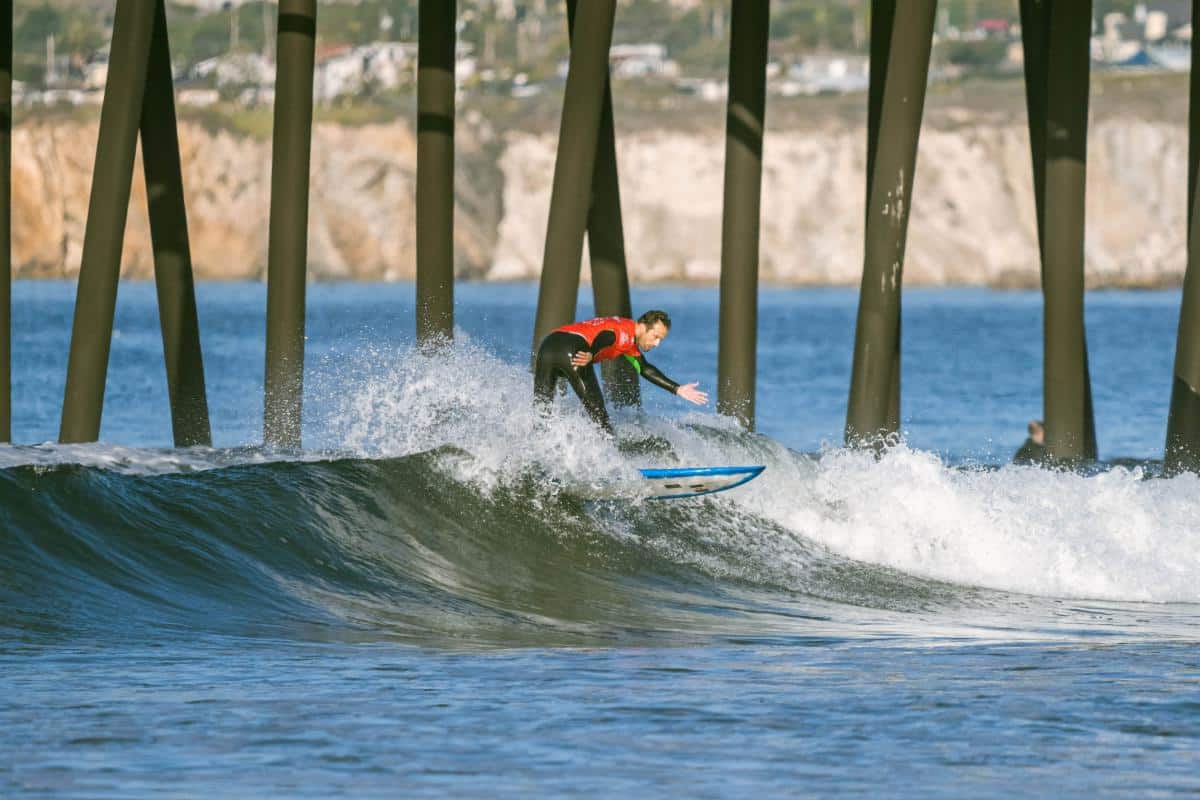 Philippe Naud, Team France Photo: ISA / Jersson Barboza
A full day of clean and small conditions proved to be both exciting and challenging as day four of the 2022 Pismo Beach ISA World Para Surfing Championships Hosted by AmpSurf delivered the drama.
With defending champion Jose Martinez (USA) already out of the mix, the Men's Prone 2 Quarterfinals promised to be interesting. The near elimination in Heat 1 of 2016 gold medalist Davi Teixeira (BRA) was highly unexpected after his performances earlier in the week and in Heat 3 two other former gold medalists, Freddy Marimon (COL) and Jesse Billauer (USA), were eliminated despite a near buzzer beater from Billauer.
Advancing ahead of them are long-time gold medal hopefuls Tomoki Fujihara(JPN), Claudio Morales (CHI) and Matthew Vanderhoogth (CRC), along with newer competitors Lee Ferrier (AUS) and Eric Lazar (HAW)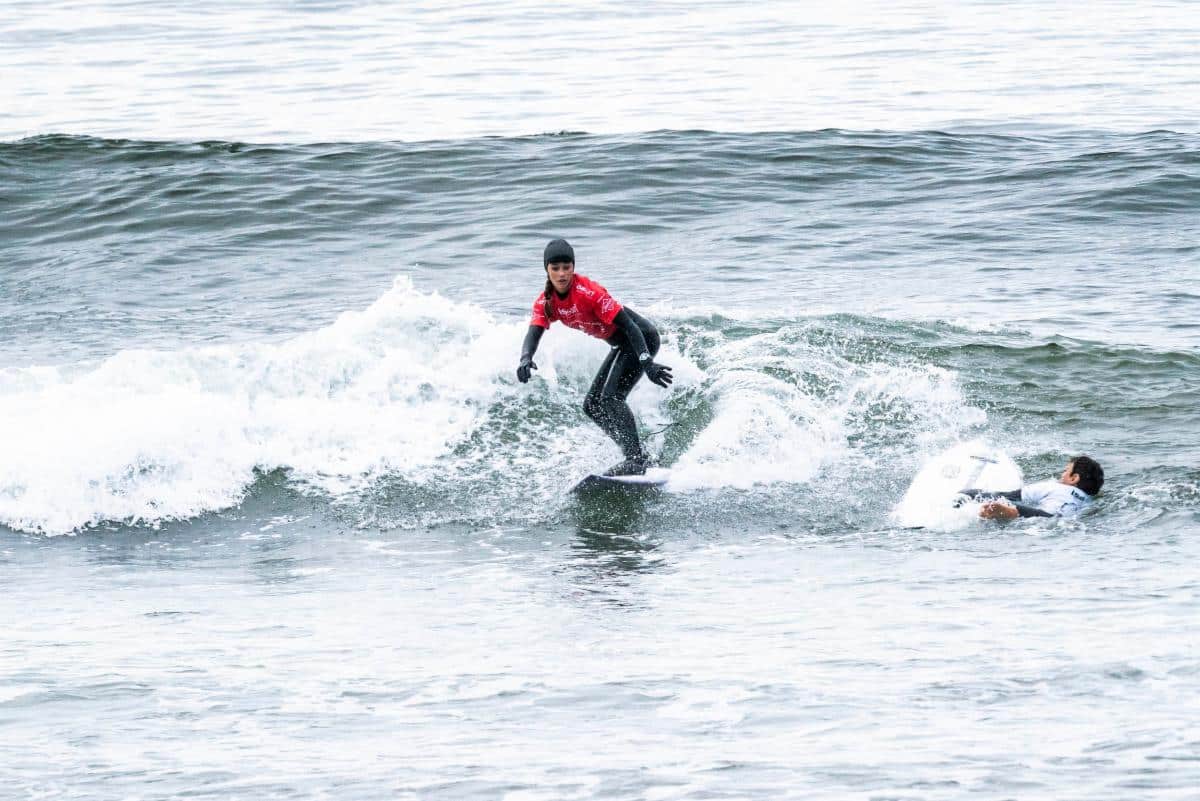 Aleli Medina, Team Puerto Rico. Photo: ISA / Sean Evans
Defending champions Elias Figue Diel (BRA) and Felipe Kizu Lima (BRA) held firm atop their divisions, while Mark 'Mono' Stewart (AUS) found redemption in Men's Kneel Round 2, jumping all the way to the top of the leaderboard after a shocking Round 1 heat on day one left him at the bottom of the rankings.
Jimena Ruíz (CRC) was one of two Costa Ricans who won the first Para Surfing gold medals for their nation in 2021. The 16-year-old is in a prime position to repeat that performance in 2022, topping the Women's Stand 2 leaderboard with a 17.93 heat total. That number beats the record set yesterday by Emma Dieters (AUS) for the new highest heat total in women's ISA Para Surfing history.
"With that score I've made it to the Final and that makes me happy," Ruiz said. "I'll be scoring points for my team and will hopefully win the gold medal."
38-year-old Philippe Naud (FRA) is no stranger to the podium, winning both silver and bronze medals in previous events. This year he sits atop the rankings heading into the Final after scoring the highest single wave of the event, a near-perfect 9.90 for a massive two-turn combo on his backhand.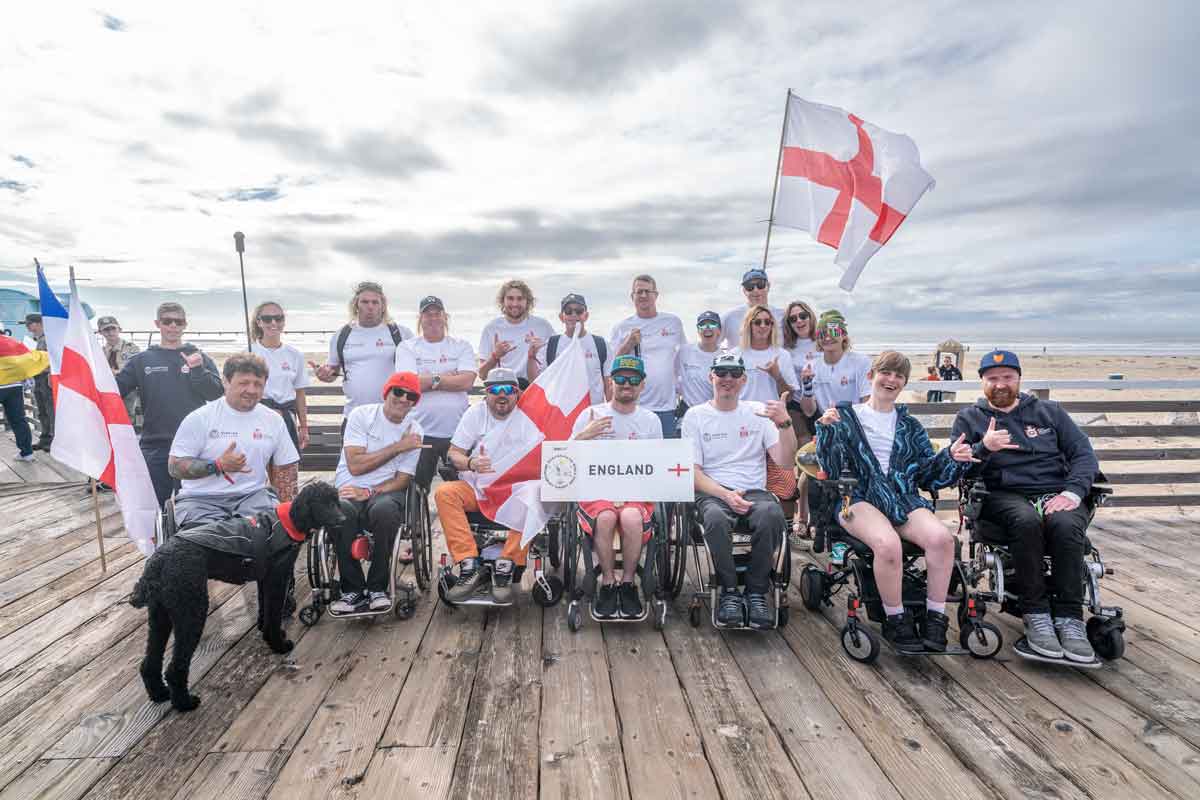 Team England, Including Melissa Reid (ENG) one of two women in contention to win their fourth gold medals this week Photo: ISA / Sean Evans
"I've been surfing for 20 years and coming to this contest for 5 years now," Naud said. "I'm so happy to see that the level is growing higher and higher every year."
Defending Women's Prone 1 champion Sarah Bettencourt (USA) also couldn't be more happy to see new faces excelling.
"It's really exciting," Bettencourt said. "There's so many new athletes coming out here representing their nation and taking it to the next level and that's what this is about."
"I'm really looking forward to what the future holds, especially as we go into the Paralympics. We all want it, but I really want it. And if someone beats me, even someone from USA, if they take my spot then more power to them because I want the best of the best in the Paralympics when para surfing makes it, because it will make it."
In her first time competing internationally, 13-year-old Aleli Medina (PUR) has shot to the top of the Women's Vision Impairment 2 leaderboard and will challenge three-time gold medalist Melissa Reid (ENG) in the Final, along with former silver medalist Ling Pai (CAN) and Alison Eakin (USA).
"I've been surfing for almost 10 years," Medina said. "I started surfing when I was 3-years-old, my dad showed me. I was in Jobos, my local break, taking waves from the shore. It was really fun. It's a really good experience, I love it so much."
Competition will resume at Pismo Beach Pier with Women's Stand 1, Round 2 at 7am, Friday, December 9 EST.