UK to become the wave pool capital of the world!
Manchester given the green light, wavepool for Deal, Kent in the pipeline..

Manchester
The McKinney Group has been given the green light by planners to build a £60m surfing lagoon in Manchesters TraffordCity. The facility will run a Wavegarden, in the 'Modern Surf' complex complete with café/restaurant terrace, pop-up beach bars, surf shop, and changing facilities.
Managing Director Billy McKinney said: "We're delighted that Trafford Council has approved our proposals for Modern Surf and are very grateful to local residents for the extraordinary level of support we have received. Modern Surf will complement the already excellent leisure based activities in TraffordCity and help to inspire the next generation of surfers and athletes. We hope to create 100 jobs when operational as well as supporting many more during the construction phase.
Meanwhile daarn sarf plans have emerged for a Wave Garden to be created at Betteshanger Country Park, near Deal, in the transformation of a former colliery. The application for the Wave Garden and hotel could be submitted early next year and if approved, construction could start in 2022 and delivery in 2023.
Chief executive of Quinn Estates Mark Quinn said: "We want to create a Wavegarden which is a unique surf facility and experience. There's none in the south east of England and you're only allowed one in each key area and this would be the one for the south east.
"We anticipate that we could be looking at transforming our visitor level numbers from 170,000 a year towards 700,000 a year with the creation of this facility.
"It creates hundreds of jobs and creates a huge amount of opportunity for every type of person to be able to join in and enjoy the benefits of surfing, body boarding, all the things this wave garden allows you to do."
Betteshanger Country Park includes 230 acres of land and is situated on the former Betteshanger Colliery, which was the largest coal mine in Kent and closed in 1989.

Birmingham
The UK currently has Surf Snowdonia and The Wave Bristol, but plans are also going in for Southport, Edinburgh, London, Bournemouth, Milton Keynes and Coleshill near Birmingham meaning there could be 10 facilities by 2024!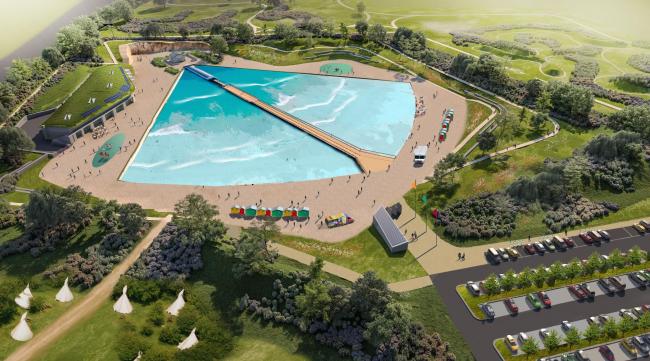 Bournemouth