The waiting period of the first ever Rip Curl WSL Finals starts tonight.
The event will await the best surfing conditions, running over one day, between September 9 – 17 in the new, winner-take-all event to decide the undisputed 2021 World Champions.
"To win the third World Title is my biggest goal,"
said two-time WSL Champion and World No. 1, Gabriel Medina.
"It's amazing to win the title. All the surfers I look up to have won 3 titles, so I really want to do that. I know it's gonna be hard, but I've been training hard, surfing everyday and I just want to make it happen."
"It would be really special to win a World Title in this new format, here in Lower Trestles" said four-time WSL Champion and Olympic gold medalist,Carissa Moore (HAW). "I have four amazing women in the showdown, so I really have to put my head down and work for this one, but if it works out it will be super special."
"It's been a very special year for me," said reigning WSL Champion, Olympic gold medal winner, and World No. 2, Italo Ferreira (BRA). "All these guys here are such a big inspiration to me, and I'm excited to be competing with them for this next challenge of my career."
"It would be an honor to be on that stage with anyone, but with a fellow Brazilian would be even better," said World No. 2, Tatiana Weston-Webb (BRA). "For our country, I think that would be a big statement for a female to dominate all around. It's already happening on the male side with Gabriel, Filipe and Italo. They all inspire me so much, so it would be a big honor to stand aside them on the stage."
The 2021 Rip Curl WSL Finals Format
The top-ranked male and female surfers, Medina and Moore, will have a major advantage over the other WSL Final 5 contenders as they will be seeded directly into the Title Match, a best-of-three showdown to determine the World Champion. The remaining surfers will enter the Rip Curl WSL Finals bracket based on their year-end rankings. The women will be the first to take the water with Match 1 and will alternate with the men for the remainder of the day.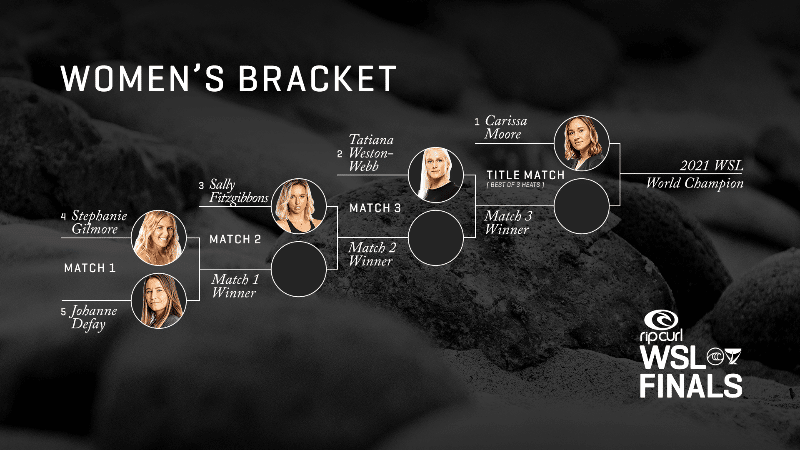 Match 1 will see Johanne Defay (FRA) take on 7X WSL Champion Stephanie Gilmore (AUS), followed by rookie Morgan Cibilic (AUS) and Conner Coffin(USA). Both matches will have a traditional heat format in a head-to-head competition. The winners will advance to Match 2 where they will face world No. 3 on the WSL Leaderboard: Sally Fitzgibbons (AUS) and Filipe Toledo (BRA).
The winner of Match 2 will then face-off against the number two ranked surfers, the Brazilian duo Weston-Webb and Ferreira, in Match 3.. The winners of Match 3 will move on to the best-of-three Title Match, where they will face the World Number 1 Moore and Medina in a head-to-head competition with a traditional heat format. The first surfer to win two out of three heats becomes the undisputed 2021 World Champion.
Thank You To The 2021 Rip Curl WSL Finals Partners
The Rip Curl WSL Finals is proudly supported by Rip Curl, Jeep, Red Bull, Super 73, Shiseido, Oakley, DraftKings, Michelob ULTRA, IKEA, Expedia, Sambazon, Flying Embers, and Waterloo.
As the title partner of the event, Rip Curl will be helping WSL make history by crowning the undisputed world champions in this new one day event format. In partnership with Tilly's, Rip Curl hosted a sweepstakes for a few lucky winners to get an all expenses paid trip to the Finals. Rip Curl will also be running a number of events for the San Clemente community during the event window, including working with Surfrider and WSL PURE on a beach clean up, hosting the Lineup Live, Rip Curl team signings and a live mural painting at the Rip Curl San Clemente retail location, and running surf and mentor sessions with the local boardriders youth club and Bethany Hamilton.