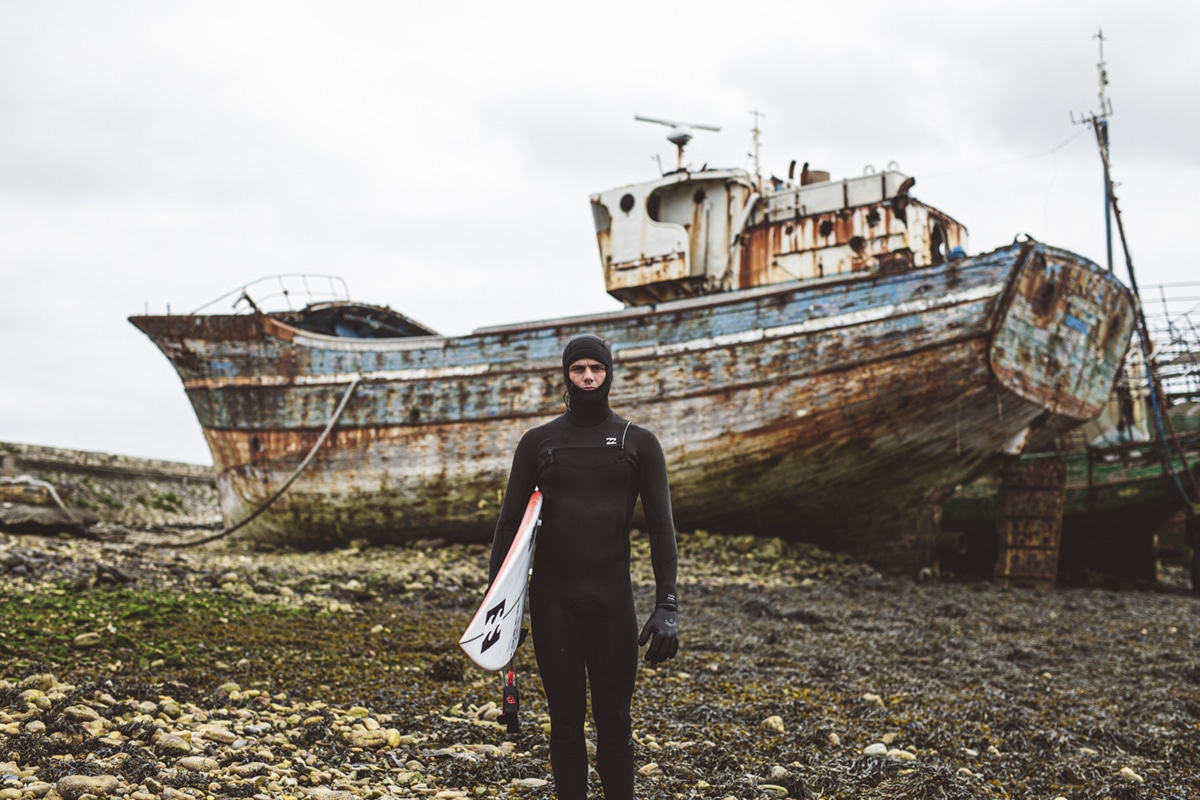 One year, Over 365 days with no surf trip. Months watching our day-to-day slowly changing and seeing that good old 'surf marketing dream job' fall apart… Until I woke-up : let's stop waiting for the end of restrictions and hit the road to get back out there, on the field, paddle-out and sit back out at the line-up.
Words: @outdoorstravelcollective Photos: @bastienbonnarme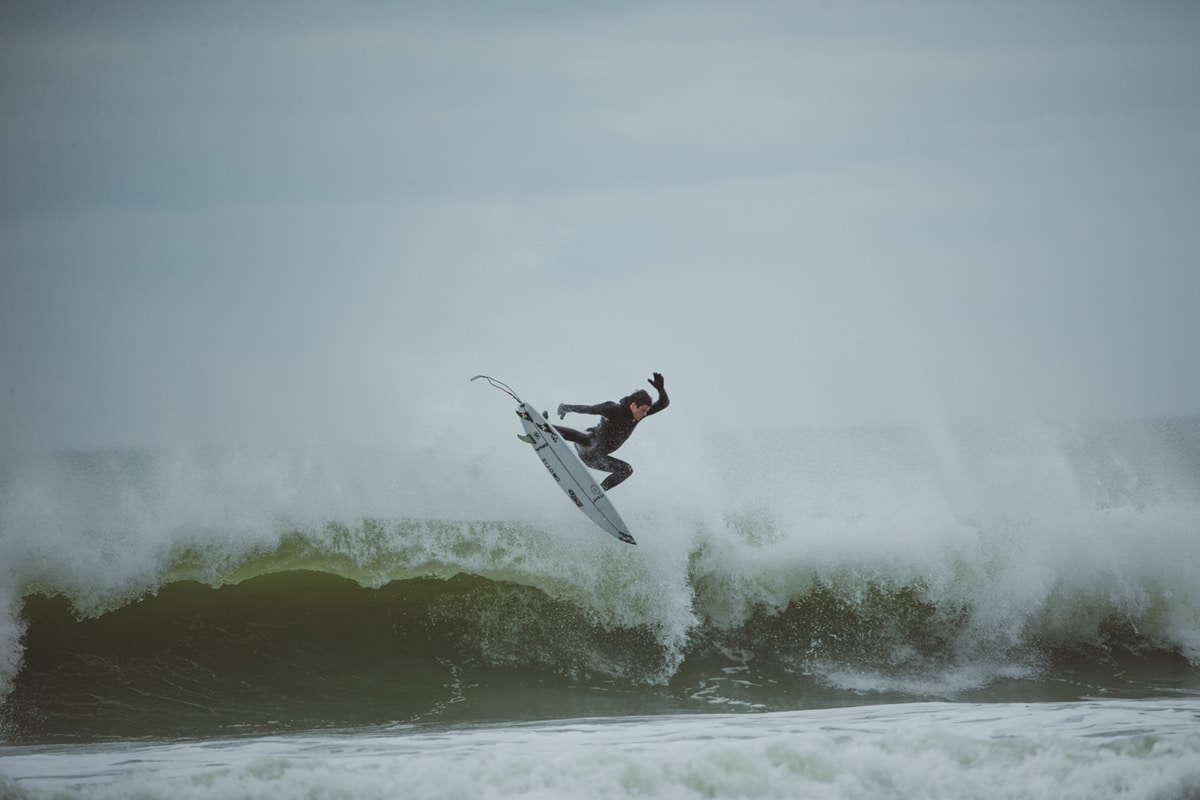 It had been months talking about visiting our French west point buddies of Brittany, months planning, discussing and facing back-to-back CoVid challenges. Lockdowns, curfews… Until that day, 5 AM on this freezing March morning driving the van with photographer Bastien Bonnarme and Billabong team rider Justin Becret. Water housings, cameras, lenses, fins, wetsuits, fresh new products from the upcoming collections, surfboards, backpacks, laptops and smart phones… and naturally the much needed surf boots, gloves and hoods for a complete Britain armour. No cliché.
The Celtic imaginary is strong : from landscapes to vibes, from that never-let-go local people attitude to the mysterious tales from an ancestral coastline, it seems the land of Brittany continues to carry a very special perception. A land of ocean & mariners, of rough weather fronts, magical forrests and sharp rock-bottom peaks, surrounding millenial architecture. Fishermen towns, harbours, colorful boat fleets and massive concrete piers… One could spend hours describing the immense diversity of Brittain's iconic landscapes.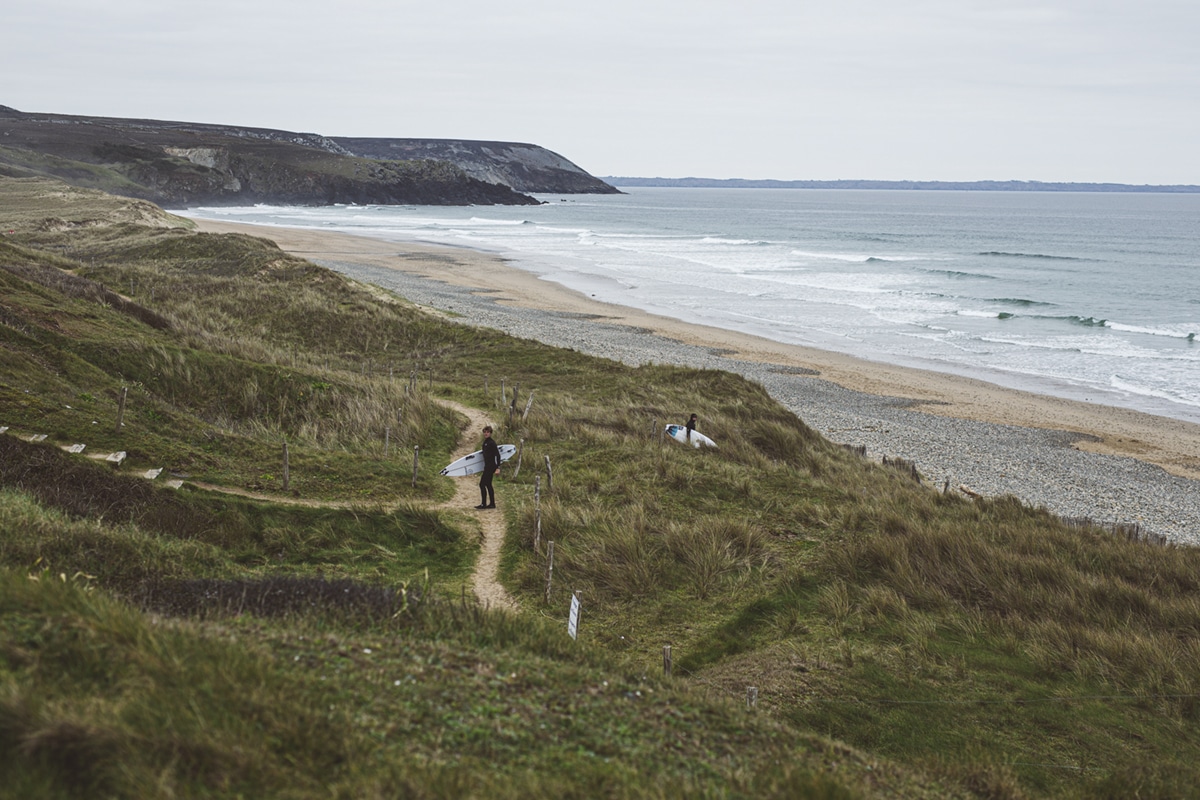 And that diversity actually brings one back to reality quite fast : you need a proper local guide to know what path to follow. After a 10-hour drive, a few highway stops and many opinionated conversations about all that's going in the world in 2021, we reached our destination following our guide's indications, and he's standing there : local legend Ian Fontaine. His tight fisherman's beanie on, a deep blue windbreaker jacket to battle that fresh breeze, and a large smile as a welcome package : Ian was born and raised here, and after an international career travelling the world, he remains 100% anchored in his home land. Making him a pretty special character : open minded & culturally enriched from his trips, thoughtful & eager to discuss any topic, a high-performance surf package that catapulted him to an ISA World No. 4 a few years back, and an unquestionable local anchor : there wasn't one single location Ian wasn't catching-up with several local surfers… With him, local filmer and photographer Gaetan Duque joining the mission to shoot our day-to-day hoping.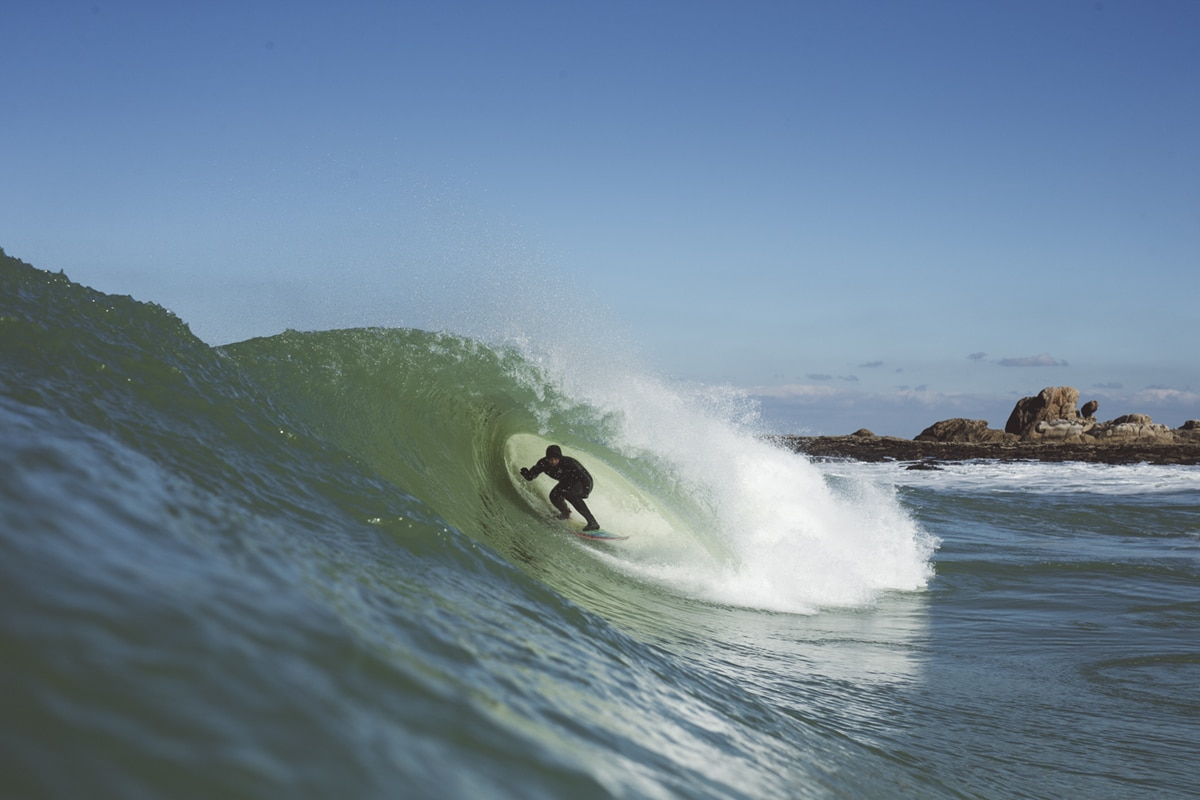 From the famous Pointe du Raz to Crozon island, la Torche, pont-Croix… Stretches of white sand and crystal clear waters, deep-grey stone yards, pine-tree forests and narrow roads in the mist… a series of frames appearing to our eyes hour after hour. Crossing the country side and coastlines from 6AM to 8PM day after day, and slowly enjoying a feeling of elsewhere, a feeling of being away from home into a whole new world ; with that constant excitement of possibly ending-up in front of an empty peak.
The right gear will be your favorite friend, like for any other adventure. Comfortably set-up in a 5/4mm, neoprene gloves to keep those fingers warm and those toes covered in 5mm boots, that Graphene-infused innovation definitely means a lot when you paddle-out in Brittany. Justin's just stoked : beautiful line-ups, and stunning landscape views from the peak… While fishermen are returning from another work-day followed by hundreds of hungry seaguls trying to catch their share of the day's catch, Justin's sitting outside with local heroes Aurelien Buffet, Davo and rising local star 13-year-old Gabriel Abiven.
Every surf carries its own local thing : a tight paddle-out channel, a sea lion swimming down the line, a long walk or a good old carpark filled with camping-vans and tens of surfers watching the line-up coming to life. One crucial weapon on ours ide : Ian's unquestionable knowledge ; but secrets are secrets and Ian will make sure it doesn't come too easy on us… Dealing with wind direction, swell angles, tides and a wide variety of peaks, reefs, beachbreaks… Brittany will not be won in a day. Especially at a time of such growth for surfing. Brittany's been well protected against the crowds and no one here wants to see that land of myths & legends become anything like South West France's crazy busy line-ups !
Humble, solid, smart & always eager to learn from others, Justin stands-out in the world of pro surfing. World junior #3 in 2019 to wrap-up his Junior WSL run, the South West-born surfer is already well focused on his pro career goals : two trainings a day on top of as many hours as he can in the water, surfing any kind of waves. From his massive Jaws wipe-outs at 16 of age to Ireland's infamous lefthanders, including two appearances at the Billabong Pipemasters trials, as well as several attempts at Belharra while further consolidating his already impressive home-tube riding skills… All of it and still able to deliver an outstanding air game… Justin's ready for pretty much anything surf-related. And that's how the young man hits Brittany with the crew, re-discovering the celtic land a few years after his local pro Junior win back in 2018, scoring some of the bombs passing through while encouraging local and fellow-team rider Gabriel Abiven during the 5-day mission.
Behind the lenses, capturing the vibes & dynamics of the trip, from dawn till dusk and CoVid19-curfew still on during that road trip, Bastien Bonnarme keeps bagging content along with local filmer Gaetan Duque. With the goal of shooting a wide selection of products, more than 6000 clics will be heard during the celtic ride. While CoVid continues to affect our day-to-day and brands continue to cautiously manage their spend, surf photographers and filmers have been hit massively by the global pandemic consequences. Our road-trip also stands as a more-than-welcome opportunity as much for our mental health as for the business breath it carries.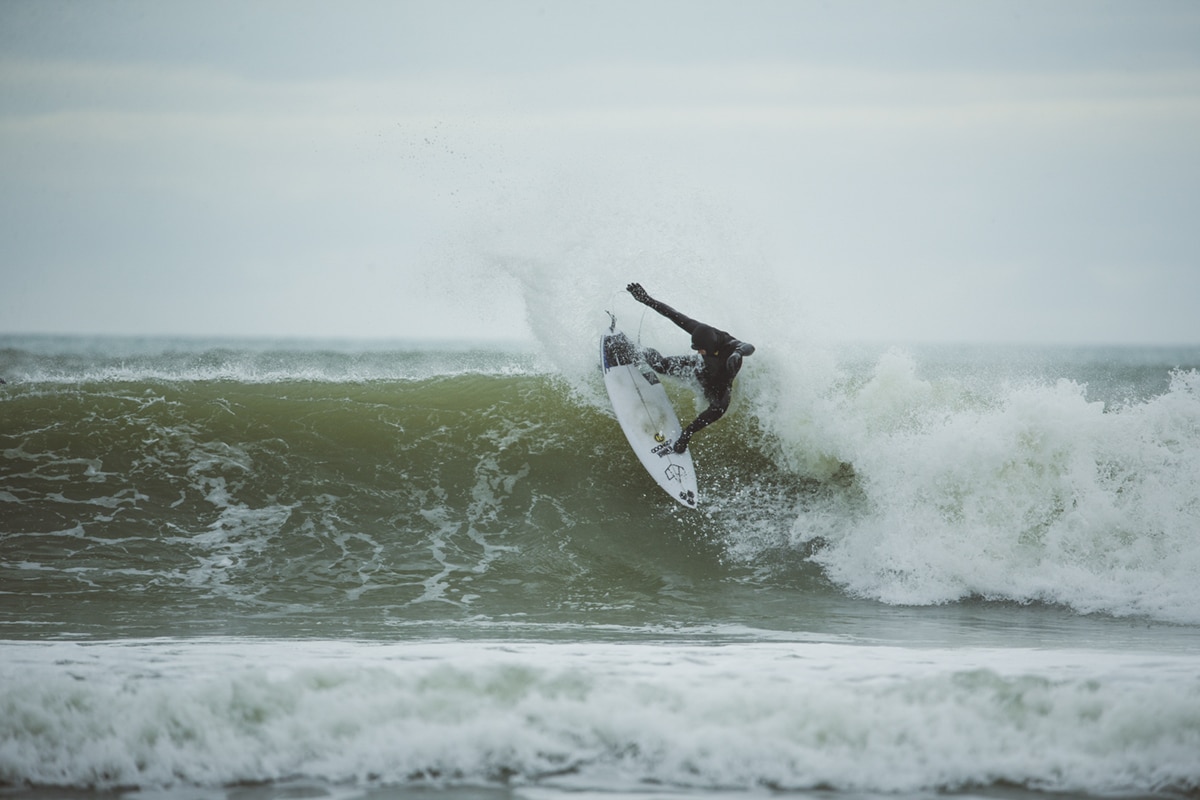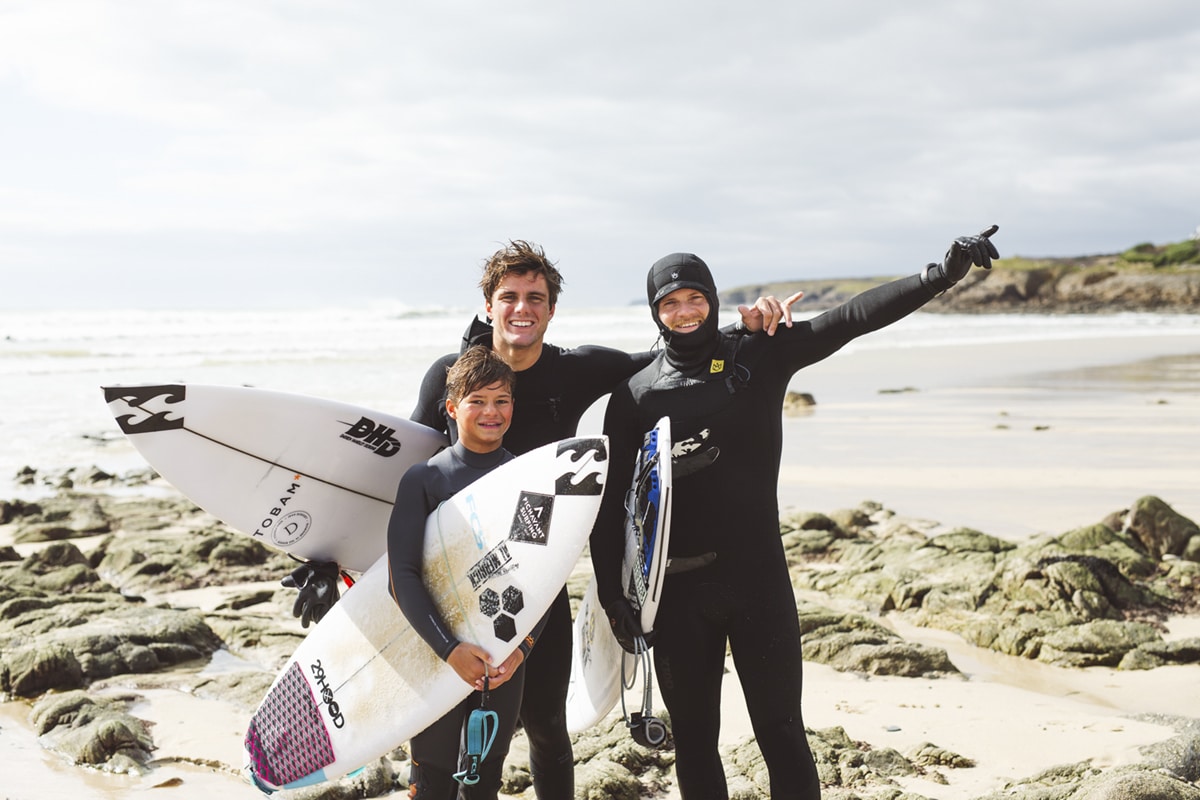 World-renowned for his water-shooting skills, Bastien enjoys directing model-surfer Justin Becret for Billabong's Fall-winter Adventure Division collection. With hours in freezing cold waters shooting the action, breath-taking landscapes you can't miss and fun team moments you have to shoot, Bastien carries his Mark5D day-in day-out. Meanwhile, local filmer Gaetan keeps up with the flow. An alternative angle, a path, flower fields, action-shooting from the beach and lifestyle content opportunities, the 29-year-old local filmer doesn't miss any little bit of our adventure including several conversations inbetween spots and beaches where the crew vocal personalities end-up discussing politics, CoVid, culture or sexism…
The trip's hero ? Brittany. Point. Despite not being able to live the experience to the most due to the numerous restrictions still in place at the time, days pass and it becomes mission impossible to remember it all. No typical 'Crepes' or local cider… but a piece of baguette shared by the locals after a surf, a nice convo with a local photographer joining the crew for a few hours, hundreds of hellos, some echoes of localism at the sight of our board-stickers, cold-water-proof kids, barrels, carves, airs, right and lefthanders, the local 29Hood surf club, granite-made churches, fishermen's warehouses, ship wrecks and turquoise water holes… To su mit up : it is the surf trip of diversity and discovery.
Davo, Aurelien, Robin, Clément, Ian, Gaetan, Pierrot, Gabriel and everyone else… Thanks for the surf. Thanks for the warm welcome. Thanks for showing us your land. A few hours drive away from home and the feeling to have travelled overseas, the feeling of having discovered an untouched territory and the guarantee to remember what continues to move us : others and elsewhere. May it continue to be as such.