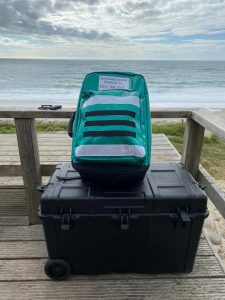 West Cornwall stand out and ex lifeguard Bert Wright realised very quickly the lack of professional lifeguards would spell trouble at his isolated local beach of Gwenver, Cornwall in May 2020. Taking the lead he set up a community action to raise funds to install a key coded first aid box, that experienced local surfers can access in case of emergency to help others.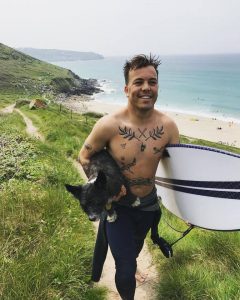 "As a surfer, ex lifeguard and father, I feel it is imperative that we have essential First Aid equipment available at Gwynver beach for surf and beach accidents," says Bert.
"We came up with a plan to provide the necessary equipment needed in case of emergencies, should anyone ever need it. 
"We got the beach owners permission to install a waterproof, code accessible box located on the beach, filled with vital equipment that could potentially save lives. Gwynver is a popular local surf spot, and I felt it couldn't be left without First Aid equipment."
Bert launched a Gofundme campaign which smashed its initial £200 target for first aid equipment and went on to provide funding for the box for two more years enabling surfers to access equipment needed to save lives.
As Bert says, "If it saves one life, it's worth it".
The box was used in a serious accident on 24 June where a patient was treated by local surfers before being handed over to the care of the Coastguard.
Bert then got extra help and added a defibrillator to the box.
With some of the most experienced surfers/lifeguards in the country, a first and box and de-fib the locals at Gwenver are a self contained unit capable of responding to almost any emergency.
A good job well done.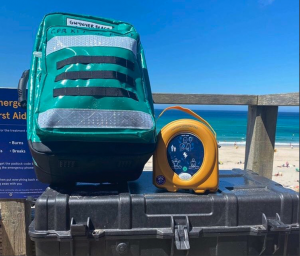 We sent Bert some Offshore Pilsners courtesy of Sharps so he can have well deserved beer after work in the summer sun. Great work Joe.
If you want to help fund equipment for lifesaving communities like Bert did you can donate here.