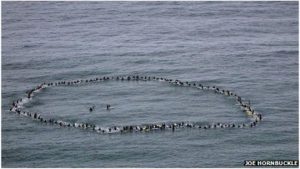 Paddle out for Chops Lascelles
The paddle out has become engrained in surfing tradition, a privilege reserved to make the memories and lives outstanding local and international surfers. They had never really had much mainstream coverage. But this Friday Sarah Cudden will air her programme 'The paddle out" on the BBC World Service. It has been two years in the making, Steve England thought he'd asked what she had learned. 

Do you surf?
I've been out on a surf-board and I love being in the sea and body boarding but I couldn't call myself a surfer. I'd love to have the time to really learn at some point.
What got you interested in paddle outs?
I don't live by the sea but I spend time in the sea whenever I can. It was during a conversation with a surfer friend that I first heard about this idea of a paddle out memorial. I've always wanted to have my ashes scattered in the sea and so the idea of a memorial ritual out beyond the breaking waves really caught my imagination. It sounded so beautiful and joyful.


Without giving too much away where did you find the origins?
It's hard to trace the origins of the paddle out memorial but the idea probably comes from Hawaii. The first big paddle out which drew global interest was the paddle out for legendary Hawaiian big wave surfer and life-guard Eddie Aikau in 1978. Eddie was the first lifeguard at Waimea Bay on the island of Oahu. He saved many hundreds of lives and rode some of the biggest waves anyone has surfed. He drowned getting help during a canoeing expedition in 1978 when the crew were struck by a storm. But his body was never found. After this thousands of people, all over the world, gathered to honour him. They decided the best way to remember him was to take a surf board and paddle out into the ocean where they told stories about him, released flowers into the wind and shouted his name into the waves. An annual paddle out is still held for Eddie each year, led by his brother, the big wave surfer Clyde Aikau who contributed a wonderful interview for our BBC Radio programme.

Andy Irons Paddle out

I have heard some comment that this is cultural appropriation, but to me I think the culture is surfing that clearly still acknowledges and celebrates its roots in Polynesia?
Having spoken to many surfers all over the world about their experiences of memorial paddle outs it seems the ritual has been embraced by some many different peoples it must be seen on a human, spiritual level rather than viewed through the eyes of a single ethnicity, nationality, or faith. The surfing world includes people from such a huge diverse range of experiences and backgrounds but also many of those who have participated in memorial paddle outs are not necessarily surfers – they are individuals who wish to celebrate the life of someone they knew and loved in this special way. While the ritual may have its roots in Polynesia – where the ocean has a particular spiritual force for people – I think it has been not so much appropriated as celebrated and embraced by many others around the world.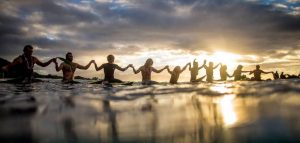 Eddie paddle out
What were Clydes views? He is a member of highly respected Hawaiian family.
Clyde spoke brilliantly and profoundly about his passion for the ocean and for memorialising a loved one in this way. You must listen to our radio documentary to hear this legendary big wave rider speak and share his thoughts and memories!

Who did you speak to? Some of those people we spoke to were surfers from Cornwall who participated in a special memorial paddle out for a young Newquay resident who died from cancer back in October 2019. We went to Fistral Beach to record this very special paddle out memorial. We also spoke to Mikhail Thompson who runs a surf school just outside Cape Town and has administered a number of paddle outs during his lifetime. And of course to Clyde Aikau. 

T
This has been almost a year in the making. Has it been a worthwhile project?
It's been a great privilege to make this piece for Heart and Soul for the BBC World Service. It's opened my eyes again to the many beautiful and meaningful aspects of surf's cherished culture and to the power and pull of the sea.
The Paddle Out and it goes out on the BBC World Service this Friday 26th June at 13.30 and again at 22.20 and will then be available on the BBC iPlayer page for some time …