So a few days ago we issued what we thought was some fair advice and predicted the closure beach car parks if government advice wasn't adhered to.
The post got smashed but obviously a lot of people disagreed and decided to drive miles under the 'exercise' excuse. Now beach car parks are being shut around the UK and everyone is falling out over who should and shouldn't surf.
The National Trust are now closing all beach car parks and blocking access. Police are checking cars in Penzance for 'non essential' travel, Swansea council has shut Langland, Port Eynon and Bracelet Bay. Bantham car park is shut as is Putsborough. It is the same right around the coast with more stricter rules coming. Surfing England and Surfing Wales have both revised their advice to "Do not surf"…
I don't have a definitive list of UK beaches shutting so please add any under the comments.
This isn't isolated to the UK. The same happened all over Europe – France, Spain, Portugal, Italy – so we had fair warning. Currently Ireland is free but will suffer the same fate if people don't respect a few fair rules. The USA is following suit with California shutting beaches.
In the next week we are going to see unprecedented amounts of deaths and the overwhelming of the NHS. At this point there is no end on the horizon and things will only worse in terms of deaths and restrictions. Maybe then will hit home and people will take travel restriction seriously. We are in this together whether we like or not. Please try to be sensible.
A few basic rules are below. They may have been superseded by the SE and WSF advice.
Basic rules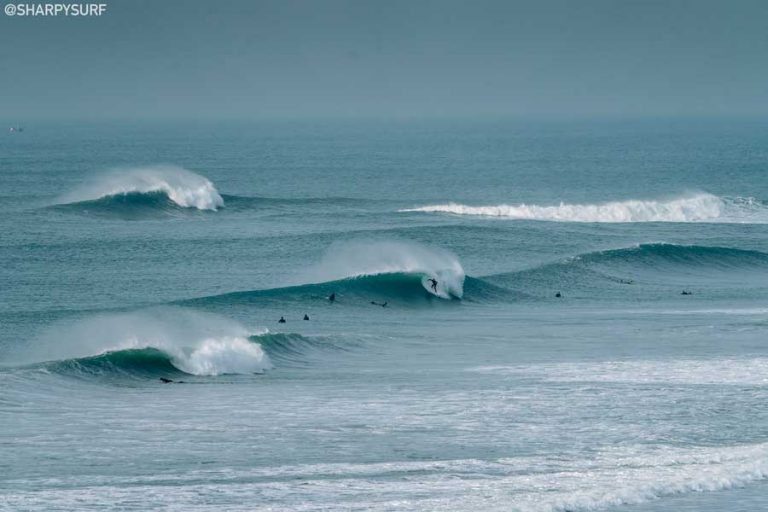 So the big question with swell on the horizon in the UK and lreland in the middle of an outbreak what should we do?
As you have seen if we do not self regulate fast a lock down is coming. Maybe even tonight. It is already being called for after pretty nuts scenes in parks and on beaches over the weekend. We will keep this simple and try and propose a plan for us all combining advice from Government, local councils, Surfing England and with an eye on what has happened abroad – surfers being arrested.
Standard advice is no non-essential travel and keep 2 metres apart, wash your hands and keep clean. No going to crowded areas.
The virus is spreading in two ways firstly travel – carriers spreading it it from area to area, and secondly once in an area – person to person.
So what does this mean for the surf and surfing in the UK and what is the advice?
Non-essential travel
The current government advice is that no one should go on holiday or self isolate in at risk areas. So no long road trips. If no one takes any notice and surfers hit the coast en masse from other areas and it gets crowded over the next few days then total lock downs will come.
Given the community to community spread we also suggest if you do not live within a specific coastal surfing community, do not travel there. Particularly anywhere in Cornwall which will be hit very hard due to a small hospital and limited resources, but also West Wales and Scotland.
Going further if it gets worse this it will mean missing waves for a long time so if you have drive into another village or town to surf, don't go. It is tough and it is a bit locals only, but the alternative is lock down so we have to self regulate.
Personal space
The 2 metre rule. This just hasn't been adhered to on beaches. This is the main cause of infection. You have to keep your distance to stop this affecting others.
Safety
There has been a suggestion that no one should surf due to any sustained injuries causing chaos in the NHS. Surfing is in general has a pretty low injury rate, so at the moment I am not sure if we need to go that far, but you should not push your limits. If experienced surfers can keep an eye out and go into preventative mode it shouldn't be too much of a problem.
(People may have different ideas here and we respect that. Keep it friendly)
So if you live on or very near a quiet local beach, can keep the 2 metre distance on the way and are experienced enough to keep out of trouble a surf probably is OK at this point. If not, please stay away.
In water virus transmission
There is no data at the moment so we can only go off the research of similar coronavirus.
Advice at the moment is that corona virus transmission through salt water is low. Although other corona have been shown to survive in raw sewage.
Most sewage these days is treated to secondary and UV standard which would kill the virus, however If you suspect a CSO has been discharging please be aware. Water companies should turn on their notifications really so we can all stay informed in strange times.
Surfing England Advice
The Prime Minister made an urgent call to action last night and introduced new rules on staying at home and away from others, as well as new powers to enforce those rules.
See www.gov.uk for the full breakdown.
The message is clear. Don't go surfing.
None of us should be travelling other than for the essential reasons listed in the government's advice. There may be a lucky few who can walk out their door and jump into the sea, but for the vast majority of us who need to travel to the beach, it should now be considered off limits.
This is a tough call to make, but one we should all respect as we collectively fight the spread of Covid 19.
Welsh Surfing Federation
In light of the pandemic that is globally affecting us all, our coastal communities are asking for a simple favour.
PLEASE do not come down to surf our beaches no matter how good the surf is. Residents of areas all over Wales are fearful that you are coming into the communities, possibly spreading the virus without realising all for the sake of you definitely falling off your first wave.
The government has implemented only necessary travel, closed beach car parks and stressed social distancing for a reason. It's not just to be awkward when the weather is banging, it's because the hospitals are full and people are dying.
So let's put this simply:
If you can't walk there, don't surf there.