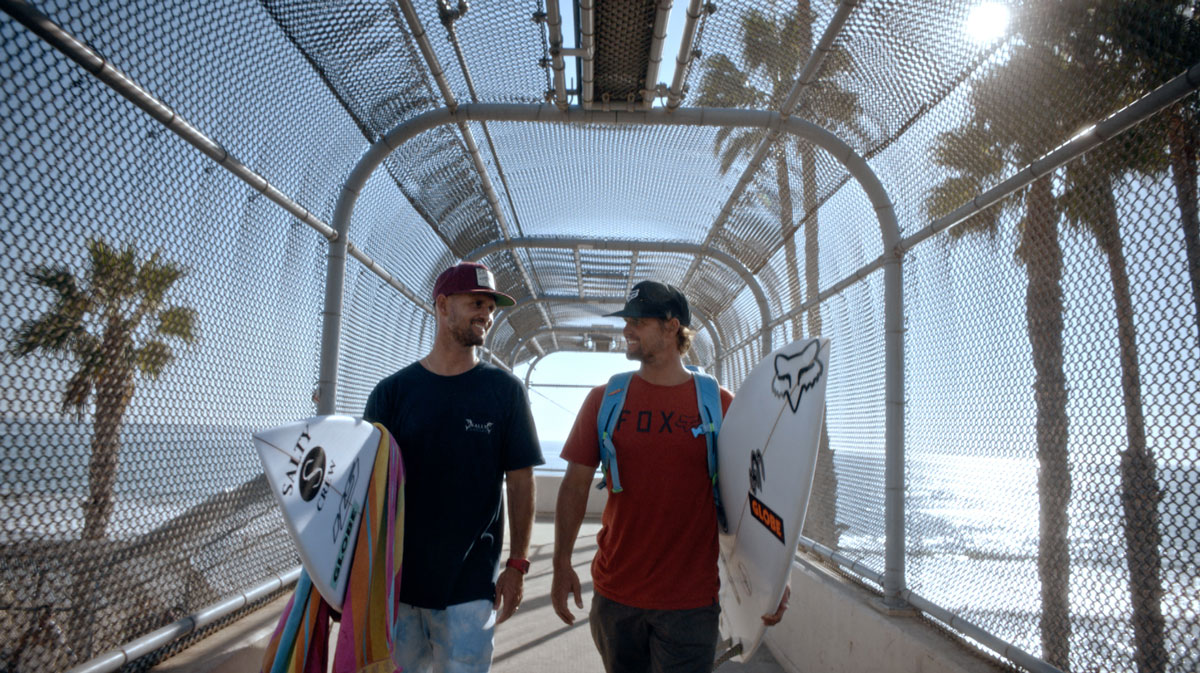 It's 2001 – not long after the Twin Towers tragedy of 9/11. CJ Hobgood is leaving the water and is immediately swamped by a reeling flock of groms, eagerly seeking soggy autographs. I'm standing on the beach in Biarritz, the sun is shining, reflecting off the Stars and Stripes emblazoned on the bottom of CJ's Rusty board. The European leg of the ASP World Tour has been cancelled, but CJ and his twin brother Damien are here – competing in the WQS Biarritz Pro – representing – showing the drive that would become legendary. CJ would take the world crown that year – and for me, when it came to Cloudbreak, Te'ahupoo or Pipe – 'The Hobgoods' would always be the first names down in my Fantasy Surfer team. And there it is – the two elements. The Hobgoods – a collective noun – and the fact that twins from the fickle surf state of Florida have risen to become two of the hardest chargers in the modern era.
But's that's only part of the story. In advance of the highly anticipated UK premiere of the feature documentary And Two If By Sea at the 9th Annual London Surf / Film Festival x Vans on the 9th October (TICKETS HERE), CARVE caught up with former world champion CJ Hobgood and the film's director Justin Purser to find out more about the project. For this is a film that lifts the lid on the twin's fierce sibling rivalry, fuelling a constant struggle to out surf and out-perform each other in the line-up, driving them to numerous event victories – and ultimately a world crown. While the need to establishing their own identities may have powered their careers, it ultimately ripped their personal and peripheral relationships apart. Six years in the making, this is an open and frank cinematic tale of adventure, destiny and family that lifts the lid on the pressures of life in the white heat of competitive surfing.
CARVE: How long have you known CJ and Damien? How did you come to be at the helm of the project?
JUSTIN: I've known CJ and Damien for over half their lifetime (and mine). We all grew up in the small barrier island town of Satellite Beach Florida. I had moved out to Los Angeles to direct music videos and commercials and was looking to do something in long form. I wanted to tell a story. I went to a screening of a Venus and Serena Williams documentary and their relationship reminded me a lot of CJ & Damien's. Both were pairs of sibling professional athletes performing at the highest level on the highest stage of their sports and using their sibling rivalry and also their closeness to fuel their careers.
CARVE: How did the three of you decide that now was the time to make the film?
CJ: We were retiring and we felt there would be healing for us, so regardless if anyone saw it or enjoyed it, we knew it would be helpful for me and Damo. We always held back with the struggles that were going on because while you're competing I always felt like people didn't want to hear and you don't want to show weaknesses to your opponents .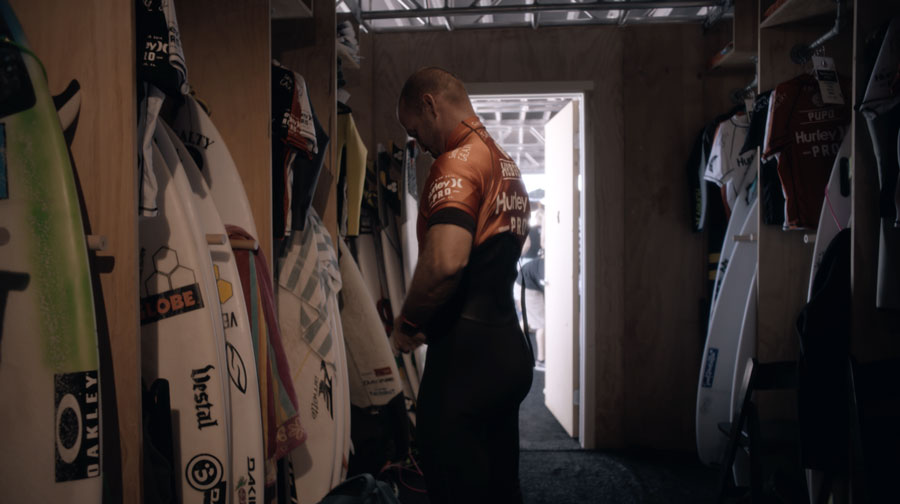 CARVE: Like all great documentaries there's a lot of honesty in the movie – how did you decide what went into the film and what was left out for privacy? Who decided on the boundaries?
CJ: I just put it out there. Justin asked the questions, I was going for the healing in my own life. Justin had to figure out the stories he wanted to highlight.
JUSTIN: It wasn't necessarily about what we couldn't say, it was more about what's important to tell, the story and to be honest. We were all in agreement that a fluff piece wasn't going to do anyone any good. Human struggle is something we all deal with and we all go through. We all make mistakes in life, no matter who you are or what you do for a living. So if you leave that out of a film, it doesn't resonate with an audience. The hero's journey is never one of constant triumph.
CARVE: For all the rivalry, were you and Damien able to put arguments and defeats behind you easily – or where there losses that stung, that were stewed over for a long time?
CJ: It stung. That's a full learning process that you never fully grasp when being competitive at this level, even though we all try. Just being from Florida, our upbringing and having the other twin, you could never take yourself or any situation too seriously. We ragged on the other about everything.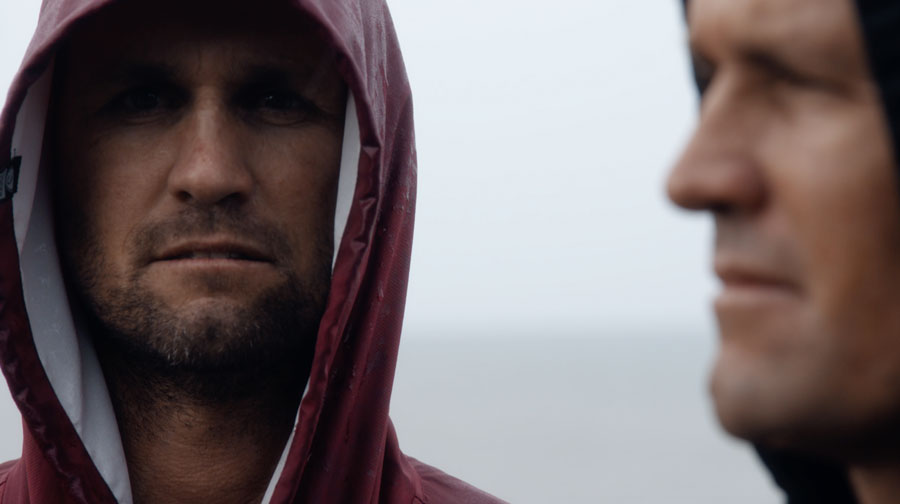 CARVE: Did you set out with a documentary style in mind ie VO lead? Or did it evolve into that? The person voicing a film brings a lot to the energy to the flow – how did you decide on who would VO the film?
JUSTIN: I always have loved narration in films. The old Disney films always was something I kept referencing throughout the process. A storyteller who's not just a voice who delivers a few facts from time to time, but someone who is also a character in the film. In literature and cinema it's called an "unreliable narrator." Mark Twain was one, Forrest Gump was one. That's what I wanted. I wasn't sure who that would be, but when Daniel Tosh tweeted about CJ getting a 10 in his heat in Tahiti, I thought 'He could be perfect. A comedian who's hit TV show is basically him being an unreliable narrator.' Plus he was a fan and it was organic to the story.
CARVE: I came away from the film with a feeling that the Tour will be a lot poorer for the absence of two of surfing's great characters – something that was probably not fully appreciated by the wider surfing world at the time. What do you hope people take away from the film?
JUSTIN: The first thing I want the audience to leave with was 'That was fun.' I feel so many documentaries leave you feeling heavy. I want And Two If By Sea to be the opposite. For those from the world of surfing, I want them to see that CJ & Damien were as real as they are. They worked hard, did their job, and pushed each other beyond what one could achieve alone, but that great success and great achievement always comes with a price. No matter what that is in life.
CJ: My hope would be they're inspired to tell others about their shortcomings and watch the love that is returned when exposing those areas. We all long to be fully exposed and fully loved, that's the freedom every human craves.
9th Annual London Surf / Film Festival x VANS  is hosted 9 – 12  October 2019 at the iconic Regent St Cinema, presenting a carefully curated line up of the very best films from across the globe that represent the pinnacle of contemporary surfing right now! Accompanied by Q+A's and 'Audiences with…' some of the world's most exciting surfers and creatives it's a celebration of the cream of cinematic surf culture
Check out the full line up for 2019 >> HERE.
Tickets are on sale now via the Regent Street Cinema  >> HERE