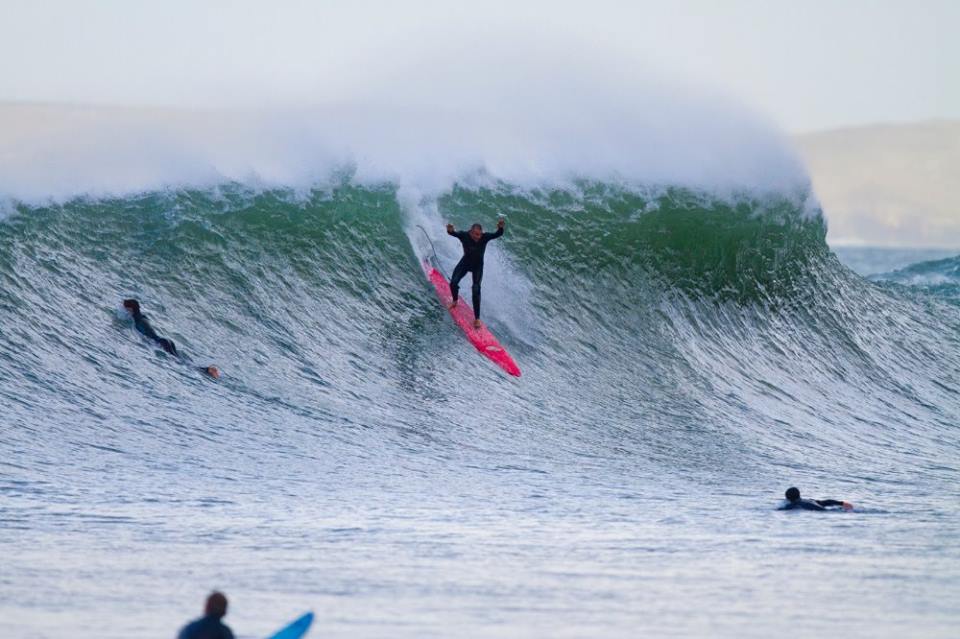 Photo Ben Howard
Perranporths Pegleg Bennett has been invited to the worlds first adaptive big wave comp to be held at Nelscott Reef, Oregon, USA. The comp only runs when the surf is over 30 feet but could be up to 60 feet.
Peg has slightly stunned organisers telling them he is going to paddle, while most other competitors will tow in due to their challenges.. although I think I managed to persuade him to take a rope if needed…And do some breathing exercises… Just so we see him back in Cornwall!
Obviously he needs a proper gun which is now being shaped up, and air fare. The trouble is there is no funding for this from surfing, sport or adaptive governing bodies.
On top of this Peg has also been picked to go to a comp in Japan. So it is going to be an expensive winter.
Peg has now set ups GoFund me page so you lot can get behind him and help him rep Cornwall, GB surfing and charge huge waves… Or if you are his mates throw a tenner in the hope of seeing him go over the falls live on TV… Joking!
It is a massive achievement and everyone is really proud of this lad so support if you can…
Peg says "I have had the privilege of being invited to compete in the WORLD'S FIRST EVER ADAPTIVE (Disabled) BIG WAVE competition, the green light to start the event is when waves are at a minimum of 30ft but could be anywhere up to 60ft .
"It's going to be held at the Nelscott Reef in Oregon. I am honoured and truly humbled to have received this invitation as one of only 8 invitees world wide and would love to attend and represent Cornwall and the UK.
"As I am already signed up for and commited to an adaptive competition in Japan funds are low and I am needing help to attend the Nelscott Reef Pro. This is something I have been dreaming of all my surfing life and don't want to have it slip through my fingers.
"Any and all help will be gratefully accepted and received."